Rochester Medical Negligence Solicitors No Win No Fee
Medical Negligence Solicitors in Rochester
If you feel you have a reason to make a medical negligence compensation claim, you will need to find the best solicitor in Rochester or the UK with the most chance of winning your case. However, the answer to the question, should I use solicitors near me? is far from clear-cut, as you will find out further down the page.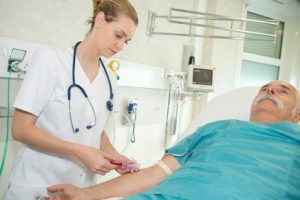 Clinical or medical negligence are terms used to describe a series of events that lead to a patient being harmed by a medical professional who had a duty to care for their health. Medical negligence can cause physical injuries, worsening of a medical condition, or contracting of a new one. It can also cause psychological damage through stress and trauma. Clinical negligence is the result of some form of mistake, oversight or failure to provide an acceptable level of care.
Typical types of medical negligence can be:
Misdiagnosing a medical condition.
Prescribing the wrong medication or treatment.
Delaying the administering of critical treatment.
Accidents and mistake during a surgical procedure.
Allowing the patient to become the victim of an accident whilst under the care of a healthcare establishment.
Every case of medical negligence we have successfully claimed compensation for here at Legal Expert displayed the same three similarities, and these are:
The clinical negligence was caused by a medical professional who had a clearly defined duty of care towards the patient.
A failure in fulfilling this duty of care directly lead to the patient coming to harm.
The failure to provide due care could have been avoided in some way.
If your situation exhibits the three facts above, Legal Expert can likely help you claim clinical negligence compensation.
Some of the solicitors we work with have a proven track record going back more than three decades of winning complex medical negligence cases and securing the most compensation possible for our clients. The nationwide claims service we operate is available to residents of Rochester.
Factors to Consider When Looking at Different Law Firms
The single most important consideration when choosing a legal firm to make a medical negligence claim on your behalf is whether they have the experience and capability to actually win your case. A good solicitor will be able to answer yes to the following three questions:
Have you successfully claimed compensation for medical negligence in cases similar to my own?
Can you take my claim on under a No Win No Fee agreement?
Are you able to arrange local services such as getting an independent medical opinion to support my case?
However, if you would prefer to use a simpler method of locating the best legal representation for your claim, then call Legal Expert. As part of our national claims service we can off residents of Rochester some free legal advice, and help to connect them with the best legal team in the Rochester are to claim compensation on your behalf.
Must I Work with a Local Solicitor?
There really is no advantage in using a local firm of solicitors to make your claim. You can use email and web messaging to keep in touch with your solicitor no matter where they are. Legal Expert can arrange for one of our clinical negligence team to visit your home in Rochester if you would prefer to discuss your care face to face.
Should I Use A Solicitor Review Website?
If you can find a solicitor review website that has some independent reviews of solicitors in the Rochester area, this is a good starting point. Use these reviews to make a shortlist of potential solicitors. Then take this shortlist and ask your family and friends if they have used any of the legal firms on the list, and what their experience was like.
Legal Expert can also assist you in finding a good legal team covering the Rochester area, just give us a call to discuss things further.
Claims the Clinical Negligence Team Covering Rochester Can Conduct
Legal Expert has a massive amount of experience claiming compensation for clients in a very wide range of differed medical negligence cases. The clinical negligence team operated by Legal Expert is available in the Rochester area to visit you at home to discuss your case in full.
If you would like to know a little more about the kinds of clinical negligence cases we excel at claiming compensation for, we have produced an overview of the most common types of cases we take on. If your scenario does not fit within one of the outlines, then please contact us so we can answer any questions you may have.
Hospital Negligence
Hospital negligence can have a number of root causes, from simple lack of care allowing a patient to be injured in an accident, through to terminal cases of negligence such as serious errors made during a surgical procedure.
Legal Expert can offer free hospital negligence advice to residents of Rochester, we have plenty of experience taking the NHS and winning compensation from them.
Dental Negligence
When an accident happens during a dental procedure, it will often have a cosmetic effect on the patient due to damage to the face, teeth or jaw. Any compensation claim will need to factor this in. The Legal Expert dental negligence team will always attempt to claim for both the injury itself and the psychological trauma of dealing with a cosmetic injury.
GP or Doctor Negligence
If your GP has made a mistake that has had a negative effect on your health, then you could be able to claim NHS accident compensation. In order to do this, you will need to prove that your doctor is liable and was the cause of the negligence. Legal Expert can help you prove this, by arranging for a local medical examination, the results of which will help to support your claim.
Instances of Cancer Negligence
Cancer negligence cases are amongst the most serious of all clinical negligence cases we take on here at Legal Expert. Even a minor mistake, such as misdiagnosing the type of cancer a patient is suffering from can lead to a life-threatening delay in treatment.
If you have suffered the loss of a loved one due to some form of cancer negligence, then Legal Expert can assist you, helping you get the most compensation possible.
Negligence in a Nursing Home
As a resident in a nursing how, you have the legal right to expect a certain level of care. When this care level drops, leading to an instance of negligence, then you will be entitled to make a nursing home negligence complaint.
Legal Expert can help either the victim of the negligence or a family member of the victim to pursue a compensation claim against the nursing home operator.
Medical Negligence at Birth
Birth negligence claims are the most tragic of all medical negligence cases we take on here at Legal Expert. When a serious injury to a newborn baby has occurred, such as permanent brain damage causing cerebral palsy, this injury will affect the baby for its entire life.
Legal Expert can help families claim for both birth injuries to the baby and birth injuries to the mother. Call us today and find out how we can assist you in claiming the maximum compensation possible.
Medical Negligence Claims Against NHS Trusts Covering Rochester
Below you will find a table detailing the number of negligence cases and total paid in damages by both the East Kent Hospitals University NHS Foundation Trust and Medway NHS Foundation Trust. Figures are for the 2015/16 financial year and produced by the NHSLA.
Healthcare Provider
Claims Received
2015/16
Number of Incidents
2015/16
Payments Made
Medway NHS Foundation Trust
50
6
7,605,615
How to Make No Win, No Fee Medical Claims
Legal Expert operates a nationwide claims service available to residents of Rochester to make No Win No Fee medical claims.
Under a No Win No Fee agreement you pay nothing at the start of your claim, and no ongoing legal costs. If we fail to win your claim you don't pay anything. We only charge a fee once we win you a compensation payment. Therefore, there is no financial risk to yourself at all.
Start Your Claim Today
If you are ready to begin your medical negligence claim, then call Legal Expert today on 0800 073 8804. Once we have spent some time going over your case, we will offer you some free legal advice on what we think you should do next. In most cases, this will be to use our national medical negligence claims service to claim compensation on your behalf.
Useful Links
Claiming for cancer misdiagnosis
At the above link, we have published a full guide to claiming medical negligence for cancer misdiagnosis.
Cancer statistics in the UK
From the same source, the link above explores the reasons why the cancer rate is increasing in the UK.
Local Rochdale Medical Centres
Spire Alexandra Hospital
Impton Lane
Walderslade
Chatham
Kent
ME5 9PG
Tel: 0163 493 4291
Web: www.spirehealthcare.com/spire-alexandra-hospital
The Dame Sybil Thorndike Health Centre
Longley Road
Rochester
ME1 2TH
Tel: 01634 817217
Web: www.thorndike.nhs.uk
Oradent Dentist
Oradent
18e City Way
Rochester
Kent
ME1 2AB
Tel: 01634-842549
Web: oradent.org/oradent-cityway