Nottingham Medical Negligence Solicitors No Win No Fee Claims Guide
When we go to a hospital or a medical centre, we expect whatever symptoms we are experiencing to improve. We expect the medical professionals to get to the bottom of why we don't feel well. We expect all surgeries to go to plan, and we expect the hospital staff to treat us right. Usually, this is what happens, but there are cases whereby medical negligence occurs. Medical negligence is when any type of action or inaction has occurred that has resulted in an injury, illness, or condition getting worse. Some examples of medical negligence include late cancer diagnoses, which result in the condition getting worse or becoming fatal, as well as surgical errors that lead to further complications. If you feel that you have been the victim of medical negligence, it is important to align yourself with the best solicitors in your area to give you the greatest chance of winning your case. This is something we can assist with at Legal Expert.
For your case to be a success, the solicitors you work with will need to be able to show that you were owed a duty of care by the healthcare professional or organisation you are suing. They then need to show that this duty of care was breached, and because of this you were injured. So, essentially, they need to show that you were owed a duty of care by the healthcare professional or organisation, and that they did not act as they should have, which resulted in your condition deteriorating. If this can be proven, there is a very high chance that you will be awarded compensation for your case. Read on to discover more about medical negligence and working with medical compensation lawyers.
How To Find The Best Medical Negligence Solicitors In Nottingham
When making a medical negligence claim, it is imperative to find the best solicitors who can cover the Nottingham area. You won't get a second chance to secure compensation, so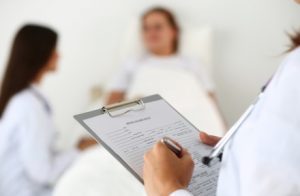 you need a solicitor that has a lot of experience in medical negligence claims. If they don't, they could make a big error, which could cost you the maximum amount of compensation. The medical negligence lawyers you will work with can make a massive difference to your life, so you should never take the selection process lightly.
Read Reviews Of Medical Solicitors In Nottingham
There are a number of different approaches you can use to locate the best solicitors in Nottingham. This includes talking to family and friends who have used the services of medical solicitors Nottingham based before. It also includes reading reviews online to see what previous clients have had to say about the legal firm in question. Make sure you use independent review websites. Most importantly, you need to speak to the experts. Our specialists at Legal Expert know everything there is to know about medical negligence claims and relevant solicitors, so we are best placed to advise you on the right lawyer for your claim.
Should I Use Local Medical Compensation Lawyers?
In today's day and age, it is not necessary to work with medical solicitors Nottinghamshire located specifically. You can make the most of services nationwide. After all, there are so many different ways to communicate today, from telephone and emails to texts and video calls. This makes it easy to keep in touch with your lawyer regarding your case. Instead of being restricted to locality, you can make your decision based on experience and reputation.
What Medical Negligence Claims Do We Handle?
Here at Legal Expert, we handle all types of medical negligence claims. This includes everything from NHS medical negligence to GP negligence claims, as well as dental negligence and care home negligence. For more information about each type of claim, read on.
Hospital Negligence Compensation Claims
Have you experienced medical negligence in one of Nottingham's hospitals? No matter whether you have experienced mistakes during surgery, poor treatment, or you have become ill because of a lack of sanitation, we can assist.
Dental Negligence Claims
Not all claims relate to hospitals and doctor surgeries, some people suffer clinical negligence while they are in the dentist chair. This could be anything from a tooth being removed when it didn't need to be to anesthetic not being administered properly. If a trip to the dentist has made you ill or led to an injury, contact us to be assigned the best solicitors who can cover the Nottingham area.
GP Negligence Claims
When you are not well, your GP will usually be your first port of call. If your GP has not taken your illness seriously or has diagnosed it incorrectly, you could be entitled to compensation. Work with specialist medical negligence solicitors that cover Nottingham and the UK has to offer by getting in touch with us today. We provide our service nationwide.
Medical Negligence Compensation Calculator
Medical negligence, which is sometimes referred to as clinical negligence, can happen anywhere in the UK. You can discover more about the number of claims notified in 2015/16 for Nottingham in the table below:

| Member name | CNST no. of claims | CNST no. of incidents | CNST total matters | RPST no. of claims | RPST no. of incidents | RPST total matters |
| --- | --- | --- | --- | --- | --- | --- |
| Nottingham University Hospitals NHS Trust | 109 | 13 | 122 | 45 | 0 | 45 |
| Nottinghamshire Healthcare NHS Trust | 51 | * | 53 | 43 | 0 | 43 |
In terms of how much compensation you may receive, you may have come across a medical negligence compensation calculator online. Please note that these tools only ever provide a rough estimate. All cases are different, and they are treated as such.
Cancer Negligence Compensation
A late cancer diagnosis or a misdiagnosis can be critical. It can even be fatal in a lot of cases. If you have suffered because of this, you can claim. You can also claim if you have lost a loved one due to cancer negligence. Take a look at our guide on cancer misdiagnosis for more information.
Nursing Home Compensation Claims
If you or someone you love has been the victim of nursing home neglect or negligence, it is important to use claims solicitors in Nottingham to get the justice you deserve. We can also help if the home has failed in providing a primary health need, as well as assisting with infection claims and slip, trip and fall cases.
Birth Injuries Medical Negligence
We can also help you to secure compensation for birth injuries. Medical malpractice solicitors in Nottingham, and UK wide can help with all types of birth complication claims. Examples include: infant death, umbilical cord problems, injuries to the mother, ruptured placentas, cerebral palsy, and Erb's Palsy.
No Win No Fee Medical Negligence, Nottingham
When you work with Legal Expert, you can be certain a No Win No Fee medical negligence Nottingham service. What makes No Win No Fee solicitors covering Nottingham different? Well, they will only accept payment off clients if they secure compensation for them. This means that, if for some reason, your case does not go the way it was intended, you won't have to pay a penny in terms of legal fees. This ensures you do not end up out of pocket, while also removing barriers to entry, meaning anyone – no matter their financial situation – can make a claim.
How To Make Clinical And Medical Negligence Claims
Making a clinical or medical negligence claim does not need to be difficult. For more information on working with medical claims lawyers or to get your claim up and running, please do not hesitate to give Legal Expert a call. We are open seven days a week, from 9 am until 9 pm. The number you need is 0800 073 8804. You can also request a callback via our website.
Helpful Links
We hope we have provided you with all of the information you need regarding working with medical negligence solicitors who cover Nottingham. However, we know you may be after some more details, so here are some helpful links:
How to make a claim that is no win no fee
This link takes you to our guide on No Win No Fee claims:
This link takes you to our comprehensive guide on medical negligence:
Nottingham University Hospitals:
QMC
Derby Road
Nottingham
NG7 2UH
City Hospital
Hucknall Road
Nottingham
NG5 1PB
Ropewalk House
113 The Ropewalk
Nottingham
NG1 5DU
Tel: 0115 924 9924
Web: www.nuh.nhs.uk
Woodthorpe Hospital
748 Mansfield Road
Woodthorpe
Nottingham
NG5 3FZ
Tel: 0115 684 8929
Web: www.woodthorpehospital.co.uk
St Lukes Surgery
Radford Health Centre
Ilkeston Road
Nottingham
NG7 3GW
Tel: 0115 9784374
Web: www.stlukessurgery-nottingham.co.uk/
The University of Nottingham Health Service
Cripps Health Centre,
University Park,
Nottingham,
NG7 2QW
Tel: +44 (0) 115 846 8888
Web: www.unhs.co.uk/the-university-of-nottingham-health-service.aspx
City Dental Practice
11 Kings Walk
Nottingham
NG1 2AE
Tel: 0115 941 7034
Web: www.citydentalnottingham.co.uk/home.html