Whiplash Compensation Calculator
By Max Mitrovic. Last Updated 21st July 2022. In this guide, we'll be discussing whiplash compensation claims. This includes potential amounts for a whiplash claim that may be offered if you are able to successfully make such a claim yourself.
A whiplash claims calculator can be an important tool when assessing the award you may receive for your injuries. For that reason, we cover what you could be entitled to for various types of injuries.
With British roads busier than ever, the risk of harm is ever-present. However, if you suffered a neck or back injury in an accident that was caused by someone breaching the duty of care they owed you, you may be entitled to claim compensation for the pain and suffering caused.
In circumstances where you have suffered an injury because of a negligent road user, you may wish to follow the whiplash claims process in the UK to receive a settlement amount for your suffering.
In 2021, the law changed in the UK in regards to the way compensation for a whiplash injury is claimed. This is known as the Whiplash Reform Programme. We'll explore these measures further in this guide.
This guide will also cover how much whiplash injury compensation you could be eligible for, how these figures are calculated, and the benefits of making a valid whiplash claim with the assistance of a No Win No Fee solicitor.
How We Can Help With Whiplash Claims
To speak to our advisers today about claiming compensation for whiplash, you can simply:
Call an advisor on 0800 073 8804
Chat with an advisor using our live chat function
Write to us about your road traffic accident case using the contact form, and we'll call you back at a time that suits you best.
Alternatively, continue reading to find the answer to your question 'how much whiplash compensation will I get?'.
Find Out More About Making A Whiplash Claim
What Is A Whiplash Injury?
Before discussing whiplash injury compensation, it's important that you understand what a whiplash injury is. A whiplash injury occurs when the tendons and ligaments of the neck extend beyond the normal range of motion in a sudden and abrupt motion.
The sudden movement can stretch the muscles and ligaments beyond their capacity, causing them to tear. Depending on the extent of the tear, the whiplash symptoms can be mild to severe. However, massive tears in the ligaments can result in more severe pain or even permanent disability.
This type of injury could be sustained in a sporting or cycling accident. They can also occur to drivers and passengers involved in road traffic accidents. For instance, a rear-end collision could throw your head backwards and forwards suddenly with great force, straining or tearing the tendons and ligaments in the neck. As a result, you could sustain severe harm.
How Do I Know If I Have Whiplash?
In some cases, whiplash injury symptoms do not manifest immediately after the accident and could take up to a few days to develop. For that reason, it's crucial to pay close attention to any unusual physical changes that you experience after the accident.
Furthermore, you should always seek medical attention for any symptoms of which you're unsure about. Medical reports on these symptoms could potentially be used as evidence in a whiplash compensation claim later.
How Long Does It Take to Get Over Whiplash?
The time it takes for a person to recover from whiplash is dependent upon many factors, such as how severe the whiplash was.
In general, it may take up to 3 months for your injury to fully heal. However, for more serious whiplash cases complicated by additional back, shoulders or spine injuries, full recovery could take much longer.
How Can A Whiplash Injury Occur?
There are a wide range of ways whiplash can be caused. Predominantly, though, whiplash is seen as a result of vehicle accidents, such as bus accidents, taxi accidents or pedestrian accidents.
Additionally, some examples of how you could have sustained this type of injury might include:
Car accidents – A driver may have failed to indicate when changing lanes and as a result, they may have crashed into the side of another car. Due to the impact, the driver of the other car may have sustained a soft tissue injury to their neck.
Motorcycle accidents – A motorcyclist may have failed to adhere to the speed limits resulting in them taking a sharp bend in the road too quickly. As a result, the driver of an oncoming vehicle may have needed to brake suddenly to avoid a collision, causing them to sustain a whiplash injury.
Cycling accidents – A driver may have failed to check their mirrors when overtaking on a narrow road. As a result, they may have hit a cyclist off their bike causing them severe neck strain amongst other injuries.
If you've experienced something similar, please don't hesitate to get in touch with our team. They can assess your claim and help you take steps to get any whiplash compensation you are entitled to. Receiving compensation for the average whiplash claim revolves around proving that third-party negligence caused your injury.
The Latest Whiplash Injury Statistics
The latest road traffic accident statistics provided by the Department for Transport, in the Reported Road Casualties Great Britain, Annual Report: 2020, found the following:
In 2020, there were 115,584 injuries of all severities sustained in road traffic accidents.
Of the above figure, 23,529 amounted to incidents where casualties were killed or seriously injured.
Below, we've included a graph illustrating the number of fatalities reported by road user type in 2020. The figures are provided by the Department For Transport in the Annual 2020 Report.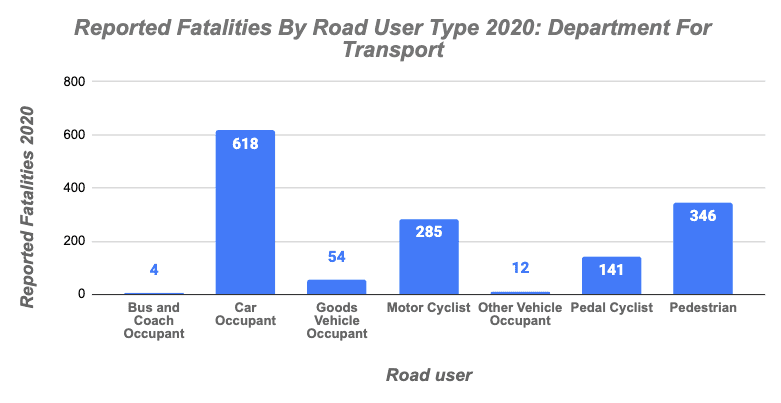 As you can see, there were more fatalities amongst car occupants than any other road user. However, it's important to note that cars make up the majority of traffic on the road which may explain the higher number of fatalities within that group of road users.
To learn more about whiplash claims, contact our personal injury team or continue reading about whiplash compensation. Our advisors can answer questions such as "how much could you get for a whiplash claim?" in just one phone call and inform you if you're eligible to claim.  Alternatively, use our whiplash compensation calculator to see what you may be able to receive.
What Can I Claim For After A Whiplash Injury?
A whiplash injury is complex as symptoms can range from mild to life-changing. For that reason, different factors may determine the whiplash compensation you receive. For instance, the severity of your injuries and the extent to which they have affected other aspects of your life.
All whiplash compensation injury claims may consist of the following, provided they apply to your claim:
General damages – this type of compensation for whiplash is paid solely for the injury itself. For example, the physical damage you have suffered and the pain you've had to endure.
However, to prove the extent of physical and psychological suffering, it will be necessary to obtain medical evidence.
For instance, as part of the claims process, a medical assessment may be carried out to determine the extent of your pain and suffering. They'll also determine how long it will take for you to recover. This information will allow your solicitor to value your claim accurately.
Special damages – these relate to financial losses, both past and present, such as:
Loss of earnings – if the person suffering from whiplash has had to take time off from work, they could claim back the loss of earnings under special damages. Note that this relates to both current and future earnings if the whiplash injury is likely to be long-lasting or even permanent.
Travel Expenses – if you have had to pay for a taxi to and from medical appointments or to visit the law firm representing your claim, you could seek reimbursement for these.
Medical Expenses – These might be immediate costs such as paying for emergency treatment. However, it may also be ongoing costs, such as medication and prescription charges to treat the injury now and in the future.
For more information, you could use our car accident claim calculator. Please keep reading for examples of whiplash compensation amounts. This can help give you a greater idea of what you could receive from the average whiplash claim.
Average Compensation For A Whiplash Injury
After suffering a whiplash injury, you may ask yourself questions like:
What is the average payout for whiplash in the UK?

What is the average compensation for whiplash awards?
If so, the table we have created based on compensation brackets from the Judicial College Guidelines could help. The table includes some injuries that may be linked to whiplash, plus other injuries that can commonly occur following a road traffic accident.
| Injury | Severity | Notes | Compensation Amount |
| --- | --- | --- | --- |
| Arm Injuries | (a) | Where both arms have been completely lost. | £240,790 to £300,000 |
| Chest Injuries | (b) | A chest, lung or heart of a traumatic injury that causes permanent damage. | £65,740 to £100,670 |
| Neck Injury | Severe | (a) (iii) Injuries such as damage to the soft tissues that's severe and ruptured tendons that result in permanent chronic conditions. | £45,470 to £55,990 |
| Neck Injury | Moderate | (b) (ii) This bracket includes soft tissue injuries to the neck as well as others. | £13,740 to £24,990 |
| Back Injury | Moderate | (b) (ii) Injuries including those that affect the ligaments and muscles which may cause backache and soft tissue injuries which may result in the exacerbation of a pre-existing condition. | £12,510 to £27,760 |
| Shoulder Injury | Moderate | (c) This bracket includes soft tissue damage that results in symptoms that may persist after two years but aren't permanent. | £7,890 to £12,770 |
| PTSD | Less Severe | (d) Cases where mostly a full recovery has been made within a couple of years and only minor symptoms will continue. | £3,950 to £8,180 |
If you have suffered multiple injuries where whiplash is just part of the problem, then you may be able to claim additional compensation for them. However, it may be best to speak with one of our advisors if you're claiming for multiple injuries so they can provide a more concrete valuation.
For more information on what your whiplash compensation settlement may comprise, please call to speak to our team.
Use Our Whiplash Compensation Calculator
To learn more about whiplash claim amounts and how much you could potentially receive in compensation if you're eligible to make your own claim, you can make use of our whiplash compensation calculator. Our compensation calculator can also be used for compensation estimates for different types of personal injury claims including various kinds of road traffic accidents.
You can alternatively get in touch with our advisors for information and advice about whiplash compensation.
Could I Claim Whiplash Compensation On Someone Else's Behalf?
A representative of the claimant could pursue a compensation claim for whiplash on their behalf if applicable.
In cases where the person is unable to instigate the process themselves, it may be possible under the Mental Capacity Act 2005 for a relative or another appointed representative to act as a litigation friend. Get in touch with our team for more information on how to start a whiplash compensation claim, whether for yourself or on behalf of someone else.
Can You Claim For Whiplash As A Passenger?
Both a passenger and driver in a vehicle may have cause to claim compensation for whiplash caused by an accident that was the fault of a third party.
Furthermore, a passenger may have cause to claim damages against the driver of the vehicle they sustained harm in. For example, if the driver was at fault for causing the accident.
However, as with any claim, there are various factors to consider when looking at who was liable for an accident. If you'd like to pursue a car crash whiplash claim as a passenger, please get in touch on the number above.
Can I Be Compensated If I Was Injured By An Uninsured Driver?
Have you been injured in an accident with an uninsured or untraceable driver? In that case, it's possible to make a claim through the Motor Insurer's Bureau (MIB).
The MIB helps those who were involved in accidents with uninsured or untraceable drivers by providing compensation in successful personal injury claims.
Our road traffic accident solicitors could help you put forward your claim if you're in a similar position. So, please get in touch today to learn more about whiplash compensation claims involving the MIB.
How Much Is The Average Whiplash Settlement
It's always helpful to have an idea of how much you could be paid in a whiplash settlement. In the following sections, we've included some figures for the past three years.
This helps to illustrate the impact The Whiplash Reform Program has had on compensation awards.
Whiplash Claims Average Payout 2020
Back in 2020, the average payout for whiplash claims was relatively high, sitting between £1,000 and £2,000, and higher for more serious cases.. These figures are based on the compensation awards detailed in the guidelines of the Judicial College.
Whiplash Claims Average Payout 2021
Up until May 2021, the average payout for whiplash was the same as in 2020. It was at this point that The Whiplash Reform Program kicked in. Under the new regime, compensation awards are now fixed. You can find out more in our section below on the Whiplash Injury Regulations.
Whiplash Claims Average Payout 2022
The whiplash claims average payout for 2022 remains the same as the second half of 2021. Compensation awards are now fixed. For example, for an injury to the neck or shoulders that lasts no more than 3 months, the fixed compensation award is £240. More examples of whiplash compensation amounts are shown below to highlight in what circumstances the compensation award is fixed.
Compensation for Whiplash – What Evidence Do I Need to Claim?
Evidence is crucial when attempting to make a whiplash compensation claim. You need to prove that negligence led to your injury to receive any compensation. If you're able to prove this, you could also receive special damages compensation. This section will clarify the different types of evidence you could use to claim for both sets of damages.
Evidence you could use to potentially receive general damages compensation includes:
Photographs of your injury or the accident site
Video footage of the accident. This can include CCTV footage or dash cam footage.
Copies of medical scans or medical reports. This can show the severity of your injury and highlight how badly the injury has impacted you.
Contact details of any potential witnesses. Statements can be taken from them as part of the process for claiming.
As mentioned, your whiplash claim amount could also consist of special damages compensation. Evidence you would need to prove the value of your financial losses includes:
Receipts
Bank statements
Invoices
Payslips
Please read on if you have further questions, such as "how much for a whiplash claim could I receive?". Alternatively, you can contact us for a free consultation using the details provided. We can inform you of your claim eligibility and provide you with a compensation estimate at a time that works for you.
Whiplash Claims – How Long Do I Have To Begin My Case?
According to the Limitation Act 1980, you have up to three years from the date of the accident to claim whiplash compensation. Alternatively, the three years may start from the date you became aware of the harm you sustained due to someone else's negligence.
However, for children under the age of 18, a litigation friend may apply to claim on their behalf. But once the younger victim turns 18, they'll have three years to claim whiplash compensation themselves.
Please speak to our personal injury claims team to learn more about the time limits involved in whiplash claims. We could also discuss other elements of the claims process.
How Long Does A Whiplash Claim Take In The UK?
It's often difficult to give an overall indication of how long the process for claiming whiplash compensation will go on. For that reason, it can be beneficial to seek legal representation to ensure the correct process is being followed.
According to the Civil Procedure Rules, 36.14 (6), unless agreed otherwise by the defendant and claimant, the claimant should be paid their compensation within 14 days. This may either be from the date of acceptance or the date the court has ordered.
However, there may be other exceptions. Please contact our team for more information.
The Whiplash Reforms 2021
The Whiplash Reform Programme introduced changes to claims made when seeking compensation for whiplash injuries from May 2021. The changes affect claims made for injuries that a driver or passenger over the age of 18 sustained in a car accident.
The changes mean that any claims where injuries are valued at £5,000 or less need to be made through the government's online claims portal. However, any claims where the injuries are valued at more than £5,000 don't have to go through the online portal. 
Despite whether you're making a claim through the government portal, you can still seek legal representation from No Win No Fee solicitors.
Additionally, you may consider your injuries to be worth less than they actually are. However, they may be more severe than you realise meaning you could seek a higher whiplash compensation amount.
For that reason, we would encourage you to still get in touch with our team to assess your claim. They can provide an estimate of how much your claim may be worth. In turn, this can help you better understand the steps you need to take.
Examples of Whiplash Compensation Amounts
The amount of compensation you may be awarded in your whiplash claim may vary. However, the Whiplash Injuries Regulations 2021 stipulates the damages that may be awarded for all whiplash injuries that last for up to two years.
The table below provides figures as listed in the legislation. 
| Time Span of Injury | Amount - Regulation 2(1)(a) | Amount - Regulation 2(1)(b) |
| --- | --- | --- |
| No more than 3 months | £240 | £260 |
| 3-6 months | £495 | £520 |
| 6-9 months | £840 | £895 |
| 9-12 months | £1,320 | £1,390 |
| 12-15 months | £2,040 | £2,125 |
| 15-18 months | £3,005 | £3,100 |
| 18-24 months | £4,215 | £4,345 |
Note:
Regulation 2(1)(a) refers to the total damages for one or more whiplash injuries.

Regulation 2(1)(b) refers to the total damages for one or more whiplash injuries and one or more minor psychological injuries.
Moreover, examples of whiplash compensation amounts listed above do not accommodate for other injuries you may have suffered. Remember: you may be able to claim for multiple injuries caused by the same accident which could increase your potential compensation. To do this, you need to prove that third-party negligence was at least a contributory factor to the injuries you've suffered. 
This is why searching for information using phrases like "whiplash claims average payout for 2022" can only be so useful. Our advisors provide free legal advice and can answer questions like, "how much could you get for a whiplash claim?" in just one quick phone call.
No Win No Fee Whiplash Compensation Claims
If you have recently suffered a whiplash injury in an accident caused by someone else's failure to uphold their duty of care, we could help. Our solicitors work on a No Win No Fee basis by offering you a Conditional Fee Agreement when representing your whiplash compensation claim.
This means that if you choose to work with one of our solicitors, you wouldn't have to pay any money upfront to seek legal representation. Furthermore, you could avoid ongoing costs that may incur during the claims process. 
Additionally, if you lose your compensation whiplash claim, you won't have to pay a penny towards your solicitor's legal fees.
If the case does succeed, your solicitor will deduct what's known as a success fee, which is a small, legally capped percentage of your compensation award used to cover their costs.
For more information on claiming under this type of agreement, please get in touch with our team on the number at the top of the page.
How to contact us for support
Call an advisor on 0800 073 8804
Chat with an advisor using our live chat function
Write to us about your road traffic accident case using this online form, and we'll call you back at a time that suits you best.
Whiplash Compensation Claims FAQs
It's natural to have questions when faced with the prospect of pursuing a whiplash claim. These FAQs answers will help you understand more about the process of how to claim for whiplash injuries and calculating your whiplash compensation.
Do I Need To Hire A Solicitor To File A Claim For Whiplash Injury?
It is not mandatory to hire a solicitor to file your claim. However, it is highly recommended. This is because a solicitor will have the experience necessary to help you take steps to get the whiplash compensation you deserve.
Am I Entitled To Claim Even If The Whiplash Injuries Are Mild?
As long as the accident was the fault of another road user breaching their duty of care, you are potentially entitled to seek financial compensation for your pain and suffering.
Additionally, you may need to provide medical evidence in the form of a whiplash injury diagnosis from a qualified doctor. If you're making an average whiplash claim, your injury may be worth £5,000 or less. If this is the case, you would claim through an online portal. However, if you are unsure how much your injury is worth, please call us for free legal advice.
Whiplash Claims – Learn More
In this final section of our compensation for whiplash claim guide, we have more links that you may find useful. We have included guides on various types of road traffic accidents including those involving cyclists.
For more advice on whiplash claims, you can read our separate guide which asks 'Can a whiplash claim be refused?'
Visit our guide on Motor Insurers Bureau claims involving road accidents with uninsured or untraceable drivers.
For more information on drink driving car accident claims, see our guide.
See our guide on how to claim for a rear shunt accident.
For more information on claiming for PTSD, you can read our PTSD compensation guide here.
For more information on claiming compensation for a rear-end collision resulting in whiplash, see our guide.
The Highway Code provides guidance on the responsibilities each road user has.
Visit the government website for more information on the Whiplash Reforms.
Visit our guide that explores how much compensation for anxiety after a car accident you could receive.
See our guide on proving the accident wasn't your fault following a car accident.
You can also check out our Uber accident claims guide.
For more information on time limits, you can read our car accident claim time limits guide.
Also, check out our passenger car accident claims guide.
Read this article to learn how much compensation you could receive for a roundabout accident claim.
You can also check out our guide which addresses the question 'how long does whiplash last?'
Read this article to learn answers to questions such as, "Who Is Liable In A Multi-Car Pile Up?"
Head here to learn how to claim hit and run compensation
Learn more about claiming for delayed whiplash by reading this article on our website.
Read this guide to learn more about ankle injury settlement amounts in the UK.
Visit this guide about finding personal injury solicitors for Coventry.
Read this article for answers to questions such as "what is the minimum payout for whiplash?"
Read this guide to learn if you can claim for pothole damage.
Learn more about claiming for a crane accident by reading out guide.
Other Useful Guides
We hope this guide on whiplash compensation has been useful to you. If you would like to speak to an advisor and ask questions about anything related to whiplash claims or whiplash claim amounts, then you can contact Legal Expert using the contact details featured in this guide.