Whiplash Compensation Calculator – 2021 Update
By Mark Ainsdale. Last Updated 6th October 2021. Welcome to our guide to whiplash claims. A whiplash compensation calculator can be an important tool in such cases. And so in this guide, we cover everything about compensation for whiplash. So, we can answer such questions as "how much compensation for a whiplash claim?" And we also explain how you can precisely calculate your compensation for whiplash. With British roads busier than ever, the risk of harm is ever-present. So if you suffer a neck injury in an accident that was no fault of your own, you may be entitled to claim whiplash compensation for the pain and suffering caused.
In circumstances where you have suffered an injury because of a negligent road user, you will not be able to claim whiplash from your insurance. In many cases, it is advised to follow the whiplash claims process in the UK to receive a settlement amount for your suffering.
According to the law, you should be financially compensated for any type of whiplash injury, whether mild or severe, as long as another person's negligence caused it.
The severity of your injuries and the extent to which they have affected other aspects of your life will determine the amount of whiplash compensation you are entitled to.
How We Can Help
With decades of experience helping victims of road traffic accidents, we're well-versed in the claims process and can help you recover the compensation you deserve.
Our personal injury claims team operates around the clock, providing free legal advice when you need it most. If you have any questions while reading this guide, you can have them answered with no obligation on your part to begin your whiplash claim.
To speak to our advisers today about claiming compensation for whiplash, simply:
Call us on 0800 073 8804
Chat with us about your potential whiplash claims right now using our live chat function, bottom right
What Is Whiplash?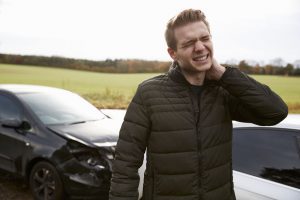 Before discussing compensation for whiplash, let's break down whiplash itself. After all, understanding exactly what a whiplash injury is, how it occurs and how it can affect you are instrumental in understanding how whiplash compensation is calculated.
A whiplash injury occurs when the tendons and ligaments of the neck extend beyond the normal range of motion in a sudden and abrupt motion.
The sudden movement stretches the muscles and ligaments beyond their capacity, causing them to tear. Depending on the extent of the tear, the whiplash symptoms can be mild to severe. However, massive tears in the ligaments can result in severe pain or even permanent disability.
Although whiplash injuries can result from several causes, including sports injuries, accidental falls, cycling accidents and physical abuse, to mention a few, the most common cause, according to the NHS, is car accidents. Our whiplash compensation calculator identifies what you could claim from injury scenarios like these.
What is the average amount awarded in whiplash compensation?
The amount of compensation for whiplash can range greatly. So, the minimum figure for minor whiplash could be £240, but the maximum figure could reach £4,345. Now, these numbers only apply to minor whiplash claims. So, if your claim is likely to exceed £5,000, you could then potentially receive much more in whiplash compensation.
How Do I Know If I Have Whiplash?
Before discussing whiplash compensation, let's break down whiplash itself. A rear-end collision can result in a tremendous impact that can throw your head backwards and forwards suddenly with great force, straining or tearing the tendons and ligaments in the neck, which can cause severe whiplash injuries.
In some cases, whiplash injury symptoms do not manifest immediately after the accident. They usually take about 6 to 12 hours to develop. Sometimes they may develop after 24 hours or even after a few days.
Suppose you have been in a car accident. In that case, you may not notice any inflammation or bruises at the time of the accident, which is why it is crucial to pay close attention to any unusual physical changes that you experience for the next few days after the accident. These symptoms could prove pivotal for the potential success of your whiplash claim.
Symptoms
Some of the more common whiplash symptoms to watch out for include:
Neck pain and stiffness
Dizziness
Headaches, particularly at the base of the skull
Blurred vision
Numbness or weakness in the arms
Persistent weariness
Other less common symptoms associated with long-term chronic whiplash include ringing in the ears, chronic pain in the neck, head or shoulders, problems with memory and concentration, inability to sleep well. Some people may experience chronic pain or headaches for years after their accident.
Below, you can find lots of helpful information on whiplash compensation and about using a whiplash compensation calculator. And if you need any more information, get in touch with our team of friendly advisers. They can assess your compensation for a whiplash claim for free and put you in touch with our legal specialists today. All of this will help to answer the question, "how much compensation for a whiplash claim?"
Select a section:
A Guide to Whiplash Compensation Claims
Many people find themselves asking the same questions after a road traffic accident, such as "How much does an insurance company pay for pain and suffering after a car accident?" or "How long does it take for whiplash payouts to process after a medical?"
This whiplash compensation calculator guide answers questions regarding road traffic accident claims causing whiplash.
Whiplash is a very common injury, especially in vehicle accidents, either in a private car, or whilst riding on public transport such as a bus or coach, or whilst in a taxi. Because of this, compensation claims from people seeking damages for a whiplash injury are also very common.
However, just because this type of claim is common does not make it simple. So within this guide to making a whiplash compensation claim, we will cover all of the information you need to know before seeking damages.
You will find below sections that explain what to do if you are involved in an accident that caused whiplash, the first steps you should take, and how we can help your whiplash claim. You will also find information on the average compensation claims paid for whiplash and associated injuries.
What Does It Mean To Get Whiplash?
Whiplash is caused by the head accelerating forwards in a violent, unexpected manner. The natural reaction of the human body, in this case, is to try and stop this from happening.
What happens is that we overcompensate, and the head springs backwards. The rapid forward movement and the overcompensation for the head springing back into place can cause serious injuries to the neck, spine and back.
Whiplash can be construed as any neck, spine, back or even shoulder injury caused by this kind of rapid head movement. Most commonly, whiplash happens when a person travels in a vehicle involved in an accident.
Whiplash can be minor as just a slight sprain. Or it can be more severe, all the way up to a major injury. Then, finally, in the most extreme of all cases, causing paralysis due to significant damage to the spine. But regardless of the severity, you could still claim compensation for whiplash if there is sufficiently strong evidence.
No Win No Fee Whiplash Claims
Let's now discuss No Win No Fee whiplash compensation claims. If you have recently been involved in an accident that was not your fault and you suffered a whiplash injury, then you probably already know that you may be able to sue the liable party for damages.
What you might not know is that if you chose to work with a Legal Expert solicitor, you wouldn't have to pay any money out of your pocket to pursue a claim. All of this helps when considering how much compensation for a whiplash claim is feasible.
When we take on a case that we feel we have a good chance of winning, we can work under a Conditional Fee Agreement (CFA). This kind of arrangement is a No Win No Fee agreement. And it plays a hand in determining what a whiplash compensation calculator might reveal as your potential payout.
What does this mean?
If you lose your compensation for a whiplash claim, you won't have to pay a penny to your solicitor.
You also won't have to pay any fees upfront or during the claim.
If the case does succeed, your solicitor will deduct what's known as a success fee, which is a small, legally capped percentage of your compensation award used to cover their costs.
So you will always receive the vast majority of your compensation. Please contact our team for more information on No Win No Fee claims regulated by the solicitors.
Can you get compensation for whiplash?
You can claim whiplash compensation if you've been injured in an accident that wasn't your fault. And within that claim, you can include costs for loss of earnings and travel and medical expenses. If it takes you a long time to recover, whiplash compensation payouts will be greater.
What Types of Circumstances Can Cause Whiplash?
With various personal injury compensation levels in general, there is a wide range of ways whiplash can be caused, as we would expect from such a common injury.
Predominantly whiplash is seen as a result of vehicle accidents. And some examples of these which could see you receiving compensation for whiplash include:
Car accidents – when whiplash is caused when a private vehicle is involved in an accident. If the accident was not the fault of the person driving the car, a whiplash claim could be possible.
Motorcycle accidents – less common than car accidents as a cause of whiplash, but if a third party caused the accident, it might be possible to claim damages.
Cycle accidents – again, a less common way that people get whiplash, but still a valid reason to claim damages if the accident was not the cyclist's
Bus accidents – in this case, it is very likely that the passenger suffering whiplash will claim compensation from the bus service firm.
Taxi accidents – once again, just like a bus accident, the whiplash victim can likely claim compensation from the taxi driver or operator.
Pedestrian accidents – a very common form of whiplash claims, as whiplash is an injury that many pedestrians hit by a moving vehicle suffer from, and a claim is likely possible.
Other vehicle accidents – whenever you are involved in an accident whilst riding in a vehicle, you can likely sue for damages if you suffer whiplash through no fault of your own.
Other road traffic accidents – a catch-all category, covering any type of road accident not covered above.
Further Information
Of course, there are many more ways to be involved in an accident that results in whiplash. And not all of them are related to road traffic accidents. But car accidents are by far the most common cause of whiplash. And whether a car accident is a cause or not, you may still be able to claim compensation for whiplash.
The Latest Whiplash Injury Statistics
Let's look at the latest road traffic accident statistics provided by the Department for Transport, published in September 2021. It was found that:
In 2020, there was a massive 115,584 injuries of all severities sustained in road traffic accidents.
Of the above figure, 23,529 amounted to serious injuries.
The latest figures provide an interesting breakdown of the different types of injuries sustained in previous years. For example, between 2017 and 2019, 51% of those asked reported a whiplash injury. And any of these could result in the victim deciding to file a whiplash claim.
Below, we've included a graph illustrating the number of non-serious injuries sustained in road traffic accidents in 2019 relating specifically to road user groups. These figures were published in 2020 by the Department for Transport.
As you can see, those involved in car accidents suffered minor injuries. However, whiplash injuries would undoubtedly have been sustained by many of these people. And any such victims could claim compensation for whiplash.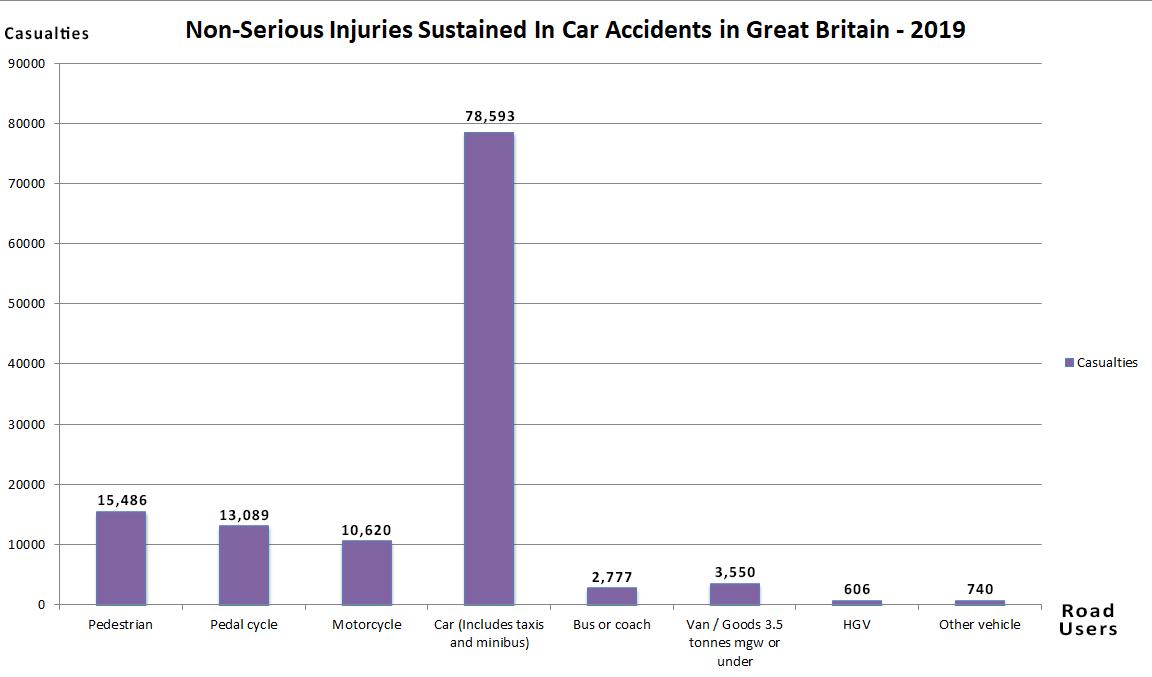 To learn more about whiplash claims, contact our personal injury team or continue reading about whiplash compensation. Alternatively, use our whiplash compensation calculator to see what you may be able to receive.
And What Can I Claim for After a Whiplash Injury?
Whiplash is a complex injury, despite the fact it is a common one. This means its symptoms can range from extremely mild to life-changing. The result is that the range of damages and the amount of compensation paid for whiplash injuries is fairly wide.
All claims for compensation due to a whiplash injury will consist of at least one and possibly all of the following forms of compensation, provided they apply to your claim:
General damages – this type of compensation for whiplash is paid solely for the injury itself. For example, the physical damage the victim has suffered and the pain they have had to endure may still be enduring. To prove the extent of physical and psychological suffering, it will be necessary to obtain medical evidence. This is done as part of the claims process. At the medical assessment, an independent expert (who has a duty to the court) will examine you and determine the extent of your pain and suffering. They'll also determine how long it will take for you to recover. Knowing this information will allow your lawyer to value your claim accurately.
Special damages – this category of compensation relates to financial losses, both past and present. Examples of this could be whiplash victims having to stop operating their own business, causing the firm to fold. Or the loss of ability to maintain a position as a top amateur athlete with professional potential in a specific sport. More specific types of special damages include:

Loss of earnings – if the person suffering from whiplash has had to take time off from work or even give up work altogether, then the compensation for whiplash claimed for this will be under the loss of earnings category of damages. Note that this relates to current earnings and future projected earnings if the whiplash injury is likely to be long-lasting or even permanent.
Travel Expenses – every out-of-pocket cost that the victim has encountered due to travel based on injury and compensation. You have to pay for a minicab home from the hospital after the accident to visit the law firm representing your claim.
Medical Expenses – if a medical expense has been encountered as a direct cost of the whiplash injury, it can be claimed back as compensation. These might be immediate costs such as paying for emergency treatment. However, it may also be ongoing costs, such as medication and prescription charges to treat the injury now and in the future.
Other Details
If you feel entitled to another form of damages as part of your compensation claim for whiplash that is not on this list, we will advise you of this during our first initial free consultation session. So to learn more about what can be factored into whiplash claims, please get in touch.
One more thing to note is that a representative of the accident victim can pursue a compensation claim for whiplash on their behalf if they're unable to do so.
In cases where the injury has left the sufferer unable to instigate the process themselves, it's possible under the Mental Capacity Act 2005 for a relative or another appointed representative to act as a litigation friend.
Get in touch with our team for more information on whiplash claims or start your whiplash compensation claim. Knowing what you wish to claim influences how much compensation for a whiplash claim you may receive.
How Much Compensation For Whiplash?
After the Government's recent tariff announcements for whiplash compensation claims, the potential payouts for claims below £5,000 have changed. Previously, there was no limit on compensation estimates for minor whiplash claims. But the Ministry of Justice's decision to place a cap on whiplash compensation payouts below £5,000 simplifies the situation for claimants. And it also ensures greater accuracy for victims making claims so that they aren't misled about what compensation is available. Therefore:
For mild whiplash, such as injuries that resolve completely within 3-6 months, the average compensation amount is between £240 and £495.
For slightly more serious whiplash, which takes between 6 months and a year to heal, you could receive between £840 and £1,320.
What about more serious whiplash injuries?
Should the recovery take longer than a year but fully resolves after two years, the average compensation is £2,040 and £4,215.
For severe whiplash and other spinal injuries, the average compensation award could be as high as £122,860. However, this would depend on the severity of the injury and its impact on your life.
Whiplash Compensation Calculator (Updated October 2021)
After suffering a whiplash injury, you may ask yourself questions like:
What is the average payout for whiplash in the UK?
Or what is the average compensation award for whiplash?
We've included some figures focused on neck injuries in a later section of this whiplash claims guide. But in many road traffic accidents, from broken bones to post-traumatic stress disorder.
Using the Judicial College Guidelines, we've created this detailed table which includes some of these potential injuries, their possible values and notes on their symptoms.
Injury
Severity
Compensation
Notes
Brain injury
Very severe
£264,650 to £379,100
The award bracket is given as an estimate for victims who have suffered severe brain damage and are unresponsive. In what is referred to as a vegetable state.
Brain injury
Moderately severe
£205,580 to £264,650
Losing feelings in limbs, mental disability, and or change in impersonality.
Brain injury
Less severe
£14,380 to £40,410
Head injuries that have not caused significant brain damage but still there maybe lasting effects.
Face Injury - Scarring
Very severe
£27,940 to £91,350
Scarring and facial disfigurement could warrant this amount of compensation. The severity will determine how much.
Face Injury - Scarring
Less severe
£16,860 to £45,440
These
compensation estimates cover brakes and fractures to the facial area such as the nose.
Face Injury - Scarring
Less significant
£3,710 to £12,900
Compensation amounts for scarring. Please note women tend to receive larger payouts for scarring than men.
Eye Injury
Total blindness
In the region of £252,180
Total blindness
Eye Injury
Loss of sight in one eye
£46,240 to £51,460
This amount of compensation is awarded with loss of sight in a single eye or very restricted vision in one eye.
Eye Injury
Minor
£3,710 to £8,200
Problems with vision, pain in the eye or temporary vision loss in an eye.
Back Injury
Severe
£36,390 to £151,070
Severe back injuries to the upper or lower part of the back, maybe causing paralysis or any issues relating to the organs within the lower part of the body.
Back Injury
Moderate
£11,730 to £36,390
This amount of compensation may cover ligament or soft tissue to the back, constant pain and /or discomfort.
Back Injury
Minor
From around £2,300 to £11,730
Soft tissue, slipped disc, muscle pain would gain this amount of compensation.
Neck Injury
Severe
£42,680 to in the region of £139,210
Neck injuries can be very severe causing problems with movement in different areas of the body. An injury to the neck can cause pain in this area for a lengthy time.
Neck Injury
Moderate
£7,410 to £36,120
Fractures to the neck, painful when moving, stiffness inability to use full movement of the neck will warrant this type of compensation.
Neck Injury
Minor
From around £2,300 to £7,410
These amounts of compensation are roughly the brackets for whiplash depending on how long it lasts, how painful it is and the long term prognosis.
Shoulder Injury
Serious
£11,980 to £18,020
Restriction in movement, limb numbness or paralysis due to injury in the shoulder and neck.
Shoulder Injury
Moderate
£7,410 to £11,980
Tissue damage to neck that may last for quite a while which restricts movement in the arm and elbow.
Shoulder Injury
Minor
From around £2,300 to £11,730
Soft tissue damage that will recover within the year or just over, that causes moderate pain.
Arm Injury
Loss of both arms
£225,960 to £281,520
Amputation of both full arms will receive the maximum award here. This compensation range also covers the amputation of one arm, or whether the amputation is to be the full or part of the arm. The restrictions this will have in the future are also taken into consideration.
Arm Injury
Permanent and substantial disablement
£36,770 to £56,180
If there is major restriction and disability in one or both arms and causes great pain and suffering.
Arm Injury
Less severe
£18,020 to £36,770
This amount is set at this criteria for those who have suffered restriction in movement and/or disability on the arms but will recover.
Elbow Injury
Severely disabling
£36,770 to £51,460
Complete restriction in movement of the elbow that has resulted in a disability or that has required surgery.
Elbow Injury
Moderate or minor
Up to £11,820
Restriction in the movement of the arm due to injury of the elbow.
Hand Injury
Loss of both hands
£132,040 to £189,110
This amount of compensation will cover, both hands or one hand amputation or if the hand becomes completely useless.
Hand Injury
Serious
£27,220 to £58,100
Likely to have seen a reduction in capacity by 50 per cent. Several fingers may have been amputated and re-joined, leaving a clawed or unsightly hand.
Hand Injury
Minor
Up to £4,461
Fractures, soft tissue damage, cuts and surgery warrants these amounts of compensation.
Wrist Injury
Severe
£44,690 to £56,180
No wrist function at all.
Leg Injury
Loss of both legs
£225,960 to £264,650
Amputation of both or one leg will warrant this amount of compensation to be awarded. It will also be taken in to consideration if the leg is amputated above or below the knee.
Leg Injury
Less serious
Up to £11,110
Fracture, brake or soft tissue damage to the leg that has affected the muscle causing great pain and discomfort.
Post-traumatic stress disorder (PTSD)
Less severe
£3,710 to £7,680
Minor symptoms that resolve in full within a short space of time.
Post-traumatic stress disorder (PTSD)
Severe
£56,180 to £94,470
Debilitating symptoms, impacting work life, social life, and relationships with family and friends. Prognosis for recovery is likely to be poor, with symptoms having some permanency.
Knee Injury
Severe
£24,580 to £90,290
Disability due to injury to the knee, severe damage to muscle, soft tissue and also muscle wastage.

Knee Injury
Moderate
Up to £24,580
Injury to the knee that is painful but will recover within time so the knee has a full normal working function.
If you have suffered multiple injuries where whiplash is just part of the problem, then you may be able to claim more compensation than these values listed above. However, you will need to speak to us and explain your case to us in more detail to provide a more concrete valuation.
Compensation for whiplash and payouts for mental anguish and stress are also hard to predict. Everybody reacts to traumatic events in a different way.
In some cases, if the psychological trauma caused by the accident is long-lasting and life-changing, the damages claimed could be considerable.
What Are Special Damages?
As we've seen above, as well as claiming compensation for physical injuries, it's also possible to seek the costs of any financial losses you may have incurred.
These losses may be from the past, or they may be incurred in the future. Either way, they can be factored within your compensation for whiplash claim, provided you can supply evidence of the expense. Some examples of the things you can make a whiplash compensation claim for include:
Loss of earnings, both past and in the future
Medication expenses, including over-the-counter painkillers like paracetamol and ibuprofen
If you had to pay for buses or taxis to get to appointments to see your doctor or solicitor about the accident and injuries, you could seek these costs too.
If you had to pay out for childcare or maintenance costs, like gardening, you could claim for that too.
It's important to retain all receipts, bills, payslips and invoices relating to any expenses incurred. They'll serve as evidence to justify claiming back these costs. Without them, you may be left out of pocket.
Please speak to our personal injury claims team to learn more about what compensation could be awarded in whiplash claims.
What Are the Symptoms of Whiplash?
The symptoms of whiplash will generally have taken hold within 24 hours of the accident. A typical case of whiplash will have most of the following symptoms:
Pain in the neck and stiffness can be construed as more severe than simple muscle fatigue.
Increased pain level when the neck is moved, causing the sufferer to attempt to keep their neck and head immobile as much as possible.
Inability to move the neck across its full movement range due to pain and stiffness.
Headaches, with a root at the bottom of the skull or top of the spine.
Slight pain and tension in the shoulders and upper back region.
These are the very basic symptoms of whiplash that can mostly be identified in a standard medical examination. If you are suffering from worse than these symptoms, you probably have a much more serious injury than whiplash and if you haven't already done so, seek medical advice. Any or all of these symptoms could shape how much compensation you could claim for a whiplash claim. Please continue reading to learn more about using a whiplash compensation calculator to value your claim.
Can You Claim for Whiplash As A Passenger?
The simple answer here is yes. Both the passenger and driver of a vehicle may have cause to claim compensation for whiplash caused by an accident that was the fault of a third party.
Furthermore, the passenger of a vehicle may have cause to claim damages against the vehicle's driver in certain circumstances. For example, if the driver was at fault for causing the accident, they can claim whiplash compensation against their insurance provider.
If you or your fellow passengers want to make whiplash claims, please get in touch for free legal advice and support today.
How Long Does It Take to Get Over Whiplash?
You may ask yourself what the fastest way to recover from whiplash is. Well, depending on the severity of the injury, the answer varies.
The time it takes for a person to recover from whiplash is dependent upon many factors. Primarily, of course, how severe the whiplash was. For mild cases of whiplash, full recovery usually occurs within a few weeks or months.
For more serious whiplash cases complicated by additional back, shoulders or spine injuries, full recovery could take much longer, perhaps up to a year or two. Indeed, some people never recover fully from a serious whiplash related health problem. And in these cases, we would aim to seek damages to cover the obvious loss of earnings that this injury would cause.
And How Long Do You Have to Make a Car Insurance Claim After an Accident?
According to the Limitation Act 1980, you have up to three years from the date of the accident to claim whiplash compensation.
For children under the age of 18, a litigation friend claims on their behalf. But once the younger victim becomes an adult, they have up to 21 to claim compensation for whiplash.
The takeaway here is that if you need to claim damages following an accident that results in a whiplash injury or a soft tissue injury, you need to do it very quickly after the accident has happened. If you leave it too long to make your compensation claim, even if it's a small claim, you may have missed your window.
Please speak to our personal injury claims team to learn more about the time limits involved in whiplash claims. And this also shows how the time limit influences the payout estimate from using a whiplash compensation calculator. We can also discuss other elements of the claims process, such as the significance of insurance premiums.
How Long Does A Whiplash Claim Take In The UK?
The longest part of the whiplash compensation claim process can be reaching a settlement agreement with the party liable for paying damages. This is a period of legal wrangling, consisting of offers and counter-offers. This is why it could be worthwhile obtaining proper legal representation to pursue a claim for whiplash compensation in the first place.
The good news is that once this period of legal negotiation has been completed, the time it takes to receive a compensation payout is quite short. In most cases, you can expect to be paid in full from 14 to 28 days after a settlement has been agreed.
So whilst it is difficult to give an overall indication of the full end-to-end process for claiming whiplash compensation, you can rest assured that we will expedite the actual payment of the legal side of things once we have taken care of the legal side of things compensation for whiplash as quickly as possible.
Why Choose Us As Your Whiplash Claims Service?
Although whiplash claims are one of the most common damages cases we see, we treat each new case on its merits. We know that regardless of why you are claiming damages, it is a stressful event.
Therefore, every person who comes to us to help them make a compensation claim for whiplash is treated with respect and understanding. We have heaps of experience handling whiplash-related damages claims, and we pass the expertise directly to our clients.
Put simply, we make the process of claiming compensation as streamlined and efficient as possible. Of course, we always aim to get you the most compensation for whiplash we can. But we will never do anything to risk the success of your claim. And, of course, if we are working for you under a No Win No Fee agreement, you have no legal costs to pay us unless we successfully get you awarded damages for your whiplash.
If you'd like to learn more about our services, why not check out some of our reviews? Here's what one of our clients had to say:
Highly responsive, clear process & associated time frames. I felt confident in their legal experience throughout. Service like this is a comfort to those who need it at what could possibly be a difficult time.
Are You Ready to Make a Compensation Claim For Whiplash?
Have you recently been involved in an accident that resulted in you suffering from whiplash? Even if it was only a mild case, you could still have an entirely valid reason to make a compensation claim if the accident was not your fault.
If you are ready to make your claim, then contact us today. We will offer you an entirely free consultation, during which we will capture all of the key facts of the accidents and the details of your injury. At this point, we could use a whiplash compensation calculator to see what you might claim. We will then offer you the best advice on moving forward with your compensation claim.
This will mean that we offer to take on your compensation claim for whiplash in a No Win No Fee arrangement in almost every case. You don't pay us anything as we pursue your case. And you won't pay us anything unless we successfully secure damages for you.
To get started with claiming whiplash compensation or learn more about what's involved in pursuing whiplash claims, get in touch with our personal injury claims team.
What You Can Claim For In Case Of Injury?
Whiplash injuries vary widely in how they are caused, the symptoms manifested, the severity of the injuries, and their effect on your quality of life. Because of the uniqueness of each factor, there is no blanket compensation for all whiplash injuries.
Each case is assessed individually, and the compensation for whiplash is awarded based on the cumulative effect of the individual factors. In addition, you are also entitled to claim for the cost of the treatment and loss of income from missing work due to your injury.
How Whiplash Compensation Is Calculated
As we've seen above, whiplash compensation claims usually comprise two components – general damages and special damages. In this section, we'll take a look at how they can both form your overall personal injury settlement package.
When calculating compensation in cases of whiplash injuries, it is absolutely important to make sure you claim what you deserve and do not settle for anything less.
Very often, the insurance company will rush to make a quick offer. It may seem tempting to take what they offer, but this could be a mistake. Very rarely, if ever, will an insurance company offer you a fair amount. More often than not, the amount they are offering is nowhere near the amount you deserve for your whiplash claim.
Further Details
Moreover, once you accept their offer, you waive your right to claim for anything more at a later date, so even if your injuries take a turn for the worse, you will not be able to claim more compensation.
Hiring a personal injury solicitor who specialises in whiplash compensation claims will give you a far better chance of getting fair compensation for your injuries.
Experienced whiplash injury solicitors are more familiar with the various expenses that can be included in your claim. They will negotiate with the insurance company on your behalf and ensure that you get the maximum whiplash compensation possible. Besides that, they will almost certainly fight your case on a Conditional Fee basis, which means you only need to pay them if they win the case for you.
Can I Be Compensated If Injured By An Uninsured Driver?
The answer is yes. Suppose you've been injured in an accident with an uninsured driver or someone who drove off after an accident and cannot be traced. In that case, it's possible to make a claim through the Motor Insurer's Bureau (sometimes erroneously referred to as the Motor Insurance Bureau).
The MIB can offer recourse to those injured by uninsured drivers by providing compensation in successful personal injury claims. This is something our road traffic accident solicitors can help with when you file any whiplash claims. So, please get in touch today to learn more about compensation for whiplash involving drivers without insurance. Additionally, feel free to ask any questions about the use of a whiplash compensation calculator.
What Are The Whiplash Reforms And Can I Still Claim Compensation?
Let's talk about a recent hot topic in the news: the whiplash compensation process reforms. So, as per the Civil Liability Act 2018, the Government decided to introduce a tariff covering all potential amounts of compensation for whiplash. Now, the Ministry of Justice felt it was necessary due to previous payouts for whiplash being higher than what claimants could receive. And this was especially true when considering that most whiplash compensation claims are settled before a trial.
However, we should note that this only covers whiplash settlement figures that are less than £5,000. However, the new tariff aims to ensure a clearer and more accurate compensation estimate for their claim. Additionally, this extra control over potential awards means that compensation is paid proportionally and fairly. And a personal injury solicitor can advise you on whether your claim falls within this tariff or whether it has more value.
Below, we have a table showing the new whiplash compensation figures as part of this tariff from May 31 2021. Note that these figures take into account inflation and also the latest guidelines from the Judicial College. Furthermore, these amounts consider the views from the Lord Chief Justice.
| Injury | Notes | Amount |
| --- | --- | --- |
| Whiplash | Symptoms for 3 months | £240 |
| Whiplash | Symptoms for 3-6 months | £495 |
| Whiplash | Symptoms for 6-9 months | £840 |
| Whiplash | Symptoms for 9-12 months | £1,320 |
| Whiplash | Symptoms for 12-15 months | £2,040 |
| Whiplash | Symptoms for 15-18 months | £3,005 |
| Whiplash | Symptoms for 18-24 months | £4,215 |
| Whiplash & minor psychological damage | Symptoms for 3 months | £260 |
| Whiplash & minor psychological damage | Symptoms for 3-6 months | £520 |
| Whiplash & minor psychological damage | Symptoms for 6-9 months | £895 |
| Whiplash & minor psychological damage | Symptoms for 9-12 months | £1,390 |
| Whiplash & minor psychological damage | Symptoms for 12-15 months | £2,125 |
| Whiplash & minor psychological damage | Symptoms for 15-18 months | £3,100 |
| Whiplash & minor psychological damage | Symptoms for 18-24 months | £4,345 |
If you have any questions about reforms and how they impact whiplash claims, please contact our team.
Whiplash Claims FAQs
It's natural to have questions when faced with the prospect of pursuing whiplash claims. These FAQs answers will help you understand filing a claim for whiplash injury and calculating the whiplash compensation.
How long does the whiplash claims process take?
Each whiplash injury compensation claim is different, and also, every insurance company responds differently. Therefore, it depends on how complex your case is and how the insurance company responds.
Do I need to hire a solicitor to file a claim for whiplash injury?
It is not mandatory to hire a solicitor to file your claim. However, it is highly recommended. This is because a solicitor would have the expertise and experience necessary to put together a strong case to give you a better chance of getting the compensation you deserve.
Am I entitled to claim even if the whiplash injuries are mild?
Yes, the law is very clear in this matter. As long as the accident was not your fault and can provide a whiplash injury diagnosis from a qualified doctor, you are entitled to be financially compensated for your pain and suffering.
The amount you will receive by way of whiplash compensation will depend on the severity of your injuries.
What is the compensation amount I can expect if I file a whiplash claim?
There is no one amount for all claims. Every claim is different in terms of the severity and the extent to which the injury affects your life. The compensation you receive will depend on these two factors.
Further Questions
Can I claim for all types of whiplash injuries even if they are not listed?
You should be able to, but there could sometimes be other factors that annul your rights. Ideally, you would speak to a solicitor that can advise you about your rights.
Am I under any obligation to hire the solicitor that I get advice from?
You are under no obligation whatsoever. Most solicitors offer a free first consultation that you can take advantage of. You can make appointments with more than one solicitor and get different opinions. And you can then choose the solicitor with whom you feel most comfortable.
Do I have to pay the solicitor's fees at the outset?
Most solicitors will first assess the merits of your claim. Then, if you have a strong case, they will represent you on a No Win No Fee basis. This means you only pay after they win the case, and you receive compensation. Therefore, there are no upfront fees for taking on your whiplash compensation claim.
Do compensation for whiplash claims go to court?
Given the risks and the financial costs at stake, few claims make it to court. Only around 5% of personal injury cases reach a courtroom.
Can I claim whiplash without seeing a doctor?
It's always advisable to have a doctor's examination after suffering an injury. However, not doing so doesn't prevent you from making a claim. In any event, we will arrange for you to have this as part of the case.
Can I claim whiplash if I was a passenger?
Yes, a claim may be possible against the driver of the vehicle. This applies to cars, taxis, buses and coaches.
Helpful Links On Whiplash Compensation
In this final section of our compensation for whiplash claim guide, we have more links that you may find useful. And these range from road traffic accidents to those involving cyclists.
Find out the amounts of compensation for whiplash in car accidents.
If you're a passenger in a car accident, contact us today. We will let you know if you can claim passenger accident compensation.
Learn more about claiming compensation if you suffer an injury as a cyclist in a road traffic accident.
A whiplash injury is a type of neck injury stemming from road traffic accidents such as car accidents.
This MIB guide will tell you what you need to know to learn more about the pending whiplash reforms.
Check out this government guide on the changes to claims for whiplash compensation.
Thank you for taking the time to read our guide to whiplash claims. Hopefully, we have answered how much compensation for a whiplash claim is suitable for your case. But please get in touch if you have any further questions regarding a whiplash compensation calculator.