How Much Compensation Can I Claim For A Crane Accident?
By Danielle Jordan. Last Updated 21st September 2023. If you have been injured in an accident at work due to a crane failure, you may be eligible to make a personal injury claim. However, you will need to prove that your injuries were directly caused by your employer breaching their duty of care.
Your employer owes a duty of care under the Health and Safety at Work etc. Act 1974. Per this duty, they must take reasonably practicable steps to ensure your safety while you are working. If they breach this duty and you suffer an injury as a result, you might be eligible for compensation.
In this guide, we take a look at examples of accidents that could occur because your employer failed to adhere to their duty of care. We will also look at what injuries you could suffer in a workplace accident, as well as provide examples of evidence you could submit to support your case. Furthermore, we will discuss some of the benefits of making a claim with a solicitor on a No Win No Fee basis.
If you have any questions about personal injury claims made for crane accidents or would like free advice for your potential claim, please get in touch with an advisor. Our team of advisors are available on the following details:
Select a section:
What Is A Crane Accident?
A crane accident is an accident either caused by a crane, or involving a crane. It is heavy machinery, and if it is in use in your place of work your employer has a responsibility to ensure safety measures are in place to prevent you or your colleagues suffering an injury in a crane accident.
Your employer, for example, could be liable for an injury caused by:
An unsafe crane

: If your employer provides machinery to use, or allows machinery to be used in your place of work, it is their responsibility to ensure that it is in safe working order by carrying out regular risk assessments. If they don't and you experience harm as a result, your employer could be held liable for an injury caused by a malfunctioning crane.

An unsafe task:

An employer asking you to perform an unsafe task can be considered negligence. If for example, you are assigned to lift a weight that the crane in use cannot handle, your employer can be liable for any injuries caused in an accident with a toppling

crane.
Untrained colleagues

: Any activity that could cause harm to an employee or their colleagues, should first come with instruction and training, or checks to make sure that the person performing the task is suitably qualified. An untrained employee being allowed to operate a crane without a license, can be grounds for a claim if they were to injure a person.
Your employer's duty of care means they have a responsibility to ensure they do not put you in harm's way by taking reasonable steps to reduce or remove any risks posed by hazards in the workplace. Our advisors can give you more information about workplace safety laws in the UK and crane accidents. Please reach out, if you suffered a workplace injury caused by a crane accident.
What To Do If You've Been Involved In A Crane Accident
Knowing what to do if you have been involved in a crane accident isn't always obvious, and you might find different people offering different advice, which can get confusing. These are the most important actions you should take.
Immediately report the injury to your line manager or foreman.
Ensure that you receive immediate treatment for your injury. If it is minor, then your local first aid worker could assess the injury and apply first aid.
If it is major and you require emergency treatment by paramedics, make sure that somebody informs your family or friends about your injury.
Always get your injury checked over by your A&E department or by your GP. If you visit the A&E first, also get it checked over by your local GP as A&E departments won't necessarily keep detailed medical notes on your injury.
As soon as possible complete a full accident report at your workplace.
Keep detailed notes on exactly how the accident happened and the names and addresses of any witnesses.
Check if you are entitled to compensation by contacting an expert crane accidents compensation solicitor.
If you'd like to know more about the crane accident claims process, then get in touch with our team at the number to the top and bottom of this article for more information.
Evidence For Crane Accident Claims
Each claim is individual, and it's important to check with your solicitor the specific evidence required for your circumstances, but usually, you will need:
Photographic evidence of your injuries.
Witness statements and/or CCTV footage.
Information on your training prior to using or working with the crane.
Receipts for all out of pocket expenses relating to the accident, for example, medications, transport, and medications.
An account of how the accident has disrupted your normal life, for example, has your mobility been affected, are everyday activates more difficult to carry out.
How Much Can I Claim For A Crane Accident?
There are no set sums for damages for crane injuries; it all depends on how the court views your loss in terms of monetary loss, including loss of earnings and other costs; however, there are some official guidelines. Also, you should expect to be compensated for any pain and suffering you have endured. The court also has the power to impose punitive costs to your employer, which could vastly increase your total compensation.
If you are claiming compensation for the loss of your spouse or partner, the court may take into consideration the loss of earnings potential over their lifetime.
Here we have provided some examples taken from real-life cases and official court guidelines. However, you might be entitled to considerably more than this, depending on circumstances. To an extent, this will depend on how effectively your solicitor presents your case.
The compensation brackets included in the table are based specifically on the latest Judicial College Guidelines (JCG). The compensation amounts provided by these guidelines are based on the outcomes of past compensation claims. While working on your own potential crane accident claim, solicitors may use the compensation brackets provided by the JCG to help them work out the value of your injuries.
The compensation brackets should not be treated as a guarantee of a minimum or maximum compensation amount. However, they can at least give you some indication of the general amount of compensation you could receive, depending on the exact injuries you're claiming for.
| Reason for compensation | Additional information | Typical compensation awarded |
| --- | --- | --- |
| Brain damage- Very severe | In these cases there will be little to no meaningful response to environment and a need for full-time nursing care. | £282,010 to £403,990 |
| Brain damage- Moderately severe | Results in very serious disability, physical or cognitive, in the injured person. | £219,070 to £282,010 |
| Moderate brain damage (iii) | As above, with a reduced degree of dependence. | £43,060 to £90,720 |
| Loss of both arms | Injuries such as this will reduce a person with full awareness to a state of considerable helplessness. | £240,790 to £300,000 |
| Loss of one arm | Award depends on where amputation occurs | £96,160 to roughly £137,160 |
| Loss of both hands or loss of use in both hands |  Hands will be extensively damaged, rendering them little more than useless. | £140,660 to £201,490 |
| Loss of one foot |   Treated similarly to a below-knee amputation of one leg due to the loss of the ankle joint. | £83,960 to £109,650 |
| Severe leg injury | Award will depend on extent of injury and long-term prognosis | £96,250 to £135,920 |
| Elbow injury with permanent impairment | An injury of this nature will be severely disabling | £39,170 to £54,830 |
| Elbow injury resulting in no or only minor impairment | This applies if you still have almost all your original motion | Up to £12,590 |
Special Damages For Crane Accidents
Compensation for a crane accident can be comprised of sums other than those that related directly to the pain and suffering you experienced as a result of your injuries. This is known as general damages, as explored above.
However, you may also be eligible to receive special damages. We've included some examples of these below. This is the portion of your crane accident settlement that is intended to address the financial impact that your injuries have had on you. For instance:
Medical expenses – Some injuries may require prescription medication or even private healthcare to aid in your recovery.
Loss of earnings – If your injuries have impacted your ability to work.
Damage to property – For example, the incident may also have damaged personal items such as your phone or watch.
Care costs – Your injuries may mean that you require additional care at home once you have been discharged from hospital. This could be a permanent arrangement or only temporary.
Other expenses – You may have paid for certain excursions such as holidays, which you can no longer make use of due to your injuries.
In order to claim special damages, you will also need to provide evidence of these losses and expenditures. A good way to do this is to present documents such as payslips or proof of payment such as a receipt.
For more information on the potential value of crane accidents, get in touch with us today.
Crane Accident Claims And No Win No Fee Solicitors
If you are eligible to make a crane accident compensation claim, you may wish to do so with the support of a solicitor. If so, one of our personal injury solicitors could work on your case. Generally, they provide their services under the terms of a Conditional Fee Agreement (CFA). This is a type of No Win No Fee arrangement. 
When your solicitor works on a No Win No Fee basis, they generally won't ask for any upfront or ongoing payments to cover their services. They also won't ask you to pay for their work on your case if you're not awarded compensation following an unsuccessful claim. 
However, if your claim has a successful outcome, your solicitor will subtract a success fee from your compensation. The amount that can be taken as this fee  is limited by the law. 
Get in touch with an advisor from our team to discuss crane accidents. An advisor can check your eligibility to claim and if it seems like you have a valid case, you could be connected with one of our solicitors. 
To speak with an advisor: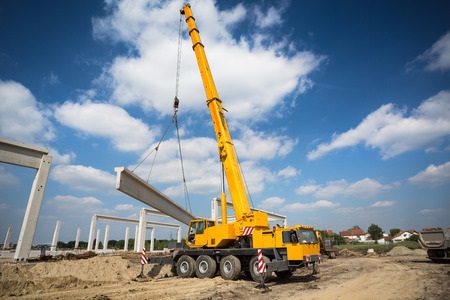 Helpful Links
How Much Compensation for An Accident at Work Claim? – this provides a detailed guide on the amount of compensation you might be entitled to for any specified work-related injury.
Concussion injury claims – This guide will help you with making a claim following concussion.
Defective work equipment claims – have you been injured because of defective work equipment? If so, this guide may be of use to you.
How Much Can I Claim For An Accident Caused By Dangerous Machinery At Work? – Read this to learn more about claiming if you've been injured by dangerous machinery.
Thank you for reading our guide on crane accident claims. To learn more about making claims for crane lifting accidents, contact our team for free legal advice at a time that works for you.