Compensation Tables For Personal Injury Claims
Last Updated 11th October 2023. Welcome to our guide. We'll be providing guidance on how to use compensation tables for personal injury claims. The tables can be useful in giving you an idea of the types of injuries you could sustain in different accidents and how much each injury could be worth.
However, you should be aware that there are many factors that can affect the compensation settlement you receive. We'll look into the various factors further throughout our guide.
A personal injury claim can be made if you've suffered harm in an accident resulting from someone breaching the duty of care they owed you. If you're unsure whether someone acted negligently, you can speak to a member of our personal injury claims team.
An expert advisor can assess your claim to see if it has favourable grounds. If it has, they can provide further information on the steps you could take to seek compensation. This can include the evidence you may need to obtain and the options you have regarding legal representation. They can also connect you with our solicitors.
For more information, use the following details to get in touch:
Telephone us on 0800 073 8804.
Send your enquiry to an advisor and they can get back to you at a more convenient time.
Get instant advice using the live chat feature at the bottom of the page.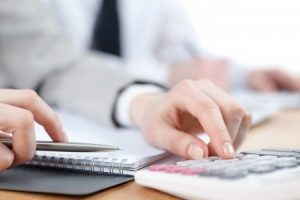 Select A Section
When Could You Claim Personal Injury Compensation?
Negligence occurs when you suffer an injury due to a relevant third party breaching their duty of care. Being able to prove negligence is a crucial element in a personal injury claim. Payouts could be denied for injured parties who cannot prove this.
At work, your employer owes you a duty of care under the Health and Safety at Work etc. Act 1974 (HASAWA). Per this duty of care, employers must take all reasonably practicable steps to ensure the health, safety and welfare of their employees whilst there are working. For example, if you trip over a wire at work due to your employer not tidying them away or securing them down, you could be eligible to make a personal injury claim.
Road users' duty of care is set by the Road Traffic Act 1988. They need to navigate the roads in a way that prevents injury and damage to themselves and others. Additionally, they are expected to adhere to the rules and regulations in the Highway Code. For example, if another driver fails to follow the traffic signals and you suffer injuries in a collision, you could be entitled to compensation.
In public spaces, the controller of a space owes you a duty of care under the Occupiers' Liability Act 1957. They must take steps to ensure your reasonable safety while you are using that space. For example, if you trip over uneven pavement that the local council was aware of and failed to fix within a timely manner, you might be able to claim.
Please get in touch with our advisors to discuss injury compensation amounts and to see if you could be eligible to make a claim.
What Is The Time Limit For Claiming Personal Injury Compensation?
Generally, you have 3 years from the date you were injured to begin your personal injury claim. This is stated in the Limitation Act 1980. However, there can be certain exceptions to this time limit.
For instance, if the claimant is under 18 or lacks the mental capacity to claim, then the time limit is suspended.
For child cases, the time limit begins on their 18th birthday – and they can make their own claim from this date. For those who lack the mental capacity to claim, the time limit would be begin from the date of their recovery but is suspended indefinitely until this point.
In the time before a party can make their own claim, a litigation friend could be appointed by the courts to claim on their behalf.
Top Tips on Proving Personal Injury Claims
Evidence is crucial to successfully receiving payouts for personal injuries. As such, when seeking personal injury compensation, it's useful to keep records of your injury and treatment plan. Other top tips for proving personal injury claims include gathering other evidence such as:
CCTV footage of the incident. If this footage is available, you can request this in certain instances. If you're involved in a car accident, dashcam footage can also be useful.
Medical reports of your injury. When seeking personal injury compensation, a solicitor will arrange for you to have your injuries assessed by a medical professional. This can highlight the extent of your injuries. Our solicitors can organise for this to be arranged as close to you as possible.
Statements from witnesses. If you ask for the contact details of any witnesses after an accident, your solicitor can contact them as part of the claims process.
Photographic evidence of your injury and the accident site.
If you would like to know more about the claims process or potential payouts for personal injuries, contact our team for free legal advice. We can tell you if you're eligible to claim and provide you with a compensation estimate. To learn more about this, please refer to the compensation tables for personal injury claims below.
List Of Compensation Payouts In The UK
If a third party is liable for an injury you suffered and you are eligible to seek compensation, you might be searching for 'typical payouts for a personal injury in the UK'. However, knowing typical or average personal injury claim payouts may not be beneficial to you. This is because each claim is different and several factors can be considered when working out the value of your settlement. 
As we discussed above, settlements for successful claims could consist of two heads of claim: general and special damages. 
Under general damages, you are compensated for the pain and suffering of your injury. This head will consider the type of injury, the severity, your prognosis and loss of amenity. 
Injuries are assigned value according to the compensation brackets found in the Judicial College Guidelines (JCG) from Judiciary UK. As you can see in our table below there are a few examples of the compensation brackets from the 16th edition of the JCG. However, due to the many factors considered when assigning a value to the general damages portion of your case, the figures in the table are only a guide rather than a guaranteed amount.
| Type of Injury | Notes | Amount |
| --- | --- | --- |
| Hand Injury (a) | Complete loss of both hands. | £140,660 to £201,490 |
| Hand Injury (f) | Severely fractured fingers that impact hand function and grip. | Up to £36,740 |
| Deafness/Tinnitus | Complete loss of hearing in both ears. | £90,750 to £109,650 |
| Psychiatric damage (moderate) | A good prognosis with significant improvements made despite suffering with various issues. Particular cases of work-related stress may fall under this bracket. | £5,860 to £19,070 |
| Toe Injury (d) | Serious injuries such as multiple fractures of toes that result in persistent pain. | £9,600 to £13,740 |
| Injuries Affecting Sight (h) | Minor eye injuries such as liquids being splashed in the eye, exposure to fumes or being struck in the eye. | £3,950 to £8,730 |
| Wrist Injury (e) | An uncomplicated Colles' fracture. | In the region of £7,430 |
Instead of looking at a list of compensation payouts, you may find it beneficial to speak with our advisors who can provide you with a free valuation of your claim. They can also offer guidance on the special damages you could include in your settlement. Call the number above for more information.
Car Accident Claim Calculator
According to the Reported Road Casualties in Great Britain: 2019 Annual Report, there were 736 fatalities involving car occupants. Additionally, the Department for Transport recorded 152,686 cars involved in reported accidents in 2019.
The exact cause of each of these accidents is difficult to pin down. However, some common variables of road traffic accidents might include:
Weather conditions
Road surface conditions
Carriageway type
Junction control
You would only be able to claim compensation if you weren't at fault for your injuries. For example, if you were injured because a pothole wasn't fixed (despite the council's knowledge of it) and you crashed, you could claim. If someone else wasn't driving with standard care and skill and caused your injuries, you could claim.
Although the nature of injuries caused by car accidents isn't detailed, we have created a car injury compensation table below. It includes some injuries you could suffer in a car accident. The figures provided come from the JCG.
| Injury | Notes | Amount |
| --- | --- | --- |
| Neck Injury | Severe: (ii) Serious damage or fractures to the cervical spine discs that result in a loss of movement in the neck. | £65,740 to £130,930 |
| Neck Injury | Moderate: (i) Fractures or dislocations that may require spinal fusion and will result in immediate symptoms. | £24,990 to £38,490 |
| Leg Injury | Serious: Compound or comminuted fractures that may result in arthritis and will require prolonged treatment. | £39,200 to £54,830 |
| Leg Injury | Less serious: (ii) Simple fractured femur with no articular surface damage. | £9,110 to £14,080 |
| Knee Injury | Severe: (iii) Less severe injuries such as damage to the kneecap which causes ongoing pain and discomfort. | £26,190 to £43,460 |
| Knee Injury | Moderate: (ii) Bruising, lacerations or twisting injuries that result in persistent aching and discomfort. | Up to £13,740 |
| Arm Injury (d) | Simple forearm fracture. | £6,610 to £19,200 |
| Shoulder Injury | Serious: A dislocated shoulder with damage to the lower brachial plexus that causes symptoms in the neck, shoulder and arm. | £12,770 to £19,200 |
It's important to note that claims for whiplash injuries have changed slightly due to the Whiplash Reform Programme. This means that if your claim is less than £5,000 you need to go through the government's online portal. For more information on this, see further down in our guide where we go into more detail.
Brain And Head Injury Compensation Tables
A brain or head injury could result in severe long-term consequences that mean someone may require full-time care for the remainder of their life. Different accidents could result in this type of injury, such as:
An employee falling from a faulty ladder in work
Someone tripping over an uneven paving stone that the council failed to maintain
The table below looks at the compensation figures for head or brain injuries outlined in the JCG.
In addition to the general damages listed for injuries in the table, special damages could be included in the claim. For instance, for any ongoing care costs for the injured person.
| Injury | Notes | Amount |
| --- | --- | --- |
| Brain damage | Very Severe: The person may have the ability to carry out basic functions such as eye opening but they will show little meaningful response to their environment and will need constant care. | £282,010 to £403,990 |
| Brain damage | Moderately Severe: The person will need constant care and and disabilities may include limb paralysis and an intellectual deficit. | £219,070 to £282,010 |
| Brain damage | Moderate: (i) A severe to moderate intellectual deficit with and effect on speech and sight. | £150,110 to £219,070 |
| Brain damage | Moderate: (ii) The person's ability to work will be affected and there may be a risk of epilepsy. | £90,720 to £150,110 |
| Brain damage | Moderate: (iii) Memory and concentration are impacted with a small risk of epilepsy. | £43,060 to £90,720 |
| Brain damage | Less Severe: The person will have made a good recovery that allows them to go back to work and partake in a normal social life. However, there may be some ongoing problems. | £15,320 to £43,060 |
| Brain damage | Minor: Any brain damage will have been minial. Various factors will affect how much is awarded, such as the extent of persisting symptoms. | £2,210 to £12,770 |
Soft Tissue Compensation Tables For Personal Injury
A soft tissue injury might refer to sprains and strains. They usually affect the muscles, tendons and ligaments around the bones. Although they are often minor injuries, they can cause symptoms that can severely affect people.
Some accidents that could cause this type of injury might include:
Car accidents such as a side crash
An accident at work resulting from heavy lifting without the correct equipment or training
Public place accidents such as slipping on a wet floor in a shop
The following table outlines example figures of what you could claim under general damages for soft tissue injuries, using the JCG.
| Injury | Notes | Amount |
| --- | --- | --- |
| Neck Injury | Severe: (iii) Severe soft tissue damage alongside ruptured tendons that cause chronic conditions and a permanent disability. | £45,470 to £55,990 |
| Neck Injury | Moderate: (i) Serious soft tissue injuries affecting both the neck and back. | £24,990 to £38,490 |
| Hand Injury (h) | A moderate hand injury such as penetrating wounds, deep lacerations, crush and soft tissue injuries. | £5,720 to £13,280 |
| Shoulder Injury | Moderate: Injuries such as frozen shoulder or soft tissue injuries that cause symptoms to persist for longer than two years. | £7,890 to £12,770 |
| Leg Injury | Less Serious: (iii) Simple tibia or fibula fractures or soft tissue injuries. | Up to £11,840 |
| Wrist Injury (d) | A complete recovery from a soft tissue injury or fracture takes longer than 1 year. | £6,080 to £10,350 |
| Injuries to the pelvis and hips | Lesser injuries: (ii) Soft tissue injuries of a minor nature where the person completely recovers. | Up to £3,950 |
| Chest Injury (g) | Soft tissue injuries or rib fractures which cause serious pain and disability for a few weeks. | Up to £3,950 |
Tables For Back Injury Compensation Payouts
The back is an intricate part of the body and injuries to the area could affect your spine, spinal cord or the muscles around them. In addition, some back injuries often affect the neck and vice versa.
There are many ways these accidents could happen. For instance:
Slips, trips or falls
Rear-end car accidents
Not only can the physical effects be devastating, but the psychological impact can be debilitating too. For that reason, the compensation figures in the table below show what you could claim for neck and back injuries as well as any psychological injuries suffered.
| Injury | Additional details | Compensation Award |
| --- | --- | --- |
| Back Injury | Severe: (i) Damaged spinal cord and nerve roots that cause severe pain, incomplete paralysis and an impact on bladder, bowel and sexual function. | £91,090 to £160,980 |
| Back Injury | Severe: (ii) Nerve root damage that results in a loss of sensation and impaired mobility and bladder. | £74,160 to £88,430 |
| Back Injury | Severe: (iii) Disc lesions or fractures that lead to chronic conditions with disabilities that remain despite surgery. | £38,780 to £69,730 |
| Back Injury | Moderate: (i) Compression or crush fracture to the lumbar vertebrae that results in persistent pain and discomfort. | £27,760 to £38,780 |
| Back Injury | Moderate: (ii) Frequently encounters back injuries that cause backache due to the ligaments and muscles being disturbed. | £12,510 to £27,760 |
| Back Injury | Minor: (i) A full recovery takes place within 2-5 years without requiring surgery. | £7,890 to £12,510 |
| Back Injury | Minor: (ii) The person will make a full recovery within 1-2 years and won't require surgery. | £4,350 to £7,890 |
| Back Injury | Minor: (iii) Within 3 months to 1 years a full recovery is made from a minor back injury. | £2,450 to £4,350 |
| Back Injury | Minor: (iv) A full recovery is made in 3 months. | Up to £2,450 |
Get Help Claiming Personal Injury Compensation From Our No Win No Fee Solicitors
Those looking at injury compensation charts or tables such as the examples above can see that personal injury compensation can vary greatly for different injuries. This is because payouts for personal injury claims are determined on a case-by-case basis, and there are numerous factors which can influence how a personal injury claim is calculated.
Now that you have more information on the typical payouts for a personal injury and how compensation may be calculated, you may be interested in starting a claim.
Our solicitors can help with a variety of personal injury claims under a kind of No Win No Fee arrangement known as a Conditional Fee Agreement (CFA). When working with a solicitor under this kind of agreement, you won't be expected to pay any upfront or ongoing fees to your solicitor. Additionally, if your claim doesn't succeed, then you won't pay for your solicitor's services.
You will pay a success fee to your solicitor if your claim succeeds. This success fee is a small percentage deducted from your settlement award, which has a legal cap.
To find out how one of our solicitors could help you make a claim, or to learn more about personal injury claim payouts, get in touch with our team today. Additionally, they could connect you with one of our solicitors if they believe you may have a valid claim. To get started:
Injury Claim Guides
We have lots more guides on personal injury claims which you can browse below: 
Thank you for reading our guide on understanding compensation tables for personal injury claims. We hope you've found it useful.
Written by Mitchell
Edited by Victorine