What Proof / Evidence Do You Need To Claim For Loss Of Earnings?
What Evidence For A Loss Of Earnings Claim Do I Need?
Aside from dealing with your injuries themselves, one of the most difficult parts of suffering a personal injury is the loss of income which can often be associated with taking time off work, or having to take reduced/ different duties in the workplace. This is where being able to claim for loss of earnings as part of a personal injury claim can have a big impact on your financial well being. After any form of personal injury, your claim could include compensation for loss of benefits, income, or other financial impacts.
In order to claim for loss of earnings as part of a personal injury claim, you will need to provide evidence for loss of earnings, as well as evidence that this was a direct result of the injury you suffered as a result of an accident which was not your fault. When you work with an expert personal injury solicitor they will need certain evidence from you to put together your claim.
When you make any type of personal injury claim your settlement will often be broken into two parts, general damages for the injury and special damages which are paid out based on costs. As well as lost earnings, this second part can also include the cost of travel to medical appointments and medical treatment.
To find out more information about what evidence you need to claim for loss of earnings, read the rest of our guide below. You can also find out more by calling our team today on 0800 073 8804.
Select A Section
A Guide To Loss Of Earnings Claims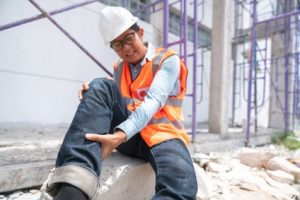 In this guide to how to claim for loss of earnings, we look at how you can get the maximum amount of compensation for your lost income and earnings. In some cases, settlements for personal injury claims can be made up of a smaller amount for the actual injury suffered, but larger settlements for losses stemming from the injury, such as lost earnings. As such, it is important to be able to clearly show the value of your losses and be able to do so in a way which the courts can see as sufficient evidence. Claiming for loss of income can be important as this could be the single largest part of your claim. The burden of proof always rests with the victim.
What Can A Loss Of Earnings Claim Include?
For you to be able to make a loss of earnings claim, you need to be able to provide sufficient evidence of how much your losses amount to, and evidence that your accident or injury caused this loss. This could be because you were not able to work.
If you earn a set amount per hour, week, or month, it is easier to provide evidence for a loss of earnings claim and to calculate how much your lost income amounts to. To help calculate this, your personal injury lawyer will request wage slips. If you work an irregular shift pattern, or if your income varies on a weekly or monthly basis, it can be harder to calculate loss of earnings you have suffered. In these cases your solicitor will combine your wage slips with copies of bank statements going back over a period of time to calculate how much you earn on average and work out what you could or would have earned over time period.
If you work overtime on a regular basis, your personal injury lawyer will also be able to take this into account and estimate how much your over time could have been worth over the time you either had to take off, or whilst on reduced working time/ duties. These two pieces of information will be used by your legal representatives to provide sufficient evidence.
What Evidence Do I Need To Prove Loss Of Earnings?
The most important pieces of evidence are your bank statements and information from your employer about your income. In order to calculate loss of earnings for special damages, the courts will generally look at how much you earn on average each month over a period of three months or more. This will be the time leading up to your accident or injury. They will then take the average from this.
Self Employed
If you need to claim for loss of earnings as a self employed person, it can be more complicated to do. Your first step will be to collect evidence of your income from your accountant. They can provide similar information and evidence to what your wage slips would provide. This can then be used to calculate how much you would have earned over the period you were not able to work. If you are self employed you can also supply evidence such as invoices and copies of orders from clients. To calculate your lost benefits or earnings accurately, your accountant will need to supply around three years of accounts.
Can I Claim For Past Lost Earnings?
Using the value of your average income over the past three months we can calculate how much income you have lost already, before making your claim or reaching the courts. This can be an easier part of your claim for loss of earnings. It can be easier for you, your solicitors, and the courts to see how much income you have already lost due to your injury or accident.
Claiming For Future Lost Earnings
Loss of earnings claims which are part of much more complex injury claims can potentially take a long time to pursue and it could be more than eighteen months before the case is concluded. In the intervening time, the claimant could claim that without suffering the injuries they did, they could have been in line for a promotion or been awarded a pay rise. Witness statements from your employer as well as the career progression of colleagues can be used to calculate what you could have lost.
If you know that your injuries will prevent you from working after you claim is concluded, you can also claim for loss of future income. Your doctors will be able to provide evidence of when you can return to work, and from this, your solicitor and the courts will be able to determine how much you should claim for loss of earnings in the future.
Loss Of earnings Claims When You Are Not An Employee
As we have seen already, if you are making a claim for loss of earnings when you are not an employee, it can be more complicated to workout the value of your claim. It also needs further evidence. How do you work out lost earnings in the case of non-employees, such as those running a business? In such cases, claims may be made for lost profit, rather than overall income. As well as evidence such as bank statements and accounts, you can also supply further information such as your tax return. If the person making a claim is a partner in a business, your solicitor can use a loss of earnings calculator taking into account what their share of the business and partnership was.
The business or accountant should be notified of the claim being made so that they can keep records of any business, work, or contracts which needed to be turned down or were lost.
Problems When Claiming For Loss Of Earnings
The biggest difficulties in making a claim for loss of earnings will be for people who were either self employed or were not in employment at the time of the accident. If you were unemployed the claim will look at what your chances of becoming employed over the period of your injury were. This can be very difficult to prove and will be based on your employment history, as well as previous income.
If you are self employed but had not yet declared your income or filed a tax return it could also be difficult to calculate your income. You can make claims in such circumstances, but things such as taxes, national insurance, and other contributions will be deducted from this.
How Much Could I Claim For Loss Of Earnings
In the personal injury claims calculator below, we look at how much compensation you could claim for loss of earnings. As well as this, you can also claim for general damages for your injuries.
| Injury or illness type & severity | Settlement | Notes |
| --- | --- | --- |
| Loss of earnings | £1 to £1 Million | This depends on your salary. |
| Psychological injuries - less severe | £3,150 to £6,520 | Accounting for trauma suffered and the effect this has had on day-to-day life as well as future effects. |
| Psychological injuries - moderate | £4,670 to £15,200 | More serious than the above category. There will be a greater effect on the claimant and their ability to live a normal life. There will be some imporvement over the medium and long-term. |
| Psychological injuries - moderately severe | £15,200 to £43,710 | Similar to the category above, but the recovery will take much longer to come into effect. |
| Psychological injuries - severe | £43,710 to £92,240 | The long-term view will be that there will be permanent damage which will not be recovered from. |
| Loss of income - earnings | £10,000 to £400,000 | Including income already lost as well as income with is expected to be lost in the future. |
| Loss of income - benefits | £5,000 to £500,000 | Including benefits already lost, as well as those which will be lost in the future. |
| Sexual assault | £1,000 to £22,000 | Awards can also be made to child victims. |
| Sexual assault + STD or STI | £5,500 to £22,000 | Not including more serious diseases. |
The figures in the table above are illustrative and you could find that your award is higher than the maximum indicated here.
No Win No Fee Loss Of Earning Claims
We are proud to be able to offer our clients a no win, no fee agreement under which we can help claimants without having to charge you upfront for legal services. These types of contract were designed to help those who could be in financial difficulty make a claim without taking on any additional burden or stretching themselves too far. You can find out more about making a no win, no fee claim by visiting our guide linked in the useful links below.
Contact Legal Expert Today
To make a claim for loss of earnings you need the best legal team behind you. Contact Legal Expert today on the number above, through the contact form on this page, or by sending us an email to office@legalexpert.co.uk. If you send us a message using our contact form, or send us an email, you can request a call back from our team.
Useful Links
Personal Injury Claims Time Limit
Find out what the personal injury claims time limit is before you make a claim with our guide.
Can You Claim For Loss Of Earnings
Find out if you can make a claim for loss of earnings with our guide to doing so.
No Win No Fee Claims
The Legal Expert guide to how to make a no win, no fee compensation clam.