Cycling Accident Claims – How Much Compensation For Bike And Cycle Claims?
By Daniel Archer. Last Updated 3rd August 2022. Welcome to our cycle accident compensation claims guide. Have you been injured in a road traffic accident while riding your bike? If so, this cycle accident claims guide can help. We'll explain what is required to be eligible to claim for a cycling accident. We'll also discuss how cycle accident solicitors could assist and how to go about hiring one for your case.
How To Claim Cycle Accident Compensation
If you've been injured in a bicycle accident while cycling on the road, you may be entitled to make a cycling accident claim for compensation if a third party was to blame. You'll need to be able to prove that they breached their duty of care to you and you suffered as a result, however. Therefore, why not seek help from our panel of cycle accident solicitors to handle your case on your behalf?
So if you want to learn more about your legal rights and how you can pursue compensation for cycle accident claims on a No Win No Fee basis, you can find the answers you need here. Below, we'll take a look at recent cycling accident statistics, as well as what circumstances can justify a claim.
What's more, we'll explain how our team are experienced in dealing with cycling accident claims. And they can then help you get the maximum cycle accident compensation that you deserve.
Cycling accident cases are a common personal injury claim, made simply because of the number of people who partake in cycling and the vulnerabilities that cyclists face compared to other road users.
Although cycling offers a cleaner, healthier lifestyle and is a means of travel and enjoyment, it has downsides, especially to those who use cycling as a method of transport and are on the main roads.
All road users must consider people who use bicycles, especially larger vehicles who may not see them in their blind spot. People who use the road must show respect to all other road users, not just those who use vehicles.
Although the number of fatal accidents regarding cyclists has reduced compared to many decades ago, a significant number of cyclists are still seriously injured, with some tragically losing their lives. Hence why so many that suffer injuries, or the families of those fatally injured, look at filing cycle accident claims.
To find out more about everything from cycling accident compensation amounts to how a no Win No Fee agreement could help you get the most out of your road traffic accident claims, please read on or get in touch today.
What We'll Cover
Welcome to our guide on making cycle accident compensation claims. Are you wondering, "how do I claim after a cycling accident?" If so, you're in the right place for answers.
In this cycle accident claims guide, we cover everything from bicycle accident statistics to No Win No Fee agreements. Plus, we'll answer some of the most frequently asked questions when it comes to cycling accident claims, such as:
What happens if a cyclist causes an accident?
Can you sue a cyclist?
Can a cyclist claim on my insurance?
We are a leading personal injury law firm with solicitors who are experts in different types of road traffic accident claims, including cycle accident solicitors. Our solicitors have a knowledge base that stretches decades.
Now, our team of advisers can offer free legal advice and support, and there's no obligation on your part to proceed with making cycle accident claims or using our service. What's more, they can connect you to a specialist personal injury lawyer to handle your claim if you have a valid case for cycle accident compensation.
Our advisors are on hand 24 hours a day, 7 days per week to help you, and you can speak to them by using any of the following methods:
Select a Section
Cycling Accident Statistics
Here are some relevant statistics relating to cycle accident compensation claims.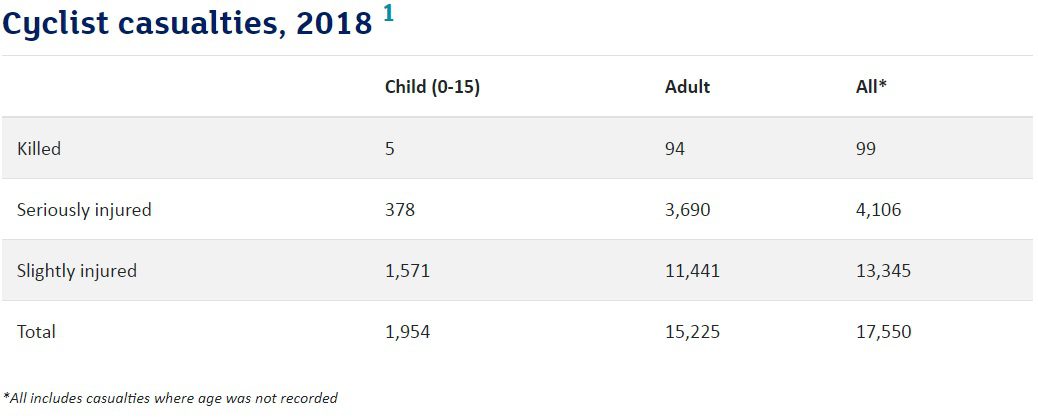 According to figures from the Royal Society for the Prevention of Accidents (ROSPA), in 2018, 99 cyclists died, with just over 4,000 suffering serious harm and around 13,345 suffering minor injuries on British roads.
Looking at the statistics above, it's not hard to see that cyclists are a particularly vulnerable group of road users, alongside pedestrians and motorcyclists. In fact, according to the latest analysis by Cycling UK, cyclists make up a total of around 5.5% of all fatalities on roads and 14.5% of serious injuries.
More recent statistics published by the Department for Transport (DfT) reveal that in 2020, 16,294 of the road casualties reported in Great Britain were pedal cyclists. Among these casualties, 141 were fatalities.
If you've been injured on the roads and want to learn more about cycle accident claims, please get in touch with our cycle accident solicitors or continue reading to learn more.
How do I claim after a cycle accident?
Firstly, gather the evidence of the accident, including an official medical diagnosis from your doctor. Then, collect any witness testimonials and any available CCTV footage. Finally, get in touch with our team, and we can then begin to build your compensation case.
How Are Cycling Accidents Caused?
Why do cycling accidents happen? How does a simple journey on a bike result in the rider filing cycle accident claims? In turn, what drives people to claim cycle accident compensation?
Thanks to an analysis by Cycling UK, it's possible to look at the contributory factors for cycling accidents and road traffic accidents. This data is in turn published by the Department for Transport (DfT).
Here are the top 3 causes of cycling accidents from 2018:
'Failed to look properly' came top of the list, with 33,879 drivers/riders have logged this. It accounted for 21% of the share.
Next on the list with 11% is 'careless, reckless or in a hurry'.
'Poor turn or manoeuvre' is a close third, often on the part of drivers who fail to see cyclists coming.
Any of these incidents can lead to accidents on the road. In 2020, despite the national lockdown, there were 115,584 road traffic collisions leading to injury. Because of the lockdown, there was a decrease of 34% in pedal cyclist casualty rates.
This was most likely down to fewer cars being on the road, but it could also relate to the improved infrastructure for cyclists, spurred on by the pandemic and the need for social distancing.
Examples of Common Cycle Accidents
According to RoSPA, some of the most common cycling accidents include:
Drivers emerging into the path of a cyclist.
Drivers cutting up or crossing the path of a cyclist.
A cyclist leaving the pavement and moving into the path of a vehicle.
A cyclist turning right from a major road and onto a busy one.
Any of these incidents could be a justifiable reason to pursue cycle accident compensation. This RoSPA article highlights cycling accidents in further depth. Read on for more information about how to form the basis for your cycle accident claims.
Common Types of Cycling Injuries Following An Accident
So we know cycling accidents are quite common and that people can be killed or seriously harmed, but what kinds of injuries can cyclists suffer?
ROSPA highlights the three most common types of injuries to cyclists, which include:
Limb injuries – mostly to the arm (40%) and to the leg (25%)
Chest and abdomen injuries – while sustained much less often (5%), they often lead to serious injuries and can be accompanied by multiple injuries, such as to the neck and head.
Hospital data reveals that 40% of cyclists suffer head injuries when involved in an accident. They are by far the most serious injuries to suffer, potentially leading to brain damage, skull fractures and fatalities.
Unsurprisingly, such injuries can be sustained. After all, a cyclist lacks the protection afforded by the chassis of a car and lacks safety features like airbags. Additionally, many roads in this country aren't wide enough for cyclists, with few cycling lanes.
The general lack of safety for bike riders goes some way towards explaining how many cycle accident claims materialise.
If you've suffered one of the injuries described above and want to learn more about claiming cycle accident compensation, get in touch with us today and see how we could help you claim on a No Win No Fee basis.

How To Make A Bicycle Accident Claim?
Those who have been injured in a cycling accident through no fault of their own may have the right to make a personal injury claim for compensation.
If you have been involved in an incident while cycling, you may be looking to make road traffic accident claims. If so, we are here to guide you and help you need to file cycle accident claims.
Regarding any type of road traffic accident, we have a dedicated team that has worked on more than 30 years of experience working with cases involving cyclists in road traffic accidents.
Starting a cycling accident claim couldn't be easier as we take care of your case from start to finish. We keep our clients informed every step of the way and follow a stress-free process so that you can concentrate on getting yourself back to full health.
Below, we'll talk about the steps you can take to give yourself the best chance of success when it comes to making a personal injury claim. In short, by calling us and explaining how your cycling accident happened, we can offer you free legal advice.
We'll assess your case. If we feel you have a good chance of winning, we will connect you with one of our expert cycle accident solicitors who'll get to work fighting for your compensation right away.
To get in touch with our personal injury claims team to discuss claiming cycle accident compensation, call the number at the top of this page.

What Can Be Claimed For As The Result Of A Bicycle Accident?
When a cyclist is injured on the road through no fault of their own, for us, they must receive the maximum amount of cycling accident compensation that they're entitled to. Why? Because it's important to restore you to the position you were in before the accident while accounting for any long-term problems that may arise too.
With every personal injury case, we like to ensure that we do the best job and aim to achieve results in the shortest amount of time. This is so you're not left disadvantaged or out of pocket and can continue with life as it was before the bicycle accident happened.
As with every injury caused by an accident, the injury itself can range from mild to very serious, so it is always difficult to estimate how much compensation will be awarded in cycle accident claims.
For example, bicycle accident settlement amounts could vary in totals depending on the severity of the accident. Compensation settlements for being knocked off a bike by a car may generally be higher than another form of accident.
A possible cycle accident compensation settlement could include two heads of claim: general damages and special damages. Let's look at each in turn.
General Damages In Cycling Accident Claims
General damages account for the physical pain, psychological suffering and loss of quality of life that the cycling accident has caused.
It accounts for any traumatic medical treatment you had to endure, any mental impact stemming from the injuries and your ability to enjoy hobbies and leisure activities. We'll provide some example bicycle accident claim payouts below.
Is There An Average Settlement For A Bicycle Accident?
The reason we're unable to provide you with an average settlement for a bicycle accident is partly because there are two heads of losses: general and special damages. There are different factors that can determine your potential compensation for both types of damages. Due to this, every claim is unique.
Special damages can, in some instances, change potential payouts for a bicycle accident if you are eligible. Compensation for special damages relates to the financial losses caused by the injury. Much like proving how negligence caused your injury is important to receiving general damages compensation, you also need evidence to receive special damages compensation.
Evidence you could use includes bank statements, invoices, receipts and payslips. Potential financial losses you could claim for include:
Medical expenses – Like prescriptions and private healthcare costs (if you're unable to get the required treatment through the NHS).
Loss of earnings – If you're not able to work, you could claim for loss of earnings. Furthermore, if your injury is long-term or permanent, future loss of earnings can also be claimed for.
Travel costs – The injury may leave you unable to drive. If so, you could claim for public transport/taxi costs.
Home adjustments – This could include a care bed or a stairlift.
Care costs – If you require professional help for your rehabilitation or to help with recovery, you could claim for the costs of a private nurse, for instance.
To learn more about potential bicycle accident claim payouts, please contact us using the details above for free.

How Long Does A Cycle Accident Claim Take?
We offer any potential client a free consultation to receive confidential and free advice regarding any cycle accident claims they may have.
We are upfront and honest, and we will be able to advise you straight away if you have a claim for cycle accident compensation or not, with no obligation to appoint your claim to us.
As we work on a No Win No Fee basis, we do not waste time or give you any hopes if we are unsure about a case.
Once the cycling accident claim process has begun, and things are effectively in place, straightforward claims can take up to 6 months, though we cannot guarantee this.
Defendants may dispute claims, and more detailed investigations may be required to establish negligence.
However, once you have spoken to one of our cycle accident solicitors and they know more about your case, they'll advise you on potential timeframes.
No Win No Fee Bicycle Accident Claims
Access to justice is important to us, and it's for that reason we offer all of our clients the ability to claim cycle accident compensation under a No Win No Fee agreement. You might have heard this before, but what exactly does it mean?
If your claim doesn't succeed, you don't have to pay your solicitor any legal fees.
There are no fees to claim upfront or during a claim.
If the claim succeeds, you will pay your solicitor a small percentage of your compensation award to cover their costs. This percentage is capped by law, so you don't need to worry about losing much of your bicycle accident claim payout.
For more information on No Win No Fee agreements in cycle accident claims, please contact our personal injury advisers on the number at the top of this page.

How Much Could I Receive In Cycle Accident Compensation?
The portion of a cycle accident compensation claim that is awarded in line with your pain and suffering is known as a general damages payment. Factors such as your recovery period and how severe your injuries are amongst the considerations that must be accounted for before an appropriate fee can be arrived at.
Legal professionals are responsible for calculating how much your general damages payment should be worth. When doing so, they turn to resources such as a publication called the Judicial College Guidelines (JCG). There are some illustrative amounts from the 2022 release of the JCG in the table you'll find just below. This version is the most recent. Although the amounts are based on past court cases, it's vital to bear in mind that your own circumstances will affect how much your injuries will be worth in compensation.
| Injury Type | Compensation Bracket | Notes |
| --- | --- | --- |
| Moderately Severe Brain Damage (b) | £219,070 to £282,010 | Very serious physical or cognitive disabilities. |
| Total Deafness (b) | £90,750 to £109,650 | Consideration given to presence of speech deficit or tinnitus. |
| Chest Injuries (b) | £65,740 to £100,670 | Traumatic chest or lung injuries, causing permanent damage and disability. |
| Severe Foot Injuries (d) | £41,970 to £70,030 | Fractures or injuries to both feet resulting in significantly reduced mobility and permanent pain. |
| Kidney Injuries (c) (iii) | £30,770 to £44,880 | One kidney lost with no damage to the second. |
| Spleen Injuries (a) | £20,800 to £26,290 | Continuing infection risk as a result of loss of spleen. |
| Bowel Injuries (e) | £12,590 to £24,480 | Penetrating injuries causing some permanent damage. |
| Moderate Psychiatric Damage (c) | £8,180 to £23,150 | Minimal continuing effects with a large recovery. |
| Fracture of Clavicle (e) | £5,150 to £12,240 | Consideration given to injury severity and level of disability. |
| Minor Brain Injury (e) | £2,210 to £12,770 | Little or no brain damage. |
If you'd like a valuation of your bike accident claim for you, get in touch with our advisors today. Alternatively, you can head over to our compensation calculator. The average compensation for being knocked off a bike will vary on a case-by-case basis, so we advise you bear this in mind.
Bicycle Accident Claim Tips
Being in an accident can be tremendously stressful and traumatic. We know exactly how it feels, and that's why we're here to offer you all the legal help and support you need to get the cycle accident compensation you deserve.
If you did intend on claiming cycling accident compensation, there are a few tips you can follow to give your bicycle accident claim the best chance of success possible:
Seek medical attention – first and foremost comes your wellbeing. If you've been knocked off your bike, it's wise to get yourself looked over by a doctor, even if you feel fine. Not only does this ensure you haven't sustained an injury you weren't aware of, but it creates an entry in your medical records, which will serve as useful evidence.
Take photographs – if you are well enough, try to take some photographs of the accident scene. Factor in any damage to your bike, the positioning of the vehicles, and the wider scene. Take pictures of any visible injuries you have too.
If possible, get the driver's details and get their name, contact number, address, and insurance provider details. Crucially, be sure to get the vehicle registration number.
Gather witness details – if anybody witnessed the accident, ask them if they're willing to support your cycle accident claim. If they agree to help, get their contact information which your personal injury cycle accident solicitor can use down the line.
Be organised – if you've had to pay for any medication, including paracetamol, or had to pay for buses or taxis instead of cycling, keep all of your receipts and invoices. It'll be possible to recover these costs, provided you can evidence them.
Seek legal advice – given the personal injury claims time limit, it's important to seek legal advice as soon as possible. This will ensure you're in time to make a claim and that you can recall all details as they'll be fresh in your mind.
If you'd like more help and support after a cycling accident, please contact our friendly personal injury claims team.
Top Tips On Proving Cycling Accident Claims
Cyclists are part of the more vulnerable road users because they do not have the protection that the body of a car will offer. If you have been injured as a result of someone else's negligence, you may be able to seek cycle accident compensation. However, when proving your cycling accident claims, you will need to establish that someone breached the duty of care they owed you and caused you harm.  
Here are our top tips on proving cycling accident claims:
Gather sufficient evidence: This could include police reports, details of the driver and vehicle they were driving and photographs of the accident scene and your injuries.

Medical evidence:  If you received medical attention after the accident occurred, your medical records could provide details on the nature of your injuries. Also, you may need to attend a medical appointment that's completed by an independent medical professional. They can provide a current report on the full extent of your injuries.

Seek legal advice: You can call our team to find out whether your claim is valid and has a chance of success. If it does, one of our solicitors may be able to represent your case on a No Win No Fee basis.
These steps could help in proving cycling accident claims.
We cannot provide an average settlement for a bicycle accident and this is because it is calculated on a case by case basis. Cycle accident compensation will depend on the severity of the injuries sustained, any deformities that remain and the financial losses incurred. 
The process of claiming may differ depending on the vehicles involved, such as accidents with a foreign vehicle.
At Legal Expert, our solicitors can help you claim on a No Win No Fee basis. They have experience handling various types of claims. Call us on the number at the top of the screen for more information.
Get In Touch With Our Cycling Accident Solicitors
Thank you for reading our guide on how to claim cycling accident compensation. We sincerely hope you've found this cycle accident claims guide useful. If you have any questions or would like to proceed with a claim for cycling accident compensation, our personal injury claims team is standing by to help.
And we can provide you with a free initial consultation before you decide whether or not to take legal action. You can reach us 24 hours a day, 7 days per week, to start your claim by:
Calling us on 0800 073 8804
Or by sending us a message using our live chat feature, bottom right
Helpful Bicycle Accident Resources and Guides
Thank you for taking the time to read our guide to cycle accident compensation claims. Below, you can find more information and guides you may find useful.
If you've suffered a neck injury in a road traffic accident, you can find out how to claim and what amount of compensation you could receive by heading here.
If you suffer an injury while riding your motorcycle, this detailed guide will tell you what you need to know.
Should you suffer an injury in a road traffic accident, this guide will reveal more about compensation awards and the claims process.
If you've been hit by a car that was pulling out of a driveway whilst cycling, our article can explain more about how you could claim compensation.
Head here for a detailed government guide on cycling safety, which could prevent you from finding yourself in a situation where you need to make cycling accident compensation claims.
All road users must abide by the Highway Code, and here you can read the guidelines in full.
If you've suffered a broken bone in an accident, this NHS guide will tell you more about treatments, symptoms and recovery time. This information could help to build strong cycle accident claims for you.
Further Helpful Guides
Cycle Accident Compensation Claims FAQs
Below, you can find answers to some frequently asked questions about cycling accident claims.
How do I claim after a cycle accident?
If you've suffered an injury in a cycle accident that wasn't your fault and you were the cyclist, it's possible to claim against the responsible driver's insurance policy for any injury or damage you have suffered. It's important to get the driver's vehicle registration number and their contact details.
It's also wise to obtain as much evidence as possible, including photographs, CCTV or dashcam footage, and details of witnesses. Then you'll need to seek legal advice.
What happens if a cyclist causes an accident?
If a cyclist causes an accident, it may be possible to sue them. However, cyclists generally don't carry insurance unless their home insurance policy covers it. As a result, a claim would need to be against the cyclist directly, and they may lack the money to pay out for damage and injuries.
Can you sue a cyclist?
Yes, but such a process could be difficult. Cyclists lack insurance like other drivers, so a claim has to be against them directly. Even if a claim is successful, the cyclist might lack the funds to cover the cost of the injuries and damage to property.
Can a cyclist claim on my insurance?
In cycle accident claims, a cyclist can claim against a driver's insurance if they suffer harm in an accident that wasn't their fault. The claim would operate like any other road traffic accident. This means the injured party claiming against the insurance policy of those responsible.
How long does a cycling accident compensation claim take?
A straightforward cycle accident claim in which the defendant admits liability and injuries are uncomplicated typically resolve within 6 to 9 months. Should the defendant dispute liability or injuries are more serious, it could take longer.
Can cyclists claim compensation for a cycling accident?
Yes, particularly if the party responsible was a driver. In such circumstances, it would be possible to claim their insurance policy. If they don't have insurance or if the driver cannot be traced, a claim can be made through the MIB.
What to do when a car hits you on a bike?
Firstly, if you suffer any injuries, get medical attention. If you're able, note down the driver's details, including the car registration number. Ask anyone nearby if they saw what happened and get their contact details. Likewise, look for any CCTV or dashcam footage.
Can a cyclist sue a driver?
Yes, a cyclist can sue a driver if the latter has insurance cover in place. They can then lodge a claim against the insurer. If the driver has no insurance, a cycle accident compensation claim is possible via the Motor Insurers' Bureau.
Thank you for reading our guide on cycle accident solicitors. We hope you have learned a lot about what goes into filing successful cycle accident claims.