Can I Claim Compensation For Cycling Without A Bike Helmet?
Does The Failure To Wear A Cycle Helmet Affect My Claim For An Injury?
No matter whether you were wearing a bike helmet or not, the most common form of accident from a cycling accident and the most common type of claim we see are for head injuries. A questions that we are asked is whether you can claim compensation for cycling without a bike helmet. So, if you have been involved in a bike accident and were not wearing a helmet, does this prevent you making a compensation claim?
Under bicycle helmet law UK, it is not compulsory for you to wear a cycling helmet when riding your bike. However, the Highway Code does recommend (in rule 59) that all cyclists wear cycling helmets which meet current safety standards, and which are the right size for your head so that they can be fastened securely in place.
However, despite this advice being made available to the public at large and targeted to cyclists, you can still see many people riding without a helmet on the UK's roads. As schemes such as London's Santander sponsored bike hire scheme have meant that the number of people cycling without a bike helmet has increased.
In the guide below, we look at how a personal injury solicitor can help you to claim compensation for cycling without a bike helmet if you are injured. If you need to contact us, call us today on 0800 073 8804.
Select A Section
A Guide To Who Is At Fault When Cyclists Are Injured Without Wearing A Helmet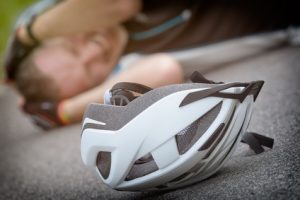 If you became involved in a bike accident on the UK's roads without wearing a cycling helmet you could be wondering whether or not you would be able to make a claim for compensation for cycling without a bike helmet. If the accident was not your fault, but you weren't wearing a protective headgear, can you claim?
In the rest of this guide we look at under what circumstances you would be able to make a claim and if so, how much your compensation claim could be.
How Much Protection Do Cycling Helmets Offer?
What are the effects of a bike accident without helmet? If you have suffered bike injuries without a helmet you could be wondering whether or not a helmet could have offered you much more protection.
Research from the UK's Bath University has shown that motorists often afford cyclists who are wearing cycling helmets much less room when driving passed them than those riding without a helmet, where they displayed much more caution. As drivers gave cyclists with helmets on less room they were more likely to be pushed into potholes or over drains and faced a higher chance of suffering an accident. As such the failure to wear a cycle helmet may not affect your claim. The same research also showed that cycling helmets did help in accidents at lower speeds. However, in high speed collisions with cars and other vehicles they did not offer the rider much protection against consequences such as a brain injury or broken bones. This research had been supported by other studies.
Cycling helmets are often designed to protect against a brain injury at speeds up to 12 mph, cycling speeds. Anecdotal evidence has shown that wearing a helmet could increase the chances of suffering a rotational injury to the neck, though this does need further research.
Critically for your case, the consensus (shared by the courts) is that wearing a helmet is much safer than not doing so.
What Are Bicycling Helmet Laws In The UK?
Can you claim compensation for cycling without a bike helmet and what does the law say? Bicycle helmet law in the UK does not (currently) require you to wear a cycle helmet. However, there have been attempts to change the law and bring in better regulation, similar to the wearing of seatbelts in cars. Arguments which have been made against changing laws on the failure to wear a cycle helmet have included the following:
The fact that fewer people will participate in cycling if wearing a helmet is compulsory/ mandatory.
The prevalence of the idea that people are safer when wearing a helmet leading to reckless cycling habits.
Data contesting how much safer helmets make people.
A the moment the wearing of a cycling helmet is only a recommendation in the Highway Code, rather than something which can be enforced. One reason why you should wear a bike helmet is that if you are injured in an accident which was not your fault when not wearing one, you could be liable for contributory negligence.
Does Riding Without A Helmet Affect Brain Injuries In Accidents?
Whilst it is important to look at does wearing a helmet affect your bicycle compensation claim, a much bigger questions is will it help prevent brain injuries? A large scale study from Australia (where it is compulsory to wear a helmet) shows that wearing a helmet reduces your chances of suffering a serious head injury by around 70%. Whilst this compulsory law has reduced the number of people who regularly cycle, there has been a significant reduction in the number of serious head injuries or those suffering a severe brain injury, reducing these by 51%. The odds of suffering broken bones or a fracture in the face were also reduced by doing so.
How Does Contributory Negligence Affect My Claim?
According to UK law, if you have in some way contributed to the losses or injury you suffered as a result of an accident, even if the accident was not your fault, the courts may reduce the amount of compensation that you are awarded in proportion to the amount of contributory negligence applicable. An good way to look at this is if the courts determine that you were equally liable for your injuries as the person who caused the accident, they could reduce your bicycle injury claim amount by 50% to account for this. It is common for the other party to contest the level of their liability if you were not wearing a cycling helmet. The courts will look at two aspects, were you at fault for not wearing a helmet and did this contribute to the severity of your injuries?
Does Not Wearing A Helmet Make Me At Fault?
When making a bicycle injury claim, not wearing a helmet does not necessarily mean that you were at fault for your injuries. Whilst there are good reasons to wear a helmet, as they are not a legal requirement the law does not say that the failure to wear one amounts to contributory negligence. The courts looking at your claim for a bike accident would simply accept that by not wearing a helmet, you ran a greater risk of contributing towards your own injuries. They would then assess the merits of your individual case and claim. The court will look at factors which could have determined whether or not you should have worn a helmet such as the road conditions, levels of traffic about, and how much experience you have cycling overall.
Calculating Compensation For Cycling Injuries Without A Helmet
As well as compensation for your injury itself, often called general damages, which are set out in the table below, you can also recoup other types of special damages compensation as part of a personal injury claim. Other costs which you could be able to recoup through a personal injury claim include medical costs and the cost of travelling to and from medical appointments.
Personal injury claims for cyclists injured without a helmet could differ from the amounts set out below, as they could be reduced by contributory negligence. In the table below, we look at examples of compensation for cycling without a bike helmet.
| Body part and severity of injury | Settlement band | Injury notes |
| --- | --- | --- |
| Severe brain damage/ injury | £224,800 - £322,060 | This bracket is the highest level of compensation awarded, though more serious injuries may acquire a higher settlement. |
| Moderately severe brain damage/ injury | £174,620 - £224,800 | The claimant may be somewhat dependant on others over the medium term. |
| Minor head injuries | £1,760 - £10,180 | Injuries will not be serious, but they may linger for some time. |
| Very severe scarring - disfigurement of the face | £23,740 - £77,580 | The highest settlements will be given to younger women. |
| Significant disfigurement of the face | £7,270 - £23,980 | Disfigurement can be corrected by surgery and any mental health problems can abate over time. |
| Minor back injuries | Up to £10,970 | Much simpler back injuries than the subsequent categories. |
| Moderate back injuries | £10,970 - £34,000 | Moderate soft tissue injuries which you can recover from over the medium term. |
| Severe back injuries | £34,000 - £141,150 | The severe category of injury such as serious breaks and which will lead to loss of mobility. |
| Moderate ankle injuries | £12,050 - £23,310 | Less serious fracture of the ankle and other similarly severe injuries. |
| Severe ankle injuries | £27,450 - £43,900 | Much more serious and complex fractures, or several fractures to the ankle. |
The figures in the table above are illustrative and your settlement may be lower.
No Win No Fee Cycling Accident Without A Helmet Claims
We can offer clients whom we provide a personal injury lawyer the chance to use a no win, no fee agreement. This means that you will not face any legal bills from the start of your claim unless and until you are awarded a settlement. You will never be left with a bill you can not pay. Find out more in our guide to no win, no fee claims here.
Contact Legal Expert Today
Contact Legal Expert today by calling us on the number above, via the contact form on this page, or by sending us an email to office@legalexpert.co.uk.
Useful Links
Cycling Accident Claims
Find out more about making a cycling accident claim with Legal Expert by reading our comprehensive guide.
Cycling Accident Claims Scotland
If you were involved in a cycling accident in Scotland find out information such as a the personal injury claims time limit and how much compensation you could be awarded.
Fatal Cycling Accidents
Find out how to make a claim if a family member or friend were killed in a cycling accident.