How Much Compensation Can I Claim Against the Council Or Local Authority?
By Mark Ainsdale. Last Updated 29th March 2021. Welcome to our guide on council compensation claims. Suffering a personal injury can be a traumatic experience for any person. Our local councils have a duty of care to keep us safe when on the roads, pavements, parks and municipal buildings. But that duty can be breached.
If you've injured yourself following a slip, trip or fall, suffered harm in a local park, shopping centre or leisure centre, a claim against the council could be justified.
This guide will provide crucial details on what's needed to prove a public liability claim against the council, the ways in which accidents can happen, and the potential compensation award you could receive.
We also provide details on how our No Win No Fee personal injury solicitors can help you recover the compensation you deserve without putting yourself at financial risk.
To find out more about claims against the council for personal injury or to get started today, why not get in touch for free legal advice you can rely on. And there's no obligation on your part to proceed with a claim.
Call us on 0800 073 8804
Or chat with us now using our  live chat function
We're available 24 hours a day, 7 days per week. To learn more about council compensation claims, please continue reading.
Select a section:
A Guide to Council and Local Authority Accident Claims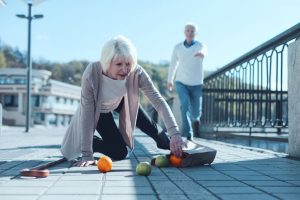 This guide to council compensation claims aims to inform and assist you with your personal injury claim for local council negligence. It provides comprehensive coverage of the most critical issues to consider if you believe you have a legitimate claim following an accident. Additionally, we will detail a few tips to help you maximise the compensation total you receive.
The guide will consider the different situations in which you may have suffered your injury, such as in a council-controlled public space, travelling on the road/pavement, or working for the local council. Each of these situations is unique and are worthy of individual considerations if you want to make the most out of your claim against the council.
At the same time, we will explore the process of making claims against the council for personal injury: what evidence you may need to collect, how the process for making a claim works, and how much compensation you are likely to receive for your claim.
What Is A Public Liability Claim?
A claim made by a member of the public against a person, company or local authority after being injured in an accident is known as a public liability claim. They can compensate you for pain and suffering as well as financial losses.
What is a Claim Against the Council or Local Authority?
When you have suffered an injury due to an accident, you may be able to claim the local council for compensation. If your accident was the result of the council's negligence – especially when roads and pavements are involved – then they may be responsible for paying you compensation.
In this way, claiming against the local council for an injury is similar to claiming against your employer. In both cases, you must provide evidence not only of the accident occurring and the severity of your injury but also evidence of the council's negligence with regards to the accident. If the council could not have done anything to prevent your injury, you will be unlikely to be successful.
So to learn more about council compensation claims, please keep reading.
What To Do If You Are Involved In An Accident and Need to Claim Against the Council or Local Authority?
If you are involved in an accident that you believe to be the fault of the council or local authority and seek compensation, you must gather evidence in support of your claim. This evidence can consist of (but is not limited to) the following:
Firstly, you should gather statements from any potential witnesses. As well as eyewitnesses, the accident may have been recorded by CCTV. For example, suppose you have suffered a neck injury due to a bookcase falling off a wall and crushing you while visiting a public library. In that case, statements from fellow library-goers can be invaluable. Likewise, if the library has a video recording, then this could be essential for your case.
Secondly, you should find evidence that the council or local authority is liable for the accident due to negligence. This could be due to several things. To continue with the same example, the council may not have performed proper maintenance on the bookshelf or had insufficient safety standards concerning how many books should be placed on the shelf at any one time. In a situation such as this, they could be considered negligent.
Thirdly, you should ensure that you have evidence detailing the severity of your injury. To return to the example, let's say that after your accident you were taken from the library into a hospital by ambulance and then given x-ray tests. You should collect the medical report and x-ray results to highlight your injury's severity and plug any gaps in your claim. Expert medical advice, such as a doctor's report, is ideal in this regard.
To discover more about what to do if you're considering going down the council compensation claims route, please get in touch with our specialist team of advisers.
Common Injuries Sustained From Local Council Negligence
When making your claim to receive local council compensation payouts due to council negligence, you must prove that the incident in question caused your injuries. This is to ensure that you deserve the potential compensation you will be receiving. In addition to this, the severity of an injury will be the main point of contention when considering how much compensation will be paid for council accident claims. However, this all depends on which particular injury you sustained. Common injuries suffered as a result of local council negligence are:
Slips, trips, and falls – This could include foot or leg injuries sustained due to falling on a poorly maintained pavement or inadequate signage near maintenance works that failed to warn you of the danger.
Injuries while working for the council – This could include sustaining a back injury attempting to carry something too heavy whilst working on maintenance or inadequate equipment training which results in an accident. A lack of training can be considered negligent in these matters.
Car accidents – This could include neck injuries (such as whiplash) being sustained due to a pothole or an electronic malfunction, causing traffic lights to display incorrect information and cause a collision.
Injuries resulting from poor maintenance – This could include a head injury sustained as the result of a piece of playground equipment breaking or a facial burn suffered as the result of a faulty pipe at a council-run school.
Any of these circumstances could justify council compensation claims. Just get in touch to find out more.
Claiming Compensation for an Accident that Was the Fault of the Council or Local Authority
Your ability to claim compensation for an accident that you believe to be the local council's fault is typically linked to any potential negligence. Whether or not you are entitled to compensation depends upon the severity of your injury – which is discussed below in greater detail – and whether or not the local council can be considered to have been negligent in their duty of care.
For the council to be considered to have acted negligently, they must have ignored or failed to deal with a particular health and safety standard. For example, if your accident occurred due to you falling on uneven pavement, then your case could involve a claim against the council for uneven pavement.
By not maintaining the pavement to a certain standard – or initially laying the pavement to a poor standard – the council has acted negligently and failed in their duty of care towards any individuals using the pavement. This is what gives council accident claims legitimacy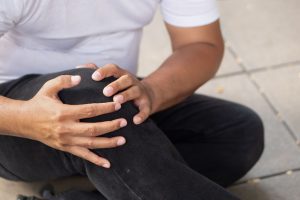 To use a different example, consider a situation in which you have suffered severe facial burns due to a hot water pipe bursting in a public toilet. If the council adhered to the necessary safety standards when initially installing (and later inspecting) the pipe, then your claim would be illegitimate as the council has not acted negligently. However, if the council had ignored standards and failed to inspect the pipe properly, then your claim could be legitimate, and you could be entitled to compensation as the result of your injury.
Public Liability Claim Statistics
Unfortunately, no definitive data exists on the number of public liability claims made against local councils. We can, however, gain something of an insight into the prevalence of public liability claims by studying figures published by the Compensation Recovery Unit.
This governmental body provides benefits to those injured at work, in road traffic accidents, or while out in public. These benefit payments are then recovered from the compensation awarded at the end of a personal injury claim.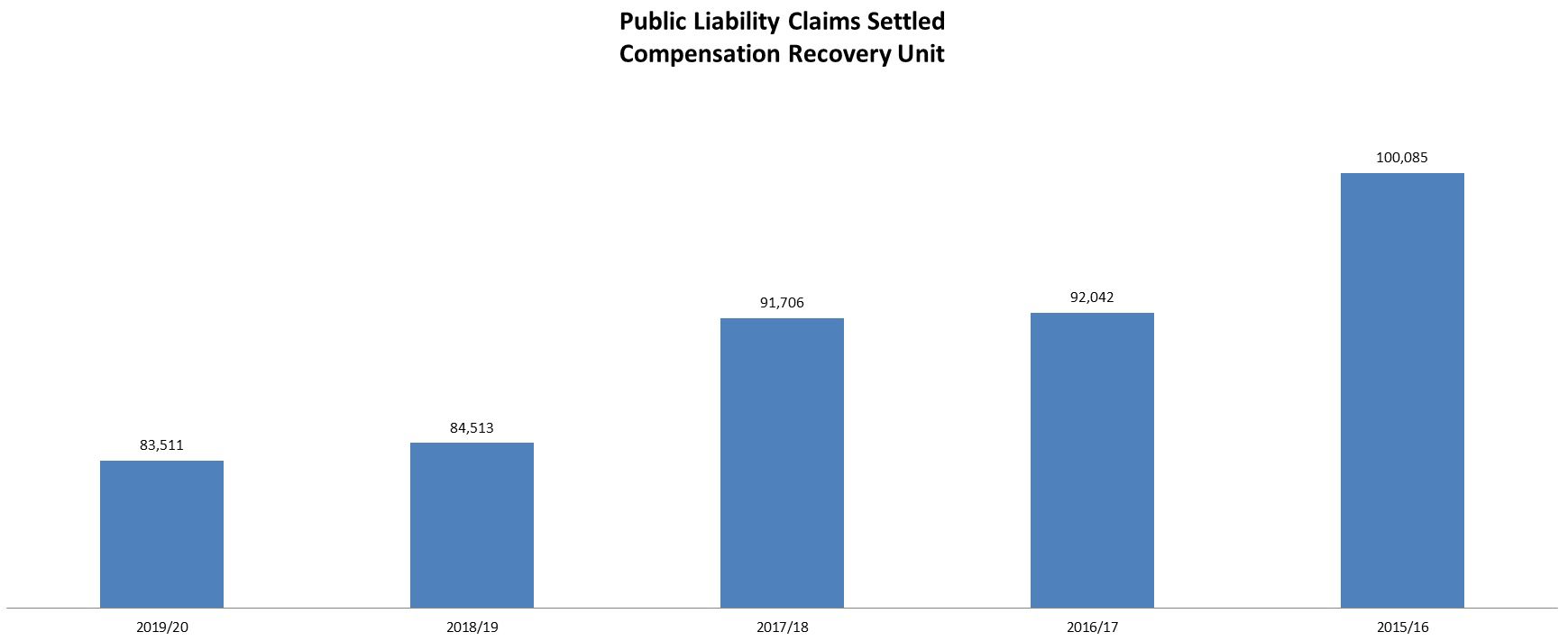 It's important to note that these figures relate to all public liability claims made each year, not just those against councils.
Accident Statistics
As we previously addressed, the negligent actions of the city council could ultimately lead to an accident, such as a workplace incident or a slip, trip and fall (if employed by the council). It is for that reason why we have taken the time to look at statistics regarding both slips and trips as well as workplace incidents.
Some of the most common causes of a slip, trip and fall acknowledged by the Health and Safety Executive (HSE) as:
Walkways.
Design and maintenance.
Housekeeping.
As we have previously addressed, the city council can implement various measures to ensure the places they are responsible for are free from tripping hazards. However, should they fail to adhere to their legal obligations, then the likelihood of an accident will naturally increase. For instance, failing to carry out risk assessments in public parks could result in a broken kerbstone going unnoticed. In return, an innocent individual could trip over and.  injure themselves.
While those who are visitors to council-owned and operated properties could make a claim against the council for negligence, so could an employee of the city council. As an employer, the city council must uphold their obligations to ensure they provide a safe and suitable workplace. However, if this obligation was to be neglected, then an accident could occur. For context, let's take a look at some health and safety statistics from 2019/20:
There were 111 workers killed at work.
On average, there were 1.6 million working people that suffered from a work-related illness.
Around 693,000 employees sustain an injury at their place of work.
And finally, there were 38.8 million working days lost as a direct result of workplace ill health or injury.
Information released by HSE indicates that manual handling, slips, trips and falls and collisions with moving vehicles or objects indicate that these are the most common kinds of accident resulting in days lost among local authority workers and as such may account for a large proportion of council accident claims made by employees. As the graph below which looks at self-reported injuries resulting in absence over three days shows, this broadly follows the general trend for accidents at work across all industries.
If you've been injured while working for your local authority and want to learn more about council compensation claims, please contact our personal injury advisers today.
Making a Claim as an Employee of the Local Council
For employees of the local council, the process of making a claim can be different. If you are employed by the local council and suffer an injury while at work, you can still make a claim as the result of employer negligence. In a similar fashion to private individuals making claims against the local council, you will have to prove that some form of negligence occurred on behalf of the council before you are entitled to any compensation for your accident.
An example of an illegitimate claim in this regard could be a council administrator suffering from moderate back pain as a result of falling out of his chair at work. However, this particular administrator fell as a result of leaning too far back in his chair and contravening his employer's advice and guidelines. If he attempted to begin suing the council after a fall, it could possibly be denied, as he ignored the health and safety procedures the council put in place.
However, an example of a legitimate claim against the council could involve a council-employed gardener who tends to public green spaces. If his hand were to be injured by another employee, he might have a claim. Depending on the situation, it might have been that a lack of training with dangerous tools leads to the injury. This claim could be considered legitimate, as the council is directly at fault for the accident through their failure to provide the correct safety training.
Another legitimate example of a compensation claim could be if you are a council-employed person who breaks their ankle after tripping on uneven pavement. You may begin the process of suing the council for uneven pavement, and your claim against council pavement would be successful, providing the council was deemed to be negligent in leaving a section of the pavement uneven. However, if this pavement was correctly maintained by the council, or matched up to current health and safety standards, then your claim could be considered illegitimate.
The relationship between the claimant and the council in these circumstances can often be considered similar to the relationship between a claimant and a private-sector employer. Many of the same factors apply when dealing with claims against the council for personal injury.
For more information about making council compensation claims as an employee, please get in touch with our team today.
Judging the Severity of an Injury Caused by the Council or Local Authority
When you begin to make your compensation claim for an injury caused by the local council, you will quickly discover that your injury's severity is one of the most critical aspects of your claim. The adjudged severity directly impacts the amount of compensation you can receive from the council, and, as such, it needs to be diagnosed accurately and fairly. Typically, the severity fits into one of three categories:
Minor – this may include injuries such as soft tissue damage, or a restriction of movement in your neck or shoulder. While clearly affecting you as an individual, these injuries are not traumatic and heal relatively quickly. As such, injuries considered 'minor' have the smallest payouts for compensation.
Moderate severity – this may include injuries such as long-term neck mobility issues, long-term back pain, or loss of function in one of your legs. These injuries' long-term nature leads to larger compensation payouts, but the conditions will still generally improve over time with medical treatment.
Severe severity – this may include injuries such as permanent paralysis resulting from a neck or back injury, loss of sight in both eyes, or the amputation of one of your legs. These injuries have a massive effect on your life, causing permanent damage that may require continued medical treatment and costs. As such, these injuries result in the largest compensation payouts.
Read on to find out more about the process of making council compensation claims.
How To Begin a Compensation Claim Against the Council or Local Authority
The process of beginning your compensation claim against the council could not be more straightforward, thanks to the support provided by our law firm. As previously mentioned, the first step you need to take is to gather the necessary evidence to support your claim. This could include almost anything but tends to be made up of witness statements, medical reports, and photographic evidence. This is to ensure you can prove the events as described by your claim in court.
The next step you should take is to contact our company, either by calling us or by filling out a contact form and letting us know when we can call you back. In a free consultation session, we will provide an honest, rigorous assessment of your potential claim, including noting how successful it might be. This is primarily based on the evidence you provide.
After this session, you can choose to move forward with our team. From here, we can proceed and initiate the process of bringing your compensation claim to court, completing further fact-finding such as looking at CCTV footage or arranging local medical assessments to evaluate the severity of your injury.
To learn more about council compensation claims, please keep reading.
What Can Be Claimed for Against the Council or Local Authority?
The full extent of what you can claim when suing the council for damages depends on what expenses you have incurred as a result of your injury. Many people believe that they can only claim compensation for costs such as medical expenses or direct loss of earnings in council accident claims. However, you could claim for several costs related to your injury, providing you can provide evidence for them in court. These costs can include (but are not limited to):
General damages – this includes unspecified and often intangible damages such as pain and suffering as a result of the injury, effects upon day-to-day life.
Special damages – this includes measurable damages such as direct loss of earnings, cost of home-care as required by your injury, and damage to property such as your vehicle.
Medical costs – this includes the cost of medical tests and treatments, either those not covered by public health care or those sought out from either private health care providers or overseas health care providers.
Travel costs – this includes the cost to travel between your home and hospital appointments, as well as potentially including travel to foreign countries if treatment is sought overseas (though this is rare).
Clearly, there are many different ways in which you might be owed compensation if you sue the council for injury. However, the amount of compensation you can receive for any of these costs still heavily relies on the severity of your injury and the kind of injury you have suffered. As such, the payouts for council compensation claims can vary drastically; no two claims against the council for personal injury are the same.
How Much Compensation Will I Get From the Council or Local Authority? (Updated March 2021)
As stated, the amount of compensation that you will get in your claim against the council can vary. This variation depends heavily upon the kind of injury you have suffered and the severity of the injury. However, using our experience, we have put together a table to give you a rough idea of the average compensation in certain circumstances:
Injury
Severity
Compensation
Notes
Brain injury
Very severe
£264,650 to £379,100
The award bracket is given as an estimate for victims who have suffered severe brain damage and are unresponsive. In what is referred to as a vegetable state.
Brain injury
Moderately severe
£205,580 to £264,650
Losing feelings in limbs, mental disability, and or change in impersonality.
Brain injury
Less severe
£14,380 to £40,410
Head injuries that have not caused significant brain damage but still there maybe lasting effects.
Face Injury - Scarring
Very severe
£27,940 to £91,350
Scarring and facial disfigurement could warrant this amount of compensation. The severity will determine how much.
Face Injury - Scarring
Less severe
£16,860 to £45,440
These
compensation estimates cover brakes and fractures to the facial area such as the nose.
Face Injury - Scarring
Less significant
£3,710 to £12,900
Compensation amounts for scarring. Please note women tend to receive larger payouts for scarring than men.
Eye Injury
Total blindness
In the region of £252,180
Total blindness
Eye Injury
Loss of sight in one eye
£46,240 to £51,460
This amount of compensation is awarded with loss of sight in a single eye or very restricted vision in one eye.
Eye Injury
Minor
£3,710 to £8,200
Problems with vision, pain in the eye or temporary vision loss in an eye.
Back Injury
Severe
£36,390 to £151,070
Severe back injuries to the upper or lower part of the back, maybe causing paralysis or any issues relating to the organs within the lower part of the body.
Back Injury
Moderate
£11,730 to £36,390
This amount of compensation may cover ligament or soft tissue to the back, constant pain and /or discomfort.
Back Injury
Minor
From around £2,300 to £11,730
Soft tissue, slipped disc, muscle pain would gain this amount of compensation.
Neck Injury
Severe
£42,680 to in the region of £139,210
Neck injuries can be very severe causing problems with movement in different areas of the body. An injury to the neck can cause pain in this area for a lengthy time.
Neck Injury
Moderate
£7,410 to £36,120
Fractures to the neck, painful when moving, stiffness inability to use full movement of the neck will warrant this type of compensation.
Neck Injury
Minor
From around £2,300 to £7,410
These amounts of compensation are roughly the brackets for whiplash depending on how long it lasts, how painful it is and the long term prognosis.
Shoulder Injury
Serious
£11,980 to £18,020
Restriction in movement, limb numbness or paralysis due to injury in the shoulder and neck.
Shoulder Injury
Moderate
£7,410 to £11,980
Tissue damage to neck that may last for quite a while which restricts movement in the arm and elbow.
Shoulder Injury
Minor
From around £2,300 to £11,730
Soft tissue damage that will recover within the year or just over, that causes moderate pain.
Arm Injury
Loss of both arms
£225,960 to £281,520
Amputation of both full arms will receive the maximum award here. This compensation range also covers the amputation of one arm, or whether the amputation is to be the full or part of the arm. The restrictions this will have in the future are also taken into consideration.
Arm Injury
Permanent and substantial disablement
£36,770 to £56,180
If there is major restriction and disability in one or both arms and causes great pain and suffering.
Arm Injury
Less severe
£18,020 to £36,770
This amount is set at this criteria for those who have suffered restriction in movement and/or disability on the arms but will recover.
Elbow Injury
Severely disabling
£36,770 to £51,460
Complete restriction in movement of the elbow that has resulted in a disability or that has required surgery.
Elbow Injury
Moderate or minor
Up to £11,820
Restriction in the movement of the arm due to injury of the elbow.
Hand Injury
Loss of both hands
£132,040 to £189,110
This amount of compensation will cover, both hands or one hand amputation or if the hand becomes completely useless.
Hand Injury
Serious
£27,220 to £58,100
Likely to have seen a reduction in capacity by 50 per cent. Several fingers may have been amputated and re-joined, leaving a clawed or unsightly hand.
Hand Injury
Minor
Up to £4,461
Fractures, soft tissue damage, cuts and surgery warrants these amounts of compensation.
Wrist Injury
Severe
£44,690 to £56,180
No wrist function at all.
Leg Injury
Loss of both legs
£225,960 to £264,650
Amputation of both or one leg will warrant this amount of compensation to be awarded. It will also be taken in to consideration if the leg is amputated above or below the knee.
Leg Injury
Less serious
Up to £11,110
Fracture, brake or soft tissue damage to the leg that has affected the muscle causing great pain and discomfort.
Post-traumatic stress disorder (PTSD)
Less severe
£3,710 to £7,680
Minor symptoms that resolve in full within a short space of time.
Post-traumatic stress disorder (PTSD)
Severe
£56,180 to £94,470
Debilitating symptoms, impacting work life, social life, and relationships with family and friends. Prognosis for recovery is likely to be poor, with symptoms having some permanency.
Knee Injury
Severe
£24,580 to £90,290
Disability due to injury to the knee, severe damage to muscle, soft tissue and also muscle wastage.

Knee Injury
Moderate
Up to £24,580
Injury to the knee that is painful but will recover within time so the knee has a full normal working function.
the figures above are taken from the Judicial College Guidelines, a document used by those in the legal system to help value personal injury claims. As you can see, the potential compensation can vary depending on the specific nature of a claim.
What Are Special Damages?
As well as accounting for the physical pain and suffering experienced, council compensation claims can also take into account the financial hardship experienced as a result of the accident. This aspect of a settlement is known as special damages.
It's possible to include any past expenses as well as future costs within a claim, such as:
Loss of earnings. If you had to take time off work to recover from your injury and did not get paid, you can recover this money.
Travel costs. Should your injuries leave you needing to take taxis or buses to appointments, you can claim back these costs.
Medication fees. If you had to pay out of your own pocket for the likes of prescriptions, paracetamol or physiotherapy, these costs can be recovered too.
Care costs. In cases of serious injuries, such as broken bones, it may be necessary to have someone care and look after you. Again, the price of this can be recovered.
Council Compensation Claim Case Study
At this point, you may be asking yourself exactly how to claim against the council for negligence and how to receive the compensation that you believe you deserve. It can be beneficial to look into a particularly illustrative case in which an individual fought for (and won) compensation claims against local councils.
The individual, herein known as the claimant, fell down an improperly secured manhole cover whilst walking down the street. As a result, the claimant suffered significant emotional and mental distress, moderate muscle damage in their legs, and permanent pain and nerve damage. The claimant successfully secured £20,000 of compensation from their local council; mainly for medical costs and the emotional strain that the experience had caused.
This compensation was awarded based upon two significant factors, namely:
The moderately severe injuries that they had suffered directly as a result of the accident in question.
The council discovered the issue several months before the accident and no action was taken to rectify the problem.
Cases such as this one demonstrate the extent to which it is possible for you to successfully make a claim against your local council following an injury. With the right law firm, this process can be made much more comfortable.
If you'd like to learn more about what can be factored into council compensation claims, please speak to our team of friendly personal injury advisers.
No Win No Fee Council or Local Authority Claims
For many, the most discouraging aspect of any potential compensation claim against a council or local authority will be the possible legal fees. The legal fees charged by certain claims agencies can be incredibly prohibitive. If you are already experiencing financial issues resulting from your injury, then such fees can appear extortionate and unfair, hurting you when you are at your most vulnerable. Even worse, your fees may even exceed your compensation.
However, our company wants to help you avoid this kind of stress during the claims process. If you choose our company to represent you, we will ensure your claim will proceed using our 'No Win No Fee' service. As a result, you can greatly reduce any concerns regarding your financial stability throughout the council accident claims process.
This contract, also called a 'Conditional Fee Agreement' involves our promise to only charge for our services on the condition that we win your compensation claim in court. If your claim fails, you won't have any legal fees or debt to add to your worries.
If you are hoping to claim against the council, our legal representatives will be doing their best to dismiss your claim. Therefore, it is critical you receive proper expert legal representation yourself.
Why Choose Us As Your Claims Service for a Claim Against the Council or Local Authority?
When you decide to make your personal injury claim against the local council, you should choose our company. Our years of experience in dealing with claims against the council for personal injury makes us the logical choice when dealing with these types of claims for damages. It has enabled us to gain a deep understanding of how to maximise your chances of being successful in your compensation claim.
Our team of legal experts has spent years dealing with council compensation claims. As such, you can rely on our ability to deal with your compensation claim professionally and efficiently, leaving nothing to chance or luck. We can assist you in your claim along every step of the journey and give you expert advice on how to deal with the aftermath of your accident.
Our desire to see justice done in the world is highlighted by our 'No Win No Fee' policy. This emphasises our company's commitment to justice, especially for those who feel they are hindered due to their financial status. Our approach not only limits the amount of stress that you will face throughout the claims process, but we can also arrange for a local medical evaluation to strengthen the evidence you have in support of your claim. We cover every eventuality and are happy to process your claim on a No Win No Fee basis.
Call for Free Advice and To Start a Claim
If you believe that you have a legitimate claim against the local council, or even if you are just wondering about your rights following an accident, we are ready to receive your call.
You can take the first steps towards making a claim either by filling out the form provided or by calling the number below. After that, we can get started on resolving your case in the best possible manner.
Call 0800 073 8804, or enquire online to access free legal advice on how to proceed with your claim or to request a call back from one of our team.
Helpful Links
Thank you for taking the time to read our guide to local authority compensation claims. We hope you've found it useful to learn more about how to claim against the council. In this section, we've included some more guides you may find useful, as well as answers to some frequently asked questions when it comes to council compensation claims.
Council Compensation Claims FAQ
Here are some answers to questions we're commonly asked about local authority claims.
Can you claim compensation from the council?
Yes, provided you can show that the local council breached its duty of care and you've been injured as a result, you might be able to claim compensation.
Can you sue the council for slipping on ice?
To sue the council for slipping on icy pavement, it will be necessary to show that they should have done more to minimise the risk, such as gritting the area or covering it with salt. If they failed to do so, you could sue them for compensation.
How do I make a claim for pavement tripping?
First, it's important to get your injuries treated. Then establish how big the pavement defect is. Usually, it must be at least 1 inch in height or depth. Next, work out who is responsible for the land, get their contact details and either pass them onto your solicitor or write to them yourself.
Who is responsible for gritting pavements?
This depends on who is responsible for the pavement. In most cases, it will be the local council, though it could also be a private property owner.
Can I sue the council for negligence?
In short, the answer is yes. The council owes a duty of care when it comes to the spaces they are responsible for, such as parks, roads, pathways, and even council housing. Should they fail to uphold this obligation and cause innocent individual harm, then a claim could be a suitable course of action.
Can I sue for emotional distress in the UK?
The aftermath of an accident can have both a mental and a physical impact on the individual. Therefore, should you take legal action against eh council for an accident that wasn't your fault, then emotional distress could be taken into account.
What temperature do gritters go out?
If the temperature is forecast to drop to around 1 degrees Celsius or less, with a forecast of ice or rain, it is likely that gritters will go out to cover roads and pavements.
Can I sue my local council with a solicitor?
If you can provide evidence to support your claim against the council, then a personal injury solicitor could offer to handle your claim. Why not reach out and contact our team to learn more about how a solicitor could assist you.
Thank you for reading our council compensation claims guide.