Swansea Personal Injury Solicitors No Win No Fee
Swansea Personal Injury Solicitors No Win No Fee
By Daniel Archer. Last Updated 16th May 2022. Our panel of Swansea personal injury solicitors can help a wide range of clients make a No Win No Fee claim. This guide has been put together to help you better understand the process of making a personal injury claim. Sometimes the legal jargon can be confused. So, we have made this article as easy to follow as we can.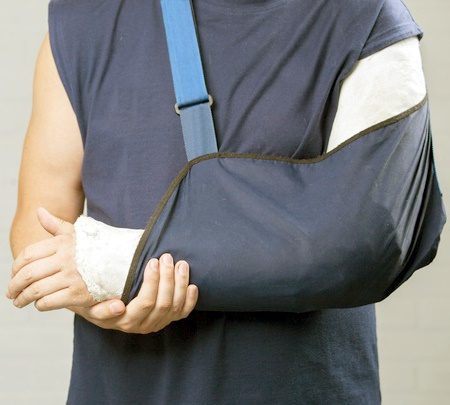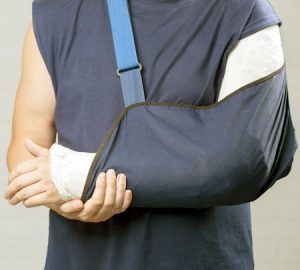 If you've been injured as a result of someone else's negligence, then you could have a valid claim for compensation. Whether you were injured in a workplace accident, on the road, or even in a public place, you could still be eligible if you have proof to back up your version of events.
Our advisors are ready and waiting 24/7 to answer your questions. They may even have some questions for you. The more information we have, the more accurately the guidance we supply you will is likely to be. Read on for more information.
Contact Details
There's more than one way you can reach us here at Legal Expert:
Jump To A Section
Making A Personal Injury Claim In Swansea
In order to successfully make a claim for personal injury compensation, there are several criteria which you need to be able to demonstrate. There are also several other factors that are pertinent to successful personal injury claims. The criteria you need to satisfy are;
That the defendant that you are making a claim against had a legally binding duty of care to you
That the defendant has in some way breached this duty of care
That this breach directly lead to or caused your accident, resulting in an injury or illness
Other factors which affect your claim can include how long ago the accident occurred, or the injuries were discovered. There is a standard three-year period after the accident in which to make a claim. This three-year period can start from the discovery of your injuries if symptoms arose after this period. The sooner you start your claim, the sooner your solicitor can start collecting the evidence needed.
How To Choose The Best No Win No Fee Solicitors In Swansea?
A critical step on the path to claiming the compensation you deserve is finding and working with the right solicitor. So, how do you find the right solicitor for your compensation case? Getting the compensation you deserve can be crucial for some people in recovering both physically and financially from an accident.
As you will be spending a lot of time working with the solicitors, it is vital to have a good working relationship with them. Personal injury claims can vary greatly in their complexity and in the time it takes to process them. They can often take between several months and several years to complete. The more complex the accident, injuries or case, the longer it could take to complete.
Reading Reviews Of Solicitors For More Information
When you are looking at reviews of Swansea personal injury solicitors, there are things you should consider. Look at what other people's experiences of the firm have been. What is their effective success rate, and what level of fees do they charge if successful. You should also look to see that they are offering what is a truly, No Win No Fee service. Reviews can be a great way to compare the services and approaches of different solicitors and legal firms.
However, nothing will compare to talking directly to the solicitor about your claims case, the details and the likely success of your claims case.
Does It Matter Where Your Solicitor Is Based?
As with many different professional services in the digital age, you do not need to hire a lawyer, solicitor, or legal firm based in your area. The only part of a personal injury claim which would need to be administered locally is any medical examinations. To establish the necessary medical evidence you will need to undergo a medical examination, this will be carried out by a medical professional who partners with your personal injury solicitors based in Swansea. Wherever your solicitors are located, they will organise for a local expert to carry out the exam and collect the necessary evidence.
What Types Of Claims Can Our Swansea Personal Injury Solicitors Handle?
The solicitors we work with, in Swansea can facilitate compensation claims for a wide range of injuries and our dedicated team can assist you with a whole range of injury types.
Serious Personal Injury Compensation
The solicitors we work with at Legal Expert, as well as the courts recognize that serious injuries can have life-changing impacts on the person making the claim. The personal injury solicitors in Swansea can help recover the money you have lost or had to pay out due to your injury, relieving the financial pressures you could have been facing. This can help claimants, their families, and dependents. Our panel of expert legal solicitors has helped people through a range of different serious injuries, such as breaks, fractures, and psychiatric injuries.
Medical Negligence Personal Injury Cases In Swansea
Clinical or medical negligence is the legal term that describes a breach of the duty of care that hospitals, doctors and other medical or healthcare professionals have to yours. Our team of highly experienced Swansea personal injury solicitors can cover Swansea, as the wider Wales area. They have helped people to recover compensation after negligence cases at the Cefn Coed Hospital in Swansea.
Slips, Trips And Falls In Swansea
According to the Health and Safety Executive, slips, trips and falls are the most common type of workplace accident in the UK. As well as whilst you are at work, they can happen to you when out shopping, walking down the street, or on private property. Secondary accidents could be things such as people drowning or suffering waterborne accidents after falling into a river, lake, pool or another body of water. Claims can also commonly be made against councils and local authorities if they have failed to maintain a pathway.
In the workplace, slips and falls on the same level are the most common cause of injuries. This is according to statistics from the HSE.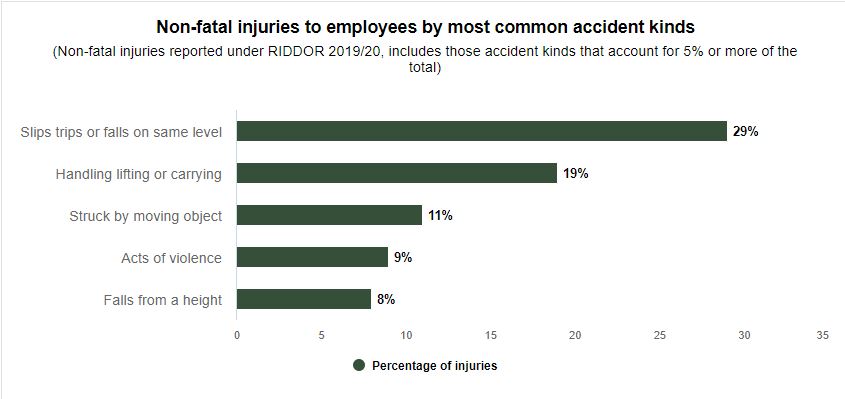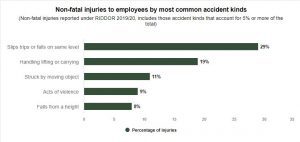 Swansea Road Traffic Accidents
We have helped people across the country to connect with personal injury solicitors, such as Swansea personal injury solicitors who are experienced in road traffic accident compensation claims. The solicitors we work with always have a track record of getting clients the maximum amount of compensation they can.
It doesn't matter whether you were the driver, passenger, or even a pedestrian. If you were injured due to the negligence of another road user then you could still be awarded compensation.
Workplace Accident Compensation Claims
We have worked to secure compensation for people working in a very wide variety of different professions, from the self-employed to contractors, full and part-time employees and even government employees as well as members of the armed forces.
All employers have a legal duty of care to their employees under section 2 of the Health and Safety At Work etc. Act 1974. This means that employers must take all reasonable steps to ensure their employees' health is not negatively impacted by their working conditions. If they do not and an injury takes place, then this could be considered negligence. This is when you could have valid grounds to make a claim.
A workplace injury can still take place without it being due to the negligence of the employer. If they have taken all the steps they can reasonably take to reduce the risk, then it can become less likely they'd be found guilty of negligence.
Industrial Disease Personal Injury Claims
Swansea personal injury solicitors are able to help claimants with getting the compensation they are entitled to and deserve after they suffer an industrial illness. This can include claims for asbestosis or a variety of other respiratory conditions.
Personal injuries in the form of industrial disease or illness are often due to prolonged exposure to unsafe working conditions. For example, an employee could suffer from noise-induced hearing loss due to not being provided with proper protective equipment such as ear defenders.
How Much Could Your Claim Be Worth?
The value of personal injury claims will vary a lot from case to case. This is because there can be more than one sum to consider. Additionally, some of these can be affected individually for a number of reasons. We'll start with the figure known as general damages. This is the amount that's paid to you for your physical pain and mental suffering directly caused by your injuries.
The amount can vary depending on how severe your injuries are and how long it takes you to recover. Legal professionals will turn to the Judicial College Guidelines (JCG) to help them calculate how much should be awarded. This publication contains a list of injuries and their potential value in compensation. Below, we've included an example of the injuries that appear in the JCG. This is only a small cross-section of the guidelines. So, don't worry if your injury does not appear.
| Injury | Description | Amount |
| --- | --- | --- |
| Sight | (d) one eye will be completely lost | £54,830 to £65,710 |
| Sight | (i) an injury that doesn't last long, with a full recovery taking place within a matter of weeks | £2,200 to £3,950 |
| Chest | (b) Injury of a traumatic nature that affects the heart and/or lung(s) on a permanent basis | £65,740 to £100,670 |
| Neck | (c) Minor - (iii) full recovery in no more than three months | Up to £2,450 |
| Shoulder | (e) Clavicle fracture | £5,150 to £12,240 |
| Arm | Amputated at the shoulder | Not less than £137,160 |
| Arm | (d) Simple forearm fractures | £6,610 to £19,200 |
| Wrist | (e) a Colles' fracture of an uncomplicated nature | In the region of £7,430 |
| Finger | (j) fracture to the index finger that heals quickly but grip remains impaired | £9,110 to £12,240 |
There are other sums that can be added to your total settlement. These are called special damages. This figure is calculated based on any outgoings or financial losses caused by your injury. Examples can include:
Medical bills – the cost of prescriptions or specialist care that wasn't available for free on the NHS
Damage to property – you may need personal items repairing or replacing due to the damage they sustained during the accident
Loss of earnings – your injury could mean you miss time at work and therefore lose out on wages
These costs and more can be reimbursed to you if you have proof of the expenditures or loss. Call us today for more information on special damages.
No Win No Fee Solicitors In Swansea
Our legal agreements are governed by No Win No Fee agreements which are also known as conditional fee agreements. These cover the services which will be provided, as well as what you should expect to pay for them. The agreement protects you from having to make any payments if the claim is not successful.
Our No Win No Fee services guarantees that there will never be anything to pay if your claim is not successful. The solicitors we work with at Legal Expert, guarantee that there are no hidden fees or charges and no small print to catch you out.
Taking The Next Steps
Your next step should be to reach out to Legal Expert. We can review your case, provide you with all the information you require or help you to start your case. If we think you could have a valid claim, we could connect you with an expert lawyer.
Getting The Answers You Need
Before you choose to start working with a solicitor or instructing them to work for you, you need to arm yourself with all the right information about your type of claim and the claims process. This will help you to make a more informed decision. Before calling us, view our guides section.
Starting Your Claim
Once you have chosen to work with the pecialist legal expert solicitors on our panel, we are on hand to start your claim. Get in touch today and we can help you take the next step. Don't delay, many personal injury claims will have legally binding time limits placed on them.
Helpful Contacts
Swansea Police Station
Swansea Central Police Station,
Grove Place,
Swansea,
SA1 5EA
Swansea County Court
Swansea Civil Justice Centre,
Quay Parade,
Swansea,
SA1 1SP
Swansea Hospital
Morriston Hospital Swansea NHS Trust,
Heol Maes Eglwys,
Morriston,
Cwmrhydyceirw,
Swansea,
SA6 6NL
Further Helpful Guides
Swansea Personal Injury Solicitor FAQs
How do I find the best No Win No Fee solicitors in Swansea? 
If the accident that caused your injuries took place in Swansea, this does not mean that you need to hire a solicitor based in the area. There is no legal requirement to do so. If you require the services of a personal injury solicitor, then you do not have to restrict your search to the Swansea area.
Instead, you can choose a solicitor who has experience and knowledge of handling claims similar to your own. Additionally, you could seek representation from solicitors who offer No Win No Fee services.
If you feel you would benefit from these services, our solicitors could help. They have handled many types of claims and could use their experience to help you take steps to seek compensation. So, feel free to get in touch if you are seeking free legal advice for the Swansea area. An advisor can assess your claim and if it's valid, they could connect you with one of our No Win No Fee solicitors for the Swansea area.
How do I claim for a car accident in Swansea? 
In order to claim for injuries sustained in a car accident in Swansea, you'll need to establish that another road user was negligent and gather evidence to support your claim. For instance, you could gather medical records that highlight the extent of your injuries. These can be used to help value how much compensation you're owed.
The person you claim against will depend on who was liable for the accident that caused you harm. For example, if you are hit by a car, then you would claim against the driver at fault for your injuries. However, if you are injured due to a bus crash in Swansea, you may have to make a claim against the organisation responsible for the operation of the bus. For example, this could be the local council or even a privately owned company.