How Much Compensation Can I Claim For Dental Negligence?
By Mark Ainsdale. Last Updated 17th June 2021. Welcome to our guide on claiming dental negligence compensation. Medical negligence is a term used to describe mistakes or mishaps made by health care professionals, leading to an injury for their patients, and this can also apply to dentists.
Dental negligence claims can be pursued for various reasons, including poorly executed surgical procedures, inaccurate diagnosis of a condition, and wrong medication prescription. This is a fundamental definition, and this page will try to expand on this to impart a better understanding of your rights if you have been a victim of medical negligence from your dentist.
If you have been the victim of negligence during dental treatment, having professional legal advice and representation can help give you the best chance of making a successful dental negligence compensation claim. And this is where we can help.
Our team of dental negligence solicitors work on a No Win No Fee basis, meaning you can access the legal advice and support you need without having to break the bank. And we can offer you support today, without any obligation on your part to proceed with your personal injury claim.
To chat with us, you can:
Call 0800 073 8804
Or chat with our clinical negligence advisers now by using our live chat, bottom right.
Select a section:
A Guide to Dental Negligence Claims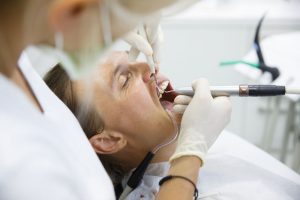 Every dental practitioner is expected to keep their patients' health and well-being at the forefront of everything they do. And in almost every case, this is true. Unfortunately, however, from time to time, something goes wrong, and a mistake is made. And that could open the door for a dental negligence claim.
Again, in most cases, these mistakes are trivial, and no lasting harm is done. But in a handful of cases each year in the UK, a dentist or other medical staff working in the dental sector makes a mistake that leads to harm to their patient. And in these cases, compensation claims are possible.
Within this guide, you will find all of the information you will need to educate yourself about the process of claiming compensation for negligence if you have been unfortunate enough to have become a victim of it.
This guide explains just what dental negligence is and the different types of negligence that can occur. It will walk you through the things you need to do before making your compensation claim. It will also tell you how to actually start your claim for damages against a dentist or dental clinic and try to give a rough indication of the amount of compensation that common injuries could be worth.
If you need any further information on claiming dental negligence compensation or want to get the answers to more specific questions, please use the contact information at the top or bottom of this guide to contact us.
When could I make dental negligence claims?
You can make such a claim in any scenario where you feel that a dentist has acted with negligence. Now, you will need crucial evidence to support your belief that there has been a negligent action. And it would help if you did so within the legal 3-year time limits. But this guide explains how you can find this evidence.
What is a Dental Negligence Claim?
Dental negligence occurs when a medical practitioner working in the dental sector causes harm to a patient through a mishap or mistake. This can be the dentist themselves or any nursing and care staff involved in the overall dental care process.
Although negligence in dental treatments is rare, it does occur, and the damage caused to a patient can be both severe and long-lasting. Furthermore, many of the injuries caused by dental negligence can lead to permanent facial disfigurement and scarring. For this reason, negligence cases relating to dental care, as with any form of medical negligence case, are taken very seriously. As a result, it could see the dental practitioner being barred from their chosen career.
To find out more about seeking dental negligence compensation, contact our team today on the number at the top of this page.
How Long Does A Dental Negligence Claim Take?
If the defendant admits liability right away, you may find that a dental negligence claim can take around 12 months or less to resolve. However, if the defendant disputes or denies liability, the claim could take 18 months or longer.
What is meant by "date of knowledge" in medical negligence claims?
The "date of knowledge" in medical negligence claims refers to the point when you knew or should have known that your injury was significant and that it could be attributed, wholly or partially, to the accident that your dental negligence compensation claim is based on. 
Is Dental Negligence Common?
For many of us, going to the dentist is uncontroversial and routine. In fact, in the 2 years up to June 2020, 21 million adults saw an NHS dentist. Between 2019 and 2020, 6.3 million children saw an NHS dentist. And providing this service were 24,684 dentists.
So what about dental negligence claims? While the NHS doesn't provide a precise figure, it's possible to look at the number of clinical negligence claims made against the organisation overall.
In 2019/20, 11,682 new clinical negligence claims and reported incidents were recorded.
Practitioner Performance Advice received 775 new requests following incidents of complaints, negligence and malpractice. Dentists and pharmacists fall under this remit.
£2.3 billion was spent in 2019/20 on settling claims.
The chart below from the NHS Resolution Annual Report 2019 shows that there has been an increase in clinical negligence payments paid by the NHS between 2017/18 and 2018/19. Although this isn't specific to dental negligence claims, it shows an upward trend in the value of medical negligence claims against the NHS.
Case studies have shown that the growth in popularity of cosmetic dentistry has also contributed to the rising number of negligence claims regarding dental treatment being made. This is, of course, to be expected. However, cosmetic dental procedures are often overly intrusive and require significant reconstruction of the teeth, jaw bone and gums. Therefore, the likelihood of a mistake being made that could lead to a severe injury is far higher than that of merely corrective and preventative dentistry procedures.
If you've been harmed at the dentist and want to learn more about pursuing dental negligence compensation, please get in touch with our claims team today.
What Different Types of Causes Can Lead to a Dental Negligence Claim?
Depending upon the injury the patient has received and how that injury was caused, dental negligence will fit into one of the categories below:
Badly executed surgical procedures – whenever a dentist performs a surgical procedure on a patient, from filling a cavity to fitting a full set of implants, if something goes wrong causing an injury to the patient, like a dentist extracting the wrong tooth or causing nerve damage, then there is a valid reason to claim compensation.
Badly managed anaesthesia – when a surgical procedure requires the administration of either local or general anaesthetic, if the application of that anaesthetic causes an injury or other health problem for the patient, a valid reason to make a compensation claim will exist.
Misdiagnosis of a dental condition – possibly the least common form of dental negligence. When a dentist misdiagnoses a condition, for example, gum disease or oral cancer, and applies the wrong treatment, which leads to injury or harm to the patient. In these cases, a valid reason to claim compensation will exist.
Inadequate patient care – either during a dental procedure or after a dental procedure when the patient is recovering. If undue care is taken to ensure the patient's well-being or negligent treatment is administered or recommended leading to injury or harm, a valid reason to claim compensation will exist.
Of course, some cases do fall outside of this framework. A quick chat with our team of friendly advisers will clarify any unanswered questions you may have about seeking dental negligence compensation. They're available 24/7 and can give you all the free legal advice you need.
Are There Different Types of Dental Negligence Claims?
When it comes to claiming negligence against a dentist, there are several ways a compensation claim can be pursued. Depending on the way that an injury to a patient has been caused and the circumstances that lead to the injury occurring, a dental practitioner would be guilty of one of the following types of negligence:
Contributory negligence – in these cases, both the dental practitioner and the person suffering the injury share some portion of the blame. The blame will be apportioned appropriately between the dentist and the victim of the injury.
Vicarious liability – in this type of case, a third party is being apportioned part of the blame for the injury caused to the patient. For example, this could be the supplier of a particular piece of medical equipment contributing to the mistake that caused the damage. Or it could be a claim against the company that employs the dentist, which has failed to meet statutory health care regulations, leading directly to the patient being injured.
Gross negligence is the most serious and the least common type of negligence claim against a dental practitioner. A gross negligence case is pursued when the dental professional has blatantly disregarded their patient's health and well-being. There are many ways that this can occur, such as being under the influence of alcohol or drugs whilst performing a surgical procedure or purposefully causing harm to a patient in anger.
Almost every claim for compensation based on dental negligence will fit into one of these negligence categories. In certain cases, other considerations may apply. We will be sure to let you know if your claim for dental negligence compensation does not fit into one of these categories.
What to Do If You Have Been a Victim of Dental Negligence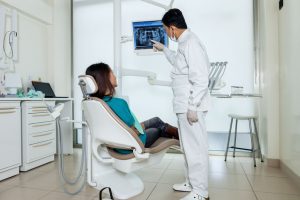 If you believe that you may have a valid reason to claim dental negligence compensation, then there are certain things you can do right now to help you prepare.
As with any legal proceedings that require adjudication, evidence will need to be presented by both sides to either prove or disprove the claim. So preparation is essential here. The better prepared your solicitor is to represent you, the better chance you have of successfully being awarded damages. Below is some advice regarding the things you can do to prepare for your claim before contacting a solicitor.
Have your injury documented – this means visiting a doctor or a hospital to have the wound treated. Ensure that you ask the doctor treating you to note their opinion on how well the injury will heal and how long it is likely to take.
Collect necessary information – find out the names of any dental staff that assisted the dentist if you can. Also, find out the company's name that owns the dental clinic if it is a private practice or a cosmetic dentistry clinic.
Record the injury's financial impact – if you have had to miss work and lost income, spent money on medication, or had to take unexpected journeys which you have paid for out of your own pocket, then write all of these down. Your solicitor will help you claim them back as part of your compensation claim.
Contact a dental negligence solicitor – at this stage, you have all the facts of your claim straight and are ready to brief a solicitor accurately.
If you choose to use our dental negligence solicitors, we can arrange for a medical examination to be carried out locally to you. The medical expert will examine your injuries, assess the extent of your suffering, and determine a recovery period. This will then be used to evidence your dental negligence claim.
How to Begin a Dental Negligence Claim
If you are ready to begin your claim for dental negligence compensation, you can use the contact details at the top or bottom of this guide to get in touch with us. We will then offer you a completely free legal consultation session. During this session, we will attempt to capture all of the pertinent facts about your injury.
We will use the facts we capture to decide whether you have a good chance of claiming damages following a case of dental negligence. If we think the prospect of claiming compensation is high, we will advise you on what we think you need to do next.
Most people who contact us have a valid reason to make a compensation claim. Therefore, we will offer to represent them on a No Win No Fee basis. This means there is nothing to pay unless we actually win your case for you.
What can be Claimed for Due to Dental Negligence?
Claiming compensation for dental negligence involves calculating tangible and intangible costs and claiming damages to meet these costs. Some expenses are simple to calculate, such as any money spent on medical fees. Others are not so straightforward. For example, how does one put a value on pain and suffering? Luckily, there are judicial guidelines that already provide a framework for attributing value to the discomfort caused by an injury. Most claims for negligence in dental treatment will comprise of one or more of these types of damages:
Special damages – in this category, we include all of the non-physical loss that a case of dental negligence has caused. This can consist of an extensive range of causes. For example, if you were forced to cancel a vacation due to the injury, you would claim compensation for this under special damages.
General damages – in this category, we include all of the physical aspects of the injury. Pain, suffering, loss of mobility and psychological trauma is the most common of these.
Care costs – if you are forced to bring in help to assist you in your daily life due to the injury, or if you have had to be placed into full-time care in an institution, then this can be claimed for.
Loss of current and future earnings – if you needed to miss work due to your injury, and thus did not receive your full wage/salary, then you can claim this as part of your dental negligence compensation. Additionally, if the injury is likely to negatively affect your long-term earning potential, this future loss can also be claimed.
Medical expenses – any out of pocket expenses that have been paid for both immediate and ongoing treatment of the injury you are claiming compensation for.
Travel costs – any out of pocket expenses that have been incurred due to having to travel for anything related to the injury itself (outpatient care, for example) or the compensation case (such as visiting your solicitor) can be claimed back.
To learn what else can be factored into dental negligence compensation claims, give our team a call on the number at the top of this page.
How Much Compensation Will I Get For A Claim? (Updated March 2021)
If you're looking for a tool such as a dental negligence claims calculator, we haven't provided one here. Such tools we find can produce misleading results at times, so instead, we wanted to give you true insight into the compensation process.
Once your medical negligence solicitor has all of the evidence they need in your case, they can review it all and try to come to a valuation. When valuing claims, one method they adopt refers to a document known as the Judicial College Guidelines. This publication details compensation awards made by the courts for a variety of injuries.
To help give you an insight, we've compiled this information in a handy table, which you can find below.
| Injury | Severity | Amount | Notes |
| --- | --- | --- | --- |
| Damaged teeth | Minor | £1,020 to £1,600 | Damage to a single tooth, or several. This can be short-term damage that can be corrected, all the way through to permanent complete loss of all teeth. |
| Damaged teeth | Moderate | £4,080 to £7,160 | Loss of or serious damage to several front teeth. |
| Damaged teeth | Severe | Up to £35,790 | Significant and chronic pain perhaps lasting years, with deterioration in the teeth as a result. |
| Illness caused by a medication error | Minor | £860 to £3,710 | Minor illness, such as diarrhoea and cramps which may last some weeks. |
| Illness caused by a medication error | Moderate | £3,710 to £8,950 | A more serious illness that may require a few days in the hospital to recover from. |
| Illness caused by a medication error | Severe | £36,060 to £49,270 | Severe illness requiring hospital admission, with some long-term problems too. |
| Psychiatric harm | Less Severe | £1,440 to £5,500 | Minor symptoms with a slight disability. However, a full recovery will be made in a short period of time. |
| Psychiatric harm | Severe | £51,460 to £108,620 | Severe and debilitating symptoms which may never resolve, even with therapy. |
| Facial scarring | Trivial | £1,600 to £3,310 | Minor scars that will heal and disappear with time. |
| Facial scarring | Very Severe | £27,940 to £91,350 | Generally impacting younger people under 30, very severe facial scarring may cause disfigurement of the face as well as disabling psychological problems for a long period. |
| Jaw injury | Minor to severe | £6,060 to £42,730 | From simple fractures, through to irreparable bones loss through badly performed surgical procedures. |
| Cheekbone Injury | Minor to severe | £2,180 to £14,810 | From simple fractures, through to irreparable bones loss through badly performed surgical procedures. |
These compensation amounts do not include special damages or other forms of damages such as loss of earnings. Instead, they include only general damages for the pain and suffering the injury has caused.
To discover what else you can factor into dental negligence compensation claims, give our team a call today for free legal advice.
Here at Legal Expert, we have over 30 years of experience handling dental negligence cases, so why not contact us to take advantage of our free legal advice? Then, with the support of a solicitor by your side, we can ensure you receive the justice and compensation you deserve.
How Long Does a Claim Take?
To answer the question, how long does a dental negligence claim take? Is very difficult. Each case is unique. Any form of medical negligence has very serious consequences on the person being accused. In extreme cases, they can be struck off from working within their chosen medical field, effectively ending their career.
For this reason, cases can often take a lot longer than claims for similar injuries caused by simple accidents. So, in reality, you would be looking at a period of a minimum of 6 months before a settlement is made.
NHS Dental Negligence Compensation Claims
Claims for dental negligence against the National Health Service (NHS) can be complicated. Navigating the claims process for suing a government body for compensation is very difficult. Certainly, something that you are going to need an experienced solicitor to undertake for you.
We have lots of experience in suing various government-operated bodies, including the NHS, and we know how to cut through the red tape and bureaucracy. We can help expedite your claim for medical negligence against an NHS dentist as quickly as possible.
No Win No Fee Dental Negligence Claims
If you have minimal financial resources, likely, finding the money to pay the legal fees involved in making a successful claim for compensation for dental negligence will be problematic. And what happens if you lose? You would be entirely out of pocket.
We have a way to help. We can offer to represent you in a No Win No Fee format. This means you don't pay us a thing until we have won your claim for you. If we don't win, you don't owe us anything at all.
Therefore, no Win No Fee agreements are one of the best means of recovering dental negligence compensation.
Why Choose Us as Your Claims Service for a dental negligence Claim?
Dental negligence claims, like any medical negligence cases, are a serious legal matter. They are far less likely to be settled without going to court, and in the most severe cases, the impact upon the liable party is extreme if they are found to be at fault.
Therefore, you need the best legal help possible to execute a dental negligence compensation claim on your behalf, and this is where we come in. We have years of experience in pursuing damages for clients who have been a victim of medical negligence.
Call for Free Advice and To Start a Claim
Have you been the victim of dental negligence? Are you ready to begin making a compensation claim for it? Or maybe you need an expert opinion on whether your claim is viable?
If you need some free help and advice about a dental negligence claim, we are more than happy to assist you. You can either use the online contact form on this website, or for a more immediate response, use the webchat function, or call us directly on 0800 073 8804. There is no obligation to use our service after giving you some advice, and the initial session is always completely free.
Helpful Links
Thank you for reading our guide to claiming dental negligence compensation. Below, we've included links to some other resources you may find useful.
How Much Compensation Can I Claim For Misdiagnosis?
Have you been the victim of misdiagnosis for anything, including dental misdiagnosis? Click the link to learn more.
Clinical and Medical Negligence Claims
Click here to learn more about clinical and medical negligence claims.
head here to learn about claims against the NHS for medical negligence
NHS How do I complain about my dental treatment?
This NHS Link lets you know the process of complaining about NHS dental treatment.
Pre-Action Protocol for the Resolution of Clinical Disputes
Read more on this Ministry of Justice and the justice system website.
Citizens Advice on NHS dentist complaints
This Citizens advice guide on dental malpractice and complaints is excellent. It outlines the different complaint reasons you could complain, such as inadequate care, infection issues, and using dirty equipment. The dentist is under the influence of drink or drugs, and the dentist doesn't get valid consent from you before treatment.
Dental Negligence Claims FAQs
This section includes answers to questions we're commonly asked about dental negligence compensation and medical negligence compensation claims.
Can I sue my dentist for negligence?
If you can prove that your dentist breached their duty of care, then you may be able to make a medical negligence claim against them or the organisation that employs them.
Is it hard to sue a dentist?
Suing a dentist can be tricky—clear evidence will be required to prove that they made an error that led to you suffering harm. Without such evidence, you may find it hard to claim successfully.
How long do I have to sue a dentist for negligence?
You have 3 years from the date of the negligent act to sue a dentist. However, if the problems don't become apparent until later, you can also argue that the 3 year period begins from the date you obtained knowledge that you suffered harm due to dental negligence.
How long does a dental negligence claim take?
If the defendant admits liability right away and the injuries heal quickly, a claim can be resolved within 6 to 9 months. However, if the defendant disputes liability or if injuries are complex, a dental negligence claim can take longer.
What happens if a dentist messed up?
If you can prove that your dentist failed to provide you with the care expected of them, then you could pursue a claim for dental negligence compensation.
Can a dentist hit a nerve with a needle?
It's possible that a dentist can hit a nerve or come into contact with one when injecting a needle. This may feel like an electric-shock type sensation.
How can a dentist be negligent?
A dentist can be negligent in various ways, such as carrying out surgical errors, misdiagnosing conditions or giving you the wrong medication.
When can I begin my claim?
You can contact us as soon as you're ready to pursue a compensation claim.
Thank you for reading our guide to dental negligence compensation claims.