How much compensation can I claim for an electric shock injury?
By Edward Robinson. Last Updated 24th March 2021. Welcome to our guide to electric shock injury compensation claims. Electricity is a very useful utility. It would be very hard to imagine the world today without it. However, electricity is a very dangerous utility that should not be taken lightly. Every year there are thousands of cases of people being injured by electric shocks and suffering severe health problems due to negligence in a workplace environment or in a public place, and this may entitle them to make an electric shock claim.
The effects of electricity on the body are devastating and have serious consequences if not treated immediately. Electrocutions (death by an electric shock) in the workplace are not uncommon.
If you have suffered an electric shock at work or have lost a loved one who was electrocuted, it is important to understand that there are ways in which you can be compensated for your injury or for your loss.
That's where we can help. This guide is just the starting point—we can provide free legal advice on electric shock claims, how the personal injury claims process works, and how you can take advantage of a No Win No Fee agreement to pursue the justice and compensation you deserve.
Our team of advisers is standing by to help you now. You can reach them in a variety of ways:
Call us on 0800 073 8804
Or chat with us now using our live chat feature.
To learn more about claiming electric shock compensation, please continue reading.
Select a Section
A Guide to Electric Shock Accident Claims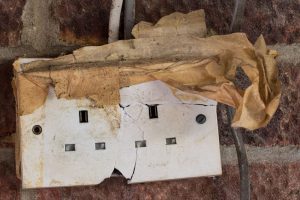 Within this page, you will find information that will help in your search for information on electric shock claims.
This page will provide guidance on how much you can expect to be compensated, and detail how we can help you make a personal injury claim. Our representatives will work on your behalf under a No Win No Fee agreement, which is explained in greater detail further down the page.
When you are seeking electric shock accident compensation, you must understand what type of electric shock injury you may have sustained. This is vital information when it comes to pursuing your compensation claim, as different accidents cause different forms of injuries.
There are four types of electric shock-related injuries and these are:
Falls – these injuries occur when electricians are working on a wiring task. They may need to use a ladder to reach the wiring, and fall off and hurt themselves when they receive an electric shock. This type of injury is more concerned with the physical damage an individual may receive from a strong electric shock that makes them fall from the ladder, or in extreme cases, propels them from the ladder with added force.
Burns – an electric shock can cause either one of two kinds of burns. The first is an electric burn. The other is a thermal burn which an individual may receive from arc flash and blast
Electric shocks – these injuries are the side effects of having an electrical charge running through the body, that most individuals feel in their hands or other extremities. What is a major misconception about electric shocks is that in order for it to be a serious health concern, the electric shock has to be of great Yet that is not the case. Small electric shocks are capable of causing major damage to the internal organs. It is important that whatever level of shock you may have received you get a medical examination carried out to make sure there are no lasting medical effects.
Electrocution – the last of the four types of electric shocks that may happen is Electrocution. In this case, this is known as being electrocuted and death due to electrocution is by no means an uncommon event.
Symptoms of an Electric Shock
A common question that many people ask is what can a shock from faulty equipment do to a person? For those who have received an electric shock, there are several symptoms that may arise after the accident. Those who have received an electric shock might find themselves experiencing symptoms, such as:
Muscle spasm.
Electrical burns
Thermal burns
Breathing difficulties.
Inconsistent heartbeats, in some cases cardiac arrest.
Bone fractures and breakage due to the intensity of muscle spasm.
The nervous system may become damaged.
Those who have had an electric shock may receive minor or severe burns.
What to Do If You Are Involved in an Electric Shock Accident
If you have received an electric shock at work or in a public place, there are some steps you could look to follow before making an electric shock injury compensation claim.
Take photos of the place where you were shocked. This will prove very useful in making your claim. You will have photographic evidence.
Get witness details. These are eyewitness testimonies that will also serve to make your claim that much more verifiable.
Visit a doctor or hospital for a medical exam, and make sure the injury is fully documented.
Write down, yourself, what happened during and after the accident. Write about how you had been injured, the pain you felt, details about the doctor visit, the money you spent on medicine and prescription drugs you may have bought.
Reach out for a solicitor to help you pursue your claim. The evidence you provide will speed up the process.
If you have finished the first four steps you can contact us for a free consultation and our personal injury claims team will start to work out the best way to go about getting you the electric shock compensation you are entitled too.
Our staff are here to help you through this process. You will not have to pay anything throughout the claims process, and if we lose the claim, you won't pay us anything, as we will represent you under a No Win No Fee arrangement. You truly have nothing to lose.
Claiming Compensation for an Electric Shock Accident at Work
You might think that because you were electrocuted at work that you cannot sue. This may be due to you thinking that it was just faulty wiring or maybe you thought you cannot sue because it was just an accident. However, that is not the case and under the Health and Safety at Work etc. Act 1974 employers have a duty of care to uphold the safety and welfare of their employees so far as reasonably possible.
There are numerous regulations that employers must follow to ensure their employee's health and safety.
How Do I Prove An Electric Shock Injury Claim?
This final entry on the above list is one that is the most useful tool in your attempt to gain compensation for your electric shock at work. This is why it is very important to make sure that if you have received an electric shock at the workplace that you take pictures and get witness statements.
If you have this kind of evidence, you will be better able to show that the employer has not complied with the regulations. In showing the negligence of the employer you are much more able to seek your compensation.
Some professions that could be exposed to electric shocks are:
Electricians.
Engineers.
Construction workers.
Catering staff.
Hairdressers.
Theatre productions staff.
Some tasks that may carry a risk of electric shocks are:
Repairing faulty wiring, which is one of the major causes of electric shocks.
Inadequate training to operate equipment, or operation of poorly maintained equipment when performing a task.
Unqualified electricians who are given an assignment they lack the training to complete safely.
Claiming Compensation for an Electric Shock Accident in a Public Place
The Consumer Protection Act 1987 requires that electrical appliances manufacturers and retailers supply to the public products that are safe to operate.
You could be entitled to electric shock compensation even if you are not in a work environment. The law requires that business property owners do everything they can to make sure that the property they operate is as safe as possible.
If the place of business fails to maintain a safe environment, they can be held responsible for the injury an individual receives while on their property, due to their negligence. At the same time, individuals who buy certain electric appliances and receive any of the four electrical injuries related to electric shocks as stated above, are also able to file a complaint and receive compensation.
Likewise, with contractors who may work on your home during a renovation, and perform whatever task that was assigned to them inadequately, creating an electric shock risk, they too could be held responsible if you receive an electric shock.
There are many public places where accidents occur that can result in an electric shock, examples of these are:
Supermarkets.
Retail stores.
Public libraries.
Hotels or other short-term accommodation.
Any accessible public place that is owned by a local government body.
If an individual enters a specific place within a time-frame that doesn't coincide with the publicised opening hours, the person will not be compensated for any injury they received.
How to Begin an Electric Shock Accident Compensation Claim
So you now understand the law and understand that even though it was an accident, you should not be the one who has to pay for being injured. You can likely claim compensation for the electric shock you received.
We recommend you contact us right away, and we will arrange to have a free consultancy session with you. During this session, we will ask you to explain what happened, and how you received an electric shock. We will use this information as a basis for a compensation claim on your behalf, and in almost every case, we will offer to take on the claim under a No Win No Fee agreement.
What Can Be Claimed For After an Electric Shock Accident
There are many types of compensation that the victim of an electric shock accident may have a valid reason to claim. Below is a brief list of the types of damages that many claims comprise of, and some of the reasons for pursuing the specific type of damages:
General damages – paid for the injuries you sustained during and after the accident. These general damages may include the following injuries when it comes to electric shock incidents:
Epidemiology (electric burn).
Thermal Burn.
Inconsistent heartbeat.
Motor controls are affected (nervous system damaged).
Renal system is damaged (urinary system).
Bone fractures due to severe muscle spasm.
Electrocution.
Organ failure.
What Are Special Damages?
The second aspect of a claim, which accounts for any financial losses stemming from the accident, is called special damages.
If you've incurred an expense—or will do in the future—because of your injuries, it's possible to include these costs within an electric shock compensation settlement.
Care claim – if you have needed help around the house because you can no longer fully care for yourself as a result of the electric shock, then any costs incurred can be claimed for.
Loss of earnings – may involve the pay you did not or could not receive due to being injured by an electric shock. A few examples being:

Wages or salary from work.
Bonuses and other benefits.
Commissions from sales.

Travel Expenses – covers the travel costs that pertain to having the injury treated, including ongoing visits for therapy. It also covers travel costs associated with making the compensation claim itself.
Medical Expenses – for all treatment costs related to the electric shock injury, and this includes the initial treatment, and the cost of ongoing specialist care and therapy in the long-term.
It's crucial to retain any receipts, payslips or bank statements that evidence your expenses. Without them, you may be unable to claim back the costs.
To learn what else you can include in electric shock claims, please speak to our team of personal injury advisers on the number at the top of this page.
How Much Compensation Will I Get For An Electric Shock Accident? (Updated March 2021)
How much compensation you will receive for an electric shock depends a great deal on the severity of the injury and its effects. The injuries you have received fall under the guidelines laid down by the Judicial College and the compensation amounts those guidelines detail. The compensation you will receive is driven by the severity of the electric shock coupled with the prediction of your recovery time.
Needless to say, the greater the severity of the accident the more you will be compensated for your injuries. The same goes for the family members who have lost a loved one due to death by electrocution. The average compensation for electric shock is listed below. If you are wondering, "How much can I claim for electric shock", here are the answers.
| Injury | Severity | Description of Injury | Compensation |
| --- | --- | --- | --- |
| Foot Injury | Modest | Short term damage | Up to £12,900 |
| Foot Injury | Moderate | Short term damage | £12,900 to £23,460 |
| Foot Injury | Severe | Amputation due to the severity of the disability | £78,800 to £102,890 |
| Leg Injury | Less Serious | Break or fracture of bone in leg due to muscle spasm | Up to £11,110 |
| Leg Injury | Moderate | Loss of function in one or both legs. | £26,050 to £36,790 |
| Leg Injury | Severe | Loss of both legs | £225,960 to £264,650 |
| Finger Injury | Minor | Minor injuries, such as fractures and burns, that heal in full within 6 months. | Up to £4,461 |
| Hand Injury | Moderate | Reduced function of one or both of the hands | £5,260 to £12,460 |
| Hand Injury | Serious | Likely to cause a reduction in use by about 50%. Fingers may have been amputated and rejoined. | £27,220 to £58,100 |
| Arm Injury | Less Severe | Significant disabilities, however, with a full recovery or at least a substantial one in time. | £18,020 to £36,770 |
| Arm Injury | Permanent or Substantial Disablement | Loss of function of one or both arms. Long term pain may be a result | £36,770 to £56,180 |
| Arm Injury | Severe | Injuries that fall short of amputation, leaving the arm virtually redundant. | £90,250 to £122,860 |
| Death | Full awareness | Severe burns and lung damaged while fully aware, followed b death within 2 to 12 weeks. | £11,770 to £22,350 |
| Death | Unconsciousness | Severe burns and lung damage, along with excruciating pain. Loss of consciousness after about 3 hours, with death following within 2 weeks. | £9,870 to £10,010 |
| Facial scarring | Significant | Plastic surgery will help reduce the impact, but burns will be significant, though will heal with time. | £8,550 to £28,240 |
| Burns | Minor to severe | The valuation will depend upon the extent of the burn injuries. The greater the impact the greater the award. | Likely to exceed £98,380 |
Receiving an electric shock can cause major health problems and affect the body in a variety of ways. Whilst an electric shock claim compensation calculator might give you a rough idea of how much you can claim, it is no substitute for the great legal opinion we give in our free consultancy session.
No Win No Fee Electric Shock Accident Claims
The last thing you want or need to worry about during your recovery time, and during the ordeal of seeking compensation for your injury, is paying someone to represent you legally from your own savings for electric shock injury compensation claims.
However, we can offer an alternative. With a No Win No Fee arrangement, sometimes referred to as a Conditional Fee Agreement (CFA), you will not have to worry about having to pay your personal injury solicitor if you fail to receive compensation.
In addition, you won't have to pay any costs upfront or during the claim. In fact, the only time your solicitor charges you a fee is if the claim is successful. In such circumstances, your solicitor will deduct a small, pre-agreed percentage of your compensation award to cover their costs. This is called a success fee, and by law, they're capped.
To learn more about No Win No Fee agreements in electric shock claims, get in touch with our personal injury advisers.
Why Choose Us as Your Claims Service for an Electric Shock Accident Claim?
We offer a simple way for people who have suffered an electric shock injury to secure the compensation they are entitled to. We pride ourselves on our relationship with our clients. We approach each new case diligently, and with the same care and attention regardless of the level of compensation being sought. We value honesty and integrity and you pay nothing if you lose your claim.
We offer a free, no-obligation consultation to discuss your claim. We have dealt with many electric shock at work compensation cases in the past and can extend that service to you too.
Call for Free Advice and To Start a Claim
You've nearly reached the end of our guide to claiming electric shock compensation. If you'd like free legal advice on your situation, our contact details are below and we'd be delighted to help you.
If you'd like to make a claim, we can help with that too. Our team of personal injury solicitors are well-versed in this area of law and will get to work on your case right away.
So to get in touch, you can:
Helpful Links On Electric Shock Claims
Before we finish this guide to electric shock injury compensation claims, we wanted to leave you with some further guides, as well as the answers to some commonly asked questions on electric shock injury compensation claims. Remember, if you have any queries, get in touch.
If you've been injured in an accident at work and want to know what action you can take this guide will tell you what you need to know.
If you're curious about your legal rights after suffering an injury in a workplace accident, this will tell you more.
Burn injuries are a common result of electric shocks, and this guide will tell you more about them.
The Health and Safety Executive's guide to injuries caused by electric shocks.
Another HSE guide on how to stay safe when working with electricity at work.
A detailed guide on what to do medically in cases of electric shock.
Electric Shock Injury Compensation Claims FAQ
In this final section, we've included some answers to questions we're commonly asked.
How do I claim electric shock injury compensation?
If you suffered an electric shock at work because your employer breached their duty of care, you may be entitled to claim compensation. Such a case can be pursued on a No Win No Fee basis.
Can you sue for getting electrocuted at work?
If you've suffered an electric shock while at work through no fault of your own, you could make a personal injury claim for compensation.
What is the most common injury from electric shock?
It's believed the most common injury from an electric shock is a burn. This non-fatal injury can occur when coming into contact with writing or energised equipment.
What is the difference between being shocked and electrocuted?
Electrocution refers to death caused by electricity. In contrast, suffering an electric shock is a non-fatal injury, and may lead to the likes of burns.
Can an electric shock kill you later?
Death from electrocution generally happens right away. However, if there are significant electrical burns, death may come later if the injuries cannot be overcome.
Which organ is mainly affected by electric shock?
An electric shock can impact both the brain and heart. The force of the shock can cause paralysis of breathing.
What are the long term effects of being electrocuted?
After suffering an electric shock, it's possible to experience some memory loss and damage to the nerves. The latter may develop some months down the line.
Is a mild electric shock dangerous?
A minor electric shock from the likes of a household appliance, like an iron or hairdryer, is unlikely to cause injuries that warrant medical attention. The level of voltage will dictate the severity of the electric shock. Regardless of the severity, electric shock claims may be a justifiable cause of action.
Thank you for reading our guide to electric shock injury compensation claims.