What To Do If You Have A Cycle Accident? – Complete Guide On What To Do After A Cycling Accident
By Daniel Archer. Last Updated On 7th April 2022. This guide will look at what to do if you have a cycle accident. There are specific actions you should take following a cycling accident in which you suffered an injury. Even if you do not plan to claim compensation at first, you may change your mind, and you would be entitled to do so. When it comes to claiming, knowing what to do if you have a cycling accident would increase the chance of making a successful claim.
However, yaou may believe you could be partly responsible for causing the accident. Should this be the case, you should still follow the recommendations as detailed in the sections below. The reason being that even if you were partially liable, you could still be entitled to claim compensation. The amount awarded, however, would reflect your level of liability.
For more information on what to do if you are hit by a car or involved in a cycle accident, you can get in touch with a member of our team on 0800 073 8804.
Alternatively, if you would like to know more about the process of claiming compensation for a cycle accident, please click on the sections below.
Select A Section
A Guide To What To Do If You Have A Cycle Accident
Our guide aims to offer essential advice on what to do if you have a cycle accident, whether you were partially at fault or not. We explain what a cycling accident may entail, how it could be caused. We offer statistics on cycling accidents in the UK and how staying safe on the road is essential.
The guide covers the following in more detail:
What to do and not do following a cycling accident
The importance of stopping if you are involved in this type of incident
How gathering relevant information and evidence helps prove liability, and how the more evidence you can provide, the stronger a cycling accident claim would be
The importance of ensuring that all parties involved are safe
How seeking medical attention is of paramount importance
The importance of exchanging details with all parties involved in the cycle accident
When the incident should be reported to the Police
The importance of retaining receipts for all your out of pocket expenses
Our guide also provides a table of compensation amounts that may be awarded in a successful cycle accident claim. We explain the advantages of having a No Win No Fee solicitor represent you, and how signing a Conditional Fee Agreement would take the worry of paying for legal advice off the table.
What Is A Cycling Accident?
Before looking at what to do if you have a cycle accident, we look at cycling accidents are. You could be involved in a cycling accident in a number of ways, whether at a crossroads, while negotiating a roundabout, or simply because another road user failed to see you. Whatever the reason for the accident, the injuries you sustain could be minor to a lot more severe given that you have far less protection than someone in a car or other type of vehicle.
Some of the most commonly reported injuries that cyclists sustain when using public highways, include the following:
Statistics – Cycling Accidents And Safety
Government statistics tell us more about the reported road casualties across Great Britain.
In 2020:
141 pedal cyclists were killed
4,215 were reported as being seriously injured
11,938 were reported as being slightly injured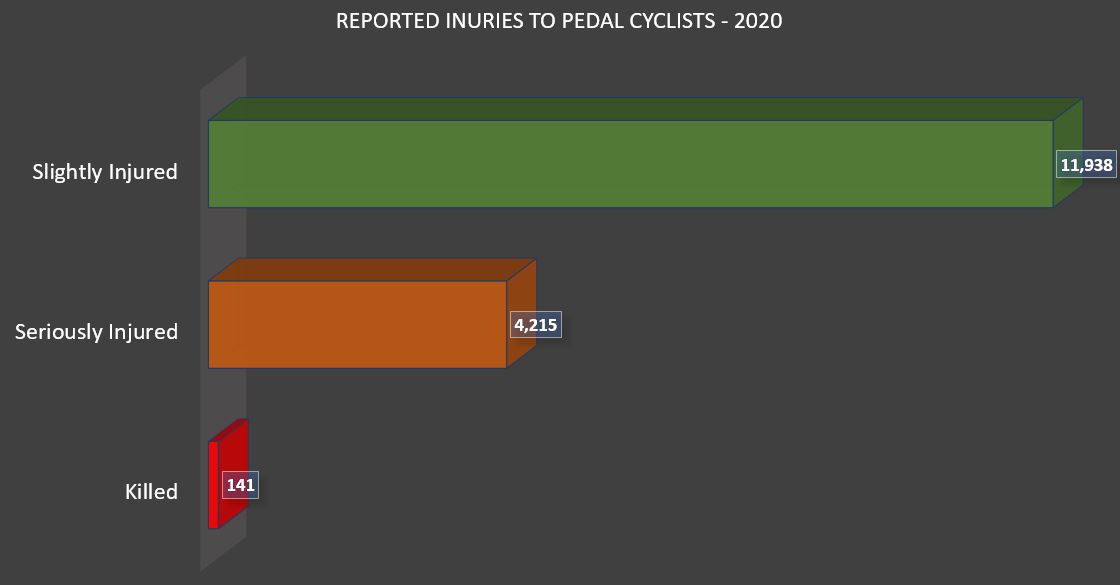 Breakdown of statistics
Between 2014 and 2020, the overall number of casualties sustained by pedal cyclists fell each year.
However, the pedal cyclist fatality rate rose by 41% in 2020. Additionally, pedal cyclist traffic also increased by 46%.
When comparing figures for 2020 to 2004, the causality rate fell by 50% overall.
Other vehicles and contributory factors in cycle accidents
When it comes to the most commonly reported vehicle involved in a collision with a cyclist, this includes the following:
Cars – whether the vehicle collides with a cyclist from the front or rear
Taxis – whether a taxi collides with the cyclist from the front or rear
HGVs
The most commonly reported incidents involving cyclists include the following:
The motorist emerges into the path of a cyclist
The motorist turns across the path of a cyclist
A cyclist rides into the path of a vehicle, typically when coming off a pavement
A cyclist and motorist continuing straight ahead
When a cyclist turns right from a major or minor road
When a child cyclist plays or rides too fast
What To Do After A Bike Accident
Next, we look at what to do if you have a cycle accident. Whether you were partially at fault for a cycling accident or the incident was caused by the negligence of another party, there are things you should do as soon as it is feasibly possible. This includes the following:
Always stop at the scene of a cycling accident
Make sure you are safe
Check yourself for injuries
Check if any other party is injured
If anyone is injured, call an ambulance
Make sure your injuries are treated by a medical professional
Make a record of the scene of the cycle accident
Take pictures of damage and injuries you suffered
Make sure you exchange details with all parties involved in the incident
Write down everything that happened to you – do not rely on memory
Get in touch with a solicitor
Stop At The Scene Of The Cycle Accident
The first thing you should do is stop at the scene of the accident. By law as set out by the Road Traffic Act 1988, when a cyclist is involved in an accident with another road user whether a car or other type of vehicle, they must stop at the scene of the incident if anyone is injured and where damage has been caused. The accident must also be reported to the Police which is a legal requirement.
Ensure That You And Other Parties Are Safe
When you are involved in a cycle accident, it is essential that everyone is safe and out of any potential danger. If you feel light-headed, it is best to sit or lie down and to breathe deeply. You may have sustained a more serious injury than you first thought. As such, it is essential that you assess your situation and if necessary, call for medical assistance. Should anyone be injured in the cycle accident, it is a legal requirement to report the incident to the Police.
If you're wondering what to do if you have a cycle accident once you've left the scene of the accident, our next section will give more information on seeking medical attention for your injuries.
Seek Treatment For Any Injuries
Even if you only sustain what you believe to be a minor injury, you should still get checked out by a medical professional. A slight injury may turn into something more serious later. It could even result in a permanent injury if left untreated. Another thing to bear in mind is that having an initial report on the injuries you suffered would strengthen your claim against a responsible party.
Should your injuries be more severe, and require immediate medical treatment, an ambulance should be called. If you are able to take yourself to the A&E of the local hospital, you should get your injuries treated as soon as possible. It would be a mistake to attempt to treat yourself or to take painkillers if you are in pain. Having injuries treated by a medical professional is essential for your health and well-being.
Exchange Details With Any Other Road Users Involved
You must never admit you were at fault for a cycle accident. Nor should you apologise to any of the other people involved in the incident. It is best to say as little as possible. You should exchange details and write down the vehicle registration of any cars involved. It is also a good idea to make a note of the make, model, and colour of the vehicle. You should also get the driver's name, whether they are the registered owner, their address, and their insurance details.
If the cycle accident was caused by someone's pet, you should try to get an owner's details.
To find out more about what to do if you have a cycle accident and what kind of evidence needs to be collected to increase the chances of your claim being successful, please read on to the next section.
Collect Evidence About Your Cycle Accident And Injuries
The more evidence you can provide, the stronger your claim would be and the greater the chance you would be awarded compensation for the damage and injuries you suffered in the cycle accident. The sort of evidence you should gather would include the following:
Photos of where the incident happened and the injuries/damage you suffered
Keep all receipts of your expenditure
Do not repair or replace any damage to your bike or property – instead, get a quote for the cost of the repairs making sure this is in writing. If your bike is written off, get a quote for a replacement bike making sure it is for a like-for-like bike
Keep all receipts for travel expenses
If the accident was due to a pothole in the road, take photos of the pothole and contact the local council
If a driver refuses to give you their details, take a photo of their vehicle's registration number
Make sure you get witness details
Report the accident to the Police and request a police incident number
Reporting Your Cycle Accident To The Police
If you were involved in a collision with a vehicle, you must report the incident to the Police if anyone was injured or suffered damage. You can do this in-person to a police officer or you can do so at a Police station as soon as feasibly possible. Make sure you get a police reference number and note down the name of the officer you spoke to.
Keep Evidence Of Any Personal Damages And Losses
If your property was damaged in a cycle accident, you may be entitled to special damages which are awarded as a way to compensate you for out of pocket expenses. As such, you must keep all receipts for expenses and other costs you incurred for damage to your bike, accessories, or property.
Having looked at what to do if you have a cycle accident, our next section will go into greater detail on the compensation awards that might be appropriate for your accident. Read on for more information.
Cycle Accident Compensation Claims Calculator
You may be wondering how much compensation you would receive in a successful cycle accident claim. When calculating the level of compensation an injured party may receive, several things would be taken into account. This includes the following:
The extent of the injuries sustained and the prognosis
The out of pocket expenses incurred
As such, without having all the details to hand, it would be hard to put a figure on the amount you could be awarded. However, to give you a general idea, the table below lists the level of compensation awarded for specific injuries. The amounts are based on the Judicial College Guidelines which courts, solicitors, and insurance providers, use when calculating the level of compensation a claimant may be awarded.
Type Of Injury
Potential Claim Amount
Comments On The Injury
Minor Back Injury
£7,410 to £11,730
Minor injuries may include strains and sprains as well as other soft tissue injuries.
Fractures that do not require surgery could also be included.
Moderate Back Injury
£26,050 to £36,390
This is a wide category and includes several different types of injury. Settlements will vary depending on how serious the injury has been, if an existing injury has been made worse and what the prognosis is.
Severe Back Injury
£85,470 to £151,070
The claimant will have suffered severe symptoms such as pain, disability, reduced sexual function, incomplete paralysis and significantly impaired bowel function.
Moderate Leg Injury
£26,050 to £36,790
The bracket includes injuries such as complicated fractures to the leg or where the victim has several fractures. May include crush injuries.
Serious Leg Injury
£36,790 to £51,460
Serious fractures or breaks of the leg bones. This could result in permanent problems with mobility, the need for crutches or mobility aids for the remainder of the injured person's life.
Minor Neck Injury
£4,080 to £7,410
Generally including minor types of soft tissue injury.
Moderate Neck Injury
£23,460 to £36,120
May present as dislocations or fractures of the neck.
Severe Neck Injury
In the region of £139,210
This is the highest bracket for neck injuries and includes the most serious forms of injury to the neck severely restricting whole body movement.
Severe Knee Injury
£65,440 to £90,290
The most serious knee joint injuries fit in this category. The joint may have been severely disrupted.
Moderate Knee Injury
£13,920 to £24,580
These injuries may result in dislocation and/or torn cartilage, resulting in minor instability, wasting, weakness or future mild disability of another kind.
Less severe brain damage
£14,380 to £40,410
The person affected can or had made a good recovery. They can participate in normal life.
Very Severe Brain Damage
£264,650 to £379,100
These cases will involve little to no meaningful environmental response and language function, double incontinence and the need for care full-time.
Special Damages For Cycle Accident Claims
You may be able to claim special damages when you file a cycle accident claim. Special damages are awarded to compensate an injured party for any out of pocket expenses they incurred as a result of having been injured. They are, therefore, based on your actual expenditure which means you must hold onto all relevant receipts and documents.
General damages, on the other hand, are awarded to compensate a claimant for the injuries sustained. Courts, solicitors, and insurers use the Judicial College Guidelines to calculate the level of compensation an injured party would be awarded.
The special damages you may be able to include in a cycle accident claim could include the following:
Any medical expenses that you have to pay for and which the NHS does not cover. This could include physiotherapy, rehabilitation, and other required treatments
All travel costs connected to injuries suffered. This could include parking expenses, taxi, bus, train expenses and fuel costs if you travel to a medical facility to be treated for the injury you suffered
Care costs if you need help around the home to carry out normal daily chores
Home and vehicle adaptations may be essential
The loss of earnings and/or future earnings
All other expenditures connected to the cycle injuries you suffered
If you need advice on what expenses can be included in your cycle accident claim, or you'd like to discuss what to do if you have a cycling accident in greater detail, please get in touch with our team today.
No Win No Fee Cycle Accident And Injury Claims
If you are concerned about the cost of hiring a solicitor to represent you, it is worth noting that providing your case against a third party is deemed valid, you would be offered No Win No Fee terms by one of our solicitors. Our panel of solicitors are authorised and regulated by the solicitors regulation authority, so you can feel confident that your claim is in safe hands. 
Even if you think you could be partially liable for the accident and injuries you suffered, a solicitor may still consider acting on your behalf on a No Win No Fee basis. Should this be the case, and your cycle accident claim is successful, the amount of compensation awarded would reflect the level of liability you are deemed to have had.
No Win No Fee agreements set out the following:
The terms and conditions of the contract between a solicitor and yourself
The percentage, known as a 'success fee' that would only be payable when you receive cycle accident compensation and the amount is deducted from the money awarded
Should your claim be unsuccessful, you would not have to pay the 'success fee' because the solicitor agreed to these terms when representing you on a No Win No Fee basis. You can contact us about this and about what to do if you have a cycling accident.
Start Your Claim
We hope this guide has shown you what to do if you have an accident while cycling. If you feel you are ready to pursue a cycle accident claim against a third party, please get in touch with one of our advisers today. You can contact a member of our team on 0800 073 8804.
You can also contact us via email at:
If you prefer, you can send us a message about your claim online.
Essential References
For more information on the Highway Code, please follow the link provided below:
If you were hit by an uninsured driver, the following link provides information on how to claim compensation:
If you suffered injuries in a cycling accident and would like more information on how much you could receive in compensation, please follow the link below:
Information on cycle accident compensation
For more information regarding No Win No Fee Agreements, please follow the link provided below:
Other Useful Guides
What to do if you have a cycle accident- FAQs
How can drivers avoid causing cycling accidents?
Signal clearly and in enough time– Accidents can happen when cyclists don't know what another road user is going to do. They can also happen when drivers do not do what they signalled or what they should do. Drivers should make sure that they use their indicators clearly and in good time.
Check for cyclists at junctions- Cyclists can often be involved in accidents at junctions. When either turning or otherwise using a junction, drivers should ensure that they give cyclists enough room. Drivers should also clearly signal what they are doing. If setting off from a set of traffic lights, drivers should give cyclists plenty of room and a head start.
Give cyclists enough space- The highway code states that regardless of overtaking a car or a bike, road users should leave the same amount of space. Cyclists should not be forced onto the kerb or into drains. This could potentially cause accidents. When overtaking a cyclist, do so carefully.
Check for cyclists before opening car doors- Dooring accidents can result in serious injuries for cyclists. When opening a car door, you should check that there are no approaching cyclists. The Dutch Reach is a technique for safely exiting a car. The technique involves occupants using their hand farthest from the door handle to open the car door. This means you can check the car's mirror as well as the blind spot for cyclists, pedestrians and vehicles.
How long do I have to claim for an accident on my bike?
If you've been injured in an accident while you were cycling, then you can claim for up to three years following the accident. There's no need to delay, however; making your claim in a timely manner may improve your chances of success, so contact us today to get the process started.
How much compensation could I receive for an accident while cycling?
This will depend on a number of factors. The amount of compensation you're owed will be based on the severity of your injuries, how your quality of life has been affected and any out of pocket expenses (known as special damages) such as loss of earnings that you've incurred.
What can I do following a cycle accident to maximise my compensation?
If you've been involved in an accident on your bike, the best thing that you can do is obtain evidence surrounding the circumstances of the accident. This might include taking photographs or collecting witness statements from people who saw the accident take place.
Can I claim for a cycle accident in which someone died?
Yes. If your family member or loved one was killed in a cycle accident, then you can claim compensation for up to three years following the accident.
What kinds of injury might I suffer in a cycle accident?
Because of the lack of protection that a bicycle offers, cyclists can be vulnerable to a number of different injuries, including broken bones, cuts and scrapes and injuries to the head, particularly if you've been knocked off your bike.
Can a child claim for an accident on a bike?
Yes. While under the age of 18, a child can't make a claim for compensation themselves but can be claimed for by a litigation friend. Once they turn 18, they have three years to claim for themselves.
Should I seek medical attention after a cycle accident?
Yes. Even if you think your injuries were relatively minor, or that you can treat them yourself, you should seek medical attention to make sure that there aren't any hidden injuries and so that there is a record of your injuries for the solicitor to refer back to. You should always see a medical professional if you've hit your head to rule out the possibility of any brain damage or injury.
Can I claim against a cyclist?
It is possible, but only if you can prove that the cyclist was negligent. Additionally, their negligence also needs to have caused your injuries.
However, claiming against a cyclist can be more difficult as they do not require insurance in order to use the road. Therefore, you will have to see if they have a policy in place (such as house insurance) that extends to cover road traffic accidents.
Alternatively, you could claim against the cyclist directly. However, success can depend on whether or not the cyclist responsible has the financial assets to award to you.
Can a cyclist make a claim on my insurance?
If your negligence has resulted in a cyclist being injured, they have the right to claim against your insurance for compensation.
An example of negligence could be not giving a cyclist enough room when overtaking them, colliding with them and knocking them from their cycle.
Should cyclists be insured?
Whilst it is possible to take out insurance as a cyclist, it is not a legal requirement. However, it is illegal for a driver or motorcyclist to use the road without an insurance policy in place.
Guide by Chelache
Edited by McNeil