I Was Injured At Work, What Are My Rights UK?
If you have been injured at work you could be entitled to make a workplace injury claim. All employers have a duty of care to protect their staff and to provide all the necessary training in any health and safety issues which may affect employees. They must also provide all the required personal protective equipment. In the event of a workplace accident employers also have a duty of care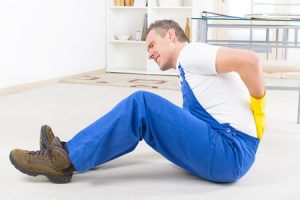 to report accidents and incidents which occur during work duties. They must also pay sick pay and should give employees time off after an accident at work, should it be necessary.
If you have had a workplace accident whilst carrying out your duties at work, or find that your workplace is in some way making your ill, you could be entitled to make a workplace injury claim. You can make a claim for compensation after an accident in the workplace if you suffer an injury at work as a result of employer negligence. If you have been injured at work, your workplace injury could be either a physical injury, a psychological injury caused by stress or workplace bullying. You should take legal advice and start making your claim as soon as possible after your initial accident.
If You Have An Accident At Work, Do You Get Paid?
One of the most common questions asked after a workplace accident is, 'if you have an accident at work, do you get paid?' In most cases in which someone has been injured at work, because of an accident at work, you will only have the right to claim standard statutory sick pay. Your employer may also have an extra scheme for paying more in compensation for time off caused by a workplace accident or workplace injury. They may also choose to, or have clauses in your contract of employment, to pay extra depending on the circumstances of the accident and injury. The amount of sick pay that you are entitled to won't generally be affected by different types of accidents at work that people can suffer or the cause of their injury or illness. However, your employer may have special schemes in place to pay additional sick pay for your injury caused by an accident at work. Check with your employer to see if your contract includes additional benefits or payments for employees injured at work in the UK.
Remember, if your employer is responsible for your illness, injury or inability to work, you have a legal right to make a personal injury claim. This legal right to make a personal injury claim applies to physical and psychological injury claims. Talk to a solicitor today about starting your claim.
Accident At Work Employers Responsibilities
Accident at work employers responsibilities are numerous. All employers are responsible for the health and safety of both their employees as well as any visitors to their premises (these could be customers, suppliers or the wider public). Additionally, there are regulations as well as accident at work procedures for hazardous environments as well as industrial settings.
All employers must carry out an risk assessment in line with HSE guidelines. They must then carry out the steps necessary to ensure the health and safety of employers and visitors. This included training and employing enough first aiders and providing suitable first aid equipment.
No matter the size of the business all employers must take the steps listed below to minimise the chances of employees being injured at work. These are;
Making the workplace safe and preventing risks to employees health. As well as providing all the correct and necessary personal protective equipment to employees free of charge.
Ensure that any machinery is safe for employees to use.
Ensure that safe working practices are taught to and observed by employees.
Make sure that all materials are handled and stored safely and correctly.
Provide adequate first aid training and facilities.
Notify employees about any potential hazards, such as chemicals or other substances and provide appropriate training, supervision, and equipment for these substances.
Ensure workplaces have proper ventilation, temperature, and lighting as well as wash and toilet facilities. They also must provide rest facilities and ensure all these meet health and safety requirements.
Take any necessary precautions against fire hazards and risks.
Avoid or take precautions against employees being involved in dangerous manual handling operations and take all necessary precautions to reduce the risk of workplace injury happening.
Ensure that all accidents and injuries, as well as industrial diseases and dangerous situations, are reported to the UK's Health and Safety Executive.
Accident At Work Procedure
Your employer must follow the accident at work procedure as outlined above. If you are an employee, the first thing to do if you have been injured at work is to seek any necessary medical help. At the same time, if possible, you should also ensure any accident is recorded in your employer's accident report book. Apart from small companies, all employers are required to keep an accident book. This record is beneficial for employees, acting as a record of any accidents or injuries in case an employee needs to take time off or if people need to claim compensation later. Recording accidents when someone is injured at work helps an employer to take steps to ensure an accident does not happen again.
What Should You Do After A Workplace Injury?
There are several immediate steps that you should take after an accident in which you have been injured at work. Claimants are generally legally entitled to make a compensation claim. The first thing that you should do if you have been injured at work is to check and follow your companies accident at work procedure. You should ensure that your accident is recorded in the companies 'accident report book' and to also ensure that (if relevant) that your accident has been reported to the relevant authorities, such as the Health and Safety Executive. Next, check through your contract of employment to see what sick pay your are entitled to claim. If you have any disputes with your employer, try to resolve them amicably before moving on to litigation.
If there are health and safety concerns which your employer is not taking seriously, point them out to your employer and any colleagues responsible for health and safety procedures. Make a record of these conversations.
Have You Been Dismissed After An Accident At Work?
Under law in the UK, employees can no be dismissed for making a claim for compensation if they have been injured at work. If your employer does try to dismiss you for making a compensation claim, you may also be able to make a claim for unfair dismissal. As well as being concerned about being dismissed after an accident at work, people also worry about causing a breakdown in the relationship with their employer or manager. In some cases people worry that this will cause the business to make their working life more difficult. If you feel that your employer is acting or treating you in this way, and this causes you to resign, you may also have a case to claim for constructive dismissal.
Accident At Work Compensation Calculator
In the accident at work compensation calculator table below, we have included information on some of the most common types of accident and injury in the workplace, as well as what people may be able to claim in compensation for these injuries.
| Injury | Severity | Amount | Notes |
| --- | --- | --- | --- |
| Head Injury | Extremely Serious | £215,000 - £310,000 | Extremely serious claims deal with victims who may have suffered severe brain damage and left in what is known as a vegetative state. |
| Head Injury | Mild Injury | £1,500 - £9,500 | Head injuries which are not as serious and which have not caused brain damage. There may still be some long-term effects. |
| Face Injury | Extremely Serious | £15,400 - £73,200 | Causing serious scarring and facial disfigurement. The more severe, the greater the compensation awarded. |
| Face Injury | Serious-Moderate | £12,200 - £27,300 | Including brakes and fractures to bones in the face. This could include the nose. |
| Ear Injury | Extremely Serious | £69,100 - £108,500 | Total loss of claimants hearing due to injuries suffered. |
| Ear Injury | Mild Injury | £4,300 - £37,500 | Higher levels of compensation is awarded for hearring loss in one or both ears. Claims may also include tinnitus symptoms. |
| Back Injury | Extremely Serious | £29,750 - £123,300 | Severe injuries to either the upper or lower part of the back. May also cause paralysis. |
| Back Injury | Serious-Moderate | £30,750 - £8,750 | Damage to the ligaments or soft tissues of the back. Can cause constant pain and /or discomfort in the claimants back. |
| Neck Injury | Extremely Serious | £35,500 - £112, 450 | These injuries may cause lasting pain in the neck for a prolonged period of time. |
| Neck Injury | Serious-Moderate | £29,600 - £42,300 | Fractures to the neck which is painful when moving and also causes stiffness and an inability fully move the neck. |
| Shoulder Injury | Extremely Serious | £9,500 - £37,00 | Restricted movement, limb numbness or local area paralysis due to a shoulder injury. |
You can find more information on claiming compensation after an accident at work in our guide here.
No Win No Fee Injured At Work Claims
Legal Expert work with a panel of dedicated legal solicitors from across the country who can offer clients a specialised no win no fee service. The no win no fee solicitors we work with can help people who have been injured at work as a result of an accident which was not their fault. No win no fee agreements are a special type of legal contract which is used by a solicitor and claimant. It is also commonly known as a Conditional Fee agreement (CFA). The CFA will set out the services that the solicitor provides for the claimant. The contract should also set out when and how the claimant will be charged for the solicitors' services. No win no fee agreements mean that services should be provided without any upfront fees or charges. Claimants should not have to make any payments to the solicitor during their case.
If your compensation claim is successful, the solicitors' fees will be paid from any damages which are awarded to you. Typically the percentage will be specified in your contract must be less than 25. If your personal injury compensation claim is unsuccessful, your solicitor will not charge you for their work. The solicitors we work with have helped people across the country to secure the damages they are owed. You can view examples of compensation claim amounts by reading our guide to making a no win no fee claim.
How Legal Expert Can Help
At Legal Expert we work hard to ensure that we always will provide you with all the necessary information to be able to make an informed decision about making a compensation claim, ensuring that you know what you are doing. The panel of solicitors we work with across the country have years (or sometimes even decades) of experience in helping people to make successful personal injury claims. Talk to us today by phoning 0800 073 8804. You can also start your claim by sending us the details of your accident and injury via email to info@legalexpert.co.uk. Alternatively, reach us by using our online chat feature on our site to talk to us straight away.
Useful Links
Compensation Claim Time Limits
Find out how long you have to make a personal injury claim after an accident or injury with this guide.
No Win No Fee Claims
Read our guide on how to make a successful no win no fee compensation claim, whether you have been injured at work or in another setting.
Accident Report Book
Find out the best way to make a compensation claim when your accident has not been recorded in the accident report book with our compensation guide.
Accident At Work Compensation Claims
Read our guide on how to make an accident at work compensation claim if you have been injured at work. Find out how much compensation you may be entitled to.