Drink Driving Car Accident Claims – How Much Compensation Can I Claim?
By Daniel Hamilton. Last updated 27th July 2021. Welcome to our guide on drink driving car accident claims. Despite the fact that drink driving is punishable by law, there are many road accidents and pedestrian collisions due to people operating vehicles over the legal limit. If you have been injured in an accident caused by a drink driver, then you may be eligible for compensation awarded due to making a personal injury claim. Our guide covers all you need to know about drink driving and the process of claiming compensation for your injuries.
Select a Section
A Guide to car accidents caused by drunk driving claims
Drink driving is not safe, and not legal, but despite the government's warnings and the TV campaigns, sometimes, the temptation to get behind the wheel of a car after a few drinks is too much for some people to resist. Whatever the reason someone has gotten behind the wheel of a car whilst under the influence of alcohol, they are far more likely than a sober driver to cause an accident. These accidents can result in a range of injuries, both for the driver themselves, any passengers (willing or unwilling) and pedestrians and other vehicle users. Our definitive guide to drink driving car accident claims takes you through the important information you need to know if you have suffered injuries due to someone who has been drink driving. This includes an explanation of what sort of compensation you could be awarded should you pursue a claim.
What is drunk driving?
In the UK, there have been laws in place to prevent people under the influence of alcohol putting themselves and other people in danger by driving a vehicle. In the 1930 Road Traffic Act, it was deemed to be an offence for someone to be in charge of a motorised vehicle in any public place (including the road), to attempt to drive, or to actually drive whilst they were influenced by alcohol in such a way as they were incapable of controlling the vehicle properly. However, it was not until 1967 that a legal drink driving limit was set.
In 1964, a study conducted in the USA found that the chance of a person's involvement in a road traffic accident rose highly when they were found to have an alcohol level of 80mg/100ml of blood. In light of this, and after an increase in the number of road accidents in the UK, the UK government introduced a limit to the amount of alcohol legally allowed to be in the system while someone was in control of a vehicle. This limit was set at a maximum of 80mg/100ml of blood.
What is the drink drive limit?
In Northern Ireland, Wales and England, the maximum limit of blood alcohol for a person in control of a motor vehicle is still 80mg/100ml blood. However, in Scotland, the limit was lowered in 2014 (December 5th) to 50mg per 100ml.
The Government's Road Safety Strategy in 2000 suggested that a reduction in the drink driving limit could prevent two hundred and fifty injuries, many of them serious each year, and that it could potentially lead to 50 fewer lives being lost due to drink driving.
A later review suggested this number would be larger, with 65 lives being saved and 230 serious injuries prevented.
The government, in 2010, commissioned research from Sir Peter North in order to review the legal limit. RoSPA's evidence offered to the review proved that the risk of an accident sharply rises to 2-2.5 times for those persons with blood alcohol levels of 50mg-80mg.
Further to this, an international study concerning the introduction or lowering of limits for drink driving found that these actions led to a smaller number of injuries, deaths and accidents on the roads.
Currently, however, the legal blood level of 80mg still remains in England and Wales.
Drink drive limits across the world
There are a number of countries that do not allow people to drive if they have any alcohol in their system. Countries including Armenia, Azerbaijan, Bangladesh, Bahrain, Brazil, Barbados, Czech Republic, Hungary, Iraq, Iran, Moldova, the Netherlands, Panama, Russia and more have a zero-tolerance approach to drink driving. Some of these countries prohibit alcohol whether someone is driving or not, due to cultural reasons.
In addition, some countries have lower limits for professional drivers, young drivers and even inexperienced drivers.
However, there are also countries that have no legal drink drive limit. Bhutan, Brunei, Comoros, The Dominican Republic, Ethiopia, Gabon, Indonesia, The Congo and Togo amongst others do not currently have legal restrictions as to the amount of alcohol permitted in your system when driving.
If travelling abroad, it is always best to check the legal limit before getting behind the wheel of a car. If in doubt, it is best not to consume any alcohol if you are intending to drive.
What to do if you are involved in a car accident caused by drink driving
If a drunk driver has caused your injuries, then there is a good chance you will have a claim for compensation. To assist your claim, it is wise to collate as much evidence as you can. The sort of evidence that can be vital in proving your case can include, but is not restricted to, the below:
Photographs – Whether you use your smartphone or have a camera handy, you should attempt to photograph both the scene of the accident and any physical visible injuries you have suffered. If you are unable to take photographs yourself, you can ask others to photograph the scene and your injuries for you.
Witness Contact Details – If anyone has witnessed the accident that has caused your injuries then you must try to get their contact details in order that they may be called as a witness if required, or provide a written witness statement. Address, contact number and full name should be sufficient at this point.
Driver details – Wherever possible, you should also attempt to get the vehicle/driver details for the person that has caused the accident. If the vehicle is a commercial vehicle, make sure you or someone else notes the name of the company and contact details for the business.
Proof of Costs incurred – If you need to pay out of pocket expenses due to your injuries, such as medical bills, prescription charges or travel costs for appointments, make sure to keep receipts in a safe place, as these may be used as part of your claim.
How to begin a car accident caused by drink driving claims
If you want to know how to claim for injuries sustained in an accident caused by a drunk driver, then all you need to do is call us. We have years of experience in dealing with claims just like yours, and whilst every claim has unique details, we know that what most people need is for the whole process to be as stress-free as possible. After all, you have more than likely had to deal with a heavy amount of stress during and after the accident. Whether you've been dealing with mounting bills due to your inability to attend work, or had to bear pain and discomfort, making a claim for drink driving compensation shouldn't cause you any more problems.
Starting a claim with us usually involved a free consultation, whereupon we will take all the details of the accident, ask questions to clarify certain points, and make you an appointment local to you to see a medical professional who will then compile a full report of your condition, your injuries and your prognosis. From here, we will be in a good position to advise you how strong a case we feel you have, along with giving you some idea of how much compensation you could be awarded.
Whilst some solicitors charge upfront fees for drunk driving accident claims, we work on a No Win No Fee basis, which means you won't be expected to pay upfront for any consultation, or in fact any legal fees at all until your case is won. If for some reason your case is not successful, you will not be left with legal bills that could further impair your financial situation.
What can be claimed for after a car accident caused by drunk driving
You may be wondering how much can I claim in a car accident claim that's not my fault? Depending on the nature of your injuries, your prognosis and any costs you may already have had to pay out of pocket, your settlement figure will be calculated taking into account the following:
General damages – A general damages award is meant to compensate you for the suffering and pain you have had to bear due to the accident.
Travel Expenses – It is possible in many cases for you to submit a claim for travel costs you have incurred whilst attending appointments necessary for your recovery and pertaining to your claim.
Medical Costs – Whether it is prescription fees, counselling bills, or physiotherapy, the likelihood is that you will have had to pay out of pocket for some medical costs. These can often be compensated for as part of your claim.
Care Costs – If you have not been able to complete the usual day to day activities you usually complete to take care of yourself, then you may have had to have someone care for you. The person that has become your carer should be able to submit a claim for care costs.
Loss Of Earnings – If you have missed work due to your injuries and lost out on income, then it is likely that you will be able to claim for this loss of income.
The most common types of car accidents caused by drunk driving
Vehicles can turn into deadly weapons, if not controlled properly, and whether it is a car, van or another vehicle that has caused the accident, there are a number of different ways in which a car accident caused by a drunk driver can occur. Some common examples of accidents caused by drunk drivers are:
Car crashes due to speeding
Coming out of a roundabout too quickly
Pedestrian hit by a vehicle
Distracted driver (whether by mobile phone or otherwise)
Total loss of control of the vehicle
This list is not exhaustive, however, and there are a number of different situations that a drunk driver may be unequipped to handle on the road. Whether your accident is covered by one of the above situations, or something completely different, then if the driver was under the influence of alcohol, you may be able to make a drunk driver compensation claim for your injuries sustained due to this.
Drink driving statistics
The government has maintained records since 1979 regarding accidents and casualties that have been reported as being caused by a drink driver. Thankfully, the over number seems to have been on a gradual decline. The first entry in 1979 reports over 1,300 fatal accidents caused by drink driving. The most recent figures, which are from 2019, list just over 250.
Whilst this is still 250 fatal road traffic accidents that could have been avoided were there not a drink driver at the wheel, it is still a marked improvement.  As you can see in recent years from the graph below, roughly 200 fatal accidents seem to be the average of how many road users die due to the negligence of people who drive under the influence of alcohol. By operating a car whilst over the legal limit, drivers are breaching their duty of care they have to other road users. This is when drink driving car accident claims start to arise.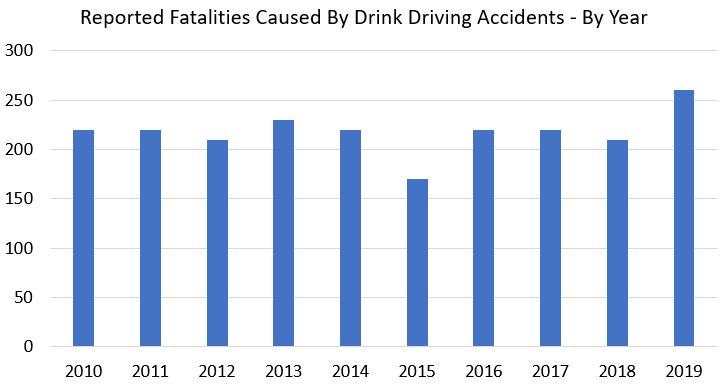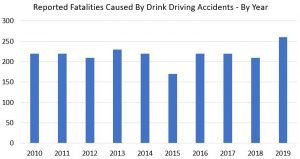 It's important to note that drink driving car accident claims can also be made for accidents sustained, not just fatalities. For more information on how much your claim could be worth, read on
How much compensation will I get after a car accident caused by drunk driving?
If you have sustained any type of injury in a car accident caused by a drunk driver, you may be wondering if you have a claim, and if so, how much compensation you may be awarded. Sadly, as each case is entirely unique, we cannot give a definitive answer to this question. There are many different variables from case to case, and whilst two cases may seem at first look to be almost completely identical, there may be some small intricacies within the case that can have a marked effect on the amount of compensation awarded. Honest solicitors will not try and mislead you with figures that are unachievable or guarantee you a certain amount of car accident claims payouts. This is something we will never do.
However, we have put together somewhat of a rough guide to give you an idea of what has been awarded in the past and the brackets used to calculate compensation claims in general. The drink driving car accident compensation calculator below, similar to our general car accident claims calculator, should give you a rough idea of previous awards in your injury category/categories. If you cannot locate your specific injury or something in the table is not clear, then do not hesitate to call our team and we will help by explaining things further.
This figure is known as general damages, and is calculated by consulting a publication known as the Judicial College Guidelines (JCG). These guidelines are made up of an extensive list of injuries and what they could be worth in compensation depending on things like severity and recovery time. The JCG is updated semi-regularly, with the last review taking place in 2019. These are the figures we have used below.
| Reason for compensation | Typical payout amount | Comments |
| --- | --- | --- |
| Back injuries (Minor) | Up to £11,730 | The upper end of this bracket could mean the injury has taken around 5 years to heal. |
| Back injuries (Moderate) | £11,730 - £36,390 | Injuries within this bracket tend to cause more lasting damage, but rarely unbearable |
| Back injuries (Severe) | £36,390 - £151,070 | Only the most severe cases will earn this level of compensation - the more extreme injuries could cause partial paralysis and things like impaired bladder, bowel, and sexual function |
| Neck Injuries (Minor) | Up to £7,410 | Usually when a complete recovery is made, the amount is largely dependent on how long this recovery takes |
| Neck injuries (Moderate) | £7,410 to £36,120 | The upper end of this bracket is when there could be lasting damage, and some activities are now limited |
| Neck injuries (severe) | £42,680 to £139,210 | Extreme lasting damage with other persistent symptoms such as headaches |
| Mental anguish | £4,380 | Awarded when the claimant expects to die or have their life expectancy shortened |
Then, there's also the matter of special damages. This figure is calculated with the aim of reimbursing the claimant for any additional outgoings or extra costs that have resulted as a direct result of their injuries. For example, they could be reimbursed for lost wages they would have earned during a forced absence from work. Medical expenses and travel costs are just some of the other things that can be considered for eligibility in a special damages payment.
It's vital to maintain detailed records and evidence of these expenditures. Without proof, you could find it very difficult to have these costs reimbursed.
For more information on what can be reclaimed, speak to our advisors today.
No Win No Fee drunk driving claims
When it comes to making a claim for drunk driver accident compensation, we do not believe your financial situation should get in the way. Nor do we believe that you should be faced to begin the process by paying out a large sum of money. In order to ensure that this is not the case, we operate a No Win No Fee service, which allows you to start a claim without paying anything upfront. Whether you have been injured by a drunk driver in a car park, on the roads or as a passenger in a vehicle, we will assess your claim carefully and give you honest advice on whether your claim is likely to be successful. We only take on cases we feel have a good chance of success, and if your claim is unsuccessful for any reason, you still won't have to pay out of pocket for legal fees, as they will only become payable once your drunk driver accident claims are successfully settled.
Of course, there are solicitors that charge by the hour, regardless of the final decision as to the success of your claim and this is their prerogative. However, as we only take on cases on a No Win No Fee basis, you can rest assured that we will be working hard to ensure you receive the maximum amount of compensation possible. We won't be charging by the hour, we'll charge when you win your case.
If you'd like more information about how our No Win No Fee drink driving accident claims are processed, want to know the average compensation for a car accident caused by someone driving while intoxicated, or want to start a claim, then do not hesitate to call us. We will be happy to explain the process to you in detail.
Why choose us as your claims service for your car accident claim?
We believe that what sets us apart from other claims service providers is our dedication to putting you, your feelings, your injuries and your case first. We promise not to treat you as simply a patient who has sustained injuries. Instead, our calm, professional, friendly and caring staff will treat you as an individual, a person with feelings and fears. We will take the time to explain every aspect of our service to you so you know exactly what the process is and what we will need from you. We also work tirelessly to ensure that the process does not cause you undue stress and worry along the way. We promise that if we take on your case on a No Win No Fee basis, which is our policy, that we will not look to collect monies upfront for your case, and you will only see a charge for legal fees in the likely event that your claim is successful.
Finally, and perhaps most importantly, we will work to the best of our abilities to secure for you the maximum car crash compensation payouts possible for your injuries, allowing you to use the compensation to improve your situation after injury.
Call for free advice and to start a claim
It could not be easier to get in touch with our experienced team. Simply call 0800 073 8804 and one of our staff will be happy to answer any questions you might have about your accident caused by a drunk driver. This is whether it is taking you through the car accident claims process step by step, advising you further on what sort of damages might be claimed for, or answering questions about car accident compensation. We will answer your questions and try and help you move your case forward if we can.
Remember, you can also use the live chat function, or see if you have a claim online by filling out the form on our website.
Whatever your needs, and whatever your injuries caused by someone that should not have been driving drunk, we will be sure to advise you honestly, clearly and sympathetically as to what to do next, and can help you begin a claim for compensation should you decide that we are the best car accident claim company for your specific needs.
Helpful Links
UK Government drink driving penalties
This is a page that explains the current UK drink driving penalties, including penalties for refusing to provide a urine, breath or blood test to check alcohol levels.
Government on road accidents and safety statistics
The most up to date official page, showing current statistics surrounding road safety and road accidents.
UK government about the current drink drive limit
More information from the UK government about the current drink drive limit, along with some information about how alcohol can affect different people.
Legislation.gov.uk Road Traffic Act 1988
This link takes you to the Road Traffic Act 1988, giving you full details of applicable laws.
Car Accident Compensation Claims
If you've been injured in a car accident but are not sure if the driver was under the influence, why not take a look at our general guide to car accident compensation claims, which may be relevant to your case as well as this guide on drunk driver injury claims.
Can You Claim If You're A Passenger?
Find out the answer to the question by reading our guide.
Claiming For Brain Damage Caused In A Car Accident
Brain damage is just one of the many injuries you could sustain in a car accident. Find out more by reading this article.
No Win No Fee Compensation Claims Guide Help And Free Advice
Learn more about making a No Win No Fee claim by reading this guide.
How did the Highway Code change in 2022?
A guide discussing recent changes to motoring laws.
Other Useful Compensation Guides
Thank you for reading our guide on drink driving car accident claims.