How Much Compensation For Car Accident Claims? – 2021 Update – A Guide To Car Accidents
By James Vincent. Last Updated 23rd March 2021. This guide to car accident claims will tell you everything you need to know about road traffic accidents, injuries, and the average compensation payout for a car accident in the UK. We'll essentially explain how you could get the car accident compensation that you deserve.
If you have been involved in an accident on the road that wasn't your fault and you've suffered an injury, such as whiplash, you could be entitled to compensation.
Legal Expert is a specialist firm of solicitors with decades of experience supporting clients that have been involved in car accidents.
We strive to ensure that our clients receive the best service possible, one in which they're fully informed every step of the way and receive an outcome they're satisfied with. Click here to read some of our client's reviews. 
Here's what one of our satisfied clients, Mr Dobby, had to say:
"Highly responsive, clear process & associated time frames. I felt confident in their legal experience throughout."
A Guide to Car Accident Claims
We offer all potential clients the chance to have their car accident claim evaluated before they decide to make a claim, even suggesting how much car accident compensation they could be entitled to. We offer a free legal consultation so the victim of a road traffic accident can speak freely to a personal injury solicitor and receive free legal advice on how best to move forward with their case with no obligation to appoint us as their personal injury lawyer.
We appreciate that road accidents, big or small, can have different effects on different people so we treat each and every client on an individual basis and always giving 100% effort. We pride ourselves on the fact that we take 99% of all cases on a No Win No Fee agreement as we are confident that we can succeed in most cases that are brought to us.
When a client approaches us to act as their representative on a personal injury case we are always asked to give an estimate of the amount of personal injury compensation they are likely to receive. Unfortunately, while it seems a straight forward question to some, in reality, it is tough to answer.
Each and every car accident claim for personal injury is quite different from the next; no two people's injuries are ever exactly the same nor their pain and suffering. Victims of personal injury can also claim for out of pocket expenses so that they are put back to the financial position they were in before the car accident occurred.
For more information about typical car accident settlement amounts and what process you could take in order to make a successful personal injury claim after a car accident in the UK, consider the sections below.
If you'd like to speak directly with our expert team of personal injury claim advisors about car accident claims or car accident compensation, they're standing by 24/7 to help. You can reach them via the following ways:
By calling us on 0800 073 8804
Or by using our live chat feature, bottom right
Select a Section
Car Accident Claim Statistics
It's fair to say British roads are busy. Statistics released by the Department for Transport on 17th December 2020 revealed a staggering 873 billion passenger-kilometres travelled in 2019. This works out as an 11% increase since 2009.
With so our roads so busy, it seems almost inevitable that accidents will happen. So let's begin this guide to car accident claims by taking a look at the most recent statistics. According to the Department for Transport, in 2019 there were:
1,752 reported deaths on Great British roads.
An estimated 25,945 serious injuries.
153,158 injuries of all severities.
In the graph below, you can see the number of casualties by road user group, with those involved in car accidents suffering injuries by some distance in comparison to other groups. It should be noted, however, that there are more cars on the roads than any other vehicle.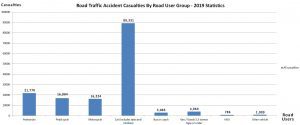 The numbers are significant, and if you happen to be one of them, there's no need to suffer in silence. Legal Expert is here to offer you the legal help and support you need if you're considering making a car accident claim for personal injury.
Simply get in touch with our team on the number at the top of this page and get the advice you need, without any obligation to proceed with a claim. You could even get a quote of how much car accident compensation you could be entitled to.

What To Do At The Time and Shortly After A Car Accident
Being involved in a car accident can be a deeply traumatic and unnerving experience. Many a time the impact is unexpected, and the force of such sudden movements, combined with the dramatic and sometimes violent sounds, can cause immense distress.
We understand full well what it's like to be involved in a car accident and know that car accident compensation can be a relief to many victims. So in this part of our guide to car accident claims, we thought we'd provide you with some simple steps to follow. We want to first make sure that you're safe and well, and secondly that you give yourself the best chance of making a successful personal injury claim.
Immediately after the car accident, you should make sure that you and your passengers are safe and that if anyone needs emergency treatment, that they get it. Calling emergency services is advisable in serious car accidents, such as those involving cuts and broken limbs.
After you've made sure everyone is safe, it's time to inspect the damage. If you can still drive, move your car to a safe place, making sure the other driver or road user follows.
Take photographs of the scene of the car accident, as well as the vehicles involved, focusing in particular on any visible damage.
Exchange details with the other driver involved. Crucially, you need to get their vehicle registration number, insurance details, name and contact information.
Seek medical advice. In less serious accidents, such as low-velocity impacts, you may not feel too injured. However, some injuries, such as whiplash, may present themselves over the next few hours or days. It's therefore important to rule out any more severe injuries. In addition, your attendance at your GP practice or walk-in centre creates an entry in your medical records, which helps prove the circumstances of the claim.
Seek legal advice. Because of the personal injury claims time limit, you only have a narrow window in which to make a car accident claim. It's therefore advisable to seek legal advice as soon as possible.
If you're looking for a car accident solicitor at the moment to help you get car accident compensation, why not contact our personal injury claims team? They can offer you all the advice you need and can connect you with a specialist road traffic accident lawyer who can get to work on your case right away.

How Do I Start A Car Accident Claim?
Starting a personal injury claim for car accident couldn't compensation be simpler. We strongly recommend that you appoint a law firm that specialises in car accident claims as they have the ability and legal experience to ensure that your claim reaches its maximum amount of compensation.
Our lawyers have the knowledge and expertise to ensure that each case reaches its potential especially those that we employ. We have solicitors that have decades of experience in all types of road traffic accident cases and work endlessly so that clients are completely happy with the service we provide.
By contacting us you can receive a free consultation, so before entering into any legal litigation you will know if your car accident claim has winning merits. The free advice we give will provide a clearer picture of how to move forward with your case.
It is important to gather the following information in order for us to process your car accident compensation claim, so it may help to make notes beforehand:
How the accident happened.
Your registration details.
Details of the third party.
Location of where the accident happened.
Don't worry if the driver fled the scene we may be able to make a claim for you through the MIB (Motor Insurance Bureau).
Once we have the information we need, we can process your car accident claim straight away meaning that you will receive the compensation you deserve at the earliest possible moment.
Do car accident claims go to court?
Many car accident claims don't go to court because the liability is clear, or because disputing the claim isn't in the other party's best interests. It's estimated that only around 5% of claims go to court, with many car accident compensation claims being settled beforehand.
How Long After A Car Accident Do I Have To Claim?
You may not be aware of it, but every personal injury claim has a time limit in which it must be made. This time limit—also called the personal injury limitation period—is set out in Section 11 of the Limitation Act 1980.
In summary:
You have 3 years from the date of the accident to issue court proceedings in a car accident claim.
If the injured person is under the age of 18, a relative or another appointed person can make a claim on their behalf. They would be called a litigation friend. If no claim is made by the time the child turns 18, the 3 year period will commence from that point, giving them until their 21st birthday to make a claim.
If the injured person loses or lacks the mental capacity to claim, it's possible for a litigation friend to act on their behalf under the Mental Capacity Act 2005. If the injured person regains their capacity, however, the 3-year clock will begin to tick from that point.
If you're at all unsure if you meet the personal injury limitation period for car accident claims, please give our team a call on the number at the top of this page to see if you could be entitled to car accident compensation.

What Compensation Can I Claim For In A Car Accident Claim?
In any personal injury claim, there are two heads of claim that a compensation award can be made up of. The first is called general damages. Primarily designed to cover your physical pain and psychological suffering, general damages also account for the impact the injuries have had on your quality of life.
As we'll see when discussing car accident compensation payments below, the severity of an injury and the duration it lasts for all impact how much money you could receive in general damages.
The second head of claim is called special damages. They're designed to take into account any financial losses that stem from the injuries, both past and future. The purpose is to ensure you're not left in a worse financial position than before the accident.
For example, it's possible to seek compensation for:
Loss of earnings if you had to take unpaid time off work
Any loss of future earnings if you're unable to return to work
Care costs, such as where you're incapacitated and rely on the help of others to clean, cook and get dressed, for instance.
Travel costs that you may incur in getting to and from medical appointments.
Medication costs, such as for prescriptions or over the counter medication like ibuprofen or paracetamol.
When it comes to successfully recovering car accident compensation in the form of special damages in road traffic accident claims, it's important to supply evidence of any expenses incurred. This can be in the form of receipts, bills, invoices and bank statements. Without them, you may not recover the money.
An important step in establishing the compensation amounts you could receive is to obtain medical evidence. So as part of the claims process, your personal injury solicitor will arrange for you to undergo a medical examination.
The medical expert will review your medical history, assess your condition both physically and mentally, and detail their opinion in a report. This report will be used by your solicitor to value your claim and connect your injuries with the accident. It's therefore a vital piece of evidence in car accident claims.

What Is The Average Payout For A Car Accident Claim?
The average car accident compensation payout for a car accident claim varies depending on the severity of the injuries. A common injury sustained in road traffic accidents is whiplash, and to illustrate our point about compensation awards and severities, we'll take a look at average whiplash payouts.
What Is The Average Payout For A Whiplash Claim?
The average payouts for a whiplash claim look something like this: (with reference to the Judicial College Guidelines):
For an injury that heals within 3 months, the average whiplash payout is between £1,000 and £2,300.
For a whiplash injury that takes longer than 3 months to heal, but not as long as a year, the average payout is between £2,300 and around £4,000.
For injuries that heal between a year and 2 years, the average payout is between £4,080 and £7,410.
More serious whiplash injuries, perhaps involving tears, long-term impairments and multiple injuries could see payouts exceed £100,000.
For more information on the average payouts for car accident claims, see our alternative to a personal injury claims calculator below for some car accident compensation examples. Or, get in touch with our expert personal injury claims team by calling the number at the top of this page.
How Much Compensation Could I Receive For A Car Accident Claim? (Updated March 2021)
With reference to the guidelines of a legal body called the Judicial College, we have compiled the table of injuries below to offer you a more reliable alternative to a personal injury claims calculator or whiplash compensation calculator.
Injury
Severity
Compensation
Notes
Brain injury
Very severe
£264,650 to £379,100
The award bracket is given as an estimate for victims who have suffered severe brain damage and are unresponsive. In what is referred to as a vegetable state.
Brain injury
Moderately severe
£205,580 to £264,650
Losing feelings in limbs, mental disability, and or change in impersonality.
Brain injury
Less severe
£14,380 to £40,410
Head injuries that have not caused significant brain damage but still there maybe lasting effects.
Face Injury - Scarring
Very severe
£27,940 to £91,350
Scarring and facial disfigurement could warrant this amount of compensation. The severity will determine how much.
Face Injury - Scarring
Less severe
£16,860 to £45,440
These
compensation estimates cover brakes and fractures to the facial area such as the nose.
Face Injury - Scarring
Less significant
£3,710 to £12,900
Compensation amounts for scarring. Please note women tend to receive larger payouts for scarring than men.
Eye Injury
Total blindness
In the region of £252,180
Total blindness
Eye Injury
Loss of sight in one eye
£46,240 to £51,460
This amount of compensation is awarded with loss of sight in a single eye or very restricted vision in one eye.
Eye Injury
Minor
£3,710 to £8,200
Problems with vision, pain in the eye or temporary vision loss in an eye.
Back Injury
Severe
£36,390 to £151,070
Severe back injuries to the upper or lower part of the back, maybe causing paralysis or any issues relating to the organs within the lower part of the body.
Back Injury
Moderate
£11,730 to £36,390
This amount of compensation may cover ligament or soft tissue to the back, constant pain and /or discomfort.
Back Injury
Minor
From around £2,300 to £11,730
Soft tissue, slipped disc, muscle pain would gain this amount of compensation.
Neck Injury
Severe
£42,680 to in the region of £139,210
Neck injuries can be very severe causing problems with movement in different areas of the body. An injury to the neck can cause pain in this area for a lengthy time.
Neck Injury
Moderate
£7,410 to £36,120
Fractures to the neck, painful when moving, stiffness inability to use full movement of the neck will warrant this type of compensation.
Neck Injury
Minor
From around £2,300 to £7,410
These amounts of compensation are roughly the brackets for whiplash depending on how long it lasts, how painful it is and the long term prognosis.
Shoulder Injury
Serious
£11,980 to £18,020
Restriction in movement, limb numbness or paralysis due to injury in the shoulder and neck.
Shoulder Injury
Moderate
£7,410 to £11,980
Tissue damage to neck that may last for quite a while which restricts movement in the arm and elbow.
Shoulder Injury
Minor
From around £2,300 to £11,730
Soft tissue damage that will recover within the year or just over, that causes moderate pain.
Arm Injury
Loss of both arms
£225,960 to £281,520
Amputation of both full arms will receive the maximum award here. This compensation range also covers the amputation of one arm, or whether the amputation is to be the full or part of the arm. The restrictions this will have in the future are also taken into consideration.
Arm Injury
Permanent and substantial disablement
£36,770 to £56,180
If there is major restriction and disability in one or both arms and causes great pain and suffering.
Arm Injury
Less severe
£18,020 to £36,770
This amount is set at this criteria for those who have suffered restriction in movement and/or disability on the arms but will recover.
Elbow Injury
Severely disabling
£36,770 to £51,460
Complete restriction in movement of the elbow that has resulted in a disability or that has required surgery.
Elbow Injury
Moderate or minor
Up to £11,820
Restriction in the movement of the arm due to injury of the elbow.
Hand Injury
Loss of both hands
£132,040 to £189,110
This amount of compensation will cover, both hands or one hand amputation or if the hand becomes completely useless.
Hand Injury
Serious
£27,220 to £58,100
Likely to have seen a reduction in capacity by 50 per cent. Several fingers may have been amputated and re-joined, leaving a clawed or unsightly hand.
Hand Injury
Minor
Up to £4,461
Fractures, soft tissue damage, cuts and surgery warrants these amounts of compensation.
Wrist Injury
Severe
£44,690 to £56,180
No wrist function at all.
Leg Injury
Loss of both legs
£225,960 to £264,650
Amputation of both or one leg will warrant this amount of compensation to be awarded. It will also be taken in to consideration if the leg is amputated above or below the knee.
Leg Injury
Less serious
Up to £11,110
Fracture, brake or soft tissue damage to the leg that has affected the muscle causing great pain and discomfort.
Post-traumatic stress disorder (PTSD)
Less severe
£3,710 to £7,680
Minor symptoms that resolve in full within a short space of time.
Post-traumatic stress disorder (PTSD)
Severe
£56,180 to £94,470
Debilitating symptoms, impacting work life, social life, and relationships with family and friends. Prognosis for recovery is likely to be poor, with symptoms having some permanency.
Knee Injury
Severe
£24,580 to £90,290
Disability due to injury to the knee, severe damage to muscle, soft tissue and also muscle wastage.

Knee Injury
Moderate
Up to £24,580
Injury to the knee that is painful but will recover within time so the knee has a full normal working function.
As mentioned earlier, people are injured differently and no two injuries are exactly the same nor is a person's pain and suffering.
However, we can provide you with a more detailed valuation on how much car accident compensation you could be entitled to once we know more about your case. So why not call our team of friendly personal injury claims advisors who can tell you what compensation you could look to receive?
Who Pays Compensation In Car Accident Claims?
Who pays car accident compensation? This is a question we're frequently asked by claimants looking to make road traffic accidents.
In the vast majority of cases, the insurance company of the driver at fault for the accident will be expected to pay any compensation. This is a straightforward scenario, especially if the other driver accepts liability.
However, what happens if the responsible driver has no insurance cover, or if the accident was a hit and run and the other driver can't be traced? In such circumstances, it may be possible to make a claim against the Motor Insurance Bureau (MIB). The purpose of the MIB is to compensate victims of accidents caused by uninsured or untraceable drivers. MIB payouts are much the same as in standard claims.
Crucially, it's important to seek independent legal advice, that is advice from a solicitor not affiliated with an insurance company. Insurers, by their very nature, seek to minimise costs, so following an accident, you may find yourself contacted by an insurance company that might offer you an early settlement. Such offers tend to be much lower than what you could receive if you seek independent legal advice instead.
This is something that we can help with. Our personal injury claims team is experienced in recovering car accident compensation. We act independently of any insurer and act only in your best interests. To take advantage of this free legal advice, get in touch with our team today using the number at the top of this page.
No Win No Fee Car Accident Claims
We believe in access to justice, and that's why we offer all of our clients the opportunity to pursue their personal injury claim on a No Win No Fee basis.
It's a term you no doubt have heard before, but what does it mean exactly? Let's break it down:
If your case doesn't succeed, you will not have to pay any of your solicitor's fees.
You won't have to pay any fees upfront or during the life of the case.
If the claim does succeed, your solicitor will deduct a small percentage of the compensation award to cover their costs. This is called a success fee, which is capped by law, meaning you take the vast majority of your compensation home.
That's all there is to it, but if you'd like to ask us any questions about how to get the car accident compensation you deserve, give our team a call.
Why Choose Legal Expert As Your Claims Service?
We are here for our clients. Our main aim is to treat each and every client on an individual basis as we feel no client is just a number. We do not make any conclusions about a case until we have all the facts as assumptions can mean vital parts are missed out and clients may lose out.
We fully appreciate that victims of car accidents are affected in all different types of ways and no two injuries and personal circumstances are the same, meaning each case should be looked at in its own separate way.
Whether you are searching for lower back pain after a car accident compensation or legal advice regarding your circumstances, our team could help.
Our personal injury team is dedicated to getting clients the maximum amount of compensation as quickly as possible so that they have funds to be able to put their lives back to how it was before the accident happened.
We work with you so any queries or questions you have we will answer for you. We are a people's firm of specialist solicitors and are dedicated to giving you the service you deserve for your car accident claims.
Contact Our Personal Injury Claims Team
Our team of specially trained personal injury advisors work 24 hours a day, 7 days per week to make sure you get the legal help and support you need. We understand how traumatic and distressing it can be when you're involved in a car accident, and we want you to know that we're here to help you put things right by getting the car accident compensation that you deserve.
So if you'd like more information on making a car accident claim, or would like to proceed with one, you can get in touch with us in the following ways:
By calling us on 0800 073 8804
Or by using our live chat feature, which you can find in the bottom right corner.
Car Accident Claims FAQs
Below, we have included some answers to the most frequently asked questions of our advisers in relation to car accidents and car accident compensation.
What is the average payout for a whiplash claim in the UK?
In the UK, the average payout for a whiplash claim varies depending on the severity. For injuries that fully heal before 3 months, the average payout is between £1,000 and £2,300. Injuries that heal between 3 months and a year could receive a payout between £2,300 and around £4,000. For whiplash injuries that take longer to heal—between 1-2 years, the average payout is between £4,080 and £7,410. The most severe of cases could see as much as over £100,000, though usually, that'll involve multiple injuries.
Is it worth suing after a car accident?
If you've suffered a personal injury or damage to your vehicle or property, it may well be worth suing the driver responsible for the accident. If they're insured, a claim could be lodged against their insurance company.
Do whiplash claims get rejected?
If you don't provide sufficient evidence that you have suffered an injury that was the fault of another party, your whiplash claim could be refused.
Who pays for injuries in a car accident claim?
If the responsible driver is fully insured, their car insurance provider would likely pay for injuries sustained in a car accident. It is compulsory for all drivers in the UK to have car insurance. If they don't, they're committing an offence. If, however, you're injured in a car accident by an uninsured driver, it may be possible to claim through the Motor Insurers' Bureau (MIB).
How long does a car accident settlement take?
If a defendant admits liability swiftly, a settlement might take between 6 and 9 months to be reached. If liability is disputed or if the injuries are complex and ongoing, claims may take longer to resolve.
Can you claim for anxiety after a car accident?
Yes, it's possible to claim for anxiety and other psychological injuries after a car accident. It's not uncommon for people to experience conditions like post-traumatic stress disorder too.
How is a settlement paid out?
Depending on the impact of the accident, a settlement may consist of general damages (relating to physical injuries and psychological suffering), and special damages (relating to financial losses). Combined, these can form a settlement.
Who pays for injuries in a car accident?
As the liable party, the driver at fault for the road traffic accident must supply their insurance details so a claim can be lodged with their insurer. If they have no insurance, a claim can be made through the MIB.
More Useful Guides and Resources On Road Traffic Accidents
Thank you for taking the time to check out our guide on car accident claims. Below, you can find some more guides on road traffic accidents you may find useful. And if you have any questions at all, please get in touch with our team.
Head here to learn more about how much compensation you could get for a whiplash injury.
If you've been injured as a cyclist and want to know if you could claim compensation, and if so, how much, this guide will tell you what you need.
If you've been injured in a road traffic accident and want to know how you can prove those injuries, this guide will tell you more.
Head here to review the obligations set out in the Highway Code.
Check out this government guide on ensuring your car is in good working order.
If you've been injured in an accident involving an uninsured driver or one that cannot be traced, a claim might be possible through the MIB. Find out more about making car accident claims through them here.