How Much Compensation For A Roundabout Accident Claim? Who Is At Fault?
By Max Ellis. Last Updated 21st February 2022. Welcome to our guide about roundabout accident claims. Awareness of other vehicles and good judgement are necessary when navigating a roundabout. If a driver pulls out too quickly or doesn't take note of other cars on the road, an accident can easily occur.
If you have been involved in a roundabout accident and it was not your fault, you could be entitled to compensation. We reveal the most important aspects of making roundabout accident claims below.
Select a Section
A guide to claims for roundabout accidents
We have helped many road traffic accident victims successfully claim compensation. A lot of these victims have been involved in a roundabout accident. Roundabout car accidents can have severe consequences, and we have helped victims that have suffered serious, lasting injuries, as well as those that have been lucky enough to come away with more minor injuries.
No matter what applies to you, it is important to recognise that you are entitled to compensation if the accident was not your fault. In this guide, you will find out everything you need to know regarding roundabout accident claims, including roundabout collision case law, eligibility, how to make a claim, average payout amounts, and our No Win No Fee approach.
So, get in touch with our advisors today to get started.
What is a roundabout accident?
This is any type of accident that happens on a roundabout, no matter whether you were the passenger in a vehicle that crashed or driving when someone else crashed into you. The Highway Code is in place to reduce accidents on mini-roundabouts and roundabouts. It states that when turning right at a roundabout, you need to do the following:
Signal right and then use the right-hand lane when approaching the roundabout
Until you need to change to the left lane, you should keep to the right
Once you have passed the exit before the one you want, signal left
If someone is in the wrong lane while exiting the roundabout or they do not pay attention to other cars on the road, accidents can easily happen. Remember, the left lane is usually only for proceeding straight ahead or turning left – it is not for turning right.
You may try and exit the roundabout from the inside lane, meaning that you cross the paths of other road users who are travelling round the roundabout. This is when accidents on mini-roundabouts and roundabouts can happen.
The Highway Code outlines every road user's duty of care meaning that, should someone act in a way that breaks this duty, they may be liable for your injury if their negligence caused the accident. You can even claim as a passenger, whether you're in the at-fault or non-fault vehicle.
Click here to learn about the most recent changes made to the Highway Code as of 29 January 2022. Simply call us today for more information about making a claim.
The 10 most dangerous roundabouts in the UK
Roundabout accidents are, unfortunately, very common. Here are ten of the most dangerous roundabouts in the UK, any of which could result in roundabout accident claims:
Heath Interchange in North East Derbyshire // 74
Hogarth Roundabout in Hounslow // 77
Great Cambridge Junction in Enfield // 80
Lewisham High Street in Lewisham // 84
Edgware Road/North Circular in Barnet // 88
Redbridge Tube Station in Redbridge // 99
Great Cambridge Rd/Churchill Way in Broxbourne // 102
Royal Docks Road in Newham // 105
Bordesley Circus in Birmingham // 105
Elephant and Castle Roundabout in Southwark // 169
What to do if you are involved in an accident at a roundabout causing injury
If you have been involved in a roundabout accident that was not your fault, it is important to gather evidence to strengthen your claim. As mentioned, the most vital question when it comes to any compensation case for an accident on a roundabout is who is at fault? By taking the following steps, you can show who was liable for your injuries:
See A Medical Professional
There is only one place to begin, and this is with seeing a medical professional. Of course, this is important for your health firstly. Plus, if you have sustained severe injuries, you will have no choice but to see a doctor. Nevertheless, there are some people that attempt to heal themselves when they have only sustained minor injuries. This could be because they feel a trip to the hospital is unnecessary.
However, if you do this, you will struggle to make a claim. This is because the medical report provided by your doctor is the most crucial piece of evidence; it will be used to determine how much compensation you receive.
Not only this, but whiplash is one of the most common injuries people sustain as a result of accidents on mini-roundabouts and roundabouts. When suffering from whiplash, some people may not experience any symptoms at first. After a few hours and sometimes even a few days, the symptoms come on strong, and it can be very painful. This is why you should always see a doctor just to be sure.
Whiplash Reform Programme
If you've been in a roundabout accident since 31st May 2021, then you can claim through an online portal known as the Whiplash Reform Programme. However, this only applied for cases worth up to £5,000. The purpose of this portal is to streamline the process of making claims for smaller amounts.
Despite the name of the programme, this portal can be used for all road traffic accidents under £5,000. It's always best to check with us beforehand to see if your claim could be worth more than £5,000.
Our advisors can answer any questions you have and even provide you with a compensation estimate. We're available 24/7 so can help you at any time that works for you.  You can contact us completely for free using the above details.
Road Traffic Accident Statistics
This new way of claiming for smaller claims is in part due to the prevalence of whiplash injuries compared to other kinds of injuries. Government figures show that of the 650,000 claims made for road traffic accidents in 2020, 550,000 of them were for whiplash injuries. Whilst we do not know how many of these accidents were sustained due to a roundabout accident, it shows how common whiplash injuries can be.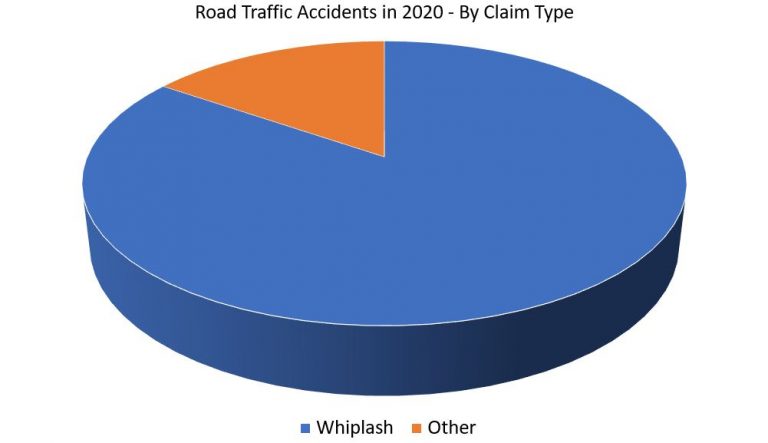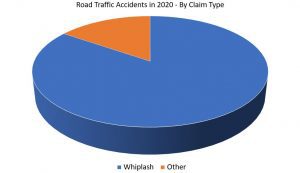 Gather Contact Information
If possible, get the contact information of the person that caused the accident. You should also note the make and model of their vehicle. You should also get the contact details of anyone that witnessed the accident. This is because witness statements can really help to strengthen your claim.
Take Photographs
If applicable, take photographs of your injuries, as well as photographs of the scene or any damage to your car. You could also potentially use CCTV footage to clarify how the accident occurred. 
Make Notes
As soon as you get the opportunity, make a note of everything that happened. This will make sure you do not forget any important details later down the line.
Keep Proof Of Expenses
Last but not least, be sure to keep proof of any expenses you have incurred as a direct consequence of your injuries. This could be anything from loss of income and counselling expenses to travel costs and the cost of childcare. You may be able to claim for all of these costs. However, you will only be able to do so if you have proof. Evidence you will need to prove the value of your financial losses includes receipts, invoices and bank statements.
How to begin a roundabout accident claim
Making roundabout accident claims is easy when you work with us. All you need to do is give us a call and we will handle everything for you. When you speak to our team, we will begin by providing you with a free consultancy session so we can advise you in the best possible manner.
We can also arrange a local, independent examination for you if needed. Additionally, we handle all claims on a No Win No Fee basis. This means that you are only going to need to pay legal fees if your case is successful. You will find out more information about this towards the end of the guide.
What can be claimed for after an accident at a roundabout?
When making a roundabout accident claim, the compensation is often made up of two main figures. They're known as general damages and special damages.
General Damages
This is the compensation you will receive to cover your pain and suffering. The amount can vary depending on the type of injury, its severity, and the recovery time. It's not just physical injuries that can be claimed for. Any psychological injuries caused by the accident, such as anxiety, can be claimed for too. 
Special Damages
This figure is awarded to the claimant to reimburse them for financial losses and additional outgoings caused by their injuries. For example, you may have missed time at work due to an injury sustained in a roundabout accident.  This is known as loss of earnings, and part of the calculation could be made up of the wages you'd have earned over this period of time.
Some other things that could be considered for reimbursement are things like damage to personal property, medical expenses, and even travels costs. Make sure to hold into receipts and other forms of proof, so you stand a better chance of claiming these costs back.
Contact our advisors for more information regarding what else can be included in a special damages payment. You can contact them 24/7 at a time that works for you using the above details.
The most common reasons for roundabout accidents
Some of the most common reasons for a roundabout accident occurring are as follows:
Accident on a roundabout from the wrong lane
Speeding
A driver using their phone
Someone failing to pay attention to other traffic
Pulling out too quickly
If someone cuts across you on a roundabout whose fault is it?
You may be wondering, "if I've experienced an accident on a roundabout whose fault is it?" This is a question we often get asked.
It depends on factors including the nature of the accident and the reasons for the collision. You would only receive compensation if you're able to prove that the injury was caused by another road user's negligence. 
All you need to do is give us a call and we will advise you on building a strong case, ensuring you get the maximum amount possible for your roundabout accident claims.
Who is at fault in a car accident on a roundabout?
There are many different types of accidents that can happen on roundabouts. Refer to The Highway Code at the bottom of the guide for more information on how you should drive safely to avoid accidents, such as an RTA on a roundabout. This should help you to determine whether you or the other driver was at fault. If you are still unsure, all you need to do is give us a call and we will happily advise further.
How much compensation will I get after a roundabout accident causing injury?
One thing a lot of our clients ask is how much roundabout accident compensation they are entitled to. This is a reasonable question. After all, you want to know whether making a claim is going to be worth it. Unfortunately, it is very difficult to give you an accurate figure regarding how much compensation you will receive. This is because there are many different variables that are involved, and every personal injury case is different.
However, what you should know is that we always aim to secure the maximum payout amount for all of our clients. Below, you will get a better understanding of the typical payout amounts for injuries relating to car accidents on roundabouts. Remember, these are just estimates; we cannot confirm you will receive the below amounts as it depends on factors such as the extent of the evidence you have and the severity of the injury.
Moreover, if you cannot find the injury you have sustained in the table below, all you need to do is give us a call for more information. The figures in the table have been taken from the latest edition of a publication known as the Judicial College Guidelines (JCG).
| Reason for compensation | Typical compensation amount | Comments |
| --- | --- | --- |
| Minor back injuries | £2,300 - £11,730 | At the higher end of this bracket, the payout is based on a number of different factors. This includes how severe the original injury is, the consistency of the symptoms, the degree of pain experienced, and the extent of any treatment needed. Cases resulting a few hundred pounds are those whereby a recovery is made in a few weeks or a month or two. |
| Moderate back injuries | £11,730 - £36,390 | Higher payouts are for cases whereby there is residual disability, yet not to the extent whereby it would quantify as a severe back injury. At the lower end of the scale are cases involving ligament or muscle disturbance, which result in backache and soft tissue injuries. |
| Severe back injuries | £36,390 - £151,070 | Higher payouts are for the most serious back injuries, which involve damage to the spinal cords and nerve roots. Lower payouts are for cases that involve soft tissue injuries, disc lesions, or disc fractures. |
| Tetraplegia | £304,630 - £379,100 | The victim has full awareness of their disability - the higher end of the bracket is awarded to those where some pain in present |
| Paraplegia | £205,580 - £266,740 | The victim understands their condition and experiences great pain, sometimes to a severe level. |
| Minor neck injuries | £2,300 - £7,410 | There are a number of different factors that will determine how much compensation you will receive. This includes the following: how severe the neck injury is, symptom consistency, the intensity of the pain you are experiencing, the impact of the injuries on the rest of your life, i.e. your work and your relationships, treatment required, and whether medication is needed. |
| Moderate neck injuries | £7,410 - £36,120 | The higher payout is for fractures or dislocations that result in instant serious symptoms. The lower payout is for injuries that have accelerated or exacerbated a pre-existing condition. |
| Severe neck injuries | £42,680 - £139,210 | The lower payout is for fractures, dislocations, and soft tissue damage. The maximum payout is for neck injuries that lead to incomplete paraplegia or permanent spastic quadriparesis. |
| Mental anguish | £4,380 | This is for fear of death and expectation of end of life. |
No Win No Fee roundabout accident claims
When you work with us, we will handle your claim on a No Win No Fee basis. All of the solicitors on our panel operate to this payment structure. So, what does it mean? Basically, you will only pay your solicitor's legal fees if your case is successful.
This drastically reduces the financial risk that is typically associated with claiming for a roundabout accident compensation.
There are additional knock-on benefits that are associated with the No Win No Fee service. This includes the peace of mind of knowing that we are working hard to secure the best outcome and that we believe in your claim for compensation. If you think about it, solicitors that charge per hour are not impacted by the outcome of the case. Win or lose, they still receive their money at the end of it.
We, on the other hand, are impacted by whether you receive compensation or not. Not only does this mean that we give your case the attention it deserves, but it also means that we will only take on cases that we believe have a genuine chance of success. We will never waste your time, especially given the 3-year time limit in which to make personal injury claims.
Why choose us as your claims service for a roundabout accident claim
There may be many legal firms that can help you to launch a claim for a crash on a roundabout. However, you will struggle to find one that operates in the transparent, empathetic, and efficient manner that we do. We have many years of experience in the personal injury sector, and we have helped huge numbers of personal injury victims receive compensation.
This includes roundabout claims, as well as claims for accidents caused by drivers using the wrong lane and more. All you need to do is look at the feedback we have received from previous clients. You will see that we have an outstanding reputation in the industry; something we are very proud of.
One of the reasons we are held in such high esteem is because we put our customers first all of the time. We know that you are going through an incredibly frustrating and upsetting period. We also know that your life has already been disrupted enough.
This is why we always aim to get the maximum compensation payout in the smoothest and quickest manner possible. This efficiency enables you to focus on your recovery while we work on securing your payout. Nonetheless, if you ever have any questions or need any advice about roundabout road accidents, all you need to do is give us a call.
Call for free advice and to start a claim
If you have been injured in a roundabout road traffic accident, and you are ready to make a claim, all you need to do is give us a call on 0800 073 8804. You will speak to one of our friendly and professional advisors, who will talk you through the claims process and answer any queries you may have. You can rest assured that we operate to the highest levels of confidentiality, and our advisors will do everything they can to make you feel at ease throughout. So, what are you waiting for? Call us to get started with your roundabout accident claims.
Helpful links
This link takes you to the UK Government website where you will find information on The Highway Code. This is a set of rules for using the road, including general rules, reversing, pedestrian crossings, roundabouts, road junctions, and overtaking.
Department Of Transport On Roundabouts
This takes you to the Department of Transport's publication on Signal Controlled Roundabouts. The contents include reasons for use of signals at roundabouts, design considerations, control strategies and more.
Information on the government on how to appoint an adult to make a claim on your, or someone else's, behalf.
This is our guide on making compensation claims for car accidents. It includes information on what to do if you have been involved in a car accident, how to make a claim, what you can claim for, and average payout amounts.
If you were injured as a passenger, use this guide for information on claiming as a passenger, common injuries, No Win No Fee, and more.
Claiming Through The Motor Insurers' Bureau (MIB)
If you're hit by an uninsured driver you can still claim through the MIB. This is also true if the other driver flees the scene before you get their details.
Roundabout Accident Claims FAQs
Who is at fault for a roundabout accident?
The driver who cuts in front of a fellow motorist, thus causing the crash, is at fault.
How do I get money from an accident claim?
In roundabout accident claims, you need to provide evidence showing how another road user's negligence caused your injury. This can include taking photographs of the scene.
How is it determined as to which driver caused the accident?
Witness testimonials along with any credible evidence are all very important for determining responsibility.
Who has the right of way at a roundabout?
The vehicles already using the roundabout have right of way over those which initially come to "give way" road markings.
How many times can you go around a roundabout?
The maximum number of times that you can circle a roundabout is 3.
Can you claim for anxiety after a car accident?
You can, so long as it's serious enough to indicate major damage. You must also be able to produce evidence to prove that your injury was caused by an incident like an RTA on a roundabout.
Thank you for reading our guide about roundabout accident claims.