MIB Motor Insurers Bureau Compensation Claims Amounts How Much Can I Claim Guide
By Daniel Archer. Last Updated 3rd August 2022. Welcome to our guide on how the Motors Insurers Bureau (MIB) could help you following a road traffic accident with an uninsured or untraceable driver. We'll explore the process of making an MIB claim to seek the compensation you deserve.
If you have been involved in a vehicle or car accident that has led to an injury with an uninsured driver, you may wish to know how to claim. We'll explore how you can do this and whether you hold a valid claim.
Additionally, we'll explain what the MIB is and what's involved when submitting a claim to the MIB. We will also take a look at what sort of damages the MIB can potentially cover.
Also, we'll provide information on Motor Insurance Bureau compensation amounts that you could receive in your claim. We'll also explain the benefits of making your claim on a No Win No Fee basis with an experienced solicitor.
When you secure the help of a professional who is already familiar with the MIB claims process, your chances of receiving compensation will be improved. Our personal injury solicitors are well versed in handling cases where someone has experienced harm caused by an uninsured driver.
For more information on personal injury claims, contact our team using the details below:
Telephone — 0800 073 8804
Contact us — Fill out our form with your query and an advisor will call you back
Chat with an advisor using the live chat function below
Discover More About Making An MIB Claim In The Sections Below
What Is The Motor Insurers Bureau (MIB)?
Often incorrectly called the Motor Insurance Bureau, the Motor Insurers' Bureau (MIB) is an organisation set up to compensate victims of accidents caused by uninsured drivers or drivers that can't be traced. They also handle claims for those who've been in accidents with foreign-registered vehicles.
Additionally, the MIB and the police prevent uninsured vehicles from using roads in the UK. They also work alongside the likes of the DVLA to prevent uninsured driving as a whole.
Being involved in a road traffic accident is a nasty experience, but when you are involved in one caused by an uninsured or hit and run driver, it can become even more stressful. The MIB is the UK legal body that assists people in these cases.
If you have suffered an injury, financial loss or property damage due to an accident caused by an uninsured driver, you don't have to shoulder this loss; it is possible to receive financial assistance through Motor Insurers Bureau for payouts in 2021.
Damages can be claimed for personal injuries and also for property damage.
However, the MIB must establish that you are entitled to claim compensation before they can assist you. As such, they will gather evidence, establish liability, speak with witnesses and capture the medical facts.
Do I Have To Make An MIB Claim Myself?
You could make a claim through the MIB if you have been injured due to an accident with an untraced or uninsured driver. In relation to claiming for the damage to your vehicle, you may be able to claim through the MIB. However, it may be easier and quicker for you to claim through your insurer if you have comprehensive cover.
You can make a claim through the MIB directly by filling out a claim form. The MIB could work with you to set up a claim and see if you could receive compensation. On the other hand, you may prefer to hire specialised legal counsel to help you claim compensation.
They can help you collect evidence, contact any potential witnesses and evaluate what you could receive from a successful claim.
If you're unsure if you can make a claim through the MIB or would like to know more about the claims process, please contact us for free using the above details. Please read on to learn more about MIB payout examples.
What Accidents Do The MIB Cover?
The MIB cover all types of road traffic accidents, such as:
If you have had a similar type of accident involving an uninsured or untraceable driver, you may be able to seek compensation by making an MIB claim. Please call our team to discuss your claim in more detail.
How Long Do I Have To Make An MIB Claim?
An MIB claim must happen within a period of three years. The three-year time limit may either start from the date:
Of the accident
You became aware that another road user's failings caused or contributed to your injuries
The requirement to start a claim within three years of your accident is applied by law under the Limitation Act 1980. This time limit applies in almost all circumstances, though a small number of exceptions can apply. These exceptions may apply to anyone under the age of 18 or anyone who has a reduced mental capacity. 
Duty Of Care In Road Traffic Accidents
As per different legislation, all road users are responsible for upholding their duty of care to other people using the road. For instance, the Road Traffic Act 1988 sets out rules for drivers to follow.
For drivers, making sure they are insured to drive any vehicle on the road is compulsory as per Section 143 in the act. If they fail to have the correct documentation to operate a vehicle, it can cause various problems.
For example, they may not have insurance because they aren't qualified to drive. In these cases, driving without the correct qualifications could cause a serious accident due to inexperience and lack of proper training.
Furthermore, you could make an MIB claim to seek compensation.
How Common Are Accidents With Uninsured Drivers?
According to the Reported Road Casualties in Great Britain, Provisional Estimates Report, there were around 1,390 reported road deaths in the year ending June 2021.
Furthermore, the report showed there was an estimate of around 119,850 casualties of all severities in the year ending June 2021.
We have used data from the same report to create the graph below. As you can see, the majority of casualties were slightly injured.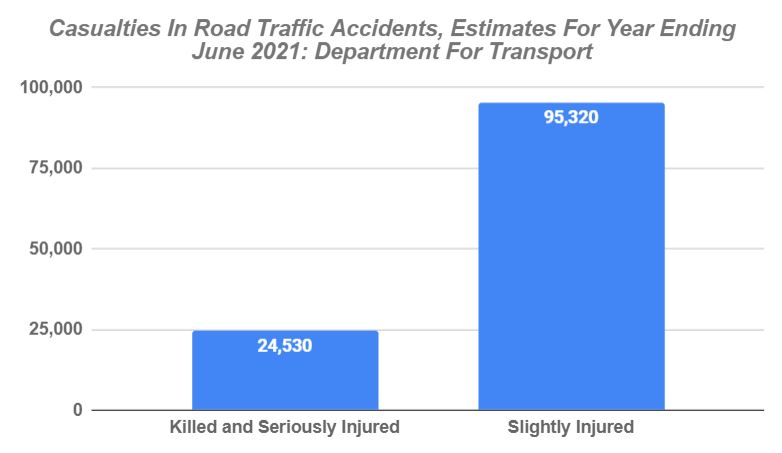 Steps To Making An MIB Claim Following An Accident With An Uninsured Driver
Although it may feel overwhelming, there are several steps you may wish to take before claiming compensation against an uninsured driver.
We have provided details on these steps below. Some of these steps might not be possible, for instance, in cases where you've been in a hit and run accident.
Try to obtain details of the car, such as the car registration number, vehicle model and colour
Try to obtain details of the driver, such as their name and number
Gather evidence to support your MIB claim that another driver was responsible, such as witness details, photographs, CCTV footage and dashcam footage
Report the accident to the police within 24 hours if the police aren't present at the time of the accident
Try to document what occurred at the car accident or vehicle accident scene as accurately as possible.
These steps can often help if the uninsured driver is unwilling to take responsibility.
An experienced road traffic accident solicitor could help you go through the process of claiming through the MIB. For more information on making an MIB claim and further information on MIB payouts, please contact our team.
What Costs Are Covered In An MIB Claim?
The MIB is responsible for paying compensation to individuals that cannot be claimed against a third party, such as an uninsured driver or a driver who fled the accident scene. They run three specific schemes designed to help the public following an accident with an uninsured or untraceable driver:
The uninsured drivers' scheme – this compensation plan is activated when the driver that causes or contributes to the accident is uninsured.
The untraced drivers' scheme – this is activated when the driver responsible for the car accident or vehicle accident flees and can't be traced.
Green card scheme – this is activated when the accident is caused or contributed to by foreign drivers.
MIB Payout Examples For 2022
It may be that more than one figure makes up your total MIB payout. Examples include general damages for your pain and suffering caused by the injury, and special damages for the financial impact your injury has had on you. In this section, we'll focus on general damages.
General damages are awarded for the injuries you experience, whether they be physical or psychological. The amount suitable for the extent of your injuries is calculated by legal professionals during the process of your claim. As well as taking a look at medical evidence that provides details of the nature of your injury, they will also look at a publication called the Judicial College Guidelines (JCG).
The JCG is a list of injuries, with helpful descriptions of each. The descriptions are all accompanied by a range of monetary figures that relate to how much a general damages settlement could be worth for each injury. However, the figures are merely guidelines. Your claim will need to be addressed directly on a bespoke basis before a more accurate valuation can be carried out.
You can see how the JCG is laid out in the table below. These figures have been taken from the 16th edition of the publication. This is the most recent update, published in April 2022.
| Injury | Amount | Description |
| --- | --- | --- |
| Severe Leg Injuries | £39,200 to £54,830 | (iii) Serious: A serious compound fracture that requires prolonged treatment. |
| Less serious leg Injury | Up to £11,840 | (i) A simple tibia fracture with a complete recovery. |
| Knee Injury | £14,840 to £26,190 | Moderate (i): A dislocated knee which causes a mild disability. |
| Back Injury | £7,890 to £12,510 | Minor: (i) A less serious sprain with a full recovery within five years. |
| Arm Injury | £6,610 to £19,200 | (d) An uncomplicated forearm fracture. |
| Head Injury | £2,210 to £12,770 | (e) A head injury of a minor nature with little brain damage. |
More MIB compensation payouts
When claiming through the MIB, payout amounts can depend on a number of factors. The figures in the table above relate to general damages which compensate for the psychological or physical injuries that you sustain and the impact they have had on your quality of life.
However, there is also the matter of special damage to consider. If you're looking for resources online about claiming through the MIB, a compensation calculator may not take all costs that could be claimed under special damages into account. This is why it can be more productive to speak to someone directly, such as our advisors.
Here are some examples of what may be included in a special damages payment:
Loss of earnings – For instance, if you have been injured to the point of being unable to work. This could be a temporary or a permanent situation. However, you could claim in either circumstance. The amount of money you could or would have earned during this period may be included in a special damages payment.
Damage to property – This figure can include costs of the repair or replacement of certain items that sustained damage during the accident in which you were injured.
Medical costs – This could include prescription medication, for example. Additionally, you may be able to include costs for private healthcare, generally only if the same treatment was not available for free on the NHS.
When claiming through the MIB, their first offer could come relatively early in the process. However, you are under no obligation to accept this early offer. We always advise seeking legal advice before accepting an offer for personal injury compensation.
Get in touch with us today if you have any questions.
Can I Make An MIB Claim For Whiplash?
If you sustained a whiplash injury in an accident with an uninsured driver, you would be able to make an MIB claim.
The compensation you're awarded will be calculated with help from the JCG. Alternatively, you could use our MIB compensation calculator to get an estimate of the Motors Insurers Bureau brackets.
No Win No Fee MIB Claim
When making a compensation claim without legal representation, there is no initial fee to pay. However, while your MIB claim proceeds, other costs may incur such as medical fees.
On the other hand, you may feel apprehensive about seeking legal representation due to the costs normally associated with their services.
As an alternative, you could choose to work with one of our solicitors under a No Win No Fee agreement. The agreement provides several financial benefits, such as:
You can avoid paying an upfront fee to your solicitor
Any ongoing costs that could incur during the course of your claim are covered
You won't pay solicitor fees if your claim is unsuccessful
Furthermore, having the help of an experienced solicitor can be beneficial when going through the MIB claims process. It can seem complex and having a solicitor who has been through the process before could help.
If your claim is successful, you will need to pay for the work your solicitor has completed on your case in the form of a success fee. However, the fee is legally capped and taken from your overall compensation settlement. It's also something that's set out in the agreement before you begin your claim on this basis.
Hit And Run Claims – Reasons To Choose Legal Expert For Your MIB Claims
All of our solicitors are experienced in assisting clients with all kind of claims regarding road traffic accidents. This includes hit and run claims made through the MIB. Additionally, they work with all of their clients on a No Win No Fee basis.
A No Win No Fee arrangement is when you pay a fee of your settlement to your lawyer only if you are successfully awarded compensation. The fee is a capped percentage that is kept low by law. It's taken from the settlement you receive. If your claim does not succeed, you are not obligated to pay this fee at all. This can help reduce the financial burden of making a claim. Our lawyers also do not ask for any fees upfront or during your claim.
If you've been injured by a hit and run driver or a driver who cannot be traced or was not insured, get in touch with us today. We can help you begin the claims process.
Below, you'll find the 3 main methods of reaching us:
Telephone — 0800 073 8804
Contact us — Fill out our form with your query and an advisor will call you back
Chat with an advisor using the live chat function below
Helpful Links
We hope our guide on making an MIB claim has helped. We have included other resources below.
See the government guide on claiming compensation for victims of uninsured driver accidents.
Visit this government guide to vehicle insurance.
Read our guide on whiplash claims.
For more information on bus accident claims, see our guide.
If you require more information on drink driving accident claims, our guide could help.
See our guide on proving the accident wasn't your fault following a road traffic accident.
Also, check out our passenger car accident claims guide.
Find out more about making a pedestrian accident claim in our guide.
Visit our guide on how you can prove an injury from a car accident to seek compensation.
Find out how you could make a stolen vehicle accident claim with our extensive guide.
Thank you for reading our guide on making an MIB claim. If you have any further questions on MIB payouts or the process of claiming through the MIB, call our team on the number above.