How to prove an injury from a car accident?
By Daniel Hart. Last Updated 13th August 2021. If you have suffered an injury as a result of a road traffic accident that was not your fault then assuming you claim within the personal injury claims time limit, you should be entitled to compensation. However, it is not always easy to establish blame or prove your injuries. This helpful guide will give you further information on how to prove an injury from a car accident and find ways of showing that another individual is liable. We strongly recommend that you seek legal representation to help you do this as it can be very tricky to prove and a personal injury solicitor will help you to achieve the maximum possible compensation.
If this sounds familiar to you and you think you may be eligible to make a claim then please read on to find out more and then speak to a member of our highly experienced team at Legal Expert. They will be able to advise you further and put you in touch with a solicitor who can help you begin your claim. Call us today on 0800 073 8804.
It's also possible to see if you have a claim online by filling out the form on our website. Additionally, you can reach our team of advisors using the pop-up live chat window in the corner.
Select A Section
A Guide To How To Prove An Injury From A Car Accident
Following a car accident, you may feel very upset and shaken as well as suffering from injuries ranging from mild right through to life-altering. Although compensation may not be at the forefront of your mind you may find as you begin to recover that you do in fact deserve to be compensated for the injuries and suffering you have experienced as a result of the accident.
You may have been subject to not only pain and suffering but also out of pocket expenses. If you are seriously hurt you may have been unable to work and may be unable to go back to work in the future. If this is the case then you may require a compensation payment in order to cover the costs that you are struggling to meet otherwise.
If the road accident was not your fault and somebody else can be proved to be liable then you are entitled to claim compensation. The difficulty you may face is how to prove an injury from a car accident and showing that the person who caused the accident is in fact liable. It is a tricky legal process which is why we strongly recommend that you seek legal representation from a personal injury lawyer. Legal Expert have many years of experience in this field and would be happy to help connect you with such a lawyer. Read on to find out how to prove injuries in a road traffic accident. If you decide to make a claim then please call Legal Expert today to find out how we can help you get the compensation you deserve.
What Is Liability In A Road Traffic Accident?
All users of the road have a duty of care to look after the safety of others. In order to prove liability you need to find a way of establishing that another road user has breached their duty of care and displayed road traffic accident negligence. An example of this includes failing to follow the rules of the Highway Code. This can involve driving over the speed limit or failing to observe another vehicle's priority at a road junction. It can also be helpful to show that another road user has previously been convicted of careless driving in the criminal courts.
What Evidence Do You Need To prove an injury after a car accident
Proving an injury after a car accident is not always straightforward. Therefore, we recommend that you contact a personal injury lawyer at your earliest convenience.
The most useful piece of evidence is usually the accident report filed by the police. Following a road traffic accident, the police will usually be in attendance if somebody has been injured. The police report will describe the scene of the accident including important details such as the measurements of skid marks and will detail any vehicle damage.
The police will also take statements from any individuals involved in the accident, including witness statements from anybody who saw it happen. Your personal injury solicitor will be able to access this police report for a small fee. You will find that having access to this information could be crucial to your case and so the fee is definitely worth paying.
Can You Use The Highway Code To Prove Liability In An Accident?
The Highway Code may be very useful to you if you are trying to work out how to prove an injury from a car accident. Whichever party can be shown to have broken the Highway Code will usually be identified as the party at fault. In the eyes of the law, they will be responsible for the road traffic accident.
There is now a revised version of the Highway Code and so the rules are even more detailed. A simple example of this involves stopping distances. The highway code details safe stopping distances which drivers should adhere to. If the person driving behind a vehicle was not adhering to the safe stopping distance which resulted in a collision, then that driver has failed to follow the rules of the Highway Code and has therefore acted negligently.
What Is The Process Of Making A Compensation Claim?
When you decide to make a compensation claim your personal injury lawyer will seek to negotiate a settlement on your behalf. However, if the lawyers fail to reach an agreement on your settlement then you may face court proceedings. This means that a judge will assess the information in front of them and decide how much compensation you are eligible to receive and will decide who was at fault.
It is possible to continue negotiating right up until the date of the court proceedings so your case will not necessarily end up in court if the first round of negotiations fail. It may take a long time to get a court date. You will be required to gather together as much evidence as you possibly can including photographic evidence, insurance documents and witness reports.
If the accident has aggravated a medical condition that was pre-existing then the amount of compensation you are eligible to receive may be reduced. An example of this is an individual who suffers pain following a whiplash neck injury, but already had a medical condition involving back pain.
If a court decides that the injured party had some responsibility for causing the accident then again, the amount of compensation payable may be less. If for example an individual was injured following a road traffic accident that was caused by another party, but whose injuries were more severe because they were not wearing a seat belt then the court may consider that the severity of the injury was made worse by the claimant themselves.
Whiplash Reform Programme
Whiplash claims are extremely common in the field of personal injury claims in a road traffic accident (RTA). Because of this, the government introduced a new way of making a claim for whiplash and other injuries sustained by drivers and passengers.
The online portal is called the Whiplash Reform Programme (WRP). For injuries sustained in an RTA worth under £5,000, this is the new way to make your claim. This is only if your accident took place after 31st May 2021. If it was prior to this, you must make your claim in the traditional way.
Despite the name of the programme, all RTA injuries can be claimed for through the WRP if they are worth under £5,000. This figure can rise by a further £5,000 when any expenses associated with your injuries (such as medical care, car repairs etc.) are taken into account.
It's always worthwhile to check with us whether your claim is worth over £5,000. Otherwise, you could be missing out on being awarded the maximum amount of compensation you deserve.
Whiplash Statistics
In recent years, government sources estimate there to have been around 650,000 claims per year regarding injuries sustained in road traffic accidents. Of these, 85% were related to whiplash.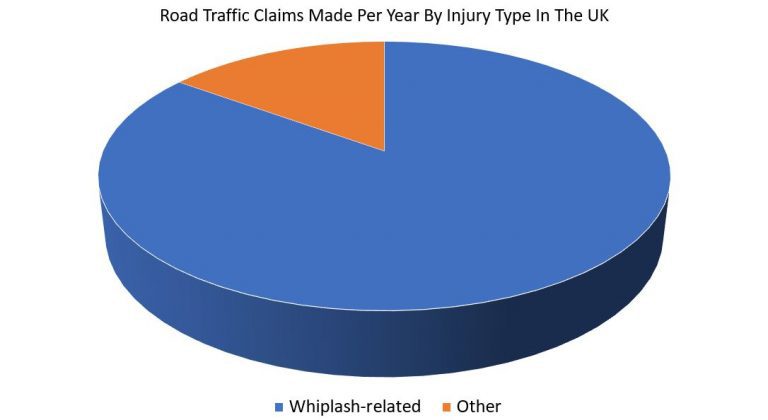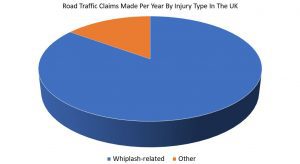 Further Evidence Which Can Your Prove Injuries Were Caused By A Car Accident
Unfortunately, there are people who will seek to find out how to make a false car accident claim. In order to set yourself apart from the people who wish to make a fake injury claim for a car accident, you need to come up with some solid evidence to show that your claim is legitimate.
To have the best chance of succeeding in your compensation claim you need to be able to provide good quality evidence. In order to enable the court to recognise a legitimate claim as opposed to fake injury claims, it is beneficial to provide police reports which state exactly what happened as the police officer viewed it at the scene of the accident.
If you are able to it is also helpful to gather information about the other driver involved, including their name, address and vehicle details. If there were any witnesses to the accident then gather their names and contact details too. If you have access to a camera, perhaps on your phone, then take photographs of the scene and ask any witnesses who may also have taken photographs to share them with you.
Whilst you are at the scene of the accident you will obviously be feeling very shaken up and possibly be injured but if at all possible it will strengthen your case if you can pay attention to any damage that has occurred to any vehicles involved, any skid marks and any obvious traffic signals at the scene. Try to write down the details you remember while they're still fresh in your mind.
If you need to get your car mended following the accident then keep records of the repairs as the way in which your car was damaged may provide evidence to support your statements.
Likewise, if you yourself have suffered an injury we strongly recommend that you seek medical attention as soon as possible. Ensure that all the details of your injuries have been recorded as this too will help to provide evidence of the way in which the accident occurred. For example, whiplash usually occurs when there has been a collision and the impact has damaged your neck. Having a medical examination and being able to evidence your injuries from a professional perspective helps you to prove that you are not lying about injuries in a car accident.
What Information Do You Need To Prove Injuries Such As Whiplash?
If you have been injured in a road traffic accident and are wondering how to prove whiplash then the more information you can gather together, the better your case will be. The number one most essential thing you can do to prove whiplash is to get a medical examination as soon as possible after the accident has happened.
The professional opinion of a doctor will be taken seriously as evidence of your claim. It is also helpful to have a clear record of the date and time that the accident happened, the location of the accident and a detailed account of how the accident occurred. Ensure that you have details of any witnesses as well.
The medical report from your doctor should detail any injuries, any treatment given and any diagnosis, such as whiplash, that you can use to make your compensation claim. Be sure to tell the doctor if you are experiencing any symptoms such as neck or back pain, stiffness in your neck or spine, swelling, headaches, numbness, dizziness or blurred vision. These can all indicate spinal injuries of some sort.
What Do Personal Injury Claims Include?
With personal injury claims, you can claim damages for all or some of the following.
General damages
This includes compensation for any pain and suffering you have experienced. If you have been injured as the result of a car accident you may experience problems such as whiplash or other neck or back issues, leg injuries or head injuries. You may also have suffered emotional trauma and can therefore claim psychological injury.
Special Damages
These are additional costs and/or losses that you have experienced as a direct result of your injury. We've included some examples below. It's important to keep evidence relating to these expenditures. Otherwise, you may not be able to reclaim them.
Medical bills. If you had to seek medical treatment following the accident which left you out of pocket then you can claim this back within your personal injury claims. This can include physiotherapy or rehabilitation following the accident in order to get yourself back to full health. Ensure that you keep all receipts and documentation to enable you to claim back the maximum amount.
Travel costs. You may have paid travel costs, for example, travel by taxi to hospital appointments, which have left you out of pocket. As long as you keep the receipts for this travel which was directly related to your accident then you should be able to make a claim to get it back.
Care costs. If you were so unwell that you were unable to carry out basic household tasks and have required somebody to come and help you out at home then you can claim care costs to compensate for your carer's time and expenses.
Loss of earnings. Whilst you recover from your injuries you may have been unable to work. If this is the case then you can claim for the loss of earnings you would otherwise have been paid if you were able to attend your place of employment. If your injuries are so severe that you are unlikely to be able to return to work or progress in your chosen field of work then you may also be within your rights to claim for future loss of earnings based on what you made otherwise have expected to earn.
Childcare costs. If the injuries which are directly related to your road traffic accident mean that you are unable to take care of your children, and as such have been required to pay childcare costs then you may be able to put forth to claim this back within your damages.
Examples Of Compensation For Injuries Caused By A Car Crash
You may be curious about the amount of compensation you could receive overall. Unfortunately, each case can differ a great deal. Due to this, it's difficult to give a precise figure that would be accurate for everyone.
What we can do is supply you with example figures from the Judicial College Guidelines (JCG). These guidelines are what are used by legal professionals to help come up with a suitable general damages fee. This is the sum the injured party receives for their pain and suffering.
Below, we've included a table listing some of these figures. Don't worry if your injury does not appear here. This is just a small sample of the injuries that are described in the JCG.
| Type of Injury | Description | Amount |
| --- | --- | --- |
| Neck | (a) Severe - (iii) injuries that cause fractures, dislocations, or damage to the soft tissue - disabilities will be significant and permanent | £42,680 to £52,540 |
| Neck | (c) Minor - (ii) complete recovery period will be 1-12 months | £2,300 to £4,080 |
| Neck | (c) Minor - (iii) recovery will be complete within a 3-month period | Up to £2,300 |
| Back | (a) Severe - (i) most extreme forms of back injury that involve spinal cord and nerve root damage that result in serious consequences | £85,470 to £151,070 |
| Back | (b) Moderate - for example, a crush fractures with a great risk of osteoarthritis | £26,050 to £36,390 |
| Back | (c) Minor - complete recovery in 3 months | Up to £2,300 |
| Brain/head | (b) Moderately severe brain damage - resulting in very serious disabilities | £205,580 to £264,650 |
| Shoulder | (d) Minor - Soft tissue damage with pain, but almost full recovery within a year | £2,300 to £4,080 |
| Shoulder | Clavicle Fracture | £4,830 to £11,490 |
No Win No Fee Car Accident And Injury Claims
No Win No Fee claims mean that you do not need to provide any payment upfront. All of Legal Expert's personal injury claims are made on this kind of agreement, which is likely to be of great assistance to you at this time. This means that at a time when you are experiencing extreme stress and trauma you do not need to worry about how you are going to finance your claim.
In this type of transaction, you are not required to pay anything if your personal injury compensation claim is not successful. If however, you do receive a compensation payout, your solicitor's fee will be taken from that final payout. Legal Expert's panel of solicitors only receive our fee if your case is successful. So, you can feel confident that they will only take on cases that they believe they can win.
Why Make Your Claim With Us?
Legal Expert are highly successful and experienced personal injury specialists. We have successfully helped clients who have won hundreds of compensation claims over the years. However, this is not where our expertise ends. We are also a kind and understanding organisation that cares about the emotional state of our clients as well.
Our aim is to make the claims process as simple and straightforward for you as we can. We take the burden as much as possible. Speak to one of our specialists today, tomorrow or whenever you're ready to find out more about the claims process and ways in which we can assist you.
Speak To Our Specialists Today
If you have suffered an injury in a road traffic accident that was not your fault then you can claim compensation. As soon as you are ready to talk to us we will be waiting. Call us on 0800 073 8804 or contact us via our website and we will call you back at a time convenient to you.
Useful Links
Delayed Whiplash – Is it still possible to claim?
If you've suffered whiplash but it was delayed, then read the guide above for assistance.
The guide should give you information on what whiplash is and how it is treated.
Accident statistics on UK roads can make scary reading. Have a look at the Government's Stats here.
Someone else can pursue a claim on your behalf. Find out how.
Road Traffic Accidents – A General Guide
Another of our helpful articles.
Road Traffic Accidents Caused By An Animal
Find out how much you could claim.