How Much Compensation For Cancer Misdiagnosis Claims?
By Cat Soong. Last updated 7th June 2022. If you have been affected by a cancer misdiagnosis, then you may be eligible to claim compensation for medical negligence with sufficient evidence. In this guide, we aim to provide you with the information you need to understand whether you're eligible to seek misdiagnosis compensation.
A medical negligence claim could be possibly made for a misdiagnosis of cancer if you experienced avoidable harm due to a healthcare professional breaching their duty of care. We will explore the duty of care all trained medical professionals have towards you throughout this guide.
In addition, we'll provide examples of clinical negligence resulting in someone experiencing a misdiagnosis or delayed cancer diagnosis.
Furthermore, we'll help you understand what evidence you need to obtain in order to build a strong claim. In this guide, we will also outline the compensation amounts that may be awarded for different incidents of cancer negligence. We'll also look at what your settlement could comprise.
Although we have aimed to cover the information you need, we understand that you may still have questions. If so, please don't hesitate to get in touch on the details below:
Telephone — 0800 073 8804
Contact form — Fill out the form with your query and an advisor will get back to you
Live chat — Speak with an advisor instantly using the feature below
Select A Section To Learn More About Cancer Misdiagnosis Claims
What Are Cancer Misdiagnosis Claims?
All trained medical professionals are expected to provide you with the correct standard of care, whether you're receiving treatment in an NHS or private healthcare facility.
It's natural to put our trust in the healthcare professional responsible for our care. In some cases though, the care a medical professional provides may fall below the expected standard. As a result, you may experience harm that could have been avoided. Or your original condition may have been worsened due to a foreseeable problem caused by a healthcare provider. In cases where cancer has been misdiagnosed, the harm a patient experiences could be life-changing and result in fatal consequences.
If you or someone you know has been affected by a similar circumstance, then you may wish to seek compensation. For more information, please continue reading for more information on claiming compensation for a cancer misdiagnosis.
Impact Of Delayed Or Misdiagnosed Cancer
There are various ways in which a delayed or misdiagnosis of cancer could impact your quality of life, such as:
You may receive the wrong medication, the adverse side effects of which may worsen your condition.
A doctor may have prescribed you chemotherapy more suitable for another type of cancer, causing you further harm.
You could have experienced an avoidable psychological injury after being diagnosed with a condition that you don't have.
The possibilities of incurring medical costs are also high for prolonged treatment of the wrong disease, leaving you in a difficult financial position.
In essence, the long-term effects of incorrect or delayed diagnosis are never pleasant. For that reason, call our team to find out how cancer claims could help you be suitably compensated.
Examples Of Cancer Negligence
In the sections below, we have included some examples of cancer negligence highlighting how a medical professional could have breached their duty of care. For example, you may have been falsely diagnosed with cancer leading to you receiving the wrong treatment and causing your original condition to worsen.
However, if you have experienced a different incident of negligence, please get in touch with our team on the number above. They can discuss your case in detail to determine whether you're eligible to claim.
Delayed Cancer Diagnosis
In some cases, there may have been a failure to diagnose your condition in a reasonable timeframe. For example, your doctor may have arranged an urgent referral for you to have further tests after you displayed clear signs. However, there may have been unreasonable delays for you to see a specialist.
As a result, you may have received a delayed diagnosis and therefore delayed treatment causing your condition to worsen and progress to a later stage.
Alternatively, you may have been correctly diagnosed in a reasonable time but there may have been avoidable delays in the treatment you received. For example, the medical professional in charge of your care may have failed to refer you to the right specialist as soon as what was realistically possible.
As a result, you may have experienced further harm due to not receiving any treatment.
Cancer Misdiagnosis Claims
Where misdiagnosis is involved, a patient may have to wait for weeks and months before receiving the correct diagnosis and proper treatment. Furthermore, if they are diagnosed with a different condition, the wrong treatment could hinder recovery and cause more problems.
There are a few ways a medical professional may fail to take reasonable steps to ensure you're treated with the correct care when diagnosing your condition.
For example, cervical cancer symptoms may have been wrongly attributed to menopause or heavy periods, despite the person exhibiting other clear symptoms of cancer. In turn, they may have been prescribed incorrect treatment in the form of a hysterectomy causing avoidable and further harm.
If you have experienced something similar, it may be possible for you to seek compensation for an unnecessary hysterectomy.
Alternatively, if you've experienced a different negligent misdiagnosis such as one involving a stage 4 lung cancer misdiagnosis, you could seek compensation for your pain and suffering.
Treatment Errors
As discussed, medical professionals are responsible for ensuring they provide you with the correct care when treating you. However, in some cases, errors with the treatment you receive could occur due to the level of care falling below a standard that could be reasonably expected.
Examples of treatment errors might include:
The doctor may have prescribed the wrong medication or the wrong dosage.
A surgeon may have left a piece of surgical equipment in the patient's body during an operation to remove cancer. As a result, the patient may have developed an avoidable infection.
If you have experienced a similar type of cancer negligence, or you would like to know more about claiming compensation for cancer misdiagnosis, feel free to discuss the matter with our team today. We can also give you an idea of how much compensation you could receive.
Cancer Misdiagnosis Claims Statistics
Within this section of the guide, we have taken the time to include some statistics relating to Cancer in the UK. However, please note that the information provided is not directly about misdiagnosis statistics and negligence.
According to Cancer Research UK, during 2016-2018 there were 166,533 deaths from cancer in the UK.  Here are some more cancer facts provided by Cancer Research UK:
During 2018, almost half of all cancer deaths in the UK were associated with lung, bowel, breast or prostate cancer.
In 2019, cancer caused around 28% of deaths in the UK.
Below, we have created a graph based on figures from NHS's Resolution Annual Report Statistics 2020/2021. As you can see, the number of clinical negligence claims made against the NHS varies.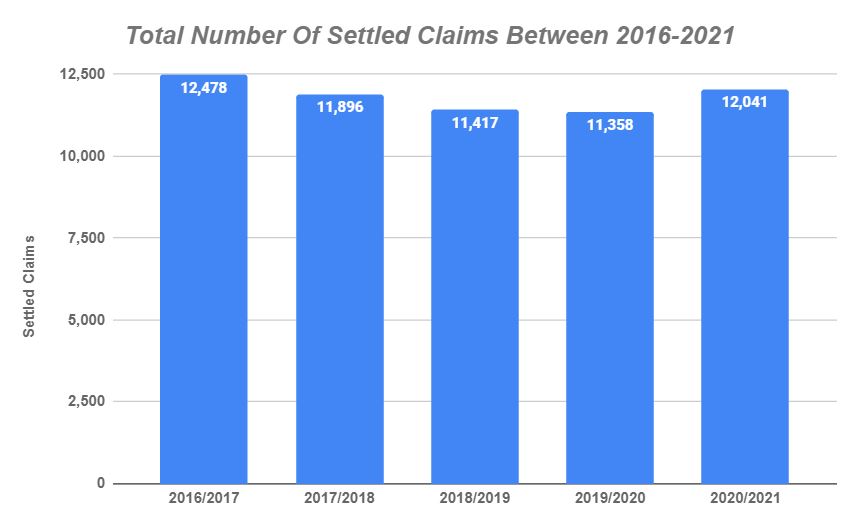 Please note this includes claims for various types of medical negligence and doesn't just include cancer misdiagnosis claims.
Who Is Negligent For An Incident Of Cancer Misdiagnosis?
As discussed, all trained healthcare professionals must provide an acceptable level of care to you as a patient and do everything they reasonably can to protect you from avoidable or further harm.
Should your doctors or other associated health professionals fail to maintain that standard it may constitute a breach of duty of care. This may amount to medical negligence on their part, and, as a result, you may be entitled to claim compensation.
However, please note that a medical professional could do everything they reasonably can to ensure you are given the correct level of care and you still experience harm.
For example, there may be risks to certain procedures that aren't entirely avoidable, such as the risk of blood clots during surgery. In this case, the surgeon may have taken all reasonable steps to reduce the risk of you developing blood clots but you still experience this type of harm.
For that reason, in order to establish negligence in cancer misdiagnosis claims, you must be able to show:
The doctor failed to provide the correct level of care
As a result, you experienced harm that could have been avoided or further harm, such as in the form of a worsening condition.
For more information on the evidence you could obtain to support your claim, please see the section below.
Top Tips For Proving Misdiagnosed Cancer Claims
Average payouts for a cancer misdiagnosis will require evidence to prove that negligence was the cause of the harm you experienced. Medical professionals owe all of their patient's a duty of care. This means that there is a minimum standard of care that they must adhere to. If they do not, then the medical professional may have acted negligently. For cases such as these, a claim could be made if the negligence led to you experiencing harm.
If you have suffered harm due to a misdiagnosis of cancer, then compensation being awarded to you could depend on various factors, such as the severity of your condition.
Additionally, you will need to establish that the medical professional who provided you care was negligent in order to put forward a claim for compensation. Below are some pieces of evidence you could gather to help support your claim.
Medical reports – These documents feature key pieces of information such as the dates of your medical appointments and what investigative procedures were carried out, if any. Additionally, medication prescribed, and treatments administered will also be recorded.
Witness statements – For example, if a loved one was present with you during certain appointments, they could submit a written statement.
Independent medical assessment – You will be invited to be examined by an independent medical professional as part of the process of making a claim. The report will detail any impact on your health, its severity, and whether or not they believe it to have been caused by medical negligence.
Suffering harm after receiving medical care may not always constitute medical negligence. For example, there may be cases where you experienced unforeseeable harm despite the medical professional treating you, providing you with the correct level of care.
Therefore, there is a test known as the Bolam Test that can help in determining the matter. This is when other medical professionals trained in a relevant field of medicine are asked to examine the case to determine whether the correct level of care was provided. Their opinion and views can be added to the body of evidence.
Whether you have been treated in a private healthcare facility or by the NHS, cancer misdiagnosis payouts require evidence in order to be awarded. Get in touch if you have any additional questions on this subject.
How Long Do You Have To Seek Medical Negligence Compensation?
As per the Limitation Act 1980, there is a three-year time limit for suing the NHS or a private healthcare institution. The three years may start either from the date:
The incident of cancer negligence occurred
You became aware that a medical professional's failure at least contributed to your cancer misdiagnosis
However, there are exceptions. For example, for anyone under 18, the 3-year limit starts on their 18th birthday. Alternatively, someone could apply to act as a litigation friend and put forward the claim on their behalf before they turn 18.
Or, if someone has a reduced mental capacity, the time limit is frozen. During this time someone could apply to act as a litigation friend on their behalf. Alternatively, they will have three years from their recovery date.
A litigation friend is someone who would make decisions in the best interests of the person and keep them up to date on the proceedings where possible. It could be a parent, guardian or solicitor.
Average Payout For Cancer Misdiagnosis in 2022
If you have suffered harm as a result of medical negligence or misdiagnosis, you may be interested in what the average payout is for cancer misdiagnosis claims. However, unfortunately, there is no average payout in terms of cancer misdiagnosis compensation amounts, due to the fact that misdiagnosis of cancer compensation is awarded on a case by case basis.
This is because all cases are unique, and as such will require different levels of compensation. However, you may still be able to estimate how much you could potentially receive by using the 2022 edition of the Judicial College Guidelines (JCG) – some entries from this publication are shown below. The JCG provides legal professionals guideline compensation brackets to help them assign a value to potential claims. The table below demonstrates this.
| Injury Type | Compensation Bracket | Notes |
| --- | --- | --- |
| Total Blindness (b) | In the region of £268,720 | Total loss of sight. |
| Bowel Injuries (b) | Up to £150,110 | Total loss of function and dependence on colostomy. |
| Bladder Injuries (b) | Up to £140,660 | Complete loss of function and control. |
| Reproductive Injuries (female) | £114,900 to £170,280 | Infertility by reason of disease. |
| Loss Of One Arm (b) (ii) | £109,650 to £130,930 | Arm amputation at the shoulder. |
| Loss Of One Leg (iv) | £97,980 to £132,990 | Below knee amputation of one leg. |
| Lung Disease (b) | £70,030 to £97,330 | Typically in an older person, causing severe pain and impairment of quality of life. |
| Reproductive Injuries (male) | £56,080 to £71,350 | Uncomplicated case of sterility without impotence. |
| Moderately Severe Psychiatric Damage (b) | £19,070 to £54,830 | Significant problems coping with daily life, with an optimistic prognosis. |
| Less Severe PTSD (d) | £3,950 to £8,180 | A full recovery within one to two years. |
You can also contact our team to get a free consultation and evaluation of your claim. Our expert advisors will listen to your case, and can then offer free legal advice, along with an estimate of how much you could receive in compensation.
No Win No Fee Cancer Misdiagnosis Claims
Whilst cancer misdiagnosis claims could be made without a solicitor, there are various legal costs that you could face by taking this approach. For instance, you may be required to pay fees for medical evidence or court fees if your claim reaches that stage.
However, if you choose a solicitor who offers a No Win No Fee agreement, there are several ways you could benefit from claiming on this basis, such as:
You could avoid paying an upfront fee for your solicitor to start working on your case
Any ongoing costs that your claim incurs will be included in the agreement
If your claim is unsuccessful, you won't pay solicitor fees
If your claim succeeds, you will see a legally capped success fee deducted from your compensation. The success fee is taken as a way to pay your solicitor for any work they've completed on your case.
However, your solicitor will go through how the fees work and what they cover.
If you'd like to learn more, please don't hesitate to contact our team. They could assess your claim to see if it's valid and has a chance of success. If it does, they could appoint one of our solicitors to represent your claim on a No Win No Fee basis.
How You Can Start Your Claim For Cancer Misdiagnosis Compensation
We hope our guide on claiming compensation for cancer misdiagnosis has helped you understand how you can seek compensation following medical negligence. However, if you have any further questions, please get in touch on the details below:
Telephone — 0800 073 8804
Our online contact form — Fill out the form with your query and an advisor will get back to you
Live chat — Speak with an advisor instantly using the feature below
Further Resources And Additional Links
Below, we have provided other guides exploring cancer claims following medical negligence. We have also included some additional external resources.
Our guide on bladder cancer negligence claims could help if you've experienced something similar.
See our guide on breast cancer negligence claims.
If you're wondering whether you can make a claim after a lung cancer misdiagnosis, see our guide.
Visit the NHS Resolution to see how they may be involved in your claim.
For more information on claiming compensation after an accident or injury, see the government website.
Visit this guide on seeking compensation following an incident of medical negligence resulting in death.
Other Medical Negligence Guides
Compensation For Cancer Misdiagnosis FAQs
In this final section of our guide on cancer misdiagnosis claims, we've answered some frequently asked questions related to this matter:
How Much Compensation For Misdiagnosis Of Cancer?
Compensation amounts following a successful cancer misdiagnosis claim can vary a lot. It largely depends on the injuries you've claimed for and how severe they are. It can also depend on whether you're able to claim for any special damages in addition to general damages.
Can You Claim Compensation For A Misdiagnosis?
You may be eligible to claim for a misdiagnosis of cancer or another condition if the healthcare provider which misdiagnosed your condition acted negligently. For instance, if you can establish that a medical practitioner provided a misdiagnosis or delayed diagnosis because of an improper diagnostic process, then these may be grounds to claim compensation.
What Is Considered A Misdiagnosis?
A misdiagnosis refers to situations where a medical professional identifies the nature of an illness or another health problem based on the symptoms (and potentially tests run as well), but the diagnosis turns out to be incorrect. The medical professional may have mistaken what the patient has for another condition which shares similar symptoms.
If you still have any questions about cancer misdiagnosis claims, you're welcome to contact Legal Expert using the contact details included in this guide.