Hospital Negligence Claims – How Much Compensation Can I Claim?
By Max Mitrovic. Last Updated 14th June 2022. In this guide, we explain hospital negligence compensation and when you may be able to claim it. When visiting a hospital, people expect a certain standard of professional care. However, this is not always provided. In certain cases, neglect or negligent treatment by a hospital and its staff can cause a deterioration in a person's health.
One of the reasons why this could happen is due to negligence and neglect on behalf of the hospital. Often, the issue of poor care in selected departments of our hospitals may be attributed to staff being overworked and to staff shortages.
Nevertheless, it remains a serious error and the implication is that it could result in further injury and suffering to the patient. In certain extreme cases, it could even result in death.
Negligence and neglect in a health care environment should never be dismissed. Negligence and neglect can take many different forms. However, whatever the situation, making a hospital negligence claim or seeking compensation from an NHS trust may be the best way in which to compensate you for your negative experience.
This guide is designed for those who have been a victim of hospital negligence and neglect. Even if you have not been a victim, it is also important that you understand your rights in these circumstances, should you wish to take legal action in the future.
The guide will give the basic details of everything concerning hospital negligence settlements and will try to answer all the frequently asked questions we encounter.
How to contact us for advice and support
You are welcome to contact us if you have further questions. Our advisors will gladly answer all your queries and provide hospital negligence claim advice.
You can reach us by:
Select a section:
What is Hospital Negligence?
Hospital negligence refers to actions, inaction, indifference or any other activity that is done by a hospital and its staff to a patient that ends up causing preventable pain and suffering to that patient. Patients usually entrust their health and wellbeing to a hospital.
While the majority of patients might have their health improved by the visit, there are certain instances where the hospital and its staff may have actively worsened the health of the patient. In situations such as these, there may be a valid claim for hospital negligence compensation.
What are some examples of when I can claim hospital negligence compensation?
Examples of medical negligence can include delays in diagnosis or misdiagnosis of a medical condition, which can have severe repercussions on future treatment. It can also include injuries caused by poor hygiene standards within a hospital, or mistakes made by staff during medical treatment.
When such incidents happen, it may be within your right to make hospital compensation claims for negligence. Reasons could include the failure to:
Notice when a patient is getting worse under treatment.
Operate when it becomes necessary.
Give the appropriate treatment for a condition.
Avoid unnecessary errors during surgery.
Provide adequate care after the patient has undergone surgery.
Carry out the right investigation.
Look at a patient's history before treatment.
Properly interpret investigations.
There are many reasons why you might wish to make a compensation claim. However, one important thing to note is that hospital negligence cases can cause serious damage to the affected patient in the long term.
NHS Never Events
There are certain things that are deemed so avoidable that they should never happen. Unfortunately, they can still do. This is relevant in many areas of medicine, including surgery. Never events can make existing health conditions worse, or they can even cause brand new complications to arise.
Some examples of never events are:
Prescribing the wrong dose of medication – for example, a patient with diabetes may be given too much or little insulin.
A foreign object being retained after a surgical procedure – there have been cases where things such as surgical instruments have been left inside a patient.
Wrong-site surgery – when an operation is carried out on the wrong part of the body
Falls from a poorly restricted window – all windows "within reach" of patients need to be properly inspected for safety.
When a collapsible curtail shower/rail is not installed in a mental health unit – this is in the event that a patient attempts to commit suicide by hanging themselves.
If you are unsure as to whether what you experienced was a never event, then don't worry. It's not just never events that can be claimed for. If you have any questions about never event compensation or claiming for other forms of medical negligence, then please get in touch today.
Claiming for Hospital Negligence and Neglect
Claiming for hospital negligence and neglect involves filing for compensation in monetary terms when you become a victim. It happens when the doctor, nurses or other health care professionals fail in their duty to provide the required care for a patient in their facility. For example, if a patient gets hurt while receiving treatment in the hospital, the patient may be able to claim compensation for negligence. It depends on whether the treatment providers at the hospital could have reasonably taken steps to prevent harm to the patient.
Sometimes, a patient may end up experiencing pain while receiving treatment from a healthcare provider, even if that provider did everything that could reasonably be expected from them. In such cases, the healthcare provider is not considered negligent. The healthcare provider would only be considered negligent if there's evidence that they provided substandard care and this directly contributed to the harm the patient suffered. If a doctor provides you with substandard care that leads to your affliction, you may be able to claim compensation against them. For example, if you're misdiagnosed with a condition or if you're prescribed medication that you're known to be allergic to. 
Compensation for negligence and neglect is expected to be claimed against the hospital management. This is because it is the duty of the hospital to ensure that every patient is given the best possible treatment and care. This includes providing a safe environment, following safety procedures during medical treatments and providing the right medicine in the correct dosage.
If these (and other) provisions are contravened, there may be a viable claim for hospital negligence compensation to be awarded.
Claiming Against the NHS for Hospital Negligence and Neglect
Claiming against the NHS is a little bit different in comparison to claiming against private hospitals. This is because the NHS has a complaint procedure in which dissatisfied patients can report their concerns.
It is important to note that NHS is well aware of a patient's right to complain about negligence, the right of the person to request an independent review of their allegations and the right to receive compensation if they are harmed.
The NHS typically prefers to settle out of court, but it is also within your right to take your case to court. Contact your solicitor for the best professional advice regarding pursuing compensation.
Do I have grounds to claim hospital negligence compensation?
If you're unsure whether you have grounds to claim compensation for hospital negligence and any subsequent suffering you experienced as a result, please get in touch today for a consultation. One of our specialist advisors can talk you through your rights, including how much compensation you could claim, and even offer you free legal advice too.
In the meantime, the bullet points below offer a general criterion on how to establish grounds to make a medical negligence claim:
The hospital owed you a legal duty of care
Which they failed to uphold
And as a result, you suffered damage
Whatever damage you suffered, whether physical, psychological or otherwise, you could be able to claim compensation for it. Please get in touch today to learn more about how we could help you do so.
Hospital Negligence Facts and Statistics
There are claims made against the NHS for medical negligence every year. The NHS puts out an annual report for each of these years. The annual report for 2021 shows how much the NHS spent on paying out compensation for medical negligence.
As you can see from the graph below, the total comes to over £2 billion for 2020/21. This was a slight decrease from 2019/20.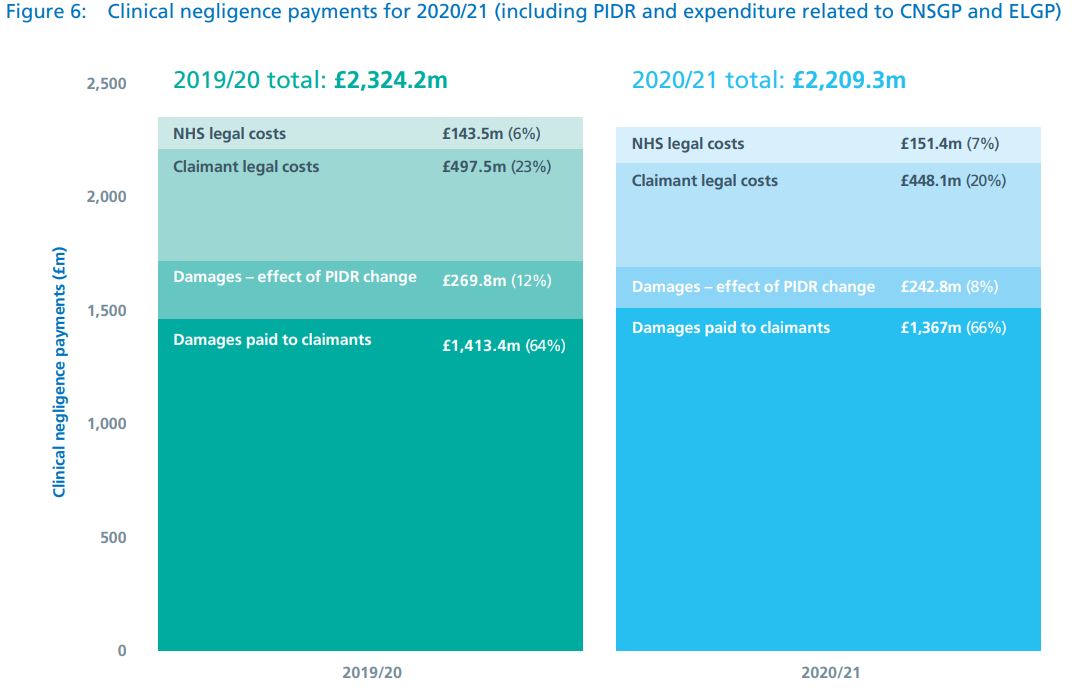 Are There Different Types of Hospital Negligence Compensation Claims?
There are different types of hospital negligence claims. Each case is unique and the levels of damage arising from these cases can vary considerably. The following are types of negligence. There are three main categories, which are:
Contributory Negligence – This refers to a situation where the victim is a contributor or partly at fault for the cause of medical negligence. Here, the court will likely be required to attribute the balance of blame between the medical practitioner and the victim and award compensation accordingly.
Vicarious Liability – Here, the compensation claim is filed against the organisation that manages the actual medical practitioner responsible for the injury. For example, the NHS or a private health care company.
Gross Negligence – Probably the most serious of them all. It is important to note that all medical professionals have a duty to keep the health of the patient at the forefront of everything they do. However, In this case, this duty is being breached. Gross negligence cases normally end in a court case. It should also be noted that any medical professional convicted of this offence may have their professional license revoked after hearing the case in court.
Your solicitor should be able to analyse the situation, get the facts and advise on the type of claim to be made. For further information, you can call us and arrange a consultation session using our contact details at the bottom of this guide. We can help guide you through this delicate matter and help you on the path to claiming compensation.
What to do if You Have Been the Victim of Hospital Negligence and Neglect
Knowing exactly what you need to do if you have been a victim of hospital negligence and neglect is important, as this will form the first step to building up a good case for your compensation claim. The most important thing is to get the required evidence. The following actions should be taken before starting a claim
Collect Evidence: This refers to getting the hard evidence that you suffered negligence on the part of the hospital. Part of the evidence could include photographic evidence, eyewitness accounts and so on.
Get a Medical Opinion: The effect and injury caused by the neglect and negligence should be captured by a professional medical opinion after a thorough medical examination.
Document Financial Losses: Whatever losses you have suffered in the process, such as loss of earnings, should be well documented. This would form a basis for the type of claim you may make.
Seek legal advice: Getting in touch with our advisors is an excellent step to take next. We can guide you through the rest of the process.
Getting it right at the initial stage will go a long way to strengthening your case and increasing the chances of getting the maximum compensation possible in hospital negligence claims.
How Much Hospital Compensation Could I Receive From a Negligence Claim?
Now that this guide has covered how to sue a hospital, this section will provide more information about your potential compensation amount should you be successful.
Whether you've suffered from hospital neglect or misdiagnosis, the level of compensation from successful claims against a hospital depends on many aspects. This includes the severity of your injury and if any permanent health issues have been caused. The Judicial College Guidelines can give you a better idea of what you could receive in hospital compensation.
The compensation brackets below are based on previous successful claims from England and Wales. Every claim is different so please remember that these figures are not guaranteed. The figures have been taken from the latest guidelines available, released in 2022.
Injury Type
Severity
Compensation Amount
Description
Brain
Moderate (ii)
£90,720 to £150,110
Moderate to modest intellectual deficit may be caused, with the ability to work being greatly reduced. There may also be a risk of epilepsy.
Neck
Severe (ii)
£65,740 to
£130,930
Serious fractures or cervical spine disc damage that can cause considerably severe disabilities.
Back
Severe (iii)
£38,780 to £69,730
Injuries might include disc fractures or soft tissue injuries that lead to chronic conditions that cause ongoing issues despite treatment.
Post-Traumatic Stress Disorder
Moderately Severe
£23,150 to £59,860
The person will have a better prognosis but there will still be a significant disability.
Shoulder
Severe
£19,200 to £48,030
The injuries in this bracket are usually associated with neck injuries and involve brachial plexus damage.
Leg
Moderate
£27,760 to £39,200
Multiple or complicated fractures usually to a single limb or severe crushing injuries.
Reproductive System: Female
(C)
£17,960 to £36,740
Cases where a person who already has children has experienced infertility with no medical complications.
Arm
(D)
£6,610 to £19,200
Simple forearm fractures with no complications.
Hand
Moderate
£5,720 to £13,280
Injuries in this bracket might include penetrating wounds, crush injuries or soft tissue injuries.
Please bear in mind that these figures only relate to general damages. Special damages are a separate head of claim that relate to losses you've suffered financially because of the injury. Much like general damages, you would need evidence to prove the value of your losses. This would involve providing receipts, invoices and bank statements, for instance.
More examples of hospital compensation payouts
What can be claimed will depend on the circumstances, type and severity of the condition. There are a lot of things that could be claimed but any claim will be tailored to what is required in that situation. In your claim, you might wish to consider:
General Damages: claims for the pain, suffering and even psychological injury damages that you may have suffered.
Medical Bills: the medical bills that you have incurred as a result of the negligence of the hospital.
Care Claims: if you needed extra medical care as a result of the negligence you have suffered.
Funeral Expenses: This refers to hospital negligence resulting in death. Here, the loved ones can make a claim for the cost of a funeral service.
Our panel of hospital negligence solicitors, authorised and regulated by the solicitors regulation authority, will assess the viability of your claim and offer professional advice on what is to be done. Note that not making the right claim may reduce your chances of getting the maximum compensation you deserve.
No Win No Fee Hospital Negligence Claims
Our hospital negligence No Win No Fee agreement is the cornerstone of our operations. It is a Conditional Fee Arrangement in which we offer legal representation for our clients at no charge until such a time that the case is successful and compensation is received.
When the case is settled, we will take out our legal fees from the compensation amount, while the claimant takes the balance.
However, if the claim is rejected, you pay nothing to us. We do this to help out people who lack the required finance to pursue a  claim but have very strong legal grounds to make a case. Our 'No Win No Fee' arrangement is a testament to our commitment to ensuring our clients get their deserved compensation for hospital negligence and neglects. You can call us for free advice on how to easily proceed with your claim.
Time limit for starting your claim
If you're looking to hire a No Win No Fee solicitor, keep in mind that there's usually a time limit for starting a hospital negligence claim. This applies by law under the Limitation Act 1980. The time limit is usually three years from when the hospital negligence occurred. However, there are exceptions to this rule. For instance, if the victim is a child, then the three-year time limit won't start until their 18th birthday.
Another exception is if the victim lacks the mental capacity to act independently. If this applies, then the time limit will only start if and when the victim regains sufficient mental capacity to claim on their own.
Call for Free Advice On How To Start A Hospital Negligence Compensation Claim
You've reached the end of our guide to making a claim for hospital negligence. Now it's time to take action.
Contact us and your claim can be in the best possible hands. The earlier you start, the better. Speak to us by telephone on 0800 073 8804, through our web chat facilities or through the contact form on our website. We will look forward to hearing from you.
Helpful Links On Medical Negligence Claims
In this final section on hospital compensation claims for negligence, we've included some related guides you may find useful, as well as answers to some commonly asked questions.
Our guide to claiming after you've been misdiagnosed. 
A useful guide on claiming compensation against the NHS for hospital negligence.
Have you or a loved one been subject to negligence at a care home? Read our guide.
If you've been punched, beaten or worse, you could make a criminal injury claim for assault. It's likely you'll go to a hospital for treatment. If some of your injuries are misdiagnosed or mistreated, you could make a separate claim under medical negligence. 
If you've been injured in a car accident, you could be entitled to compensation. If you go on to receive treatment in a hospital for your injuries and experience negligence there, that would be classed as a separate legal action; you could, therefore, make two separate claims.
Our guide on claiming when you've been a victim to sub-par clinical standards.
In this guide, we talk about how you may be able to claim if you suffer a cut from barbed/razor wire due to another party's negligence.
If you or a family member has suffered due to hospital negligence and you're wanting to make a complaint against the NHS we can help you file the complaint along with your compensation claim contact us for more advice.
Read the General Medical Council guide to find out the standards set for doctors.
If you're curious as to the rates of medical negligence in the UK, the latest figures from NHS Resolution will provide interesting reading.
Guides Regarding Negligence At Specific Hospitals
Other Medical Negligence Guides
Other Useful Claims Guides
Hospital Negligence Claims FAQs
Can you claim against a hospital?
If you're harmed while under the care of a hospital, you may be able to make a medical negligence claim against that hospital if they breached the duty of care they owed you through negligent behaviour. You'll need evidence that establishes that you received a substandard level of care that led to preventable harm or an additional injury.
How much can you sue a hospital for negligence?
This depends on the nature of the injuries suffered. Compensation for hospital negligence can range from £1,000 to well over £1 million. Your clinical negligence solicitor will advise you of the potential value of your case.
Is it hard to sue a hospital?
Depending on the nature of the incident, you may find that the hospital admits liability right away. In other cases, they may dispute liability, meaning it could be quite difficult to sue the hospital.
How much does it cost to sue a hospital?
If your medical negligence solicitor believes your case has good prospects of success, they may offer to represent you under a No Win No Fee agreement. If so, it won't cost you anything, only a small deduction from your compensation award if successful.
Do I have a case for medical negligence?
If you want to know if you have a case for medical negligence, it may be wise to make a complaint to the NHS or hospital treating you. Based on their findings, you could seek further advice from a solicitor who can tell you more about hospital negligence claims.
If you would like to speak to an advisor about how to claim for hospital negligence compensation, you can contact Legal Expert today using the contact details included in this guide.