A Guide To Manchester Royal Infirmary Hospital Negligence Claims – How To Claim Compensation Against Manchester Royal Infirmary Hospital? – Calculate Amount Payouts For Medical Negligence
Manchester Royal Infirmary Hospital offers a range of general medical and surgical services, such as keyhole surgery, orthopaedics and many more. In order to be eligible to make a claim for Manchester Royal Infirmary Hospital negligence, you would have to prove that you had suffered unnecessarily due to a breach in the duty of care owed to you. Medical negligence can manifest in different ways what is important here is that you suffered harm which could have been prevented, as negligence alone would not qualify for a basis of a compensation claim.
If you had surgery performed on the wrong organ, or developed an infection due to unhygienic practices, or received the wrong medication causing adverse health effects if you can prove that Manchester Royal Infirmary Hospital caused this unnecessary suffering due to negligence you may be eligible for compensation. In addition to talking about compensation amounts for medical negligence, we'll also take you through what you may need to know about making a personal injury claim for yourself, and give you links to other reading material that you may find useful. Should you wish to begin a claim right away, call 0800 073 8804, and we'll explain how we could help to connect you with a personal injury solicitor who could help you. Otherwise, why not keep reading to see what sort of compensation payouts by Manchester Royal Infirmary Hospital have been made.
Select A Section
A Guide To Medical And Surgical Claims For Negligence At Manchester Royal Infirmary Hospital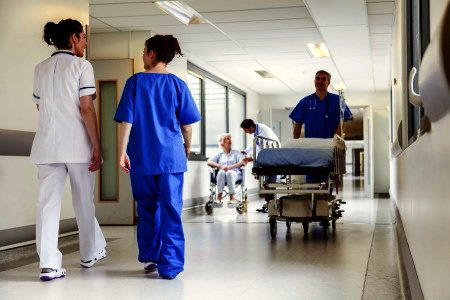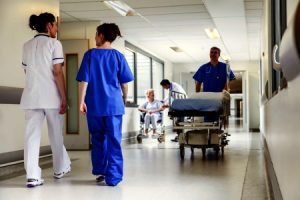 Whether you go into hospital for a routine operation, or for urgent surgery, you would expect the care you were going to receive while you were under the care of the hospital would be up to standard. However, if standards in hospitals are allowed to fall below that minimum expected level negligence could happen. Whether you have suffered from a misdiagnosis, leading to the treatment you didn't need or contracted a hospital infection that could have been prevented if the hospital's hygiene standards had been up to scratch, you may be wondering whether you could launch a personal injury claim for compensation. This guide aims to give you useful information on compensation amounts for medical negligence, as well as offering you some guidance on what you would need to prove in order to be eligible to make a claim. We'll also give you some information on how to find a solicitor to help you.
Defining Medical Negligence At A Hospital
Medical negligence cannot only arise in a hospital but in a setting where medical practitioners treat patients below a standard that is expected of them and the patient suffers more than they would have had the negligent action or inaction not taken place. All medical staff, whether nurses, doctors or other clinicians have a duty of care towards their patients, and if they fail to care for you properly either by doing something wrong or by not taking action when they should, and your health is harmed, then you may be able to make a claim for compensation. While medical negligence cases could be brought against GPs, care homes, dentists and other clinicians, this guide specifically takes a look at medical negligence at a hospital.
Within a hospital, there are various different clinics, and whether you suffer surgical negligence, midwife negligence, consultant's negligence or radiographer's negligence, or negligence by another member of hospital staff, the same duty of care applies and if a failure in this duty leads to you suffering harm, then you may be able to hold the hospital liable for the harm you've suffered.
How Could Negligent Care Or Treatment At A Hospital Harm A Patient?
Negligence could harm a patient in many different ways, depending on the type of treatment that was needed and the negligence that occurred. Negligence could cause;
More invasive treatment being required
An avoidable infection being contracted
Birth injuries
Brain damage
Further corrective surgery being required
A poorer prognosis than there would have been if negligence had not happened
And more…
If you feel that Manchester Royal Infirmary Hospital negligence has caused you harm, we could assess your case and get you the help you may need to make a claim for compensation.
Claimant Awarded A Six-Figure Payout For Manchester Royal Infirmary Hospital Negligence
In 2010, a patient at Manchester Royal Infirmary suffered disastrous results from a botched operation, when his bladder and prostate were slashed during surgery. The 46-year-old man had gone into the hospital for keyhole surgery, but a surgical error resulted in the patient having to be fitted with a catheter that means he can no longer sleep in a normal bed, and had disastrous consequences on his social life and his work. He was also left with a scar after swabs were left in the field of surgery after the operation was finished. He had to undergo further surgery to remove the swabs. The hospital admitted negligence and agreed to a settlement of six figures, although the precise amount was not reported.
Source; www.manchestereveningnews.co.uk/news/greater-manchester-news/dad-mri-payout-botched-operation-7379359
Annual Manchester Royal Infirmary Negligence Payouts
If you're wondering how much Manchester University Foundation Trust has paid out in compensation for hospital negligence the table below may shed some light on this. It shows compensation payouts by Manchester University Foundation Trust over the past few years and the number of claims there have been.

| Accounting Year | Total Payments Made | Number Of Claims Settled |
| --- | --- | --- |
| 2017/18 | £27,519,418.84 | 165 |
| 2016/17 | £9,820,439.81 | 119 |
Almost £370 Million In Compensation Payouts By Greater Manchester Hospitals Over A Five Year Period
According to a report, Greater Manchester hospital trusts paid out a total of almost £370m in hospital negligence claims within the period between 2012-2017. According to the report in the Manchester Evening News, childbirth negligence claims made up for over 2/3 of this amount. The Central Manchester University Hospitals NHS Trust was the second-highest for hospital negligence payouts, making up £66,957,506 over the period. The trust which runs the Manchester Royal Infirmary paid out £66,957,506 over five years.
Source; https://www.manchestereveningnews.co.uk/news/greater-manchester-news/nhs-negligence-payouts-greater-manchester-14185371
How To Make A Medical Negligence Claim Against Manchester Royal Infirmary Hospital
Whether you have experienced Manchester Royal Infirmary Hospital negligence because of a botched operation on your arms, legs, bladder, prostate or any other part of the body or you suffered negligence as non-surgical patient which has caused an entirely new condition or your existing illness to worsen, you may be wondering whether you could be eligible for a hospital negligence compensation payout. There are certain things you would need to prove for a claim to be valid. The first would be to prove that the hospital owed you a duty of care, the second would be that they failed in their duty towards you, and third would be you suffered an avoidable injury or illness. You would also need to be claiming within the personal injury claims time limit for such claims, which, in most cases would be three years from the date of the negligence, or the discovery of the negligence, although there may be some exceptions to these limits.
Proving all this could be complex, which is why some people prefer to use an experienced lawyer for personal injury claims of this type. An experienced lawyer could help to build a strong case against a liable party, whether you were claiming NHS hospital negligence, or against a private practice. They could also advise you on whether offered compensation amounts for hospital negligence could be appropriate for the harm you've suffered, or whether they could help you fight for a higher amount.
There are certain types of evidence that you might be able to collect which could help your lawyer to prove your claim. These could include photographs of your injuries or of anything relating to your claim, details of any witnesses and collect proof of any costs you might have incurred directly because of the medical or surgical negligence you've suffered.
But, how do you find the right solicitor for your Manchester Royal Infirmary Hospital negligence claim? Here at Legal Expert, we could help you. We could asses your eligibility to claim for free, and offer free, no-obligation advice on your options. We could even provide you with an experienced solicitor from our panel who could help to launch your claim for you, which could take a lot of the stress of claiming from your shoulders, allowing you to concentrate on your recovery.
No Win No Fee Claims Against Manchester Royal Infirmary Hospital
You may have seen the words no win no fee come up when you've been looking into making a claim for compensation, but you may not know whether you could make a claim in this way, or even how no win no fee claims work. When you begin a claim in this way, you would not be expected to pay your solicitor upfront. Solicitors working to this payment arrangement take their payment as a success fee from your compensation, as a percentage when it is paid out. The maximum percentage that they would be able to ask you for would be 25% but sometimes the percentage could be lower than this. All of this would be detailed in the Conditional Fee Agreement that you would be given to sign before the personal injury solicitor would take on your case. If the personal injury lawyer managed to achieve a compensation settlement for you, then you could expect their fees to be deducted from the total payout. If you had a valid claim but the lawyer didn't get you compensation, the 'success fee' would not be payable. If you have any further queries surrounding no win no fee claims, we'd be glad to answer them.
Start Your Hospital Negligence Claim
Would you like to begin a claim for Manchester Royal Infirmary Hospital negligence? Or do you have more questions about a botched surgery or another type of hospital negligence claim? Whatever you need, we're here to help you, whether you'd like to know more about the compensation amounts for hospital negligence or whether you'd like us to provide you with a personal injury solicitor to handle your claim you could opt to call us on 0800 073 8804, or you could choose to email us on info@legalexpert.co.uk if you'd prefer. There is also the option for a Live Chat on the site, as well as a contact form you could fill out with your query. However you'd like to contact us, you'll find us willing to help in any way that we can.
Our Panel Of Doctors Covering Manchester
You will need to attend a medical examination as part of any medical negligence claim, whether it is surgical negligence or another type of clinical negligence you've experienced. We work with a panel of doctors that span the UK, and some local to Manchester could include:
Sam Al-Jafari
2nd Floor of Boots the Chemist,
32 Market Street,
Manchester
M1 1PL
Rakesh Duggal
Citibase Manchester,
40 Princess Street,
Manchester,
M1 6DE
Medical References
Royal College Of Nursing – Here, you can see some information about the duty of care that nurses have towards their patients.
CQC Information – Here you can see information on what the CQC has said about Manchester Royal Infirmary.
General Surgery Information – The General Medical Council site contains details of training in general surgery that is expected to be undertaken by those practising general surgery.
Hospital Listeria Outbreak – Here you can find guidance on claims arising from Listeria outbreaks in hospitals.
Hospital Negligence Claims – General information on hospital negligence can be found in this guide.
Birth Injuries – This specific guide regarding birth injuries may be of use if this is the type of medical negligence you've experienced.
Written By Jo
Edited By Melissa.