A Guide To Newcastle Upon Tyne Hospital Negligence Claims – How To Claim Compensation Against Newcastle upon Tyne Hospital? – Calculate Amounts Payouts For Medical Negligence
This online guide takes a look at some of the ways a patient could be eligible to make a compensation claim for Newcastle upon Tyne Hospitals NHS Trusts negligence. We look at the shape that clinical negligence can take, and explain how in similar circumstances, a medical negligence lawyer could be able to process a personal injury claim for you.
We have tried to include all of the information you will need in this guide. However, each claim tends to have its unique aspects, which can mean you may have additional questions. If this is the case, call our claims team today on 0800 073 8804. One of our claim advisors will answer any questions you have, and also provide you with the help you need to start moving your own claim forward.
Select A Section:
A Guide To Medical Negligence Claims Against Newcastle upon Tyne Hospitals
This guide looks at how those injured by medical negligence could potentially seek compensation payouts from the Newcastle upon Tyne Hospitals NHS Trust. This guide covers every hospital that falls under the responsibility of this NHS trust, for example, Freeman Hospital Newcastle upon Tyne as well as others.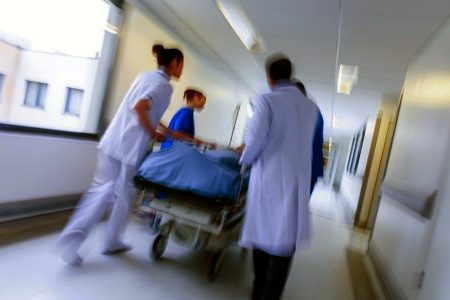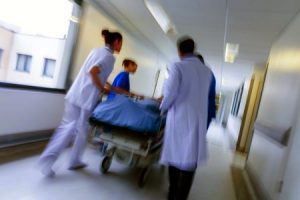 This guide aims to educate you about what medical negligence is, how you could be eligible to claim for harm caused by negligence, and how to proceed with a claim. We begin this guide by giving an overview of what medical negligence is, and why you could have a valid claim.
Next, we look at some of the forms that clinical negligence can take, and how this can result in harm to a patient that could result in the injured party being eligible to make a compensation claim.
We move on to present a real-world case study. We show how a successful claim was made for clinical negligence causing a brain haemorrhage and memory loss.
You will also find a section that presents a table, which shows how many claims were made against the NHS Trust, and what the total value of compensation paid for negligence in the 2017 to 2018 period was.
Next, we present some key data related to the amount of compensation that the trust has paid in the past, based on external information that was published by a third party.
In the last part of this guide, we look at specific aspects of the claim. Firstly, we give a basic overview of the process of making a claim for clinical negligence. We then explain how a No Win No Fee solicitor can help you to make your claim, whilst minimising the financial risks inherent in doing so. You will also find information about our new claims process, and how we can walk you through getting your claim underway. Finally, you will find a table that lists several doctors in the local Newcastle area, that can perform an independent medical examination, the results of which can be used to value your claim, and also can be submitted as evidence to support your claim.
We have not provided an online personal injury claims calculator on this page. However, we can arrange for a lawyer to value your claim accurately. You can speak to one of our claim advisors on the phone number near the end the page, and they can set this in motion for you. At this time, they will also answer any questions you have, and also provide critical information related to your claim, such as the personal injury claims time limit that will apply.

What Are Medical Negligence Claims?
Before we start discussing medical negligence claims, we need to define just what clinical negligence is. Every valid clinical negligence claim will share the following common traits:
The medical professional or healthcare facility accused of negligence must have had a clear duty of care toward the injured patient, never to do them any unnecessary harm.
The claimant will have suffered an actual physical injury or illness because of the negligent acts of the medical professional or healthcare provider. They may have developed a health problem at a later stage, solely because of negligence. This harm could have been caused either directly (such as a patient being injured on an operating table), or indirectly (such as suffering a cross-infection due to poor hygiene).
The medical professional or healthcare provider/facility accused of negligence could have avoided harming the patient, had alternative action been taken.
The injured patient can prove that the harm they suffered was, without a doubt, caused by the negligent acts of the medical professional or healthcare facility accused of negligence.
This is all pretty straightforward, apart from number four. The onus is entirely upon the claimant to prove that negligence took place. When a patient makes a negligence complaint about a medical professional, the complaint is reviewed by a panel of doctors working for the healthcare provider the accused medical professional is employed by. This panel will decide whether they agree that negligence took place and if liability exists. If this panel rules that no, negligence did not take place, then the claimant is going to need to prove emphatically that the panel has made the wrong decision, in order for a claim to be successful.
If you are unsure whether your claim is valid or not, and need to find out whether you are eligible to make a compensation claim for clinical negligence, please speak to our claims team. One of our claim advisors will evaluate your claim for you, and let you know whether you may have a valid basis for making a compensation claim.

What Are The Different Types Of Medical Negligence And How Could It Affect A Patient?
There are many ways that a patient can be harmed due to clinical negligence. For example, clinical negligence could be construed to have taken place in circumstances such as:
A patient on an operating table could be injured by a surgeon making an incision in the wrong place.
A dentist could damage a healthy tooth whilst extracting a rotten one.
A cosmetic surgeon could botch a cosmetic procedure such as breast augmentation, leaving the patient with permanent scars.
A GP may misdiagnose a serious medical condition as one that is less severe, and the patient's health would worsen due to not receiving the correct treatment.
A specialist could diagnose a serious medical condition such as cancer late. This would cause the patient's health to decline due to the delay in treatment.
A pharmacist could make a mistake, and dispense the wrong medication. A patient taking this medication could become ill because of this.
Lax care on a hospital ward could lead to an inpatient contracting a cross-infection.
As you can see, there are many shapes and forms. Regardless of the way that the negligence occurred, or the kind of harm a patient suffered, if it can be proven that negligence took place, it could be possible for the injured party to claim compensation. If you need to find out whether you could possibly have a valid negligence claim, speak to one of our claim advisors today. They will be able to tell you.

£4.46 Million Compensation Awarded For A Brain Haemorrhage And Memory Loss
We are going to dissect it and look at how the claim was processed, and what the outcome was. These kinds of hospital negligence examples are useful, as they demonstrate how a claim would proceed in the real world.
In this case study, we take a look at how a 41-year-old woman suffered a brain haemorrhage, that was not picked up on by her GP. Because of this late diagnosis, the claimant was left with a severely reduced capacity for retaining short-term memories.
As a result of this case of negligence, the claimant needed 24-hour care and has not been able to work in the 7 years since the incident took place, and it is unlikely she will ever work again in the future. The damage she suffered has had a significant negative effect on the quality of her life. Because of this, the claimant sued her GP and both of the NHS Trusts involved in here case and successfully won a settlement of £4.46 million.
The claimant had been at home and was suffering from a very bad headache. Her GP diagnosed this is an unspecific virally caused illness. However, the headache was a symptom of a minor brain haemorrhage. Two weeks later, a second haemorrhage occurred, a much more serious one this time.
The claimant and her spouse pursued a claim against the Newcastle upon Tyne Hospitals NHS Trust, the Cheveley Park Medical Centre, County Durham and the Darlington Acute Hospital. The combined defendants accepted partial liability (95%). Eventually winning the aforementioned £4.46 million settlement.
This money was awarded to compensate the claimant for the significant loss of life quality, as she had been left with permanent brain damage and could no longer remember anything for more than a few minutes. The money was also paid to compensate the claimant for the extended period of 21 weeks that she had to spend in hospital being treated during her partial recuperation.
The lawyer representing the claimant expressed the opinion that the money the claimant had received would provide the victim with the care she needs for the rest of her life. It also allowed her partner to give up work and become her full-time carer.
Source; https: https://www.dailymail.co.uk/news/article-1220571/Woman-10-minute-memory-wins-4-4m-payout-string-medical-blunders.html
Compensation Payouts By Newcastle upon Tyne Hospitals NHS Trust
In the table below, we can see the compensation amounts for Newcastle upon Tyne Hospitals NHS Trust paid for negligence claims in the 2017/18 period.
| Accounting Year | Total Payments Made | Number Of Claims Settled |
| --- | --- | --- |
| 2017/18 | 13,817,612 | 105 |
Data from this table was taken from a spreadsheet published by the NHS.

£7.1 Million Annual Compensation Amounts For Newcastle upon Tyne Hospitals NHS Trust
In July of 2011, The Journal published a breakdown of the spending in North East hospitals related to paying compensation to patients, which total over £22 million. To summarise the key information presented in this report, we can provide the following bullet-pointed facts:
The total amount of compensation for the entire year, paid by North East hospitals for claims related to clinic negligence was £22,307,00.
The largest of the NHS Trusts to operate in the region, the Newcastle Hospitals NHS Foundation Trust, paid out a total of £7,116,000 in compensation.
During the period that was measured, the same NHS Trusts paid temporary and agency staff a total of £62 million to fill staffing shortages.
The South Tyneside NHS Foundation Trust paid out a total of £1.5 million in compensation in the same period.
A total of 3.5 million worth of compensation was paid by the Northumbria Healthcare NHS Foundation Trust in this period.
£3.4 million was the total compensation paid by the County Durham and Darlington NHS Foundation Trust in the same year.
The Gateshead Health NHS Foundation Trust had to pay, in the same year, a total of £2.2 million in compensation.
With the City Hospitals Sunderland NHS Foundation Trust paying out a total of £4.1 million in the period being reported on.
The report goes on to criticise the NHS for spending so much on temporary and agency staff (with significantly higher costs per head than full-time or part-time staff). It calls for an explanation of this level of (potentially wasteful) spending on non-sustainable employees. However, a representative of the Newcastle Hospitals NHS Foundation counters this question, by stating that agency and temporary staff make up just 2% of the Trusts annual budget.
Source; http://www.thejournal.co.uk/news/north-east-news/newcastle-hospitals-pay-out-22m-4428395

How To Claim Compensation For Medical Negligence At A NHS Hospital
The process of making a compensation claim for negligence against the Newcastle upon Tyne Hospitals Foundation Trust is not necessarily complex. Especially if the Trust admits culpability, and agrees that negligence took place and that the Trust could subsequently be liable to pay the victim compensation.
However, when the negligence claim is refuted by the Trust, the process becomes more complicated, as there is then a requirement for the claimant and their legal team to prove that negligence did, in fact, harm the claimant.
Either way, the process begins with Newcastle upon Tyne hospital complaints. The claimant (or their legal representative) can make a formal negligence complaint to the Trust. One of two things will happen as a result of this complaint. The Trust will either admit responsibility, or they will refute it. If responsibility is admitted, then it is likely that the Trust will offer the claimant an out of court settlement at this stage (but not always). It is then up to the claimant (based on advice from their legal team) whether to accept this out of court settlement, renegotiate, or to instigate a full claim, ultimately resulting in a court decision being made as to how much compensation the claimant should receive.
If the Trust does not admit responsibility, then the burden is on the claimant to prove that it was responsible. The claimant's solicitor should be able to advise them whether this would be possible. The solicitor can also help to prepare evidence in support of the claim. The claimant can also take certain actions, such as getting an impartial medical examination to prove how bad their injuries were and potentially provide proof of negligence.
The solicitor is responsible for processing the claim on behalf of the injured party. Liaising with the defendant's legal representatives, and acting on the wishes of the claimant. For example, the claimant may feel an out of court settlement offer is too low. The solicitor processing the claim would be responsible for informing the defendant of this. This could result in a further offer, or if no more negotiation is possible, the instigation of court proceedings.
This may seem complicated at first glance. However, there is a tried and tested process that solicitors follow when helping with negligence claims. If you have questions about the claims process in general, then please speak to a member of our claims team today, to have them answered.

No Win No Fee Hospital Negligence Claims
When we use the term No Win No Fee, we are refereeing to what is properly known as a Conditional Fee Agreement (CFA). The name speaks for itself. Under a CFA, the medical negligence solicitor has agreed that their fee is conditional upon a successful outcome. What this means, is that if you use a solicitor that offers a No Win No Fee deal for pursuing personal injury claims, you don't pay anything at all unless your claim is a success. This means:
The solicitor won't charge any kind of new claims fee.
There will be no on-going fees while the solicitor processes your claim, even if this takes many months.
If the claim is unsuccessful, and you don't receive any compensation at all, then the solicitor won't charge any fee.
The only time that you do pay legal fees, is when the solicitor has received a compensation payment on your behalf. At this time, the solicitor will automatically collect the pre-agreed percentage of the overall settlement as their fee, deducted from the money they received. They will then give you the remainder. If you have any questions about the way that this fee structure works, then please speak to one of our claim advisors on the number in the next section. They can help you further.

Start Your Hospital Medical Negligence Claim
Have you been injured by the negligent actions of a medical professional? Do you think you have a valid reason to make a compensation claim for medical malpractice? If you answered yes to these questions, then please contact our claims team on 0800 073 8804. A claim advisor will go over your claim with you, answer your questions, and talk you through our new claims process to get your claim started as soon as possible.

Doctors We Work With Covering Newcastle
You will need to go for a medical examination in order for a solicitor to be able to value your claim for you. You may be interested in using one of these local doctors.
| Doctor | Address |
| --- | --- |
| Mohammed Ahmad | Physiotherapy Matters LTD |
| | Arden House |
| | Regent Centre |
| | Gosforth |
| | Newcastle |
| | NE3 3LU |
| Ian Watson | North East Clinic |
| | 52 Heaton Road |
| | Newcastle |
| | NE6 1SE |
For more information about this, please speak to a member of our claims team today.

Medical Claims References
These external pages could be of some use:
You may also like to read these other guides:
Newcastle Personal Injury Claims
Medical Negligence Solicitors Covering Newcastle
Written By Mac