Eastleigh Medical Negligence Solicitors No Win No Fee
Medical Negligence Solicitors in Eastleigh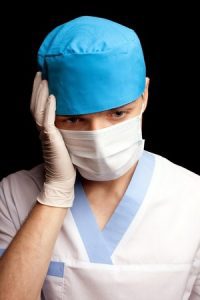 Before you choose a firm of solicitors in Eastleigh to represent you in a clinical negligence case, you should read the contents of this page so that you can make a better-informed decision. You will find information on the claims process and clinical negligence protocol. We also give some medical negligence guidelines on the kinds of questions to ask any prospective legal firm.
Let's start with a good definition of what medical or clinical negligence actually is. Medical/clinical negligence will be deemed to have occurred, any time a medical professional with a duty of care to a patient, actually causes them harm instead. This harm can be caused by accident, error, oversight or lack of care.
Clinical negligence can cause different types of harm, such as:
Physical injuries.
Worsening of a medical condition.
Contracting a new medical condition.
Psychological damage.
Clinical negligence can happen in many ways, with the most common being:
Accidents or errors during surgery.
Wrongly prescribed medication.
Incorrectly administered treatment.
Administering the wrong treatment.
Causing avoidable delays in providing treatment.
Misdiagnosis of a medical condition.
Late diagnosis of a medical condition.
Causing injuries through accidents due to insufficient levels of patient care.
Every medical negligence case that Legal Expert has successfully won has displayed the following three common aspects:
The medical professional who caused harm to the patient had a duty of care to protect their health.
Failing in this duty of care was the cause of harm to the patient.
The failure of duty could have been avoided in some way.
Legal Expert operates a national medical negligence claims service that is available to residents of Eastleigh and the entire UK. We have a proven history of claiming significant compensation settlements for our clients across a very wide range of different types of negligence cases. Call us today to find out how we can help you claim the compensation you are entitled to.
How to Find a Solicitor for Medical Negligence Claims
In order to have the best chance of winning your negligence case, you need to find a legal team that is experienced in making NHS negligence claims. As an acid test, ask any legal team you are considering, to answer the following three questions, the answer should be yes to each of them:
Have you won cases similar to my own in the last two years?
Can you arrange for me to get a local medical examination and expert medical opinion?
Will you take on my claim under a Conditional Fee or No Win No Fee agreement?
A far simpler way to find some expert legal representation in the Eastleigh area is to give Legal Expert a call. As part of our national claims service, we will give you some free legal advice, and connect you with one of our medical negligence team that covers the Eastleigh area.
Do I Need to Use Solicitors in My Area?
The answer to the question, do I need to use a firm of solicitors in my area? is no. Not in this day and age when every legal firm worth their salt will allow you to communicate with them using VOIP, email, etc.
A far more important consideration than physical location is the experience your solicitor has in taking on major organisations such as the NHS.
Eastleigh Solicitor Reviews
If you can find a good website with plenty of solicitor reviews, then this is a good place to start capturing information and begin making a shortlist of prospective legal firms to make your claim.
You should cross check the facts you find, by asking your friends, family and acquaintances, how do you rate my solicitor choices? Do you have any experience of dealing with any of the solicitors on my shortlist?
Medical Negligence Claims Our Team Can Conduct in Eastleigh
The Legal Expert medical negligence team that covers the Eastleigh area is well experienced in claiming compensation for negligence across a very wide range of different cases.
Below we have detailed some of the more common types of negligence cases we have successfully won in the past. Please call us if none of these fit your personal situation.
Claims for Cancer Negligence
With regards to medical negligence cancer diagnosis or more correctly misdiagnosis, is one of the most serious types of negligence cases we tackle. When a patient with an advanced case of cancer is misdiagnosed, then it can lead to a terminal delay in receiving the correct treatment.
If you have lost a loved one due to cancer negligence, then Legal Expert can help you claim the maximum amount of compensation possible.
Claims for Negligence During Birth
When medical malpractice happens during the birthing process, it can lead to serious harm to the mother and dire harm to the infant.
The more can suffer injuries such as:
A broken pelvis.
Cuts and bruises.
Strained pelvic floor muscles.
Perineal tears.
The baby can suffer much more serious harm, such as:
Permanent disfigurement due to cuts received through birth trauma.
One or more broken bones through birth trauma.
Brain damage through lack of oxygen.
Serious medical conditions such as cerebral palsy.
If your family has been the victim of negligence during birth, then Legal Expert can help people all over the UK claim the compensation they deserve.
Make a GP Negligence Claim
In order to make a successful GP negligence claim, you will need to prove that your GP is liable for the mistake they made. As the gatekeeper to the UK health system, your GP as a generalist is responsible for referring you to the correct specialist or clinic to treat you. When the GP makes a mistake in diagnosis, they may treat you for a minor condition, when you are actually suffering from a much more serious one.
Legal Expert offers our national negligence claims service to residents of Eastleigh and the rest of the UK, as the easiest way to claim compensation from your GP.
Nursing Home Negligence Claims
Every nursing or care home is required by law to give a very specific minimum standard of care to its residents. When the nursing home fails to meet this care level, due to underfunding, overworked care staff, or employing people without the correct experience and training, the residents are put at risk.
If you have a family member who has suffered due to medical negligence in a care home, then you really need to contact Legal Expert today. There is some urgency in this, as the nursing home negligence statute of limitations states very clearly that there is a two-year window to make a claim following an occurrence of negligence.
Dental Negligence Claims
You could use a dental negligence compensation calculator to get a rough idea of how much you might claim. You could also read our guide to making a dental negligence claim for more in-depth information. One of the most important takeaways of this guide is that quite often, an injury sustained during a dental procedure will result in cosmetic damage. Your solicitor will need to claim for both the pain and suffering caused by the initial injury, as well as psychological damage caused by living with a disfiguring injury.
Legal Expert can help people across the UK to claim compensation for both of these aspects of a dental negligence claim.
Hospital Negligence Cases
There are many reasons why people pursue hospital negligence cases. In our experience the most common causes of negligence in a hospital are:
Insufficient levels of patient care.
Avoidable delays in providing critical treatment.
Accidents and mistakes during surgery.
Harmfully administered treatment.
Legal Expert has an except hospital negligence team covering the Eastleigh area, and we can help you claim the compensation that you are entitled to.
Statistics for Medical Negligence Claims Against Hampshire Hospitals NHS Foundation Trust
Below is a table which shows the data for Hampshire Hospitals NHS Foundation Trust with regard to the number of negligence claims, number of reported incidents and total damages paid.
Healthcare Provider
Claims Received
2015/16
Number of Incidents
2015/16
Payments Made
Hampshire Hospitals NHS Foundation Trust
33
6
9,936,922
No Win No Fee Medical Negligence
Legal Expert operates a No Win No Fee medical negligence team for the Eastleigh area. Under our No Win No Fe agreement you don't pay us anything to begin your claim, and nothing during the claims process, and if we lose, you don't pay us anything at all. You only pay a fee when you receive a compensation award.
Make Your Claim with Our Team
Call Legal Expert now on 0800 073 8804 to begin your clinical negligence claim. We offer free legal advice on your next steps, once we have taken some time to go over the facts of your case with you.
Helpful Links
Making a claim for birth injuries to a mother
At the link above you will find our full guide to claiming for medical negligence during childbirth that caused harm to the mother.
NHS information on cerebral palsy
The NHS has published detailed information about cerebral palsy at the link above.
At the above link, you will find NHS information on the risks attached to childbirth both in the hospital and at home.
Local Eastleigh Medical Centres
Andover War Memorial Hospital
Charlton Road
Andover
Hampshire
SP10 3LB
Tel: 01962 863535
Web: Andover War Memorial Hospital
Wessex Hospital
Winchester Road
Chandlers Ford
Eastleigh
SO53 2DW
Tel: 023 8098 2747
Web: www.nuffieldhealth.com/hospitals/wessex
St Andrew's Surgery
166 Market Street
Eastleigh
SO50 5PT
Tel: 023 8061 2472
Web: www.standrewssurgery.co.uk
Eastleigh Dental
Ewell Road
Cheam
Surrey
SM3 8AN
Tel: 020 8642 4221