Taunton Medical Negligence Solicitors No Win No Fee
Before you start searching for a firm of solicitors in Taunton to make a compensation claim for medical negligence on your behalf, you should read the information on this page. You will find plenty of information about how to find a good solicitor, and how the process of making an NHS accident compensation works. You will also be introduced to the national claims service offered by Legal Expert that makes locating a good solicitor far simpler.
First and foremost, you need to discern whether you actually have a valid reason to claim for clinical negligence. In order to win a claim, the following three statements must be true:
1). You were harmed by a medical professional who had a duty of care towards you.
2). The failure to fulfil this duty of care was the direct cause of harm to your health.
3). The failure to fulfil the duty of care could have been avoided.
If this sounds like your scenario, you may have a valid cause to claim medical negligence compensation.
Medical negligence occurs when a medical professional causes harm to a patient under their care through oversight, accident, a mistake or not providing adequate care. Typical ways that clinical negligence happens are:
Avoidable delays in administering treatment.
Mistakes or accidents during an operation.
Allowing the patient to become the victim of an accident whilst under care.
Administering the wrong treatment.
Administering treatment incorrectly.
Legal Expert has a track record spanning three decades in claiming medical negligence compensation across a wide range of negligence cases on behalf of our clients.
We offer residents of Taunton our national claims service as the simplest way to pursue a compensation claim for clinical negligence.
What to Look for When Using a Medical Negligence Solicitor
To have the best chance of winning your medical negligence claim, you need the best legal team working on your behalf. When you are evaluating a prospective solicitor, you should check the three facts below:
Have they won plenty of cases similar to yours in the past?
Will they take on your case under a No Win No Fee deal?
Can they arrange for additional local services, such as getting an expert medical opinion to support your claim?
A much simpler option for residents of Taunton, is to use the Legal Expert No Win No Fee claims service. We can offer you some free legal advice to find you the best legal firm covering your area to take on your clinical negligence claim
Reading Reviews Can Be Helpful
If you can find a solicitor review website with plenty of reviews of Taunton solicitors, you can use this as a basis of for making a shortlist of possible solicitors. Once you have this shortlist, run it past your family and friends to see if they have experience with dealing with any of the solicitors on the list. Social networking sites such as Facebook and Twitter can be good for this.
Where Should My Solicitor Be Based?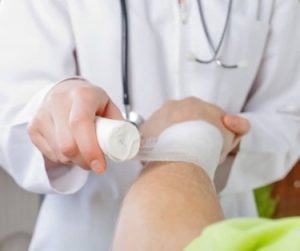 The answer to the question, should I use a firm of solicitors near me? Is no. There is new real advantage in doing so. No matter where your legal team is located you can keep in touch with them via Skype, email, etc.
Legal Expert has solicitors covering the Taunton area, and we can arrange for one of them to visit your home if you prefer to talk about your claim face to face.
Our Taunton Medical Negligence Team Can Help with Claims Such as These
The clinical negligence team that Legal Expert operates in the Taunton area is experience in claiming compensation for a wide variety of medical negligence cases. We have detailed some of the most common negligence scenarios we come across below. If you particular case does not fit any of these outlines, then give us a call so we can discuss your situation with you.
Hospital Negligence
Clinical negligence in a hospital can take many forms; surgical accidents, badly administered treatment or being given the wrong treatment and delays in receiving critical treatment to bane just a few.
If you have been harmed whilst staying in hospital, then Legal Expert can offer you some free hospital negligence advice on how to best make a compensation claim.
Dental Negligence
The Legal Expert dental negligence team deals with many cases of clinical negligence caused by a dental surgeon each year. When a mistake is made during a dental procedure, the teeth, gum, jaw or face can be damaged. This often results in an injury that causes some form of disfigurement either until it is healed, or in more extreme cases, permanently.
Legal Expert can help you to make a claim for dental negligence that includes a provision for the cosmetic aspects of your injury and the mental trauma and stress that living with disfigurement can cause.
GP/Doctor Negligence
You GP is responsible for making an initial diagnosis of your medical condition, and in cases they cannot themselves treat, refer you to the relevant specialist. When a mistake is made in this diagnosis, such as treating you for the flu when you actually have a serious illness such as SARS, this can put your life at risk.
Legal Expert can help you prove liability in GP negligence cases by arranging for you to receive a local expert medical examination, the results of which can be submitted to support your claim.
Cancer Medical Negligence
In the most severe cancer negligence cases, the consequences can be the death of the patient. If the type of cancer the patient has is misdiagnosed, this misdiagnosis can lead to a critical delay in applying the correct treatment. This delay can mean the difference between recovery and death for some patients.
Legal Expert can help the dependants of a victim of cancer negligence claim the compensation they are entitled to due to the loss of a loved one.
Nursing Home Negligence
You may need to make a nursing home negligence complaint if the level of care you are provided in a nursing home is below that which is legally required, and this leads to you coming to harm in some way. When the care level slips due to overworked staff or insufficient staff training, a resident can be harmed in many ways; the resident could have an accident such as a slip, trip or fall in the nursing home, or they could contract a serious medical condition which goes entirely unnoticed by care staff until it becomes life-threatening.
Legal Expert can help care home residents claim for medical negligence in a care home. We can also help family members of a resident claim when the victim is unable to do so themselves.
Birth Injury Clinical Negligence
Medical negligence during childbirth can have serious consequences for the mother and catastrophic consequences for the newborn baby.
The mother could suffer serious harms such as; perineal tears, strained pelvic floor muscles of a fractured pelvis.
The baby can come to even more serious harm; birth trauma can lead to broken bones, cuts and abrasions. Loss of oxygen during the birth can lead to permeant brain damage.
Legal Expert can assist families in making birth negligence claims in a simple manner, without adding to the stress of this traumatic experience.
Medical Negligence Claims Against Taunton And Somerset NHS Foundation Trust
Below you will find a table that gives details of negligence claims made against Taunton And Somerset NHS Foundation Trust and any NHS trusts operating in the area. The number of claims is detailed, as well as the total damages paid.
Healthcare Provider
Claims Received
2015/16
Number of Incidents
2015/16
Payments Made
Taunton and Somerset NHS Foundation Trust
40
*
2,108,476
Making A No Win No Fee Compensation Claim
Legal Expert offers residents of Taunton our No Win No Fee medical claims service as the simplest, most effective way to claim compensation.
No Win No Fee means you pay nothing to start the claims process, no ongoing fees, and if we lose, you walk away without paying a thing. The only time we charge a fee is when you receive a compensation payment.
Start Your Claim with Legal Expert
Are you ready to begin your claim for clinical negligence in Taunton? If so, then give us a call right now on 0800 073 8804. Once we have taken the details of your claim, we will offer some free legal advice on what we think you should do next. In most cases, this will be to use our national No Win No Fee legal team to make the claim on your behalf.
Useful Links
Childbirth negligence and how to claim
We have published a guide on how to claim childbirth negligence compensation, published at the above link.
What are the symptoms of cerebral palsy?
The link above gives detailed info on the symptoms of cerebral palsy.
NHS evaluation of the risks of childbirth
The NHS has published the results of a study that looked into the risks of childbirth at the link above.
Local Taunton Medical Centres
Musgrove Park Hospital
Parkfield Drive
Taunton
Somerset
TA1 5DA
Tel: 01823 333444
Web: www.musgroveparkhospital.nhs.uk
Taunton Hospital
Staplegrove Elm
Taunton
TA2 6AN
Tel: 01823 475112
Web: www.nuffieldhealth.com/hospitals/taunton
Taunton Vale Healthcare
Lisieux Way
Taunton
Somerset
TA1 2LB
Tel: 01823 259444
Web: www.tauntonvalehealthcare.co.uk