Oxford Medical Negligence Solicitors No Win No Fee Claims Guide
If you have been involved in medical negligence that happened in Oxfordshire, Legal Expert can provide you with an expert solicitor in Oxford, or who covers claims in the Oxfordshire area, to help you make a medical negligence claim. You could be offered a settlement worth tens of thousands of pounds, so if you have experienced medical negligence in the Oxford area call trusted solicitor's firm Legal Expert today. We will let you know if you have a legitimate case to make a medical negligence accident claim, estimate how large your compensation payout might be and provide you with an expert clinical negligence solicitor who covers claims in the Oxford area.
Call Legal Expert now on 0800 073 8804 for your free consultation.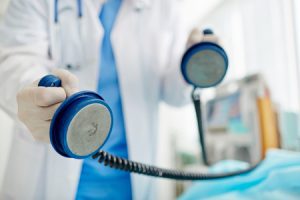 Medical negligence, or clinical negligence as it is also known, is when a patient receives substandard care on the part of a medical practitioner, such as a doctor, nurse, midwife or dentist. This negligent action or inaction on the part of the practitioner results in the patient suffering an injury, illness or the worsening of a medical condition. To make a legitimate medical negligence claim the victim (Claimant) must have evidence for the following: firstly that the medical practitioner (Defendant) in question owed them a duty of care. Secondly that the Defendant breached their duty of care towards the Claimant, and thirdly that this negligent action or inaction caused harm to the Claimant. Your specialist solicitor will be responsible for gathering this evidence against the Defendant.
Medical negligence claims usually have a 3-year time limit from the time the Claimant was injured or discovered that the clinical negligence incident had harmed them. There are sometimes exceptions to this rule, so if your medical negligence claim is outside this time limit, consult Legal Expert today.
How Do You Find The Best Medical Negligence Solicitors In Oxford?
If you are looking for a specialist negligence solicitor to represent your NHS compensation claim, or medical negligence claim, it is important you choose the best solicitor to represent your case.
Read reviews of Different Oxford Solicitors
To become more knowledgeable about the different solicitors in Oxford, you may want to read Oxford solicitor's reviews online. As well as reading Oxford solicitor's reviews, consulting family and friends who have experienced medical negligence in Oxford or the surrounding area, to gain some impartial feedback on the level of service they felt their solicitor delivered.
Alternatively, call Legal Expert for a free impartial consultation. We work with some of the best clinical negligence solicitors up and down the country and it is in our interest to find the best solicitor to win your compensation claims case.
Do You Need A Local Solicitor?
Clients often ask if they need to use a local solicitor when they make a medical negligence claim. It's a common misconception that if you live in Oxford, your solicitor should be based in Oxford too. Legal Expert will match you with the best medical compensation lawyer to handle your case. If the right solicitor for you is not based in Oxford or the Oxfordshire area, you will be matched to one elsewhere in the country. This should make no difference to the level of communication you will receive from your solicitor, in fact with internet communications like Skype and email being readily available, it's as easy to work with a local solicitor as it is working with one further afield.
What Compensation Claims Do Our Medical Negligence Team Handle?
At Legal Expert, we deal with a wide range of clinical negligence claims for medical negligence that happened in Oxford. This could be NHS compensation claims, childbirth negligence claims including hospital negligence during birth as well as other incidents of hospital negligence and GP negligence claims. You can see some examples of claims our Oxford clinical negligence team handle.
Oxford Hospital Negligence Claim
Have you experienced medical negligence that happened in a hospital in Oxfordshire? You could sue for NHS medical negligence if it was a publicly funded hospital, or a private hospital, if the medical practitioners acted negligently and caused you an avoidable injury, you could sue for compensation. Trust us to find the best solicitor to deal with these claims, in the Oxford area.
Dental Medical Negligence Claims
Were you involved in a case of medical negligence at a dentist's practice in Oxford? Whether it was the fault of a dentist, orthodontist or dental nurse, you could be owed thousands of pounds in medical negligence compensation. We will provide you with the right medical compensation lawyer to take on your dental negligence claim.
GP Negligence Compensation Claims
Have you experienced medical negligence from your GP, or a nurse working at a GP's office? Let Legal Expert provide you with one of our specialist medical claims solicitors covering Oxford claims can help you to sue for compensation.
GP Negligence Claim
You could be entitled to make a GP negligence claim for compensation, if you have experienced medical negligence whilst being treated at a GP's surgery in Oxford. Call Legal Expert today and if you have a legitimate case, we'll provide you with a top solicitor who will fight your medical negligence claim relentlessly.
Cancer Medical Negligence Claims, Oxfordshire
If you have suffered from cancer and experienced a misdiagnosis, or late diagnosis, you could be entitled to cancer negligence compensation. Cancer misdiagnosis is a very serious form of medical negligence, as finding cancer too late can make it more difficult to treat and reduce the sufferer's chance of survival. Have you or your deceased next of kin have suffered from a cancer misdiagnosis? If the cancer medical negligence caused you direct harm, then you should be entitled to make a cancer medical negligence claim. Let us handle your case for you, and win you the compensation that you are entitled to.
Nursing Home Medical Negligence
We can help you to claim compensation for medical negligence that you, or a vulnerable next of kin has experienced at an Oxford care or nursing home. If you or a next of kin has suffered neglect, abuse or another negligent mistreatment at the hands of medical or care home staff then you can claim medical negligence compensation.
Hospital Negligence During Birth in Oxford
Injuries from hospital negligence during birth can lead to lasting disabilities and conditions, including paralysis. If you or your next of kin have been caused birth injuries due to hospital negligence during birth in the Oxford area, on the part of a medical professional, you could claim tens of thousands of pounds in compensation. Let Legal Expert find you the right solicitor who covers hospital negligence during birth in Oxford to make your claim.
Medical Negligence Compensation Calculator
Medical negligence claims can be worth in the tens of thousands of pounds. To get a rough idea of how much your claim could be worth please consult our medical negligence compensation calculator. Alternatively, if you call Legal Expert for your free consultation, one of our friendly advisors will give you a more accurate estimation of how much your medical negligence claim could be worth. The table below shows information on claims made against the NHS in the Oxford area.
| Healthcare Provider | Claims Recieved 2015/ 16 | Number of Incident 2015/ 16 | Payments Made |
| --- | --- | --- | --- |
| Oxford Health NHS Foundation Trust | 7 | * | 338,054 |
| Oxford University Hospitals NHS Trust | 84 | 6 | 10,708,777 |
Whether you want to make an childbirth medical negligence claim for hospital negligence during birth, NHS medical negligence claim, or claim compensation for NHS medical negligence that you have experienced, Legal Expert can provide you with a solicitor in Oxford, or covering Oxford to help you make your medical negligence claim.
No Win No Fee Oxford Clinical Negligence Solicitors
Have you considered using a specialist a no win no fee solicitor to represent your case? A no win no fee service means that you will only have to pay the solicitor's fee if your claim for medical negligence compensation is successful and you will still receive the same quality of service. For many using a no win no fee legal expert solicitor is a less stressful and more affordable option. Call Legal Expert today to enquire about being matched to a no win no fee medical solicitor in the Oxford area or elsewhere.
Get An Oxford Medical Negligence Solicitor To Win Your Claim
Call us today for your free legal consultation, and we will provide you with a top clinical negligence solicitor that covers the Oxford area. We are Legal Expert, a trusted solicitor's firm and advisory service who have plenty of experience helping medical negligence victims like yourself, claim the compensation that you are entitled to. Fill out our online claims form, or call us today to start your claim. We are looking forward to hearing from you.
Useful Links:
The NHS Constitution of England
An NHS guide to patient's rights
How Much Compensation Can I Claim For Cancer Misdiagnosis Claims?
Popular medical practices in Oxford
NHS Hospital:
John Radcliffe Hospital
Headley Way,
Headington,
Oxford,
OX3 9DU
Tel: 0300 304 7777
Web: www.ouh.nhs.uk
Private Hospital:
Oxford, The Manor Hospital,
Beech Road,
Headington,
Oxford,
OX3 7RP
Tel: 01865 988696
Web: www.nuffieldhealth.com/hospitals/oxford
GP Surgery:
St Clements Surgery,
39 Temple Street,
Oxford,
OX4 1JS
Tel: 01865 248 550
Web: www.stclementssurgery.org
Dental Temple Street Dental Practice,
26 Temple Street,
Oxford,
OX4 1JS
Tel: 01865 922111
Web: www.templedental.co.uk