Stoke On Trent Medical Negligence Solicitors No Win No Fee Claims Guide
Medical Negligence Solicitors Stoke-On-Trent
Whether you are treated by a private or NHS practitioner in the UK, most patients will receive an extremely high level of care with practitioners meeting and exceed their duty-of-care. However, for some patients things will go wrong. In this guide, we look at the circumstances in which medical or clinical negligence can take place and how patients might be able to take legal action against hospital, dentist or doctor.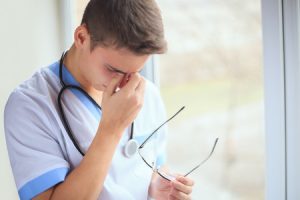 We work with medical negligence solicitors that cover Stoke-on-Trent and across the country to help people get the compensation they deserve. Clinical and medical negligence claims are often caused by healthcare providers acting in a negligent way. It can be caused by medical staff failing to diagnose conditions, make the wrong diagnosis or not catching an illness in time. Negligence can also include mistakes when treatment is carried out or providing inappropriate medication. It can even include not properly informing patients what is happening.
Potential claimants need to show that they have been treated in a negligent way and that the duty-of-care that they expected was breached, meaning they did not receive an acceptable standard of medical care. In order to make a successful clinical negligence claim a claimant must show the following;
1). That the defendant owed them a duty of care.
2). That this duty of care was breached.
3). That the breach caused the injury/ illness/ condition.
At Legal Expert, we work with a panel of clinical negligence solicitors from across the country. We offer a comprehensive no win no fee service and can help NHS and private patients to recover the damages they are owed.
How To Find The Best Medical Negligence Solicitors In Stoke On Trent
To make a successful medical negligence claim you need to work with the best solicitors and lawyers you can. No matter where you are based in the country, the panel of solicitors covering Stoke On Trent we work with can help you. One of the most common ways to find an experienced and reputable solicitor is asking family and friends for recommendations. Another common way to is to look at impartial reviews you might find online. Other ways can include looking up services in your area. At Legal Expert, we work hard to provide you with a member of our panel of trusted legal solicitors who have the experience to process your case.
Reviews of Clinical Negligence Solicitors In Stoke-on-Trent
Reading reviews (whether online or offline) which compare similar professional services can be a great way to differentiate competitors which might look the same. The web and online portals have made it easy to evaluate and compare different solicitors and legal services in the Stoke-On-Trent area. Reviews can help you see what services are offered, levels of experience and track records in securing higher compensation awards. Remember to look at things like fees structures and if they really offer a no win no fee service.
Whilst reading reviews is a great way to find out more, it is not a substitute for talking to a provider. Try talking to the specialists at Legal Expert today on 0800 073 8804 and see how we can help you.
Do I Need To Use A Solicitor Close To Me?
Today with tools such as email, messaging services and phone calls, professional services (such as a solicitor) can be provided from anywhere in the country. What is more important that the location of your solicitor is their knowledge and experience, ability to recover your damages and your relationship with them. Much of the work on your case can be carried out remotely today, with things like a medical examination being the only thing which may need to be carried out close to you.
How Much Medical Negligence Compensation Might I Get?
Compensation awards are determined according to guidelines produced by the Judicial College. These set a minimum and maximum level of compensation for a particular injury. This means that the experience and skills of a solicitor can affect whether you receive a higher or lower amount of damages for your injury.
The compensation you receive can be made up of two parts, called general damages and special damages. General damages are awarded for the injury or illness itself. This is the part set by the Judicial College guidelines. Special damages includes compensation for anything like earnings you have lost or expenses you have had to pay.
Each medical negligence solicitor in Stoke-On-Trent will have their own track record in securing claims. Whilst one solicitor might charge a higher fee, they may also have a better history of getting clients more compensation. Consider this when selecting a solicitor to work with.
What Claims Can Clinical Negligence Solicitors In Stoke-On-Trent Help Me With?
The clinical negligence solicitors in the Stoke-on-Trent area we work with have a wide range of experience in helping clients who have experienced medical negligence. Below are some of the common types of claims we can help with.
Dental Negligence Claims
Dental negligence claims involve anything where there has been some form of harm to a patient. This could be through performing a procedure wrongly, general incompetence, or failing to diagnose a condition. Common forms of dental negligence include removing the wrong tooth, failure to diagnose tooth decay or more serious claims such as severing a nerve.
GP Negligence Claims
When you are sick a GP will often be your first point of contact with the health service. It can be crucial that they correctly diagnose a condition and recommend appropriate treatment or make a referral. If they do not do this, you may be able to make a compensation claim. GP negligence claims can include, not referring patients to a specialist or for tests. Not taking medical history into account or not properly examining a patient. Misdiagnosis can also be a form of negligence. If you have experienced any of these, talk to Legal Expert today.
Hospital Negligence Claims
Negligence claims against hospitals can be some of the most serious forms of medical negligence claims. They may involve misdiagnosis, errors in testing or surgical errors leading to very serious, even life-threatening, consequences for a patient. We can help people who have been treated in a negligent way at the Royal Stoke University Hospital, as well as those across the country.
Medical Negligence In Stoke-On-Trent
In the table below we have collated information from the NHSLA fact-sheet, showing the number of incidents and claims made against hospitals in the Stoke-On-Trent area, as well as the total value of these claims.
| Healthcare Provider | Claims Recieved 2015/ 16 | Number of Incident 2015/ 16 | Payments Made |
| --- | --- | --- | --- |
| Staffordshire & Stoke-on-Trent Partnership NHS Trust | 20 | 0 | 308,535 |
| Stoke on Trent Clinical Commissioning Group | 0 | 0 | N/A |
To find out what your claim may be worth, talk to our experts today.
Medical Negligence Claims For Cancer
Cancer negligence claims can include late diagnosis or misdiagnosis of cancer, as well as the prescription of incorrect treatment or the failure of a doctor to diagnose the symptoms of cancer. These can be extremely serious cases with serious consequences for claimants. As such, you need a legal partner you can rely on and trust. Cancer claims can be brought against a GP, oncologist (cancer specialist), radiographer or surgeon who worked on your clinical case.
Birth Injury Negligence Claims
These claims can be brought against practitioners such as doctors, nurses or midwives. They can also be made against a healthcare trust or hospital. Claims can be made for injuries which were suffered during a pregnancy, during the birth itself or after the birth has occurred. Common birth injury claims might include stillbirths, brain damage or conditions such as cerebral palsy. Talk to the no win no fee specialists at Legal Expert today to see how our panel of solicitors can help you.
No Win No Fee Clinical Negligence Solicitors Stoke-on-Trent
At Legal Expert we work with specialist clinical and medical negligence claims solicitors, such as our personal injury solicitors who cover Stoke-On-Trent, who work on a no win no fee basis. No win win fee means that the solicitors we work with offer what is known as a conditional fee agreement. This type of contract sets out what work the solicitors is expected to do for the claimant, as well as what the expected fees can be. It sets out expected charges in the eventuality of win and no win situations. The contract will protect the claimant by removing ongoing or upfront fees. It will state that if the claim is not successful, the claimant will not be expected to make any payments.
At Legal Expert, the solicitors we work with always offer a guaranteed no win no fee service to clients. Whilst other solicitors might include extra fees or hidden charges we are always transparent with what you can expect to pay. Our panel of specialist solicitors always offer a 100% no win no fee service with no catches. We will also talk you through the contract, to ensure that you fully understand what you are signing before you do so. Learn more about no win no fee services in our guide here.
How To Make A Clinical Or Medical Negligence Claim
The first step towards making a successful compensation claim for medical negligence is to talk to the specialists at Legal Expert. No matter whether you are looking for advice and information on medical negligence claims, the claims process in general, or are ready to start your case, our team is on hand seven days a week. We can provide you with all the information and advice you need. You can talk to our team seven days a week, providing you with all the advice you need when selecting a personal injury solicitor to work with.
You can start your claim today by calling the team at Legal Expert on 0800 073 8804. You can also email our team or contact us by using our online chat widget to start talking to one of our team members now.
Helpful Links In Stoke-On-Trent
How Much Compensation Can I Claim For Medical Negligence?
Find out the compensation amounts you could claim for clinical and medical negligence.
Royal Stoke University Hospital
Newcastle Rd,
Stoke-On-Trent,
ST4 6QG
Tel:0800 073 8804
Web: www.uhnm.nhs.uk/Pages/Home.aspx