Sutton Medical Negligence Solicitors – No Win No Fee Claims Guide
On this page, you will find a guide to choosing a good team of  medical negligence solicitors to process your negligence claim for you that can cover the Sutton area. You should find plenty of information and advice, enough so that you can learn why you might be able to make a claim, and how to choose a good legal team to help with your claim.
Despite the best efforts of both the UK Government and the National Health Service, medical negligence is still a fairly common occurrence at both Government run and private healthcare facilities. Negligence can take many forms, such as:
Misdiagnosis or late diagnosis of a medical condition.
Pharmaceutical error (wrong medication or wrong dose).
Mistakes made when administering treatment.
Accidents during a surgical procedure.
Allowing a patient to come to harm through an accident such as a slip, trip or fall while during a hospital stay.
Failing to provide sufficient outpatient care.
These are just some of the shapes that negligence can take, there are, of course, many more. Any harm caused to a patient due to mistakes, errors, accidents or omissions, could be the basis of a negligence claim. However, the situation is a little more complex than this. Sometimes harming a patient is unavoidable, as part of the overall course of treatment. Chemotherapy, for example, is a very aggressive treatment that without a doubt, can harm the patient. However, if it helps to cure a more serious medical condition such as cancer, then overall, it is not considered negligence. So how do we know what type of harm would be seen as negligence?
Here are statements that define medical negligence:
The medical professional had a duty of care towards the patient.
The medical professional fails in this duty of care in some way, and causes harm to the patient.
The failure to maintain the duty of care was avoidable in some way.
These three statements must be true for a medical negligence claim to be a consideration. However, once again, things are not quite this simple. If a medical professional is accused of negligence, the accusation is evaluated by a panel of their peers, to decide whether the incident was truly negligence. If the panel agrees that it was indeed negligence, then making a claim should be quite straightforward. If they decide it wasn't then the onus is on you (and your solicitor) to prove that it actually was.
As you can imagine, making a negligence claim can be a very complex challenge, and you may like a legal firm like Legal Expert in your corner, to make sure you have the highest chance possible of having a successful claim. If you would like to know more about how we can help you with all of the stages of a medical negligence claim, please speak to one of our team on 0800 073 8804 today.
Finding The Right Medical Negligence Solicitor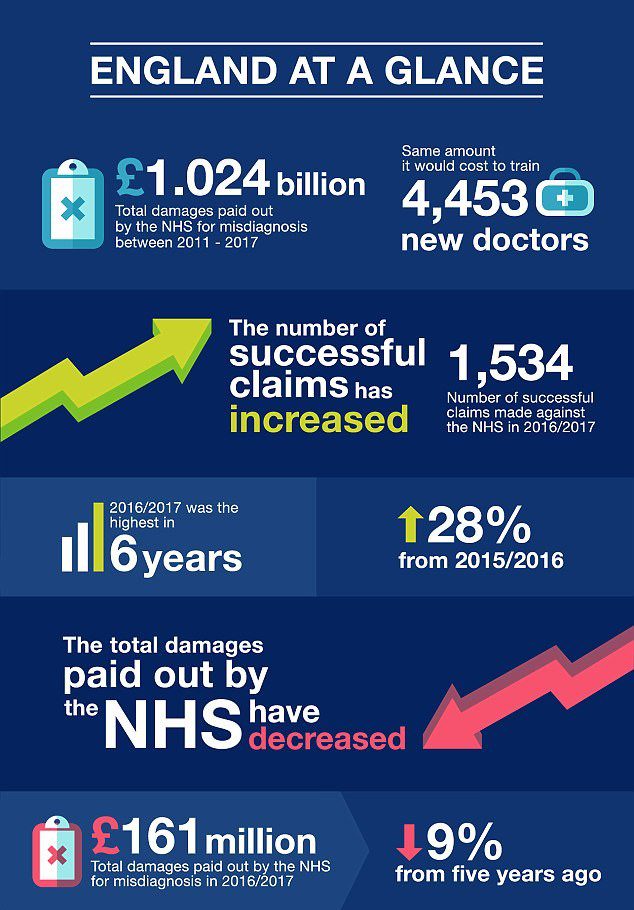 Take a look at the infographic above; it shows key statistics pertaining to NHS negligence claims in the UK. Finding the right NHS compensation lawyers to process your negligence claim is advised. Finding a good legal firm will take effort, you will need to shortlist a number of firms, then vet each one. To do this, you can ask questions such as:
Have you successfully won a claim similar to my own in the last 12 months?
Can you offer to handle my claim under a fee structure that is conditional on your success?
Can you help with additional services, such as arranging for me to have a free medical examination in Sutton?
These kinds of questions will help you sort the wheat from the chaff, and narrow your choices down. Legal Expert can help you with this though. If you speak to one of our team on the number at the end of this page, they will go over your claim with you, inform you of your legal options, and offer you a simple way to start your claim straight away.
Should I Use A Local Medical Negligence Solicitor?
There is no legal reason why you have to use a local Sutton solicitor to process your negligence claim, if you wish to you can use a solicitor of your choice no matter where they are located.  This means that you are free to use any solicitor at all.
This opens up the option of using a specialist accident and injury lawyer, such as us here at Legal Expert, to process your negligence claim. You can use a local firm if you wish, but unless they specifically focus on compensation claims, they might not be the right choice. The Legal Expert national claims service is available to people all across the UK, including Sutton. This is a simple and effective way to get the compensation you maybe entitled to. We can also arrange for you to have a free local medical examination, the results of which, will be submitted in support of your claim. The following doctors in Sutton could do this for you:
| Soran Saeed | Sutton Sport Physio, The Sports Village | Sutton | SM1 3EU |
| --- | --- | --- | --- |
| | Rose Hill Park | | |
| Salman Baig | Sutton Sports Physio | Sutton | SM1 3HH |
| | The Sports Village | | |
| | Rosehill Park | | |
| Kashif Aziz | Sutton Sports Physio | Sutton | SM1 3HH |
| | The Sports Village | | |
| | Rosehill Park | | |
| Amer Hafeez | 181 Carshalton Road | Sutton | SM1 4NG |
| Kashif Aziz | Sutton Medical Centre | Sutton | SM1 4NG |
| | 181 Carshalton Road | | |
| Salman Baig | Sutton Medical Centre | Sutton | SM1 4NG |
| | 181 Carshalton Road | | |
Reviews Of Solicitors Conducting Medical Negligence Cases
When trying to choose a solicitor, UK residents can use online reviews to help build a shortlist of prospective legal firms for their claim. If you do decide to do this, you can make a note of the following facts for each review, so that you can then compare them:
Does the review discuss a claim that is very similar to your own claim?
If the review less than a year old, so that it is still relevant?
Was the claim successful, and how much compensation was won?
Did the solicitor offer a Conditional Fee Agreement (CFA)?
How much did the solicitor take from the compensation as their fee?
Was the review positive, did the reviewer have a good experience?
Facts like this will help you compare reviews, and hopefully, choose a legal firm. However, if you simply don't have the time to go through this process, Legal Expert can help. Call us on the number at the end of this guide, and speak to one of our team. They will go over your situation with you, let you know what your legal options are, then offer you some free legal advice on how best to proceed.
Medical And Clinical Negligence Claims Our Team Handle
As a team of specialist accident and injury lawyers, Legal Expert has plenty of experience in helping claimants get the right amount of compensation for their negligence claim. We are sure we can do the same for you. We can handle all kinds of negligence claims, and have a proven track record of being very effective in succeeding.
Some types of claims are much more common than others. In the section below, we cover some of these more common claim types in more detail. However, if your claim doesn't seem to fit into any of these sections, we can still help you. All that you need to do is speak to one of our team on the number at the bottom of this guide. They will then go over your claim with you, and let you know how we can be of assistance.
Breast And Other Cancer Negligence Claims
The most common form of breast cancer negligence, and also other negligence associated with cancer, is some form of diagnostic error. Whether this is a misdiagnosis or late diagnosis. For many patients, if the cancer is caught early enough, they have a very good chance of making a full recovery. However, when treatment is delayed due to late diagnosis or misdiagnosis, the cancer doesn't get treated as quickly, and in some cases, this can lead to fatal consequences for the patient.
If the doctors dealing with your illness made a mistake with the diagnosis, then Legal Expert can assist you. If you speak to one of our team on the number at the end of this page, they will tell you how. You may also like to read this guide:
A guide to claiming for breast cancer
Birth Negligence Compensation
Negligence during the birthing process is, unfortunately, quite common in the UK. 90% of first-time mothers will suffer a birth injury of some kind. Although the vast majority of these are not caused by negligence, some are. Injuries to the baby can include cuts that leave permanent scars, broken bones, and brain damage through loss of oxygen supply during the birth.
If you or your baby were injured due to negligence during childbirth, and such injuries were preventable then Legal Expert should be able to help you to claim birth negligence compensation. Speak to one of our team on the number at the bottom of this page to find out how.
GP Medical Negligence Cases
Your GP is your first line of defence against illness. The person you trust to make critical decisions about your health. Unfortunately, GP medical negligence cases are quite common. Your GP has a tough job, they have to make the initial diagnosis for you, and then refer you to the right specialist if required. Mistakes can be made, and people can suffer because of these mistakes.
If you have been harmed due to a mistake that your GP has made, then Legal Expert should be able to help you to make a claim. Call us on the number at the end of this page and speak to one of our team. They will ask you about your situation, then recommend a course of action to get your claim started.
A guide to claiming for GP negligence
Care Home Negligence Cases
A nursing or care home is classed as a medical establishment. There are very specific standards that care homes, and their staff, must maintain at all times. When these standards are allowed to slips due to issues such as under-staffing, or inadequate staff training, residents can be harmed. If they are, then family members of the resident has the option of suing a nursing home for negligence.
Legal Expert has lots of experience with nursing home claims, and we are sure that we can be effective in processing your claim. To get started, speak to one of our team on the number at the bottom of this page.
Dental Negligence Expert Solicitors
Your dentist, as a medical professional, has the same duty of care towards you as your GP, or any other person who takes care of your health. If something goes wrong with a dental procedure and you are harmed, you will be able to make a claim. This also covers long-term effects of dental treatment, as well as mistakes made by dental nurses.
Legal Expert is a dental negligence expert, and we are sure we can help you to get the compensation that you are entitled to. Call us on the number at the end of this page to get your claim started. You may also like to read this guide:
A guide to claiming for dental negligence
Hospital Negligence Claims Advice
Most occurrences of medical negligence take place in a hospital. Either a National Health Service hospital or a privately-operated hospital. Claiming against a medical professional working in a busy hospital can be challenging. Your solicitor would have to prove beyond doubt, that negligence actually took place and such negligence had an effect on your health. Whilst visiting the hospital you will likely be cared for by a whole host of doctors, specialists and members of the nursing staff, proving which one of them was responsible for the negligence action is a tough job.
Legal Expert can help you unravel your hospital negligence claim, so that you will know who is liable, and how to proceed with trying to get the compensation you are eligible for. Speak to one of our team on the number at the end of the page to proceed with this.
Medical Negligence Statistics For Epsom And St Helier University Hospital
The table below gives key negligence statistics or the NHS Trust that is responsible for the Sutton area.
| NHS Trust | Claims (2016) | Incidents (2016) | Paid (2016) |
| --- | --- | --- | --- |
| South London & Maudsley NHS Foundation Trust | 8 | * | 236435 |
No Win No Fee Medical Negligence Compensation
Legal Expert can offer you a claims service that will help you to get No Win No Fee medical negligence compensation in a simple, effective and financially risk-free way. When you first ask us to take your claim on, we don't charge a fee. While we are processing your claim and attempting to reach a settlement, we still won't charge any fees. If we happen to be unsuccessful and don't win you any compensation at all, then you pay nothing. If we are successful though, we will deduct our fee directly from the compensation we have received on your behalf, and then pass the remainder of the money to you. If you have any questions, or would like to learn more about how our national accident and injury claims service works, please speak to one of our team on the number below. They will be happy to help.
How To Start Your Claim
If you believe you are ready to begin your claim, or you have questions about the clinical negligence claim process, then please call Legal Expert on 0800 073 8804 today. One of our team will be happy to answer any questions you have, and then talk you through our new claims process so that we can get started on getting you your compensation right away.
Helpful Links
The Royal Marsden Hospital
Downs Rd
Sutton
SM2 5PT
Tel: +44 20 8642 6011
Web: www.nhs.uk/Services/hospitals/Overview/DefaultView.aspx?id=RPY02
Opening hours: 24 hours.
Spire St Anthony's Hospital
801 London Road
Cheam
Sutton
Surrey
SM3 9DW
Tel: 02038114231
Web: www.spirehealthcare.com/spire-st-anthonys-hospital
Opening hours: 24 hours.
The Old Court House Surgery
Throwley Way
Sutton
Surrey
SM1 4AF
Tel: 020 8643 5139
Web: www.ochsurgery.co.uk
Opening hours: Monday to Friday, 7:30am to 7pm.
Benhill Dental Practice
62 Benhill Ave
Sutton
SM1 4DW
Tel: 020 8642 2887
Web: www.benhill-dental-practice.co.uk
Opening hours: Monday to Friday, 8:30 am to 5:15pm.
Edited by Melissa.