Shoreham-by-Sea Medical Negligence Solicitors – No Win No Fee Claims
On this page, you will find a full guide to selecting a competent team of medical negligence solicitors covering the town of Shoreham-by-Sea, to manage your negligence claim for you. Within it, you will find everything you need to know about why you might be able to make a No Win No Fee claim, who might be liable for compensation, and how to choose a good legal firm to help you.
Medical negligence is a surprisingly common occurrence in the UK, in both privately run and NHS hospitals and healthcare establishments. Negligence can also take place at a dental clinic, cosmetic surgery clinic, optician, etc. Typical examples of negligence could include:
Being prescribed the wrong type of medication, or the wrong dose of the right medication.
Being injured due to a surgical accident while undergoing an operation.
Being allowed to have an accident such as a slip, trip or fall while being cared for.
Having a disease or illness diagnosed wrongly, or very late.
Being administered the wrong treatment, or the right treatment incorrectly.
Not being given the correct level of outpatient care after being hospitalised.
As you can see, negligence can take many shapes and forms. However, it is important to note that not all treatment that causes harm to a patient can be considered negligence. For example, if a doctor has to re-break a bone in order to set it correctly. In this case, the harm caused was required as part of the full treatment process. The real test of whether the harm caused to a patient was done in a negligent manner, comes down to whether the medical professional failed in their duty of care. A valid cause of negligence would fulfill the following three statements:
The medical professional involved had a duty of care towards the patient that was harmed.
The medical professional failed in this duty of care in some way, and this directly caused harm to the patient.
The medical professional could have avoided failing in their duty of care by taking alternative action.
If a patient is harmed and these statements are true, the actions of the medical professional will be assessed by a panel of doctors and specialists. They will decide whether the harm caused to the patient was done so in a negligent manner. If the panel decides that it wasn't, then you and your legal team will then need to prove that it was, in order for you to successfully make a claim.
As you can see, the process of making a negligence claim is quite complex. Using the services of a competent accident and injury solicitor will increase the best chance of a positive outcome with your claim. Legal Expert can offer a wide range of specialist solicitors in the area of medical negligence. We specialise in getting claimants the maximum amount of compensation possible. Please call us on the number at the end of this guide, and one of our team will explain to you how we can help you with your own claim.
How To Get The Right Solicitors For Your Medical Negligence Claim
If you need to make a medical negligence claim such as, NHS accident compensation, you may require a good solicitor, so that you will have the best chance of winning your claim. How effective your solicitor is in processing your claim could also have a direct effect on the amount of compensation you receive. Finding a good legal team can be tough, but these three questions below should help you to vet any solicitor you are considering. If they cannot answer yes to all three, they may not be the best choice for your claim.
Do you operate under an agreement whereby you don't receive a fee unless you win me compensation?
Have you processed and won any claims similar to mine in the last 12 months?
Can you help me prepare the evidence for my claim, by arranging for a free medical examination in the wider Shoreham area?
Legal Expert can tick all of these boxes and more. We are an experienced team of specialist accident and injury solicitors, with a proven track record of winning significant compensation settlements on behalf of our clients. Speak to one of our team on the number at the bottom of the page, so that we can get started on your claim today.
Do I Need To Use A Local Personal Injury Solicitor?
Many people believe that they have a legal obligation to use a local Shoreham legal firm to process their claim. However, the answer to the question, do I need to use a firm of solicitors near me? is no, you don't, you can use any legal firm you wish, no matter where they happen to be based.
Now that you know this, you are free to consider using the services of a legal firm that works on a national level, and who specialise in helping people make an accident and injury claims. This could give you a much better chance of your claim being successful, and of receiving the most compensation possible.
Legal Expert is this kind of solicitor, we focus on compensation claims, and offer our services to people all across Great Britain, including Shoreham. We can also help you prepare for your claim by arranging for you to have a free, local medical examination. The report the doctor who examines you produces, will be submitted as evidence of your claim. All of the local doctors in the table below would be able to perform this examination for you:
| Vivek Khare | 2 Ship Street | Brighton | BN1 1AD |
| --- | --- | --- | --- |
| Ali Al-bahrani | Brighton Clinic, | Brighton | BN1 1GE |
| | MyHotel, | | |
| | 17 Jubilee Street, | | |
| DONT USE | Sundial Clinic | Brighton | BN1 3XF |
| | 111 Queens Road | | |
| Salman Baig | Sundial Clinic | Brighton | BN1 3XF |
| | 111 Queens Road | | |
| Muhammad Ather | 18a Clermont Road | Brighton | BN1 6SG |
| | 18A Clermont Road | Brighton | BN1 6SG |
| Muhammad Ather | Chalky Road, Portslade | Brighton | BN41 2WF |
Compare Solicitor Ratings And Client Reviews
One way that you can cut down on the effort required in choosing a competent legal firm to handle your claim, is to check a solicitor review website. You can use the information detailed in the reviews to build a shortlist of solicitors that might be suitable. If you do, be sure to take note of facts such as:
Whether the review is too old to still be relevant.
Whether the review has been written about a claim that is similar to your own.
Was the claim successful, and the reviewer received a compensation payment?
Did the solicitor work under a Conditional Fee Agreement (CFA) or not?
How much did the solicitor charge as their fee?
Does the reviewer recommend the solicitor, and say that they had a good experience?
Facts such as these will help you to compare the reviews you a reading, and hopefully produce a good shortlist of legal firms you could use. It will still take quite some time to go through this process though. If you would like Legal Expert to help you instead, then just give us a call on the number down at the bottom of this guide. One of our team will go over your situation with you, tell you about the legal options that you have, and then help you to get your claim started in a simple way.
Examples Of Medical Negligence Claims Which Our Team Handle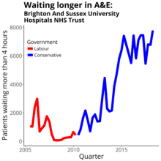 The graph shows that the waiting time at hospitals in the Shoreham area has gone up in recent years. This means that the hospitals are getting busier. The number of instances of negligence increases as the hospital gets busier, as staff are overworked, and mistakes are made. If you were to be harmed due to negligence in any way whilst attending a hospital in Shoreham, Legal Expert would be able to help you. We have a proven track record of winning complex negligence claims, from simple misdiagnosis cases, through to NHS patients who have received fatal injuries at the hands of a surgeon during an operation.
We see some kinds of claims much more often than others though, so we have covered these common types of claims in their own sections below. If your own type of claim is not covered, don't worry, we can still help you. You can speak to one of our team on the number at the end of the page, and explain how you have come to harm. They will then let you know how we can help you with your claim.
Misdiagnosed Cancer Medical Negligence Claims
The vast majority of cancer negligence cases are due to either late diagnosis or misdiagnosis of the patient's medical condition. These kinds of mistakes are very serious for cancer patients, as even a slight delay in receiving treatment can mean the difference between life and death.
If your illness has been wrongly diagnosed, or diagnosed late, Legal Expert can help you to claim. Just call us on the number at the end of this page, and one of our team will be able to get started on your claim right away. You might also find this guide to be useful:
A guide to claiming for the misdiagnosis of cancer
Birth Injury Compensation Claims
Birth injuries to a mother are quite common during childbirth. For first-time mothers, around 90% of them will be injured in some way. Of course, most of these are natural side effects of giving birth, and are not caused by negligence in any way. However, some are. It is injuries to the newborn that can be the most serious of all, especially those that will affect the child for its entire life.
Legal Expert has helped many people to make birth negligence claims successfully. We are sure that we can do the same for you. Speak to one of our team on the number at the end of this guide, so we can get started on your claim today. You may also find this guide is of help:
A guide to claiming if a midwife has been negligent
General Practice (GP) Negligence Claims
We all have to trust our GP to do what is right for us, and to make the best decisions possible about our health. This means that when a GP does make a mistake, it can often go undiscovered for quite some time. Especially if the GP has not referred the patient for additional treatment.
If your GP has made a mistake that has harmed you, then Legal Expert can help you to make a medical negligence claim. Call us on the number at the end of this page, and one of our team will help to get your claims started. You might also find reading this guide to be useful:
A guide to claiming if your GP has been negligent
Nursing Home Negligence Compensation Claims
Every nursing home, as well as all of its staff members, are legally obligated to provide every resident with a minimum of care that has been set out under UK legislation. When this level of care is allowed to slip for some reason, for example, due to under-staffing or through employing insufficiently trained care workers, then a reason to make a nursing home negligence complaint would exist.
If you have a loved one staying in a nursing home, and they have come to harm in some way, Legal Expert can help you to make a claim for them. You can speak to one of our team on the number at the bottom of this page to proceed. You can also read this guide, which may be of additional help:
A guide to claiming for negligence at a care home
Dental Malpractice Claims
Your dentist, as well as anyone else who works at the dental practice, has exactly the same duty of care towards you as any other medical professional would. This means that if your dentist does anything at all which causes you harm in some way, you could have a valid reason to make a compensation claim.
If you are unsure of whether you do have a valid claim or not, please speak to the Legal Expert dental negligence team on the number at the bottom of this page. They will let you know if they think you can claim, and then help to get your claim started. You can also take a look over this guide:
A guide to claiming if your dentist has been negligent
Hospital Negligence Claims
A large percentage of the negligence claims we help people with here at Legal Expert, are for harm that has been caused to a patient whilst attending hospital. This is either as an outpatient, or while staying in hospital to be treated. Proving just what happened in these claims can be tricky, as the patient will have been cared for by a number of different medical professionals. The best hospital negligence advice we can give, is that you try and document the timeline of your hospital visit, so that you can highlight exactly where and when the negligence took place. If you call one of the Legal Expert team on the number at the end of this guide, they will be happy to help you do this.
Medical Negligence Claims Statistics For The Coastal West Sussex Clinical Commissioning Group
Below, you will find a table that shows key data regarding clinical negligence in 2016, and the NHS trust responsible for the Shoreham area.
| NHS Trust | Claims (2016) | Incidents (2016) | Paid (2016) |
| --- | --- | --- | --- |
| Brighton & Sussex University Hospitals NHS Trust | 69 | * | 13497663 |
No Win No Fee Medical Malpractice Claims
Legal Expert can help anyone across Great Britain, including Shoreham, to make No Win No Fee medical claims. When we first start working on your claim, we charge no fee. As we process your claim, we won't charge a fee. If we fail to win compensation for you, we still won't charge a fee. In fact, the only time a fee applies is when we have received a compensation payment for you. We will then take our fee from the payment received, and then pass the rest to you.
Contact Us To Start Your Claim
Have you been injured by a medical professional in some way? Do you believe that you have a valid reason to make a clinical negligence claim? If so, call Legal Expert on 0800 073 8804 now. One of the clinical negligence team will be ready and waiting to talk you through our new claims process, so that we can get started working on getting you the compensation you are entitled to straight away.
Local Healthcare Services And Helpful Resources
Southlands Hospital
Upper Shoreham Rd
Shoreham-by-Sea
West Sussex
BN43 6TQ
Tel: 01903 205111
Web: www.westernsussexhospitals.nhs.uk/our-hospitals/southlands-hospital
Opening hours: 24 hours.
BMI Goring Hall Hospital
Bodiam Avenue
Goring-by-Sea
West Sussex
BN12 5AT
Tel: 01903 506699
Web: www.bmihealthcare.co.uk/hospitals/bmi-goring-hall-hospital
Opening hours: 24 hours.
Harbour View Healthcare
Shoreham Health Centre
Pond Road
Shoreham-by-Sea
BN43 5US
Tel: 01273 466052
Web: www.harbourviewhealthcare.com
Opening hours: Weekdays, 9am to 5pm.
Quality Dental
Church House
29 East St
Shoreham-by-Sea
BN43 5ZD
Tel: 01273 462 277
Web: www.qualitydentalgroup.co.uk/shoreham-by-sea/location
Opening hours: Weekdays, 9am to 5pm.