Shrewsbury Medical Negligence Solicitors No Win No Fee
Medical Negligence Solicitors in Shrewsbury
People put their trust in doctors, nurses, clinicians, dentists and care home staff every day. These people have a responsibility, a duty, to give us a good standard of care according to the training and knowledge they have gained as well as the protocols that have been set out for them. If they do not deliver this care and mistakes are made or protocol is not followed, and you suffer as a result of this, then you could be left with injuries that range from those that can be fixed, to illnesses that could cause you to lose your life requiring solicitors in Shrewsbury to fight a case on your behalf.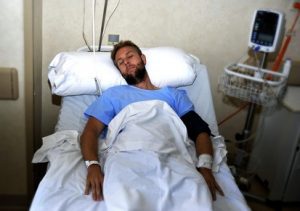 It is not always just physical effects that medical negligence can cause, either. Emotional and mental health can also be affected by what is seen by some patients as a breach of trust they had in the professional/s handling their care. This can leave people fearful of getting medical help in the future, amongst other issues.
It is not only the physical and mental health that can be affected however. Medical negligence can have a highly adverse financial effect on a person and their dependents. This is why medical negligence claims in Shropshire and across the country occur. Medical negligence solicitors in Shrewsbury, Birmingham, Manchester, and everywhere else in the country are working tirelessly day after day to secure compensation for patients affected by a breach in the duty of care that medical staff have to their patients.
Here at Legal Expert, we know medical negligence inside out. We have helped clients that have had claims ranging from dental negligence to care home and hospital negligence start the process to get the compensation that they need to move on with their life. We can provide solicitors covering Shrewsbury, as well as all across the UK.
Finding the Right Solicitor
Getting the right solicitors in Shrewsbury is paramount to settling your claim at the maximum level. Choosing someone to act on your behalf in such a serious situation calls for some research to be done before a choice is made. There are several different ways of going about this, and we have listed some ideas below:
Talk to people you know, whether friends, family, co-workers or acquaintances – who have they used? Did they get a good service? Were their claims similar to yours?
Read online reviews – But do remember that not every case is the same, so be sure to look for case studies as similar to yours as you can.
Talk to Legal Expert – Not only can we help to find out whether you'd be likely to have a valid claim, but we can also provide information on NHS complaints and compensation and on the solicitors covering your area – allowing you to make a fully informed decision.
Best Solicitors Near me
When you're looking for a solicitor, you're likely to want to search for 'best solicitors near me' but this isn't necessarily the wisest choice. The nearest solicitor to you may not have the experience and knowledge needed to properly fight your case, and this could have an effect on the compensation you receive. These days, it is really not necessary to have a local solicitor for your case, and the best one for you may be in another county in the UK. Luckily, Legal Expert can provide experienced solicitors covering your area that have experience in this sector of compensation claims.
Solicitor Reviews
People these days leave reviews if they have experienced a service that was good or bad, so finding solicitor reviews to read before making a choice is a wise decision. However, you should always look to back any reviews up with more information on the solicitors you choose. We can certainly help with that, as we have a wealth of additional information on the solicitors we can provide that cover your area.
Claims our team covering Shrewsbury and Shropshire can cover
A huge variety of incidents can happen while you are under the care of a clinician which is why you need to be using a solicitor that knows the type of claim you're pursuing inside out. Legal Expert can help with this, by providing a solicitor to cover the specific claims type you are looking to put forward. Some of the most common incidents are listed below, but we can also cover cases outside of this remit so do not forget to call us if you are unsure as to whether we can help – we are sure we can.
Making cancer medical negligence claims
One of the most worrying medical conditions these days is cancer, which is why getting the right diagnosis and treatment early can make all the difference to the prognosis and the outlook of the patient. Cancer medical negligence claims are more common than you would think, and the seriousness of these types of claims cannot be underestimated. Common claims may cover:
Surgical errors
Late/missed diagnosis
Chemotherapy mistakes
Treatment protocol not followed
Whether your claim falls under the above categories or not, we are sure to be able to help put you in touch with the solicitor that best suits your requirements.
Making Birth Injury Negligence Claims
Medical negligence at birth can have horrendous consequences, which are not limited to the health of the child. Whether the mother or child have suffered ill-health or injury during the birth because of something medical staff have done incorrectly or not done at all, then this can result in anything from cerebral palsy claims to stillbirth negligence cases, to pre-eclampsia claims and tear injuries to the mother.
The team we have on hand to take your call will listen carefully to your story with sympathy and compassion. We know how hard this time can be and we will do all we can to ensure that we provide the greatest of care and the best solicitor possible to handle your case.
Making GP Medical Negligence Claims
A GP is usually the person we see first when we become ill or injured. However, it is crucial that our GPs provide the right advice/medication/referrals at this point, to ensure we get the right care. If they fail to do so, their inaction or incorrect action can be classed as negligence. We can provide solicitors that cover Shrewsbury GP surgeries, both private and NHS in order to fight your claim.
Making Care Home Negligence Claims
The choice of a care home for a loved one is almost always an agonising decision, but if the standard of care given is not up to scratch, this can cause not only physical issues but emotional and mental trauma as well. In extreme cases, this can even lead to the death of the person we entrusted into the care of others. Care home negligence cases can range from the lack of control of an infection, failure to look after a primary need, or even lack of supervision leading to falls. If your loved one has been unfortunate enough to have suffered negligence while in a care home, then Legal Expert will help you to fight their case for them.
Making Dental Negligence Claims
Whether you're having cosmetic dentistry in a private clinic or an extraction in an NHS clinic, when dentistry goes wrong it can have a marked effect on both the oral health and the confidence of the patient – after all, our smile is one of the primary things people notice when they meet us. Dental negligence claims UK wide are being pursued each day, and we can help you with yours. Whether you have suffered poor infection control, errors with a filling, root canal or extraction or another dental mistake, you should have someone on your side to fight your corner, and we can help with that.
When is a hospital negligent?
When is a hospital negligent? Simply put, if they fail to provide you with the care that you deserve. If a hospital has failed you in any of the following ways, then you should be able to pursue claims for compensation.
Transfusion of blood or products errors
Errors during surgical procedures
Incorrect medicines dispensed or prescribed
Late or missed or misdiagnoses
Of course, there are many more errors that can be made in a hospital, and if they have happened due to negligence, then Legal Expert can help you claim, both against private hospital and the NHS.
Statistics for Medical Negligence Claims Against the Shrewsbury and Telford Hospital NHS Trust
Claiming against the NHS is something that happens an awful lot more than you would think, and to illustrate this fact, we have provided below some information surrounding claims made against the Shrewsbury and Telford Hospital NHS trust in the year 2015/16. While this covers only the NHS, private claims can also be made if you have suffered negligence in a private clinic, hospital or care home.

| Name of the Trust | Claims Made | Incidents Reported | Payouts £ |
| --- | --- | --- | --- |
| Shrewsbury and Telford Hospital NHS Trust | 57 | * | 11,085,465 |
No Win No Fee Negligence Claims
Sadly, many patients are left financially worse off initially after an act of medical negligence. Time off work, medical and travel costs, as well as the care people might need at home can put financial strain on any household. This is why many people appreciate the fact that they can use No Win No Fee negligence claims solicitors to fight their case. This way, they would not put any funds upfront to begin the process, or pay any money out in the event that the case was lost. This risk-free approach is something Legal Expert are happy to help provide more information on, and we can also provide you with a solicitor that works on this basis.
Start Your Claim Today
We can provide solicitors covering Shrewsbury and Shropshire for your case should you wish to dial 0800 073 8804. We can also provide answers to any questions not covered on this page. If you prefer email, then info@legalexpert.co.ukis the address, or you can fill in a form online. There is rarely a case we cannot help with, so to get the help you need, simply get in touch.
Helpful Links
More information on birth injuries
Claims for birth injuries have their own guide on our site – click the link above to read more about this complex area of the law.
Protocol Restrictions for Legal Bills
Read about the limits on legal bills for claimants of medical negligence here.
NHS Evidence surrounding Birth Injuries
NICE offer information on injuries during birth.
Private and NHS Services in the Shrewsbury Area
NHS Hospital
Royal Shrewsbury Hospital,
Mytton Oak Rd,
Shrewsbury,
Shropshire
SY3 8XQ
Tel: 01743 261000
Web: www.sath.nhs.uk
Private Hospital
Shrewsbury Hospital
Longden Road
Shrewsbury
SY3 9DP
Tel: 01743 817 842
Web: www.nuffieldhealth.com/hospitals/shrewsbury
GP
Shrewsbury Road Surgery
Shrewsbury Road,
Forest Gate,
London,
E7 8QP
Tel: 0208 586 5111
Web: www.shrewsburyroadsurgery.co.uk/Home
Dentist
New Park House Dental Centre
New Park House
Brassey Road
Shrewsbury
SY3 7FA
Tel: 01743 231001
Web: www.nphd.co.uk