Kettering Medical Negligence Solicitors No Win No Fee
Seeing a medic is often something people see as an inconvenience, and no one wants to feel unwell or hurt for longer than necessary. However, sometimes seeing a medical professional can be the thing that causes us to deteriorate or become injured, and if this is the case and the professional that has been charged with your care has been negligent in their actions, they have failed to operate within the duty of care that they have for you. This failure can lead to the victim of the negligence – whether that is you or a loved one – being able to lodge a claim for compensation with the help of solicitors in Kettering.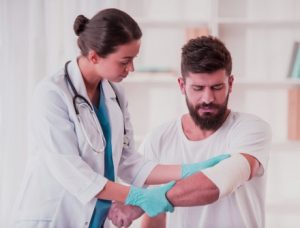 The ramifications of negligence in a clinical setting can be far reaching and extremely serious, even leading to patient death in some cases. Not all consequences affect a person's physical state, however. Mental and emotional trauma can be as devastating as any physical injury and should be taken into account when pursuing a medical negligence case.
When people ask 'what is a clinical negligence claim'?, they are not always asking what constitutes a claim, they are trying to ascertain what clinical setting negligence can happen in. It is not just a GPs surgery or hospital that can trigger a claim; they can occur in NHS dentists, private clinics, orthodontists, care home and nursing homes, to name but a few settings. This is why it is important to get legal advice if you feel that someone has let you down in your treatment, leading to further or exacerbated health problems or injuries. In this guide, we aim to explain how medical claims come about, why it is important to get solicitors in Kettering you can rely on in this stressful time, and what types of claims we can help with.
How to choose the right solicitor for your case
A medical negligence case can be complex, but with the right solicitors in Kettering by your side, the process can be made so much easier. Before considering hiring your solicitor, you should take the time to do some research, as the right decision at this time can not only help make the process easier, but can also maximise the compensation award you receive, allowing you to concentrate on getting better and moving on without further financial burden. If you have family, or even colleagues that have used a solicitor before, you could ask them for recommendations. However, do make sure it is for the same type of case. Family law or conveyancing law experience is highly different to personal injury and medical negligence, so you will need a solicitor that has specific experience in this area of the law.
Read reviews of Solicitors covering the Kettering area
A solicitor review UK website might seem at first the perfect place to make a decision on what solicitor to use, but you should think very carefully before using this as your only source of information. Some reviews can be misleading, and if you do not know the specifics of the case, you could make the wrong decision based on the reviews you read. While they can be helpful in some cases, always look to do further research on the solicitors you are looking at in order to get as full a picture as you can of what they offer. At Legal Expert, we have a wealth of information on the solicitors we can provide, allowing you to be furnished with the specifics you need in order to be informed when making your decision.
Do I have to use a local Kettering medical negligence solicitor?
You may be thinking 'A solicitor in my area would be best, because I would not have to travel too far to see them'. However, this is not necessarily the case. Sometimes, the best solicitors for you are not based in your local area but can cover claims across the UK, and this includes in the Kettering area. This may, you think, come with communication issues and you'd have to make long trips to visit them. However, this is not the case at all. Most of the processes required in a medical negligence claim can take place via post, email, over the phone or locally to you, no matter where in the UK your solicitor is based. Legal Expert can, however, provide you with a solicitor covering the Kettering area that is experienced and knowledgeable in claims like yours who will fight for your right to compensation.
Claims our medical negligence team can conduct in Kettering
There are millions of different medical conditions in the world, and types and severities of injuries, and therefore there are many many ways in which things can go wrong in a clinical setting. If you are wondering whether Legal Expert can help with a claim specific to you, it is very likely that we can, as we cover all types of medical negligence cases. Here, we break down into categories the most common medical negligence claims cases we see, but if yours isn't in this list, we will likely be able to help with it, so do call us to check.
Hospital Negligence Claims
Hospital negligence cases UK wide demand investigation as this is perhaps the only way to improve protocol to ensure that more patients don't suffer the same problems as you have had. Whether it is NHS medical negligence claims, or private hospital claims, Legal Expert can help make the claims process easier, by providing you with a solicitor that has experience and knowledge of pursuing these kinds of cases. We can cover claims against the hospitals listed at the end of this guide, or anywhere else in the country, covering situations such as:
Transfusion issues
Incorrect diagnosis of an illness or an injury
Later diagnosis of an injury or illness
Injury sustained due to incorrect medical advice
Errors in surgery
Errors in minor procedures
Failure to monitor a patient
Incorrect procedures performed
Incorrect surgical site
And many more. It is important to remember that at Legal Expert, we cover claims against private hospitals as well as NHS, and these come with their own complexities, as private practices sometimes have different protocol than NHS entities do. You would be wise to ensure that your solicitor, has experience of making claims against private practices and knows what is involved.
Dental Negligence Claims
Dental negligence damages can be claimed for a variety of different reasons. Perhaps your dentist left a bleaching substance on your teeth for too long that resulted in damage to the tooth, or perhaps they were too rough with an extraction, leading to injury. Maybe they failed to spot signs of an infection, or perhaps the orthodontist incorrectly fitted braces, leading to oral damage. Whatever the reason, Legal Expert can provide you with a dental negligence solicitor covering Kettering that can help redress the balance, by pursuing a claim against your dentist for compensation.
GP/Doctor Negligence Claims
We visit our local GPs at the first sign of injury or illness and usually that initial 10-minute appointment is long enough for a GP to decide on the next course of action for our illnesses and/or injuries. However, if your GP has been negligent because they:
Prescribed the wrong dosage or the wrong medicine
Injured you in a minor procedure
Failed to diagnose something that should have been diagnosed based on the facts they had
Incorrectly diagnosed you leading to incorrect treatment
or any other reason, this could lead to your injuries or illnesses becoming much worse, or developing unchecked. This can be very dangerous indeed. Here at Legal Expert, we have the ability to provide solicitors covering your area either for the GP mentioned at the end of this guide, or anywhere else in the area.
Cancer Negligence Claims
A devastating diagnosis in many cases, cancer is a frightening thing to face. However, if you have found out in the latter stages of the illness that you should have been diagnosed earlier, or you have suffered problems such as incorrect surgical intervention, incorrect dosage of chemotherapy, or something else, it can make facing cancer a whole lot worse. Cancer negligence claims are something that we at Legal Expert are well versed in, and whether you want to speak to a solicitor straight away or would like some more advice before you do, then we can help. We have a cancer negligence team covering the Kettering area that will be glad to make sure your claim is dealt with professionally and sensitively.
Nursing Home Negligence Claims
Inability to support a primary care need of a patient, incorrect dosage of medication given, or pool infection control – these are allnursing home negligence fails that you hope will never happen to you or a loved one. However, in some cases they do occur, and the consequences can not only affect physical health but mental health too. If you have been caused harm due to the negligence behaviour of those who were supposed to be caring for you, then the team at Legal Expert can assist. We will provide a solicitor for your area that can help you achieve the maximum compensation possible for your injury/illness.
Birth Negligence Cases
Birth negligence cases can often be emotional and highly traumatic for all concerned. Whether it is the mother or the baby that has been affected by childbirth negligence, or even both, Legal Expert can help make claiming less stressful by providing a solicitor that has extensive experience in childbirth claims. Whether negligence occurred via:
Lack of monitoring of baby
Lack of monitoring of mother
Failure to spot pre-eclampsia
Failure to act swiftly in cases of foetal distress
Caesarean section errors
Or any other reason, we believe you should be duly compensated for lack of action or action that has caused harm to mother or baby. We also understand that the physical effects are not the only ones that can be caused by birth trauma – mental and emotional effects can last for long after any physical scars have healed and we will work hard to ensure that your claim is handled with the least amount of stress possible for you.
Statistics for Medical Negligence Claims Against Kettering General Hospital NHS Trust
Below, we have compiled some data issued by the NHS that might provide you with some insight into the number of claims in the Kettering area. This data covers 2015/16. As you can see, you would not be alone in claiming against Kettering General Hospital NHS Trust. For comparison, we have also included other nearby trusts to give you the bigger picture.

| Trust Concerned | Payouts 2015/16 | Claims | Incidents |
| --- | --- | --- | --- |
| Kettering General Hospital NHS Foundation Trust | 4,921,756 | 48 | 5 |
| Northamptonshire Healthcare NHS Foundation Trust | 304,165 | 12 | * |
| Northampton General Hospital NHS Trust | 7,694,776 | 47 | 7 |
Kettering No Win No Fee Solicitors
To give you an idea of what no win no fee clinical negligence cases involve, we feel it is important to describe why we think they work so well. After medical negligence occurs, it is likely that a person will have had a drop in income if they were working at the time of the incident. Worse still, it is likely that more time off work could ensue if the damage or illness is serious. At this point, finances are already stretched, and it is likely people would not immediately think they could afford legal fees. But this is not necessary. In no win no fee cases, there are no costs that have to be paid to a solicitor before they begin your case. Instead, part of the compensation will go to pay legal fees, and you will receive the rest. In the unlikely event no compensation is forthcoming, then you will not receive a bill for legal fees either.
The first Steps
The best thing to do even if you are not sure that you have a case is to call 0800 073 8804 where our team of Legal Experts are ready to talk over what has happened to you. Alternatively, if you'd like to email your details, you can do so at info@legalexpert.co.ukor fill in our contact form online.
Useful Links
If you need to read more on claiming, then our page should help.
If you would like to view information on claims calculators, then view this page.
Here you can find statistics that the NHS has put together on various subjects.
Local Kettering Clinical Services
NHS Hospital
Kettering General Hospital,
Rothwell Road,
Kettering,
Northants
NN16 8UZ
Tel: 01536 492000
Web: www.kgh.nhs.uk/welcome
Private Hospital
Woodland Hospital
Rothwell Road
Kettering
Northamptonshire
NN16 8XF
Tel: 01536 414515
Web: www.woodlandhospital.co.uk
GP
Weavers Medical
Prospect House
Lower Street
Kettering
NN16 8DN
Tel: 01536 513 494
Web: www.weaversmedicalcentre.co.uk/practice-information