Greenwich Medical Negligence Solicitors – No Win No Fee Claims Guide
On this page, you will find a guide that can assist you if you have suffered due to medical negligence within the Greenwich borough. It will guide you through the complex decision of choosing the right medical negligence solicitor for your case. It should contain all of the information and advice you will need, to learn firstly why you may be able to make a claim, and secondly, how to select a good legal firm to handle your claim for you.
First of all, we need to take a look at what medical negligence actually is. Negligence can take many forms, including medical mistakes, medical accidents, omissions and lack of diligence. For example:
Allowing a patient to become the victim of an accident whilst being cared for in a medical facility.
Prescribing the wrong medication, or the wrong dose of the right medication.
Accidents that cause an injury to a person undergoing a surgical procedure.
Errors made during anaesthetic being administered.
Administering the wrong treatment.
Misdiagnosing a medical condition or diagnosing it late.
Failing to provide a person with sufficient outpatient care.
As you can see, there are many ways that negligence can manifest. However, simply harming a patient is not considered negligence in every case. Patients can sometimes experience pain during a medical procedure or as part of a whole course of treatment. For example, breaking a bone and resetting it so it can heal properly. The real deciding factor is why the harm came about. In a textbook case of negligence, the following three statements must all be true:
The medical professional involved, has a duty of care towards the patient who was harmed.
The medical professional failed in their duty of care, and this failure was the direct cause of the harm the patient suffered.
The medical professional could have avoided failing in their duty of care by taking alternative action.
If the above is true, then negligence may have occurred. If a medical professional is then accused of negligence, a panel of impartial doctors will review the complaint, and then make a decision whether the incident was indeed negligent, or not. If it is agreed that it was, a simple route to making a claim will exist. If the panel rules that it wasn't negligence, then it will be up to you and your legal firm to prove otherwise, if your claim is to be successful.
As you can clearly see, the answer to the question, what is clinical negligence? Is complicated. The grounds for making a clinical negligence claim are complex, and you may want to appoint an experienced legal team to help you, for you to have the best chance of making a successful claim. Legal Expert has helped many people get the compensation they were entitled to in negligence cases, and we can do the same for you. Speak to one of our team on the number at the end of this guide, to get your claim started today.
How To Find The Right Medical Negligence Solicitors For Your Claim
Finding the right medical negligence solicitors to handle your claim may take some effort. First, you will may wish  to compile a list of legal firms that might be suitable, then you may want to vet each one, before making a choice. When you are vetting those on your list, these three questions should help:
Have you been successful in winning compensation in a claim similar to my own in the last year?
Are you able to arrange for me to have a locally done medical examination for free, to diagnoses the effect of the misdiagnosis?
Are you able to process my claim under an agreement whereby your fee is conditional on you winning compensation for me?
Solicitors who are unable to give definite answers to these questions may lack in experience. Legal Expert can answer yes to all of these questions. All you need to do to get your claim started is pick up the phone and speak to one of our team on the number at the end of this guide.
Should I Use A Local Clinical Negligence Solicitor?
Many people believe that there is some kind of legal rule, that means they have to use a local team of solicitors in Greenwich to handle their claim. This is a false assumption. You are allowed to use any team of solicitors you choose; their location does not matter. So, although it might be easy to walk into a local solicitor's office, you don't have to use a local firm unless you want to.
Now, with this in mind, you are free to look at all of your other options. For example, you can use a solicitor that specialises in accident and injury claims. This kind of legal firm would probably give you a better chance of winning your claim, and also a better chance of getting the maximum compensation for your case. For example, the Legal Expert claims service is available to people of Greenwich and all across Great Britain. We focus on getting the victims of clinical negligence the maximum level of compensation possible for their case. To begin with, we can arrange for you to be examined for free, by an impartial doctor in Greenwich. The results of this medical examination would be submitted in support of your claim. The closest doctor who could do this for you could be:
Soran Saeed
Holiday Inn Express
Bugsbys Way
Greenwich
SE10 0GD
Finding The Right Solicitor With Reviews
One good way to cut down on the effort needed to locate a good solicitor for your claim, is to search for online reviews. To find the right solicitor, review sites are a good starting place to make a shortlist of potential legal firms. If you decide to try this, make sure that you note down facts such as these below, so that you can compare them at a later stage:
Is the review good or bad?
Did the reviewer list good and bad points of dealing with the solicitor?
Was the claim successful?
Was the claim processed under a Conditional Fee Agreement (CFA)?
How much did the solicitor expect to be paid for their services?
Is the review both new enough, and similar to your own claim to be relevant?
Checking facts such as these will simplify the decision process, but it will still take you time to locate and compare reviews. If you simply cannot spare the time needed to go through this process, Legal Expert can help you. Call us on the number at the bottom of this guide and speak to one of our team. They will go over your situation with you, let you know what your legal options are, and then once they know enough about your claim, will offer you some free legal advice on how to proceed.
Medical Malpractice Clinical Negligence Claims Our Team Conduct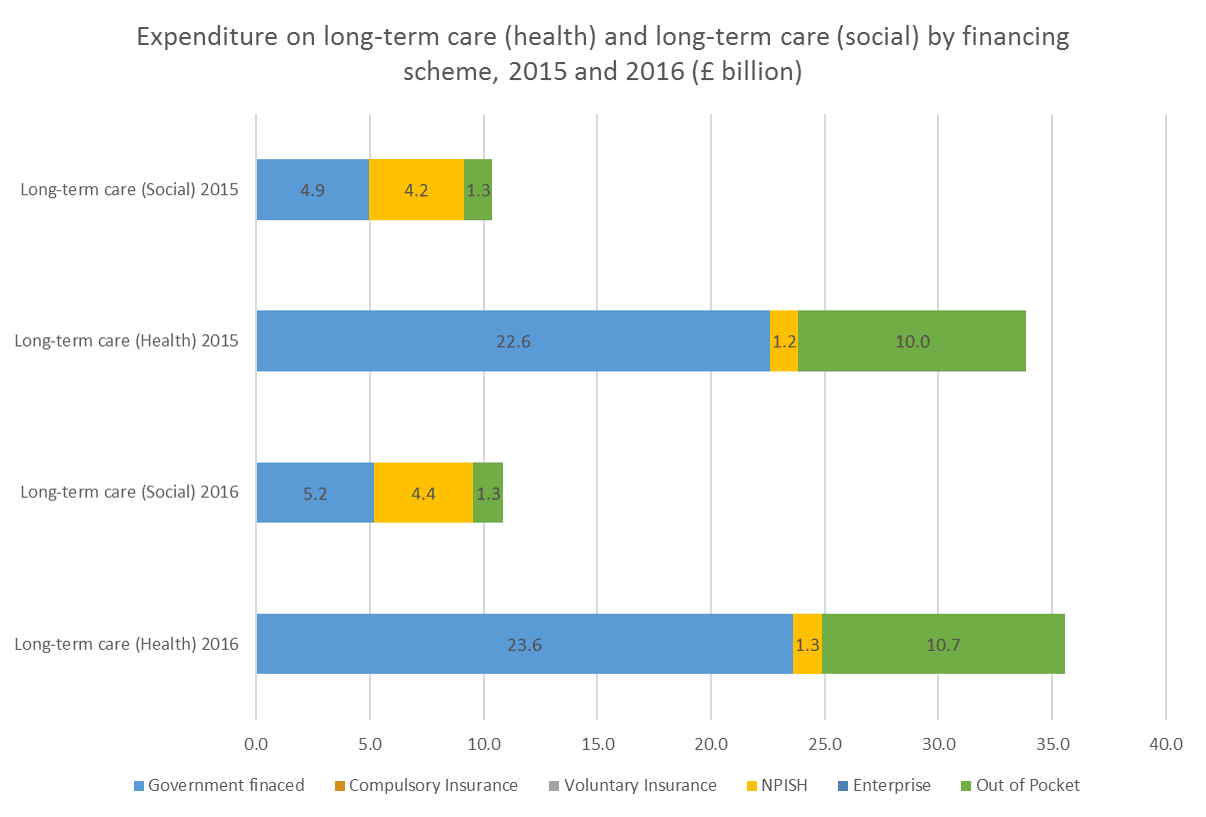 The graph above shows the cost of long-term health care in the UK, and how this cost is met. Any of the people who are in long-term care could become the victims of clinical negligence, due to a wide range of circumstances.
Legal Expert, as an experienced team of negligence lawyers, can help you with any type of personal injury claim you may want to pursue.. However, there are certain types of claims we see more frequently than others. We have covered these types of claims in their own sections below. The takeaway here though, is that no matter how you have been harmed by a medical professional, we can assist you if it is considered negligent. Just explain to one of our team what your situation is on the number at the end of this page, They will then let you know how best we can be of help.
Cancer Medical Negligence Claims
Breast cancer medical negligence as well as misdiagnosis or wrongful diagnosis of other forms of cancer, are quite a common type of negligence. Cancer is a medical condition that must be treated as soon as possible, to give the patient the best chance of recovery. So, when treatment is delayed because the cancer has either been a) wrongly diagnosed, or b) diagnosed later than it should have been, the repercussions for the patient could be deadly.
If the doctor treating you for cancer has caused such a delay in getting you the treatment that you needed, then Legal Expert should be able to help you make a claim. Speak to one of our team on the number at the bottom of this page to learn how. You might also like to read this guide:
A guide to making a claim for cancer misdiagnosis
Medical Negligence Birth Trauma Claims
Childbirth injuries, especially to the mother, are very common. Statistics show that 9 out of 10 first time mothers will suffer a childbirth injury of some type. Of course, not all of these are caused by medical negligence, but some are. Birth injuries to the mother can include damage to the pelvis, or the pelvic floor muscles, vaginal tears and bruising to the thighs. Injuries to the new-born can be far worse, including severe brain damage due to oxygen being cut off during childbirth.
Legal Expert can help you to claim for all types of medical negligence, birth trauma included. Speak to one of our team on the number at the end of the page to start your claim today. You may also like to read this guide:
A guide to making a claim for midwife negligence
GP Medical Negligence Claims
Your GP is the person you trust to make all the decisions about your health. They are the first person you visit when you are feeling unwell, and their initial diagnosis will decide what treatment you receive. If your GP makes a mistake, for example, diagnosing you with a minor illness, which turns out to be something much more serious, you could make a claim if this has had an ill effect on your health.
Legal Expert has helped many people to claim against their GP, and we are sure that we can do the same for you. Speak to us on the number at the end of this guide to proceed. You may also like to take a look at this guide:
A guide to making a claim for GP negligence
Compensation For Care Home Negligence
A care home and its staff, has the same duty of care as any medical establishment to care for its residents. When the standard of care slips for some reason, such as poorly trained care staff or simple under-staffing, a resident may be harmed. If they are, then either the resident or their family could make a negligence claim.
Legal Expert can help with such claims. If your loved one is a resident in a care home, and they have been injured or become ill due to negligence, we can assist. Talk to one of our team on the number at the end of the page to see if you have a valid claim for compensation for care home negligence. You could also check out this guide:
A guide to making a claim for care home negligence
Compensation For Dental Negligence
Your dentists, as well as the dental nurses and the dentist's anaesthetist, all have a duty of care towards you. If they do something that causes you harm, then a reason to make a claim could exist. This also covers long-term dental issues that were caused by the inept administration of dental work in the past.
The dental negligence team Here at Legal Expert can help you with dental negligence claims. If you speak to one of them on the number at the end of this page, they will explain how they can be of help. You may also find this guide useful:
A guide to making a claim for dental negligence
Medical Negligence In A Hospital
A hospital negligence definition, could be any time that any one of the hospital staff, causes harm to a patient in a way that could have been avoided. This would apply to both private and NHS hospitals. As one would imagine, it is in a hospital that the majority of incidents of negligence take place. Simply due to the volume of patients they deal with every day, and the fact they are often understaffed and overworked.
Legal Expert frequently assists people to make a claim against a hospital for negligence. We can do exactly the same for you. If you call the number at the end of this page, you can speak to one of our team. They will explain how we can be of help, and assist you to get your claim started right away.
Lewisham And Greenwich NHS Trust Medical Negligence Statistics
The table below shows the number of claims for medical negligence, and the amount paid by the NHS Trust that covers the Greenwich area.
| NHS Trust | Claims (2016) | Incidents (2016) | Paid (2016) |
| --- | --- | --- | --- |
| Lewisham & Greenwich NHS Trust | 82 | 7 | 19440816 |
No Win No Fee Neglect And Negligence Compensation
Legal Expert can help you to make a No Win No Fee hospital negligence claim. When we first start working on your claim, there is no fee. As we process your claim and try to reach a settlement, there is no fee. And if we fail to win you any compensation, there is no fee. The only time we charge a fee, is when we have received a compensation payment for you. At this stage, we will take our fee from the moneys received and then give you the rest. To find out more about how our claims service works, call us on the number below.
Make Your Claim With Legal Expert
Do you think you have a valid reason to make an NHS neglect compensation claim? Have you been harmed by a medical professional, but are unsure whether you have a reason to claim or not? No matter what questions you have, speak to one of the Legal Expert team on 0800 073 8804 today. They can answer your questions for you and help to get your claim underway.
Helpful Local Medical Services And Resources
University Hospital Lewisham
High Street, Lewisham
London, SE13 6LH
Tel: 020 8333 3000
Web: www.lewishamandgreenwich.nhs.uk
Opening hours: 24 hours.
BMI The Blackheath Hospital
40 – 42 Lee Terrace
Blackheath
London
Greater London
SE3 9UD
Tel: 020 8318 7722
Web: www.bmihealthcare.co.uk/hospitals/bmi-the-blackheath-hospital
Opening hours: 24 hours.
Medical Negligence Compensation Amounts Guide
View the medical negligence calculator page.
Edited by Melissa.