Huddersfield Medical Negligence Solicitors No Win No Fee Claims Guide
Patients who are using healthcare services across the country should always expect a very high level of service provision, whether from the NHS, or a private provider. Patients are entitled to a minimum standard of care from the managing authority, and practitioners involved in any care. However, some patients will find that their care is much lower than they would expect. Malpractice or negligent treatment on the part of a healthcare professional can cause a diverse range of consequences to the patient, from injury to illness, or even death. Negligent treatment could cause a condition to worsen, or an injury to go untreated. If you have experienced in clinical negligence in a hospital, such as Huddersfield Royal Infirmary, talk our team about finding a medical negligence solicitor in Huddersfield today.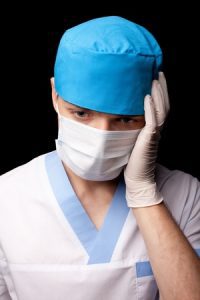 If you, a member of your family, your next of kin, or another person whom you are responsible for has suffered an injury or illness in some way by a practitioner in the Huddersfield area, you could be entitled to claim a settlement for damages suffered. Our Huddersfield medical negligence team are on hand to assist people who have suffered whilst under care in Huddersfield, or who live in the town itself or surrounding areas. We could help you to gain a settlement of hundreds or even thousands of pounds. Call us today on 0800 073 8804 to book your initial consultation. Our dedicated team covering claims in this area can then look at your claim, assessing whether or not you have a claim which we can secure a compensation award for, as well as providing some initial information on how much you could be able to claim. If you are ready to make your claim, our team can then provide you with a solicitor who covers the Huddersfield area. All at no extra cost to you as a customer.
People who are accessing medical negligence solicitors services do so for a variety of reasons. Medical negligence or malpractice is defined (partly) are the improper, negligent or unskilled provision of treatment of a patient by a medical practitioner. The practitioner could be a doctor, surgeon, nursing professional, dentist, or even a pharmacist. Other health and social care professionals may also owe patients a duty of medical care. Negligence claims deal with the liability of one of these practitioners, or the authority they work for, and is a type of tort law. The negligent actions may lead to circumstances where the patient suffers a worsening of their existing condition, the development of a condition which was not diagnosed, an injury or other negative effects on their health. Your claim may also involve the practitioner administering inappropriate treatment or medication, making errors which could have been avoided or misdiagnosing the cause of a condition. Under laws in the UK, people who have suffered in some way due to the care they received are able to claim compensation for their injury or illness. People can also claim compensation for any costs they have had to meet as a result.
The solicitor who we can provide you with will gather evidence to show that your claim and case meets the following criteria.
That as a service user or patient, you were owed a duty of care by the defendant.

That the defendant acted in a way which breached their duty of care. This breach can be caused by both actions and in action.

That this negligent treatment was directly responsible for a condition being made worse or was the cause of an injury.
You are able to bring a claim for compensation on behalf of a person who has passed away as a result of the care they received. This could due to the care not being adequate, the misprovision of care or other circumstances. You will need to be the claimants next of kin or someone who is legally responsible for them. An example of this could be claiming for a relative who died due to negligent treatment at a care home. The solicitors covering the Huddersfield area we work with can assist with these claims.
Before making a claim for either a personal injury or clinical negligence, you need to be aware that there is a time limit within which the claim needs to be made. There is a three-year time claims time limit within which the claim should be made. This period begins either when the incident happened, or when the injury or illness was discovered and diagnosed.
If you have suffered negligent treatment by a dentist, GP, private practice or NHS hospital in the Huddersfield area, contact our Huddersfield medical negligence team today.
How To Find The
Best Clinical Negligence Solicitors In Huddersfield
Whether you are looking for a solicitor who covers Huddersfield and the surrounding area, or elsewhere in the UK, there will probably several options for firms of solicitors available to you. So, what are the best ways to differentiate between them? Finding the best solicitors to take on your case is the most important part of getting the compensation that you could be owed. You need to find a solicitor who has the knowledge and experience to best support you through your claim. Follow the steps below when choosing a solicitor to work with.
Reading
Solicitors Reviews, Huddersfield
Reading reviews of solicitors in Huddersfield can help you to find the solicitor covering the town and surrounding areas who has the most relevant experience to your case. When searching online for reviews people often use terms such as 'solicitor reviews, Huddersfield'. This might help you find solicitors in the town, but leave you missing out on experienced solicitors who are based outside the town but have experience in successfully helping people in this area. Reading reviews and looking at impartial feedback can be an important step in choosing a solicitor, as can be talking to family and friends.
Do You Need A Local Solicitor?
Whilst many people are used to accessing services over the internet or communicate every day using a variety of different digital channels, people still think they need to find a service such as a solicitor in their town. However, in today's digital age professional services can be accessed from providers across the country. Our Huddersfield medical negligence team can provide you with a solicitor who covers the area and has the right level of experience for your claim needs. They can even organise a medical examination in your local area and even arrange a home visit if necessary. You can still stay in touch with your solicitor as quickly and easily as if they were close to you.
Medical Negligence Claims We Handle
In Huddersfield
The solicitors who work with Legal Expert can help with a variety of cases of medical negligence which happened in Huddersfield. We can help with a wide range of types of negligence and personal injury claim. In the sections below we will briefly look at some of the most common causes and consequences of medical negligence. Don't worry if your illness or injury doesn't fit into one of these categories. If you have suffered as a result of the way you were treated by a medical professional our team may still be able to help you.
Hospital Negligence
Compensation
Cases of hospital negligence can deal with treatment provided by a practitioner or organisation which falls short of expectation and which, in some way, leads the patient to suffer from an injury or illness. This negligence constitutes a breach of the hospitals' duty of care, and can lead to very serious consequences for the patient. People can be left dealing with serious, long-term and even life-threatening consequences as a result of negligence suffered in a hospital, such as the Huddersfield Royal Infirmary. Negligent treatment can exacerbate your existing illness or injury, or it can result in a new condition developing. The solicitors we work with covering the Huddersfield area can help with cases to be brought against both NHS and private hospitals in the town itself, and the surrounding area.
Dental Negligence Solicitors
Negligence claims against a dentist deal with incidences of negligent treatment which has been provided by either a dentist or a dental practitioner, such as a specialist anesthetist, nurse or surgeon. Similarly to cases involving hospitals, they involve incidences of the practitioner failing to provide the correct treatment, providing the wrong medication, or in some other way causing the claimants overall condition to get worse. The negligent action may result in the claimant suffering serious and long-term consequences. The solicitors we can provide you can help with an NHS compensation claim, as well as those against private practices.
GP Negligence Compensation
GP negligence compensation claims can be brought against your individual GP, another practitioner (such as a locum doctor) or the practice as a whole, depending upon where the liability lays. Again, they deal with negligent treatment which has (or has not) been provided by a GP. The consequences of negligence suffered under the care of a GP can be wide-ranging. They may be mild, moderate, severe, or even life-changing in the most serious of cases. Common incidents may include the GP failing to correctly diagnose a condition, prescribe a course of treatment, or fail to review a patient's progress.
Cancer Negligence Compensation
Clinical negligence in cases of cancer treatment can have very serious outcomes. Cancer is a serious and in many cases, life-threatening disease. If the cancer is not correctly diagnosed and a course of treatment prescribed at an early stage, the difference can be between recovery and even death.
If you have been, or a relative was, treated in a negligent way during your cancer treatment, you could have the basis of a compensation case. Contact Legal Expert today to find out more about how we could help you.
Care And Nursing Home Compensation Claims
Whether in the private sector or the NHS and care and nursing home has a duty of care to provide treatment to some of the most vulnerable patients in the healthcare system, such as the elderly, mentally handicapped, or those with terminal illnesses. Service users may be treated as outpatients, or reside under the homes care. You can claim for negligence suffered as a result of the actions of a care or nursing home, whether you suffered yourself, or on behalf of someone else. If the person affected has since died, you still may be able to bring a claim on their behalf. For further information, consult our care homes negligence guide.
Childbirth Medical Negligence Cases
Our team can help those who need to make a childbirth medical negligence claim. These can be brought against the hospital or other bodies responsible and may include injury or illness suffered by the child or mother. Typically the incident will have occurred during pregnancy, the birth itself in the immediate aftercare. Common injuries or illnesses resulting from negligent practices in births and deliveries may include the communication of infection, fractured bones, or the baby suffering oxygen deprivation during the delivery. If you or your child (or a family member) were injured or became ill as a result of the way your birth and delivery were handled, speak to the specialist at Legal Expert today.
Clinical Negligence Compensation Calculator
Care provided in NHS hospitals and other public service provision will often come under the responsibility of an NHS trust. These could be the bodies your claim is made against. The table below includes data for the volume and value of compensation claims made against Huddersfield trusts in the year 2015/16.
| Healthcare Provider | Claims Recieved 2015/ 16 | Number of Incident 2015/ 16 | Payments Made |
| --- | --- | --- | --- |
| Calderdale & Huddersfield NHS Foundation Trust | 70 | * | 4,515,227 |
No Win, No Fee Solicitors Who Cover Huddersfield
The no win, no fee solicitors which we can provide claimants with work through special contracts known as a 'Conditional Fee Agreement' or CFA. These are more commonly known as 'no win, no fee agreements'. They work by establishing a contract between the solicitor and claimant which sets out the services which will be provided to the claimant, as well as the circumstances and conditions under which the solicitor can expect to be paid. Typically it should remove any upfront costs that the claimant might ordinarily have had to pay towards starting their claims process.
No win, no fee agreements were designed to help people who may otherwise not have been able to afford to make their claim. It can remove the burdens associated with the costs, and removes the risk from the claimant themselves. This is what has made them a very popular service to use and why they have been able to help so many people in the country. In the event of a case not being successful, the claimant is not let out of pocket.
Before the contract is signed, the solicitor will walk you through the contract, ensuring that you know what you are signing, what it means and that everything has been explained in a way which is clear and easy to understand.
Contact Legal Expert Today
Start your claims process today and begin your journey to recovering the compensation you could be owed. Legal Expert have helped people across the country to make medical negligence claims. You can take the first step by calling our team. We are available 9am – 9pm seven days a week. You can also contact our specialist teams by sending an email to info@legalexpert.co.uk.
Helpful Links
Find out more about what constitutes medical negligence, how you can go about making a claim, and what you could be entitled to as a settlement with our medical negligence claims guide.
Local healthcare providers
Huddersfield Royal Infirmary
Acre Street,
Lindley,
Huddersfield,
HD3 3EA
Tel: 01484 342000
Web: www.cht.nhs.uk/find-us
BMI Huddersfield Hospital
Birkby Hall Road,
Huddersfield,
HD2 2BL
Tel: 01484 533131
Web: www.bmihealthcare.co.uk/hospitals/bmi-the-huddersfield-hospital
DR Glencross Surgery
140 Fitzwilliam Street,
Huddersfield,
HD1 5PU
Tel: 01484 500921
Web: www.glencrosssurgery.nhs.uk
Huddersfield Dental Care Centre
25 Queensgate,
Huddersfield,
HD1 2RD
Tel: 01484 530539
Web: www.huddersfielddentalcare.co.uk