Liverpool Medical Negligence Solicitors No Win No Fee Claims Guide
Liverpool Medical Compensation Claims Solicitors
Most patients treated in the UK's hospitals will be treated extremely well. The high quality of NHS care means that most patients won't have any problems. However, on occasion, things do go wrong. In this guide, we will take you through the circumstances in which you might wish to take legal action and work with a Liverpool medical negligence solicitor.
These types of claims are caused by healthcare providers (such as a doctor or dentist) and are commonly known as clinical negligence. People can suffer injuries due to a healthcare provider;
Failing to correctly diagnose a condition, make the wrong diagnosis or not diagnose the condition in time.
Make a mistake during a procedure, operation or in the dispensing of medication.
Prescribed the wrong treatment (such as a drug).
Not obtaining the patient's informed consent, or warning the patient about a treatment's risks.
A patient who is looking to make a medical negligence claim will need to show that their treatment was carried out in a negative or negligent way, that the level of care they received was below generally medically acceptable standards and that this was the cause of any injury, illness or otherwise negative effects.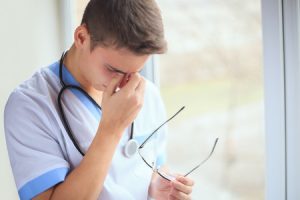 To make a claim for clinical negligence by a provider in Liverpool, a claimant needs to be able to prove that they were injured, or that the care given/ negligence worsened an existing medical condition. This must to be shown to have happened as a result of the medical providers' action/ inaction, thus breaching their duty of care to the patient. Claimant's must;
1). Prove that they were owed a duty of care by the defendant, i.e. that they were a patient.
2). Show that this duty of care has been breached in some way.
3). And that the defendants' negligence caused the claimant's injury or illness.
At Legal Expert, our nationwide panel of clinical negligence solicitors can work with clients on a no win no fee basis, providing you with expert advice. They can work with both NHS and private patients, as well as those treated in care homes and nursing homes who have suffered some form of injury as a result of their medical treatment.
Finding The Best Clinical Negligence Solicitors In Liverpool
The first step to making a successful medical or clinical negligence claim is finding the right solicitors to work with. Wherever you are based in the city and surrounding areas, we work with the best solicitors covering the Liverpool area to secure you the compensation you deserve. There are lots of solicitors and legal firms to choose from in the city, so, how do you find the right team for you?
Common ways to find a reputable and experienced solicitor can include talking to friends and family who have been through similar circumstances to see who they have worked with. Other common ways include reading online reviews to find impartial feedback or consulting local experts.
At Legal Expert we are a trusted legal advisory service and can provide you with a highly experienced solicitor covering Liverpool who has the knowledge and qualifications to handle your case.
Read Reviews Of Liverpool Medical Negligence Lawyers
Today you can find reviews of solicitors in your area, both offline and online. Just a few years ago it would have been less easy to find accurate and impartial reviews of these types of professional services. However, the web has made it easier than ever to read and evaluate as well as to compare different professional services, such as clinical negligence solicitors in Liverpool. Reading reviews for solicitors in your area can be a great way to see if they have the experience in securing the compensation you deserve. When you read reviews, try to compare their different levels and types of services, as well as their fee structure and whether or not they offer a now win no fee service. Reading reviews is a good way to learn more, but it is not a substitute for talking directly to an expert. Contact Legal Expert today by calling us.
Should I Use A Medical Negligence Lawyer Near Me?
In the digital age, professional services can be provided by experts anywhere in the country. You could be looking for a solicitor based in your area, such as Liverpool or the surrounding area. However, with the use of email, secure and instant messaging services and even video conferencing applications, much of the work on your case can be carried out on a remote basis. As such, no matter where you are based, our Liverpool medical negligence team can assist claimants from across the country.
The only part of a claim which may need to be carried out in your local area could be any additional medical examinations or consultations which are needed to establish the necessary level of evidence. If needed, your personal injury solicitor will connect you with a medical examination in your area.
Different no win no fee claims experts may be able to secure differing levels of compensation. Successful claims will be awarded compensation under two factors. General damages, which include the direct medical results of the negligence. The second type is special damages. This includes compensation for any out-of-pocket expenses a claimant has incurred, such as additional treatments, travel expenses or other costs. Special damages can even include loss of earnings.
Different legal teams may have a better record of securing higher settlements in their band. They may also charge different fees. As such, claimants should be aware of how much a solicitor may charge for their services.
What Claims Can Our Liverpool Medical Negligence Team Handle?
Today, medical negligence is more commonly known as clinical negligence, the technical term for this type of legal claim. Generally, they include claims where a healthcare provider, professional or worker (such as a dentist, GP, surgeon or care worker) has breached their duty of care to a patient. The members of our team are experienced and dedicated professionals who have the skills and knowledge to help clients who are facing a range of different medical negligence cases.
Making Hospital Negligence Claims In Liverpool
Hospital negligence claims in Liverpool can include claims made against the main hospitals in the city, including The Royal Liverpool Hospital University Hospital, the Broadgreen Hospital, and the Spire Liverpool Hospital. The panel of solicitors we work with can cover medical negligence claims against both NHS and private hospitals in the Liverpool area, and across the country.
Making Dental Negligence Claims
Dental negligence claims which can be made by our panel of solicitors specialising in clinical negligence cases may include; delays and incorrect diagnosis, nerve injuries to patients, cosmetic and restorative dentistry issues, misdiagnosis of other conditions and mistakes in treatment which lead to the loss of teeth.
GP Negligence Claims
If you feel that a GP or doctor has been negligent with you or your medical needs, we may be able to help you. In general, a GP will manage day-to-day needs and then refer people to other medical practitioners for more specialist needs. However, sometimes a GP can miss and symptom, provide an incorrect diagnosis or even send a patient on to the wrong specialist. In these cases, the GP's failure to provide the correct treatment can be classed and negligence. If it leads to a worsening of the patient's condition they may be able to make a compensation claim.
Medical Negligence Compensation Calculator
At Legal Expert, we have worked with solicitors and claimants to recover the compensation they are owed after suffering medical negligence in the Liverpool area. Our experienced team can help in a variety of cases. The table below shows the number and value of claims made against health authorities in this area in the 2015/16 financial year.
| Healthcare Provider | Claims Recieved 2015/ 16 | Number of Incident 2015/ 16 | Payments Made |
| --- | --- | --- | --- |
| Liverpool Community Health Trust | 13 | * | 40,500 |
| Liverpool Heart and Chest Hospital NHS Foundation Trust | 6 | 0 | 423,152 |
| Liverpool Women's Hospital NHS Foundation Trust | 47 | * | 9,378,592 |
Talk to our no win no fee claims experts today.
Cancer Negligence Compensation Claims
Claims for cancer misdiagnosis or negligence can be dependant on factors such as whether your doctor or GP did not refer you to a cancer specialist, despite clearly manifesting cancer symptoms. Negligence can also include doctors and specialists not performing procedures such as a biopsy or other test, as well as not fully investigating your symptoms. It could also include a failure to recommend appropriate scans and testing.
Care Home Negligence Claims
Nursing and care homes have a duty of care to provide all their residents with an environment and level of care which ensures that they are kept safe, comfortable and unharmed. They also have a duty of care to ensure they receive all the medical care they require, in a timely manner. Any breaches in this duty of care can result in a clinical negligence claim. If you or a loved one have experienced care or nursing home negligence, talk to our Liverpool team today.
Birth Injury Negligence
Birth injury negligence claims can be made against an attending physician, nurse, midwife or hospital. They can be made for injuries sustained by both the mother or the child and may have occurred during the pregnancy, during labour or the birth and finally, after the child is born. Birth injuries can include; cerebral palsy, brain damage and stillborn cases. Speak to the  Liverpool team we work with on a no win no fee basis today for more information on birth injury and birth injury negligence compensation claims.
Liverpool No Win No Fee Medical Negligence Claims
Across the country, Legal Expert works with medical negligence claims solicitors covering claims in Liverpool who operate on a no win no fee basis. This means that the solicitors we work with operate under what is technically called a 'Conditional Fee Agreement'. Basically, the no win no fee agreement will set out the work that the solicitors will carry out for the claimant. It also details what their fee will be, if the case is successful and if the case is not. The agreement will protect the claimant by removing any upfront or ongoing fees. It should also state that if the claim is not successful, the client will not be charged a fee.
At Legal Expert the clinical negligence solicitors we work with offer a guaranteed no win, no fee service. Whilst other no win no fee providers may include hidden costs and fees if your case is not successful, at Legal Expert, we do not. Our panel of expert legal solicitors works with clients on a 100% no win no fee basis. There are no catches and we will make sure you fully understand everything before you sign a contract. You can see more information on our no win no fee services in our special guide here.
How To Make Clinical Negligence Claims
The first step in making your clinical negligence compensation claim is to reach out to the specialist team at Legal Expert. Whether you are ready to make a claim now, or whether you simply need more information and advice, our specialist team are on hand to provide all the information you need. You can phone us seven days a week to provide you with all the information you need when choosing a personal injury solicitor.
You can begin your claim by calling Legal Expert on 0800 073 8804. Alternately you can email our team with the details of your claim and request a callback from our experts. You can also use our online chat widget to start chatting to one of our team members now.
Helpful Links In Liverpool
The Royal Liverpool University Hospital
Prescot St,
Liverpool,
L7 8XP
Tel: 0151 706 2000
Website: www.rlbuht.nhs.uk
Broadgreen Hospital
Thomas Dr,
Liverpool,
L14 3LB
Tel: 0151 282 6000
Website: www.rlbuht.nhs.uk
Spire Liverpool Hospital
57 Greenbank Rd,
Liverpool,
L18 1HQ
Tel: 0151 733 7123
Website: Spire Healthcare