Cosmetic Surgery Claims How Much Compensation Can I Claim For Negligence?
By Daniel Archer. Last Updated On 22nd April 2022. In this guide, we are going to look at cosmetic surgery compensation claims in greater length. A claim for cosmetic surgery and similar procedures can apply to many scenarios.
In addition to surgery, cosmetic procedures can include Botox, teeth whitening, tanning, contouring, and much more. However, the surgical procedures that – when they go wrong – can often have the biggest implications for a patient's physical and mental health. In this guide, we will explore the aftereffects of cosmetic treatments in which the medical professional may have acted negligently.
Contact Information
Speaking with us directly is the best way to receive accurate guidance that's tailored to your circumstances. If we think that you could be eligible to claim compensation for cosmetic surgery negligence, then we could connect you with an experienced lawyer who has handled many of these cases before.
Call us on 0800 073 8804
Start your claim online, we'll get back to you with our advice
Chat with us using the pop-up window in the corner
Select a section:
A Guide to Cosmetic Surgery Negligence Claims
You will find all the necessary information needed to file a claim against your plastic surgeon or cosmetic surgeon in this guide. If plastic surgery goes wrong, and negligence can be demonstrated, you may win compensation to help with your recovery.
Attempting to deal with the aftermath of cosmetic surgery can be difficult. If something has gone wrong, then this difficulty can be increased exponentially. There may be physical, emotional, and psychological implications following such an event. If negligence in any capacity can be legally demonstrated, then you may have a case for claiming compensation.
At various points in this guide, we will discuss the legal implications of cosmetic surgery negligence, how to claim cosmetic surgery compensation and the claim process, and possible payout amounts you may receive.
This guide will also answer questions such as whether this type of negligence is common. We'll also look closely at the different forms of cosmetic surgery negligence that can occur. Also, we'll explain time limits that may apply when you are considering starting a claim. 
We'll also explain how you may be able to start a claim for cosmetic surgery negligence on behalf of another person. We will also address questions you may have regarding how long a cosmetic surgery negligence claim may take and whether this type of claim can be made on a No Win No Fee basis. We'll also talk more in-depth about our services and how Legal Expert can support you and your potential cosmetic surgery negligence claim.
What is a Cosmetic Surgery Negligence Claim?
Cosmetic surgeries can be risky procedures. As with any elective surgery procedure, there is the potential for the outcome to be viewed as negative. Despite the years of training and the professional qualifications possessed by cosmetic surgeons, accidents can occur. If your surgery proves to be disastrous due to medical negligence, however, you may be able to make a compensation claim.
Elective and cosmetic surgeries performed by private healthcare companies may be less regulated than their public equivalents. There is a litany of potential complications which can arise from an error, the details of which will depend on the surgery in question. A compensation claim, therefore, is designed to recover the costs you have endured. These can be quantifiable amounts, such as lost wages or medical expenses, or more abstract costs, such as compensation for your pain and suffering.
We will cover the various types of damages in greater detail in a later section. If you are considering making a cosmetic surgery compensation claim, our team can advise as to the full extent of the settlement amount you might be able to win.
What's the medical negligence definition in the UK?
Clinical negligence or medical negligence is when a doctor or healthcare provider is in breach of their duty of care. This can result in physical injury or mental suffering to the patient. If you've been caused harm by medical negligence, then you may be able to claim compensation.
Is Cosmetic Negligence Common?
The demand for cosmetic surgery is becoming greater, as illustrated in the stats from the British Association of Aesthetic Plastic Surgeons (BAAPS). In a 2019 audit carried out by BAAPS, we can see that there were 26,043 women and 2,304 men that underwent cosmetic surgical procedures. Whilst these figures were an increase of 0.6% for women since 2017, for men this was a 4.7% decrease over the same length of time.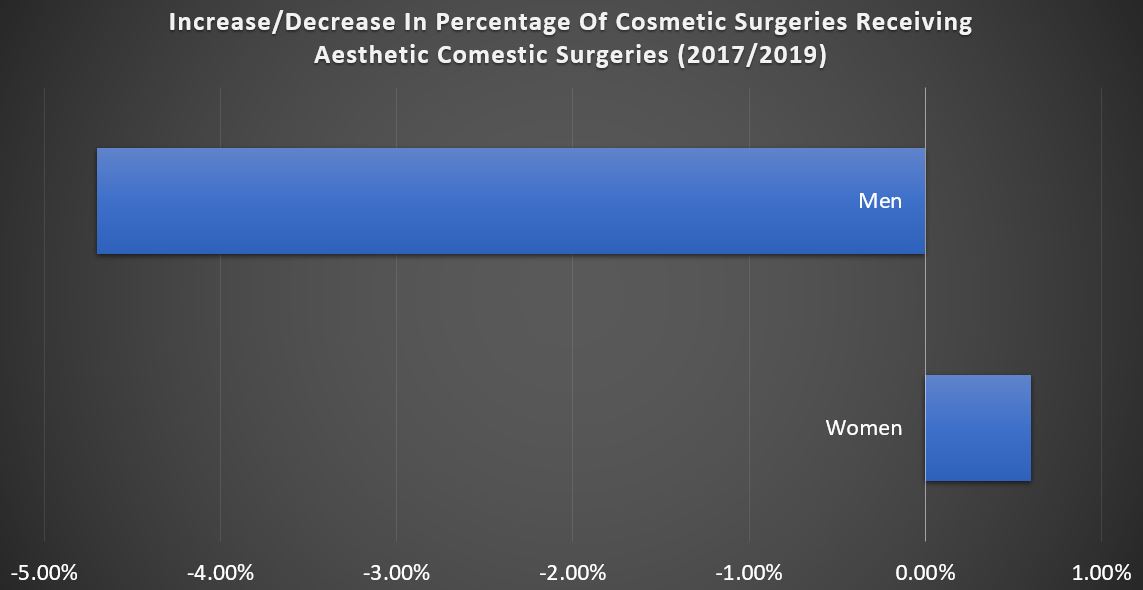 Can You suffer from negative psychological effects?
If cosmetic surgery has gone wrong, it can really affect the victims psychologically and when claiming psychological injuries can also be claimed and the general damages for the clinical negligence claim.
What Different Reasons for Surgery Negligence Claims are there?
One of the most pressing questions for those who may have a claim for cosmetic surgery regards the reasons why one might seek legal action. There are many different reasons why you might claim cosmetic surgery negligence, which include (but are not limited to):
Complications that arise due to surgical procedures – any injury you may have sustained because of (or during) the surgical procedure.
Anaesthesia mistakes – any injuries you may have sustained due to the wrong amount of anaesthetic being given during the operation. This can prove to be fatal in some scenarios.
General misdiagnosis – when considering cosmetic surgery, a failure to properly diagnose one aspect of a patient's health can lead to complications during the surgery.
Cosmetic surgery errors – any injuries or health concerns you sustain due to the poor performance of the cosmetic surgeon.
Well-being negligence – any injuries that you may have sustained because of poorly administered care before, during, or after the surgery.
Failure to recommend – if the medical practitioner who performed the surgery did not provide an adequate amount of information before the procedure.
As shown above, there are many reasons for filing cosmetic negligence claims. If you believe your specific circumstances do not match any of the above categories, feel free to discuss the matter with a member of our team for an informed, expert opinion. To learn more about cosmetic surgery compensation claims, please continue reading.
Are There Different Types of Cosmetic Surgery Negligence Claims?
There are four main types of medical negligence claims. When discussing cosmetic surgeries, it is common to apply these broader terms. The four categories are:
Contributory negligence – in this scenario, the victim will be viewed as the person responsible for their injuries or health concerns. In this case, no compensation will be awarded.
Comparative negligence – in this scenario, the victim will also be adjudged to hold some responsibility for their injury. However, they will be partially held responsible and a degree of blame will also be attributed to the medical practitioner. As such, a portion of the settlement amount may be awarded.
Vicarious liability – in this scenario, it will be considered institutional negligent if the surgery was performed in a private hospital will be the private hospital who may be considered liable. Accordingly, it will be the organisation that pays for plastic surgery negligence claims.
Gross negligence – In this scenario, the negligence will be held by the medical practitioner. As a medical practitioner, they are obligated to maintain the welfare of their patients. Gross negligence suggests that they have failed in this regard and the patient's health has suffered as a consequence. In plastic surgery negligence cases, and medical claims involving gross negligence, the medical practitioner's license will likely be revoked.
Some Popular cosmetic surgery services that you can claim compensation for.
Breast enlargement
Breast reduction (female)
Breast reduction (male)
Chemical peels
Dermal fillers
Ear correction surgery
Eyelid surgery
Hair transplant
Labiaplasty (female genital surgery)
Microdermabrasion
Permanent make-up
Skin lightening
Surgical fat transfer
Tattoo removal
Tummy tuck
One of the first steps in evaluating a potential claim for cosmetic surgery compensation will be deciding which of the four categories it best fits into and determining how this will affect the likely outcome.
What to Do If You Have Been a Victim of Cosmetic Surgery Negligence?
If you have been the victim of cosmetic surgery negligence, there are several steps you should take before filing a claim. After you feel you have sought the best medical help to rectify any pressing health concerns, we advise that you do the following:
Step 1: Ensure that you have photos of yourself before the cosmetic surgery and photos after the surgery. These photos can be used to demonstrate the extent of the issue and can be useful in situations where the patient has begun to heal before a claim is finalised.
Step 2: Visit another doctor in order to fully understand the implications of your situation. In certain circumstances, cosmetic surgery negligence may cause long-term health issues. Our law firm can arrange an appointment with a local doctor if required.
Step 3: Keep a medical journal documenting the pain you experience. Inside this journal, you should keep detailed notes regarding how the procedure's aftermath has affected you. This can be emotional, physical, psychological, and financial accounts of your issues.
Step 4: Discuss the matter with a law firm. Given the complicated nature of medical negligence claims, you may wish to have an expert's opinion before proceeding.
Following these steps can help establish a solid base of evidence and can be useful when you wish to win cosmetic surgery compensation. If you can bring the above evidence to us, we can arrange for a free legal consultation to provide an expert evaluation of your claim.
What is a Cosmetic Surgery Negligence Claim Time Limit?
It is important to consider the regulations that surround potential compensation claims, including details on how and when you can file. When filing a claim, you have three years from the time of the accident or from the time any health concerns were first diagnosed. After this time, it may not be possible to seek compensation.
There are exceptions for those under the age of 18 at the time of the procedure: A patient usually has three years to file a compensation claim, beginning from the day they turn 18. This makes the age of 21 an effective cut-off point for such cases. Given the reduced number of patients below 18 who undergo cosmetic surgery, this issue is less common than in regular instances of medical negligence.
Claiming for Cosmetic Surgery Negligence for Another Person
It is possible to make a claim for another person who has suffered cosmetic surgery negligence. It is also possible to file a claim for someone who died as a result of cosmetic surgery.
If a member of your family, a spouse, or a civil partner has been involved in a negligent surgery, then you are able to claim on their behalf. You will require the documentation to prove your relationship with the affected party. Taking this to a solicitor can help with establishing the claim.
How to Begin a Cosmetic Surgery Negligence claim
In addition to gathering evidence and researching your claim for cosmetic surgery, knowing how and when to begin a claim can be difficult. For those with no experience in the legal trade, even handling the paperwork can seem confusing. This is why we recommend that potential claimants seek professional assistance to begin a claim.
This is also why we offer a no-obligation consultancy session, free of charge. Once this is arranged, you w to show us your evidence can provide a considered opinion as to whether you have a legitimate claim. If you do, we can advise on how to move forward with the claim and potential settlement amounts you might receive.
We can also begin with the filing of the paperwork, with further fact-finding, and arrange for you to meet with a local doctor for a full evaluation. With the right legal assistance, beginning a cosmetic surgery compensation claim is much easier.
What can be Claimed for due to Cosmetic Surgery Negligence?
In seeking compensation for complications arising from cosmetic surgery, there are many expenses that you can include as part of your claim. Rather than a single lump, these factors are considered when deciding on a final settlement total. They include:
General damages – this covers the injury, illnesses, and other health concerns which may have resulted from the cosmetic surgery procedure.
Care claim – this covers any additional care which may have been required following the surgery, such as a live-in carer or nurse and the costs of hiring such a person.
Loss of earnings – this covers the wages which may have been lost (both recently and in the future) as a result of health concerns not allowing you to work as before.
Travel Expenses – this includes any trips you may have to take to see a specialist to help alleviate your pain; travel expenses such as train fares and petrol costs can be included.
Medical Expenses – this covers costs such as private medical treatment, elective surgeries, medicine, and equipment needed as a result of your issue.
There are many ways in which you can be compensated during a claim for cosmetic surgery. Speaking to a solicitor can help you discover exactly what you are owed.
How Much Compensation will I get for a Cosmetic Surgery Negligence claim?
The amount you can claim for cosmetic surgery will be directly influenced by the severity of the injury or health concern you have suffered. Listed below is a detailed outline of some of the injuries you may have sustained and a rough indication of what you can hope to be awarded in your cosmetic surgery compensation claims.
The compensation brackets featured in the table below are based on figures from the latest Judicial College guidelines. The brackets included within these guidelines are based on compensation payments that have been handed out during the conclusion of past personal injury claims. While the brackets do not offer a guarantee on the payment you may receive for your injuries, they can at least give an indicator based on real-life cases.
The brackets included in the table may cover for general damages. Compensation for general damages aims specifically to cover the claimant for their injuries. If a claimant is eligible to receive 'general damages', then they may also receive additional compensation for financial losses under 'special damages'.
| Injury Sustained | Severity of injury | Notes | Compensation Awarded |
| --- | --- | --- | --- |
| Psychiatric Damage | Moderate | Some symptoms of depression, but remains treatable. | £5,500 to £17,900 |
| Psychiatric Damage | Moderately Severe | The effects on the injured person's relationship with family, friends, and those with whom they come into contact with have been negatively affected. | £17,900 to £51,460 |
| Psychiatric Damage | Severe | The injured person's ability to cope with life and work are affected. | £51,460 to £108,620 |
| Facial Disfigurement (Male) | Trivial Scarring | In these cases, there are minor effects only. | £1,600 to £3,310 |
| Facial Disfigurement | Less Significant Scarring | In these cases there may be but one scar which can be camouflaged | £3,710 to £12,900 |
| Facial Disfigurement | Less Severe | Where the disfigurement is still substantial and where there is a significant psychological reaction. | £16,860 to £45,440 |
| Facial Disfigurement | Very Severe | The scarring of this nature would take into account the severity of the treatment, the disfigurement, and the age of the claimant. | £27,940 to £91,350 |
As shown above, cosmetic surgery claim compensation can vary. Though your injury may not be listed above, it can indicate the extent to which the severity of the health concern can influence the eventual settlement amount.
Get in touch if you have more questions about how cosmetic injury claims can be calculated. Our advisors are ready and waiting to help you.
How long does a Cosmetic Surgery Negligence claim take?
This is a difficult question to answer. Every claim is unique, how long they take will differ on a case-by-case basis. Especially complex cases can take months or even years to properly resolve. Simple cases may not take as long.
For example, if the defendant admits liability then the claim could take a shorter amount of time. If they deny they committed cosmetic surgery negligence, then compensation could take longer to be awarded. There are certain processes such as gathering evidence to back up your claims that are likely to add to how long these claims can take.
No Win No Fee Claims For Cosmetic Surgery Negligence
We find that one of the most difficult challenges facing potential claimants is finding the funds to launch a compensation claim. Cosmetic surgery procedures can be expensive in their own right. If a complication has led to additional expenditure and an absence from work, then putting together the funds to hire a legal team of medical negligence experts can be tough.
This is why we offer our services on a 'No Win No Fee'' basis. It's an arrangement that is also known as a Conditional Fee Agreement. This is authorised and regulated by the solicitors that we work with. It allows for those who believe that they are due compensation to claim without the upfront costs, constant fees, and financial risk that are normally associated with hiring legal teams.
If your case is successful, we take a percentage figure of the secured compensation amount. If your case is not successful, we don't charge you. It's simple and effective as it helps you gain access to the business's best cosmetic surgery law.
Why Choose Us as Your Claims Service for a Cosmetic Surgery Negligence Claim?
We offer an array of benefits for every potential client. We pride ourselves on our high success rate, our expertise, and our integrity. But most of all we pride ourselves on our relationship with our clients.
We want to reduce the stress and complications that can often surround medical claims. As well as our expertise, we can also offer:
Highly qualified representatives who will work tirelessly on your behalf.
A team of people who care deeply about your welfare.
A free, no-obligation legal consultation to help establish your legal claim.
A 'No Win No Fee' approach that reduces the financial risk of a claim.
The ability to arrange a meeting with a doctor local to you, getting a full diagnosis of the extent of your personal injury or health concern.
There are many, many ways in which we can help you get the cosmetic surgery compensation you deserve. Get in touch with us today to discover what we can do for you.
Call for Free Advice and To Start a Claim
If you would like to make a claim for cosmetic surgery affiliated issues, we are the right law firm for you. To call, and speak with a representative, our number is 0800 073 8804.
Alternatively, you can fill out a contact form on our website, and we'll call you at a suitable time. We look forward to hearing from you.
Helpful Links
NHS Your guide to cosmetic procedures
The NHS on cosmetic surgery procedure, whether you're having Botox or full cosmetic surgery like a facelift or breast implants, it's recommended to do your research.
Pre-Action Protocol for the Resolution of Clinical Disputes
This clinical negligence Protocol is intended to apply to all claims against hospitals, dentists, GPs and other healthcare providers (both private and NHS ) which involve an injury that is alleged to be the result of clinical negligence.
Take a look at our guide to learn more about medical negligence cases, and how we could assist you. Please take a look at our guide to learn more about the agreement.
Would you like to learn more about No Win No Fee agreements? Please take a look at our guide to learn more.
We have a specific guide where we discuss GP and Doctor negligence. Why not click the link above to learn more about cases of this nature and how we could help.
A guide exploring dental negligence.
A useful guide exploring the compensation you could receive for an incident of NHS negligence.
Further Medical Negligence Guides
Cosmetic Surgery Compensation FAQs
When can I make cosmetic surgery claims?
In order for you to make a cosmetic surgery claim, your physical or mental health must have been affected as a result of negligence. For example, if a cosmetic surgeon leaves a surgical tool or other foreign object inside a patient then this could have serious health implications. This would be negligence, so it's possible that a claim could be made.
However, being unhappy with the results of cosmetic surgery does not necessarily make you eligible to make a claim. The results of the operation may not be what you have expected but have not happened as a result of negligence. If so, then it's unlikely that you would be owed compensation.
Operating on the wrong part of the body entirely would be another good example of negligence. You may be able to make a claim in this instance.
How much cosmetic surgery compensation will I receive?
All cosmetic injury claims differ from one another. This is because the effect that your injuries could have on your life may be different from someone else who sustained a similar injury.
The best way to gain a better understanding of how much you could be owed is to get in touch with us directly. Or, use our compensation calculator.
Is there a difference between cosmetic and plastic surgery?
There are specific details that ultimately define and differ between cosmetic and plastic surgery. For instance, cosmetic surgery is a unique discipline that focuses on enchanting through techniques. Plastic surgery is a specialist that focuses on the reconstruction of the body and the face.
Does the NHS pay for cosmetic surgery?
Generally speaking, the NHS does not pay for cosmetic surgeries unless it meets certain criteria.
How do I sue a cosmetic surgeon?
If a medical professional has breached a duty of care or acted negligently, then their actions could have a life-altering impact on your health and well-being. As always, in order to make a case of this nature, you will be required to supply evidence that directly outlines how the professional in question acted negligently.
Can you get a refund on plastic surgery?
No. Plastic surgery cannot be reversed or removed after being performed, hence no refund. But you could claim compensation if plastic surgery goes wrong due to negligence by the surgeon.
What is the most expensive cosmetic surgery?
Facelifts, tummy tucks and breast reduction surgeries all cost several thousand pounds for the client.
Is there a charge for plastic surgery revisions?
Yes. In the vast majority of cases, there will be a charge, though the exact amount depends on the revision.
What is the most common cosmetic surgery?
Amongst the most frequent cosmetic operations are breast augmentation, dermabrasion, breast implant removals, buttock lifts, breast lifts and chin/cheek/jaw reshapings.
What is the riskiest cosmetic surgery?
Studies suggest that the most dangerous form of cosmetic surgery to have is the Brazilian butt lift.
Thank you for taking the time to read our guide on cosmetic surgery compensation claims.