Facelift Injury Negligence Claims Guide – How Much Compensation Can I Claim For Surgery Gone Wrong
By Mark Ainsdale. Last updated 27th July 2021. Welcome to our guide on facelift injury negligence, where we'll look at the process of making facelift negligence claims.
According to statistics released by the British Association of Aesthetic Plastic Surgeons, there were 21,174 cosmetic operations across Britain in 2020. As the number of people getting cosmetic procedures such as a facelift, the number of people needing to make a facelift claim has also, unfortunately, risen. If you have suffered a facelift injury due to negligent treatment by your surgeon (or another party in your care), you can make a facelift compensation claim.
There are many scenarios in which you could make a claim for a facelift gone wrong as there are lots of different ways in which any surgical procedure could go wrong. Whilst other non-surgical cosmetic procedures can also go wrong, procedures such as a facelift have a greater chance to go wrong, and when they do, they can have a much bigger overall impact on the physical and psychological health of the person affected. In this guide to claiming compensation for facelift injuries, we will look at the different ways in which it can go wrong and what effect this can have on you. And we cover how much compensation you may be able to receive from facelift negligence claims.
To learn more about making facelift injury claims as well as what can cause them and how much compensation you could be entitled to, contact our team on 0800 073 8804. We can then advise you on how to claim.
Select A Section
A Guide To Facelift Injury Claims
Facelift negligence claims are made when a facelift (rhytidectomy), one of the most popular cosmetic surgical procedures in the UK go wrong and cause some form of harm to the patient. Unless medically necessary in some way, facelifts will generally not be available through the NHS. This means that the majority of procedures carried out will be done so in the private sector. As such, there can be a very large variation in the quality of surgical procedures and treatment available.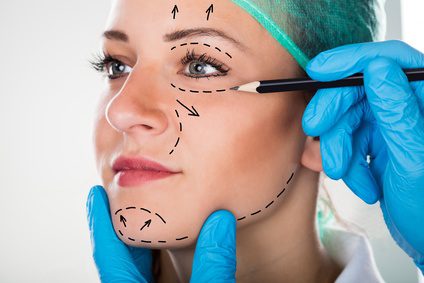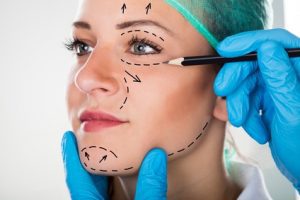 There are two main ways in which your facelift could go wrong. The first of these is that the results of your facelift did not live up to what the private clinic had promised beforehand. Whilst you can not make a compensation claim if you are simply unhappy with the way in which your surgery turned out, you can make a claim against the hospital, clinic, or practitioner if they had promised specific results which can clearly show have not been fulfilled.
Further information
The second way you may be able to make a facelift injury claim is for negligent facelift surgery. If the way in which the facelift was carried out was against any warnings or was in some way negligent, and if that negligence led to your injury, you could be able to make a facelift injury claim. Even if you were warned before your operation that it carried risks, this does not remove your doctors and surgeons duty of care to ensure that no harm comes to you.
Where people have had a warning about potential issues or dangers that they may face in having surgery, if something goes wrong, they think that they are not able to make a claim due to having had this warning. However, they still could make facelift negligence claims. And each year, many people who could have made a claim do not do so.
If you are unsure whether or not you could be entitled to make a facelift injury negligence claim, contact our team today to find out.
What Is A Facelift?
Facelifts are a common cosmetic surgical procedure; they are used to smooth your skin and remove or reduce lines in your face. The objective is to create a younger-looking appearance. Surgical facelifts will usually go underneath the skin and reposition your facial muscles. At the same time, they will tighten any skin which is sagging. The aim of this is to reduce and remove wrinkles and saggy skin. The facelift procedure should be customised to the individual person and their needs. There are also numerous advanced laser and surgical techniques that were developed to make the results look much more natural. If carried out properly, there should be no facelift injuries left, and the procedure should leave no visible evidence.
Facelift surgery is generally conducted whilst you are under a general anaesthetic, though more minor procedures may be carried out under a local anaesthetic and some sedation. Before your surgery, your doctor should have explained the facelift dangers you may face.
Examples
Whilst there are several different types of facelift, they will generally involve the surgeon:
Making incisions just above your hairline at the temple, extending down to the front of your ear, moving beneath the earlobe and going behind your ear.
If the jawline is also being lifted, then cuts will also be made under the chin.
Any surplus skin on or around your face will be removed.
They will then remove the skin, which is being kept up and backwards. It will then be stitched into place.
If necessary facial fat and other tissues may also be redistributed across the face.
After the surgery is completed, the face will be bandaged to minimise swelling and bruising.
Most facelift procedures will take between 2 and 3 hours to complete, though you will generally have to stay overnight in the hospital. If you experience any expected pain and suffering as a result, you will be given pain relief.
If you'd like more information on facelift negligence claims, get in touch with our team today for free legal advice. 
Cosmetic Surgery And Facelift Statistics For The UK
As you can see in the accompanying graph, there are some differences in the cosmetic procedures being undertaken by men and women. Women are by far the more common patrons of cosmetic surgery. Face and neck lifts were the 7th most common cosmetic procedure performed in 2020 across men and women.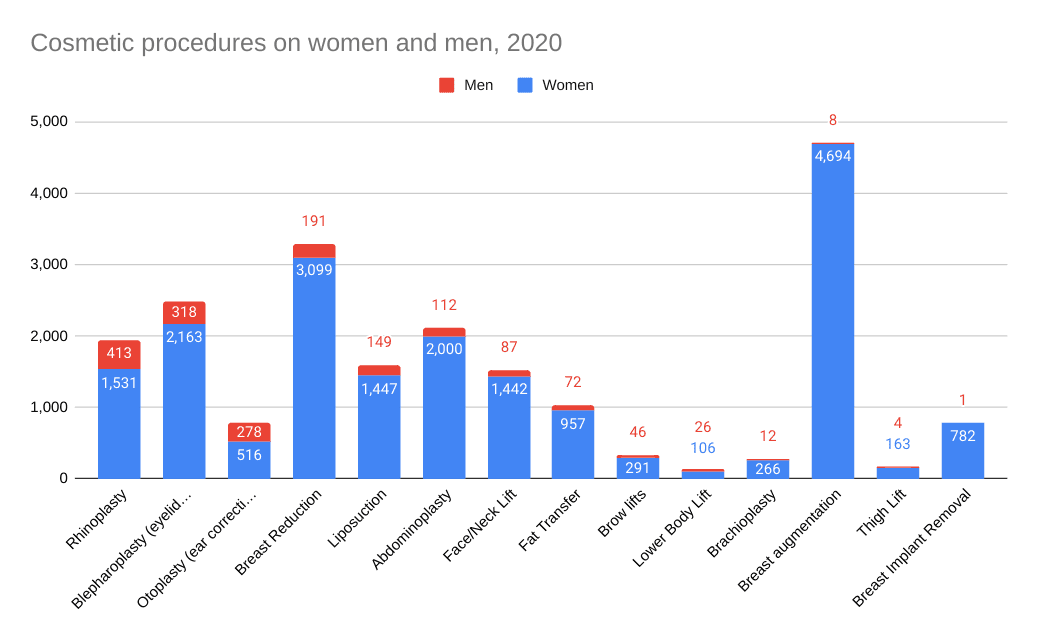 Interesting trends which can be seen include:
As the 'dad bod' has become more socially acceptable, men are having fewer cosmetic procedures on their body, switching to facelifts and neck lifts.
With the rise in the usage of filters on apps such as Instagram, women are choosing to use these instead of focusing on cosmetic procedures on the body.
There has been an overall fall in cosmetic surgery procedures of around 24%.
Cosmetic surgery statistics for men and women in the UK 2017
| PROCEDURE | NUMBER OF OPERATIONS |
| --- | --- |
| Breast augmentation operations | 8,251 operations |
| Breast reductions | 4,043 operations |
| Eyelid surgery | 3,276 operations |
| Abdominoplasty | 2,751 operations |
| Rhinoplasty | 2,751 operations |
| Liposuction | 2,309 operations |
| Facelift | 2,002 operations |
| Fat transfers | 1,468 operations |
| Ear cosmetic surgery | 1.009 operations |
| Browlifts | 445 operations |
If you have suffered any complications in facelift surgery that leads to you experiencing pain and suffering in any way, contact Legal Expert today to make a facelift injury claim.
If you'd like to know more about making a claim for facelift injury negligence, please read on. 
Facelift And Cosmetic Surgery Safety And Regulation In The UK
It has been reported in the media that there has been a serious number of people reporting instances such as complications in facelift surgery as well as other cosmetic surgical procedures. This has caused campaigners and doctors to lobby the government for better regulation governing cosmetic surgical procedures in the UK. Statistics show that problems such as with botox and lip fillers have increased almost threefold over the past year. This is according to information collated by Save Face. Data has shown that as many as 83% of cosmetic procedures carried out in the UK were administered by non-medical staff. In the last year, 72% of complaints were made by people who had found their cosmetic surgery service through Facebook or other social media channels.
For more information on the facelift negligence claims process, please read on. Alternatively, if you'd like to know more about making a claim against a private clinic for facelift negligence, please read on. 
Can I Make A Facelift Compensation Claim Against A Private Clinic?
The simple answer is that you can make a claim for negligent facelift surgery carried out by a private clinic. Even if they explained the potential facelift complications which could happen, they are not absolved of their duty of care. In accordance with the 2008 Health and Social Care Act, any private clinic offering cosmetic surgery have to be registered with the Care Quality Commission. The CQC regulates clinics in the UK, and their responsibility is to make sure that all clinics carrying out surgical procedures are safe and meet all required standards.
If you have experienced any form of facelift complications, as well as being able to make a facelift injury claim, you should contact the Care Quality Commission as well as making a complaint via the General Medical Council. It should be noted that all clinics should be visited and expected once a year.
If you'd like to know more about the eligibility criteria for a claim for facelift injury negligence, our next section will be of some help to you. 
Am I Eligible To Make A Facelift Injury Claim?
You could be eligible to make a facelift compensation claim if you have experienced a negligent facelift. If the procedure produced results that you had wanted this is not adequate grounds for a claim. However, you could have grounds to make a negligent facelift claim if you were given a guarantee of getting a specific result. There are regulations in place to stop cosmetic surgeons from giving unrealistic assurances. However it is possible to make a claim on this basis. Contact a specialist personal injury solicitor to find out if you have grounds to make a claim.
All surgery, including facelifts and other cosmetic surgery, is fully regulated and to be compliant with the law should be carried out by a medical practitioner who is licensed and qualified to do so. If they were not, they are liable for you to make a facelift injury claim as well as bring them for prosecution. All surgeons have a duty of care to ensure your safety, but if they have breached this you can claim compensation. To make a successful facelift injury negligence claim, you will need to clearly demonstrate that they breached this duty of care.
What Complications In Facelift Surgery Could Happen?
The first thing you should note is that as with any surgical procedure if you have a facelift, you will experience some level of discomfort, and this may not constitute negligence. However, this should only last for a brief period of time after the procedure. But in the case of negligent facelift surgery, there are certain things that can go wrong which may lead to facelift negligence claims. These are:
A hematoma after a facelift. This happens when blood collects under your skin. It looks unsightly and it will often require further surgery to correct.
Nerve damage after a facelift. Some form of damage to your nerves can be common among people who need to make a facelift claim. Consequences of this could include loss of movement or sensation.
Facelift infections. As with any surgical procedure there is the risk of infection if the area is not completely sterile.
Scars. A competent facelift will leave minimal scarring, which will be visibly hidden so that is it not noticeably. If not, then you could have scarring.
Allergic reactions. These can happen with many types of operation or surgery. The most common is people having some reaction to anaesthetic.
If you are working with a private clinic that is registered and are using a surgeon who is experienced, it is likely you will have excellent results. However, if you are using a person who is cutting corners, you may find yourself injured and in need of making a facelift injury negligence claim.
Facelift Nerve Damage Injuries
If your facelift is not performed correctly, you can make a facelift injury claim. Nerve damage after a facelift could lead to common risks such as:
The inability to fully close your eyelid.
Tingling in the lips, cheeks, and chin.
Drooping in the face as well as immobility and numbness.
Loss of feeling in the scalp and/or forehead.
Numbness around the ears in a neck lift.
Can I Claim For A Facelift Infection?
As with other complications, you can make a facelift injury claim if you suffer an infection as a result of negligence. Facelift infections will usually happen in a specific area, such as where the surgery happens on the face. Symptoms of facelift infections could be sensitivity in the local area, swelling, redness, and a warm feeling. In general, it is treatable with antibiotics.
If you'd like free legal advice surrounding facelift negligence claims, please get in touch with us today; we'll be happy to help. 
Bruising And Scarring Facelift Injury Claims
Bruising and some degree of scarring are normal after a facelift. Any bruising should start to subside after a few days, and will usually be most visible around the eyes. Generally, this should subside after a few weeks. If it does not it may be a more serious complication. Any scarring will usually be pinkish for up to several months after the facelift. In most cases, this should be in non-visible areas. If your scarring is visible or does not go down, you could make a facelift injury negligence claim.
How To Prove Negligence In Your Facelift Injury Claim
To prove negligence or error in a facelift injury claim, the main test will be whether the facelift meets industry standards and best practice. Note that your doctor can't make promises with regards to your outcome. To clearly show a breach of common standards, you may find it useful to use a personal injury lawyer. Your first step will need to be to notify the clinic carrying out the procedure that you have a problem. They will then need to have time to respond to this.
You will also need to take photos as early after your surgery and at regular intervals to provide supporting evidence. You can also gather any relevant witness statements. If you need to go to the NHS or a different (or even the same) clinic for corrective procedures, keep records of this, as this kind of evidence can help strengthen facelift negligence claims.
What Your Facelift Injury Claim Could Include
When making a personal injury compensation claim, there are many different things you can include. Your claim can include different things and is not always a single large lump sum. These might include the following.
General damages cover your immediate (and future) injury or illness as well as direct health concerns which are a direct result of your procedure. You can then also claim for medical and care costs such as corrective surgery, medication, or even counselling. If you take time off work as a result of your injury, you can claim for loss of earnings. You can also claim compensation for any visits to medical appointments, such as the cost of travel.
Please remember, there are lots of different types of compensation if you need to make a facelift injury negligence claim.
Examples Of Facelift Compensation Claim Amounts (Updated July 2021)
The amount of compensation for facelift negligence claims depends on the seriousness of your injury and the impact on your health. In the compensation table below, we detail some of the different injuries that you can claim compensation for.
| Facial Injury Type | Settlement | Notes |
| --- | --- | --- |
| Very severe scarring | £27,940 to £91,350 | Severe scarring in a young person under the age of 30. With severe cosmetic implications. |
| Less severe scarring | £16,860 to £45,440 | Substantial scars and some psychological impact. |
| Significant scarring | £8,550 to £28,240 | Where the worst effect can be surgically corrected. |
| Less significant scarring | £3,710 to £12,900 | Appearance is marred but the effects can be obfiscated. |
| Trivial scarring | £1,600 to £3,310 | Most trivial category and full recovery expected. |
| Psychiatric Damage- severe | £51,460 to £108,620 | In these cases the injured person will have marked problems with respect to life, education, work and relationships and the prognosis will be very poor. |
| Psychiatric Damage- moderately severe | £17,900 to £51,460 | In these cases the injured person will have significant problems with respect to life, education, work and relationships but the prognosis will be more optimistic than in severe cases |
| Psychiatric Damage- Moderate | £5,500 to £17,900 | In these cases the injured person will have some problems with respect to life, education, work and relationships but the prognosis will be good and there will have been marked improvement |
| Psychiatric Damage- Less severe | £1,440 to £5,500 | The level of award in this bracket will be dependant on the period of disability and how daily activities and sleep were affected |
| Fractures of nose/nasal complex | £9,990 to £21,700 | Injuries resulting in permanent damage to airways, difficulty breathing, and/or nerves or tear ducts and/or facial deformity. |
| Fractures of nose/nasal complex | £3,710 to £4,790 | As above, but resulting in a complete recovery after surgery. |
As we can see in the compensation table above, the amounts of compensation that you can claim will vary. Even if your injury isn't above, you can see how much you could make from facelift negligence claims.
No Win No Fee Facelift Injury Claims
We are proud to offer a No Win No Fee (or conditional fee) agreement to help our clients. This helps those who have a valid claim for compensation do so without having to meet any costs upfront, make any payments during the claims process, or need to assume any financial risks. It transfers the risk or burden from the claimant to the solicitor. If your case is not successful, your solicitor will carry the loss and you then don't pay for their time or services.
In the event of a successful claim, your personal injury solicitor will receive a percentage of your final settlement as their fee. This is a simple and effective way to help those who wish to make a facelift injury negligence claim but worry about the costs of doing so.
Start Your Claim Today
Contact Legal Expert today by sending us the details of your injury and surgery to office@legalexpert.co.uk. You can also contact us by calling 0800 073 8804. Alternatively, fill in the contact form and request a callback from our team to chat about facelift negligence claims.
Useful Links
Find further information about injuries you may suffer from negligent facelifts and cosmetic injury claims. You can also find further information on this type of procedure in general.
Tanning Salon Injury Claims
If you suffer a burn injury as a result of using a tanning bed, find out how much compensation you could rceeive in our handy guide to tanning salon sunbed personal injury claims.
Cosmetic Surgery Claims
Find out more about how much you could claim for a variety of different cosmetic injury claims with our guide.
Beauty treatment injury claims
Read our guide to making claims for beauty treatments causing injury through negligence.
Further Medical Negligence Guides
Facelift negligence claims- FAQs
What is medical negligence?
Medical negligence is where the level of care that you receive falls below the usual standard, resulting in injury.
Who regulates cosmetic surgeons?
All cosmetic surgery clinics in England receive regulation by the Care Quality Commission.
How long does it take to settle a clinical negligence claim?
This depends on a number of factors. Some medical negligence claims settle within a matter of months, whereas others take much longer.
What is the average payout for medical negligence?
There's no one amount for cosmetic surgery negligence. The compensation award you receive depends on the severity of your injuries and the value of special damages.
Is there a time limit for claiming for a facelift?
A personal injury claim needs to be within three years of the incident taking place.
What could go into a facelift injury claim?
Alongside pain and suffering, you also receive compensation for any financial losses like loss of earnings or medical costs.
What can I do to maximise my compensation?
You should keep records of your injuries and any expenses you incur because of them. 
Can I claim for facelift negligence on someone else's behalf?
Yes. You can claim for someone lacking the mental capacity to claim by acting as their litigation friend.
Thank you for reading our guide on facelift injury negligence and the facelift negligence claims process.