Teletext Holidays Personal Injury Claims Guide – How To Compensation For A Holiday Accident Booked Through Teletext Holidays
Teletext Holidays cater for all ages they represent a wider geographical area and have options that suit all. It once was a travel comparison site that worked with different suppliers however since 2014 changing its status to a British travel company it began solely working with Truly Travel. Accidents and injuries as we know can happen anywhere and at any time but to have them happen when we are on holiday, probably a holiday we have saved up all year to take and especially if it is down to an others negligence it can be very distressing to say the least. Legal Expert are holiday accident specialists and could help you make holiday accident claims if you have suffered a negligent avoidable injury while on a Teletext Holiday.
If you'd like to begin a claim right away, call us today on 0800 073 8804 and speak with an advisor.  If you would like to learn more about making a claim for an accident abroad, then please carry on reading.
Select A Section
A Guide To Holiday Accident Claims When Booked With Teletext Holidays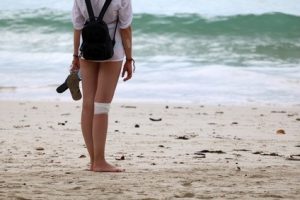 If you're looking for a holiday accident claims solicitor to help you with Teletext package holiday personal injury claims, then you're in the right place.  Here at Legal Expert, we specialise in all forms of personal injury claims and could help you if you're the victim of a holiday accident which wasn't your fault.
In this guide, we'll provide information about the types of holiday accidents that could lead to a claim, how much compensation you could be entitled to and advice on how to make a no win no fee claim.
We'll also cover your rights if you book a package holiday, what you can include in a claim and how long a compensation claim may take to be settled.  Hopefully, once you understand whether you're eligible to make a claim, you'll want to use Legal Expert as your personal injury solicitor.  Get in touch with one of our team to discuss how we can help.
Furthermore, if, after reading this guide, you're still unsure whether you can claim or not, please get in touch as we're happy to offer free legal advice about your options.

What Are Accidents On A Teletext Holiday?
Teletext Holidays have come a long way from the days of advertising holidays on television.  They now operate an online travel agency offering package holidays, all inclusive holidays, flights, hotels and excursions.
We'll cover package holiday regulations later but if you book this type of holiday then Teletext Holiday personal injury claims might be possible against the travel agent rather than the hotel, flight operator or excursion provider if you are negligently injured by any 3 components. This is because your contract will be with Teletext Holidays, who'll contract out the services you buy from them and they have a duty of care as the organiser of the package trip under the Package Travel & Linked Travel Arrangements Regulations 2018.  Therefore, they have a duty of care to ensure that the services are safe and reasonable steps are taken to protect you.
To be eligible to make a holiday accident claim against Teletext Holidays you must have booked your travel arrangements as a package deal, it must be a supplier of the package deal that has caused the injury or illness due to negligence. The injury or illness will have been avoidable and unnecessary. The negligent act would need to be by one of the travel agents' contractors booked as -part of the package deal otherwise the claim would need to be made against the private party.

Package Tour Operators Duty Of Care
As mentioned above, when you purchase a package holiday, you're entering a contract with the travel agent, in this case Teletext Holidays.  They will provide you with a copy of the contract, either electronically or a printed contract.
Under the Package Travel, Package Holidays and Package Tour regulations 1992, Teletext Holidays have a duty of care to provide what's in the contract and to ensure your safety where possible.  If they breach that duty of care, or one of their suppliers do (the airline, hotel operator etc), then you could make a claim for compensation against them if you are injured or made ill as a consequence of the negligence.

Package Holiday Rights
In this section we'll provide information about your rights when booking a package holiday.  We'll aim to answer questions like:
"What does ABTA mean in travel and tourism?"
"Are Teletext Holidays ABTA protected?"
"Who are Teletext Holidays regulated by?"
ABTA are the Association of British Travel Agents and ATOL is the Air Travel Organiser's Licensing. ABTA which was founded over 60 years ago represents Tour Operators and Travel Agents and is there for the protection of holidaymakers in the event travel companies run into problems. ATOL is concerned with protecting customers who have booked through UK travel companies to reimburse them if the company has gone bankrupt or they are stranded abroad in another country.
Teletext Holidays states…. " all our hotels and flight deals are ATOL protected, and your money is protected by the Travel Trust Association". Please always check the small print to ensure this is the case.
To be deemed a package holiday, it must at least 24 hours long and you must purchase 2 major parts of your holiday from the same travel company from flights, hotels, car rental and tourist services like excursions.
Once the holiday becomes a package holiday, the consumer is protected by the UK package holiday regulations listed in the last section.

How Could You Be Injured On Holiday Abroad?
Holiday destinations are other people's residents so what accidents could happen back at home could happen anywhere else in a different country. If you suffer an accident on holiday, and you suffered an avoidable injury that would never have happened had the right policies and procedures or even health and safety been in place, depending on how you booked your holiday and where the accident took place would determine who would be liable, either Teletext Holidays or an individual service provider.
Examples of holiday accidents;
Swimming pool accidents.
Illness caused by poor hygiene in a hotel.
Road traffic accidents when using hire cars, bikes or mopeds.
Boat accidents.
Transfer vehicle accidents.
Slips, trips or falls in any public place like a hotel, airport, restaurant or shopping centre.
Food poisoning.
Accidents on excursions and sporting events.
Examples of holiday accident injuries;
Head injuries including concussion.
Sickness, diarrhoea and stomach cramps.
Bruising or soft tissue damage.
Back and neck injuries.
Water borne illnesses which could include Legionnaires' disease.
Cuts and lacerations.
Food poisoning symptoms.
Drowning or other fatalities.
If you've suffered any of these injuries during an accident on a Teletext holiday, please get in touch, one of our team will happily assess your case and advise on the chances of successfully claiming compensation.

Holiday Airport Shuttle Bus And Transfer Accident Claims
If your Teletext Holiday package holiday includes an airport transfer, then you may be able to make a claim against your holiday provider if you're injured while using the transfer service.  This could include:
Injuries when boarding or disembarking a bus if the bus is damaged in anyway.
If you're vehicle is involved in a collision.
Or even if you're hit by the vehicle while waiting for it.
If you've been injured while using a provided transfer service when on a Teletext Holiday including a bus, taxi or coach, please speak to our team for free Teletext Holidays complaints advice.

Claims For Accidents At Hotels Abroad
It is vital that all hotels maintain a high standard so that customers are not in anyway put at risk of harm, injury or illness. Maintaining and servicing a hotel should not be underestimated as if left to go into disrepair or allow health and safety policies to be poorly implemented there are a variety of different ways a customer could be harmed. These could include:
Food poisoning in the hotel restaurant. This is usually caused by poor hygiene or when food is stored, prepared, cooked or reheated incorrectly.
Swimming pool accidents such as when there are no signs to warn that a pool isn't deep enough for diving.
Slips, trips and falls because warning signs have not been used.
Injuries caused by damaged furniture that should have been repaired or replaced.
Electric shocks or burns caused by faulty equipment.
If you are unsure who maybe responsible for the injury you suffered while staying at a hotel booked through Teletext Holidays then please call our advisos and they can tell you if your claim would be a Teletext hotel personal injury claim.

Allergic Reaction And Sickness Claims
People who suffer from allergies often spend a lot of time checking menus and food labelling before deciding to purchase food.  Food allergens should be listed clearly on any labelling as failure to do so can lead to serious health complications and can even be fatal in extreme circumstances.
If you, or a loved one has suffered an allergic reaction because the labelling didn't identify the allergen, try to photograph the menu or packaging and get in touch with our team.

Slips, Trips And Falls On Holiday Abroad
Slips, trips and falls on holiday could happen just about anywhere during your stay as there are different hazards that could cause such an accident. Depending on whether it could have been avoided, where the accident happened, how you booked your holiday will firstly determine if you could pursue a holiday accident claim and if so, secondly who maybe liable.
Examples of when a slip or trip could have been caused by negligence include:
If a pathway is damaged such as a raised paving slab, damaged kerb stone or a pothole which causes you to trip and hurt yourself.
When a floor is wet or slippery and no warning signs are in place. This could be caused by cleaning, a spillage or a leak.
If a handrail on a stairway is damaged and fails to support your weight when you use it, causing you fall.
Or if a trip hazard isn't properly visible due to poor or damaged lighting.
If you've suffered an injury, caused by the negligence of somebody else, then please contact one of our advisors.  We'll assess your case for free and help you to decide if you have a valid claim or not.

Entertainment And Activity Accidents And Injuries
If you book an excursion as part of your package holiday, you could be eligible to make a personal injury claim against the tour provider if your injured in an accident because the operator of the trip was negligent.
When you participate in an activity the operator may:
Complete a risk assessment to ensure you're fit enough to participate. This could simply be a questionnaire that they ask you to fill in prior to commencing the activity.
Provide training to all participants to ensure everybody knows how to complete the task safely.
Provide safety equipment that is suitable and reduces any risks adequately. Equipment should be well maintained and not faulty.
Supervise the activity at all times. This means they should observe the activity and step in if anybody is struggling, unsure what to do or endangering other participants.
If you are injured on a pre-booked holiday excursion that was booked as part of a package deal with Teletext Holidays and you are injured negligently maybe the safety equipment was faulty and not for for purpose, you did not receive the right instruction and you were not observed correctly, or the equipment you were using was damaged and defected then you may have the right to pursue a claim against Teletext Holidays for any harm suffered.

How Long Could My Package Holiday Accident Claim Against Teletext Holidays Take?
When you begin a compensation claim for a holiday accident you may want to know how long the whole process will take.  In truth, it's very difficult to say as it can depend on factors such as:
If you've fully recovered from your injuries or if they're still ongoing.
Whether or not the package holiday provider admits liability.
The complexity of the illness or injury which might require specialist medical treatment or assessment.
Some claims can be settled relatively quickly but bear in mind that package holiday regulations allow operators a little longer to investigate their claim than for a UK based personal injury claim.
It is vital to start a claim as soon as possible if that is what you are intending on doing as there are time restraints to personal injury claims. The time limits will vary largely depending on how you booked your holiday, where the accident took place and what country the incident happened in. If you are claiming against the UK tour provider who you booked your package holiday with then it is likely to be 3 years, please call to clarify.

I Am Making A Claim for An Accident On Holiday, What Could I Claim For?
In this section we are going to cover what could be claimed for if pursuing under UK law, i.e. for an accident on a package holiday against a UK tour operator, other countries laws may differ so please check. When a solicitor assesses a UK compensation claim, there are many 'Heads of Loss' that they could use. These losses can be categorised into two main categories; general damage and special damages;
General Damages:  This compensation is paid for the pain and suffering caused by an injury.  Lawyers, courts and insurers use a defined set of values for different types of injuries.  Some example amounts for general damages can be found in the next section.
The up and coming sections are Special Damages and they include;
Travel Expenses: Following an accident, you may need to change your travel plans which might mean you incur an additional cost.  You may also need to make alternative travel arrangements for everyday life back in the UK.  Either of these expenses could be included within your claim.
Care Costs:  If you need any form of professional care to assist you while you're recovering from your injuries, you can sometimes claim the cost of care back.
Damage to Property Costs:  If you damaged any of your personal property when your accident happened such as clothing, luggage or jewellery, you could look to claim the cost of repairing or replacing item to be included in your claim.
Medical Expenses: It may also be possible to include any medical costs in the claim.  This could include the cost of medicines and other treatments.
Loss of Earnings: When you return to the UK, if you lose any income because you need time off work to recover or to visit your GP, you could seek lost income as part of your claim.  With more serious injuries which cause you to have to stop working or move to a different role, you could also look to claim for future loss of income as well.
The idea of special damages is to return you to the same financial position as you were prior to your injuries.
You'll need to be able to demonstrate how each expense was linked to your injuries and you should provide as much evidence, such as receipts, to support your claim.
It's advisable to speak with a personal injury solicitor before committing to any expense as they will be able to advise whether you're likely to be able to claim the cost back. Otherwise you could be left out of pocket.

Personal Injury Calculator
If you're looking for a personal injury claims calculator, then take a look at the table below.  It shows some compensation amounts paid out as general damages for different types of injury:
| Type Of Injury | Compensation Amount | Injury Information |
| --- | --- | --- |
| Moderate Neck Injury | £6,920 to £33,750 | Brackets will start with moderate soft tissue injuries, possibly accelerate a pre-existing condition, wrenching-type injury and disc lesion of the more severe, serious limitation of movement and persistent reoccurring pain to fractures and dislocation of the neck, vulnerability to further trauma and limitation of activities. |
| Moderate Back Injury | £10,970 to £34,000 | Brackets start from disturbance of ligaments and muscles giving rise to backache, soft tissue injuries to compression/crush fracture of the lumbar vertebrae where there is a substantial risk of osteoarthritis. The amount will depend largely on the severity of the original injury, the degree of pain experienced, the extent of any treatment required in the past or in the future. |
| Less Severe Arm Injury | £16,830 to £34,340 | Significant disability but a substantial degree of recovery will occur. |
| Very Minor Wrist Injury | £3,090 to £4,160 | Displaced fractures or soft tissue injuries. Recovery estimated 1 year. |
| Minor Pelvis Injury | Up to £3,460 | Soft tissue injuries. Full recovery will be made. |
| Moderate to Very Serious Leg Injury | £34,370 to £74,150 | Brackets will begin with multiple fractures and severe crushing injuries, imperfect union of fractures muscle wasting, serious compound or comminuted fractures, ligament damage resulting instability to permanent disability, severe multiple fractures which may take years to heal. |
| Moderate Knee Injuries | Up to £12.050 to £22,960 | Twisting, bruising of the knee, dislocation, torn cartilage or meniscus which results in minor instability. The position in the brackets will take note of the seriousness and prolonged pain caused to the knee joint. |
| Modest Injury | Up to £12,050 | Sprains, ligament damage and undisplaced fractures. |
| Minor Injuries | £1,200 to £2,150 | Complete recovery within 3 months. |
| Food Poisoning | £800 to £8,360 | Cramping, stomach pain, diarrhoea, alteration of bowel function and fatigue. Possible hospitalisation. |
| Trivial Scarring | Up to £3,090 | Minor scarring. |
Each type of injury is graded from minor to severe which means that bruised finger would be paid a lot less compensation than having one amputated.  It is therefore important that your personal injury lawyer can demonstrate the exact nature of your injury.
At Legal Expert we use a panel of doctors and medical specialists to ensure we can provide expert evidence to back up your claims.

No Win No Fee Holiday Accident Claims Against Teletext Holidays
The cost of legal services Is often something that worries clients and puts them off claiming.  This is why Legal Expert offer a no win no fee service for all claims we take on.  Here's how our no win no fee agreement works:
First of all, we assess your claim in an initial consultation (for free). We'll look at any evidence you have, the injuries you suffered and how they affected you both physically and financially.
Next, if we believe you have strong chance of winning your claim, we'll prepare a Conditional Fee Agreement. This is the legal name for no win no fee and is abbreviated to CFA.
The CFA will clearly state that you don't have to pay our solicitors up front.  Also it will state  you don't have to pay them at all if they don't win you any compensation.
It will also show what the success fee will be if we do win the case. A success fee is limited to 25% of any compensation awarded.
We then negotiate with the defendant. First, we'll put the claim to them, then counter any objections until hopefully they admit liability.  Then we negotiate, on your behalf, over the compensation amount.
When the compensation is sent to us, we retain the success fee and send the rest straight to you.
In our experience, it is very rare for cases to end up in court but it's always an option if we believe you have a strong case.
How To Start Your Claim
Now that you've read this guide about Teletext package holiday accident claims, we hope you're ready to begin a claim. If so, you can contact using any of these methods:
Call us free on 0800 073 8804. You can speak with one of specially trained advisors right away.
Use the live chat feature which is available on every page of this website.
Send an email with details of your holiday accident to info@legalexpert.co.uk.
Or fill in a simple online form and we'll get back to you.
Remember, Legal Expert are able to offer a no win no fee holiday accident claims solicitor. This means you can begin your claim without the need of funds.  We offer free assessments of your claim and you're under no obligation to proceed.  Therefore, give us a call to discuss your claim and decide if you're happy to let us act on your behalf.
Also, our team are happy to offer free legal advice.   Therefore, even if you're not completely ready to begin your claim, get in touch to find out what else you need to do.

Further Advice
Thanks for reading this guide about Teletext package holidays personal injury claims.  We hope you've found it helpful and informative.   For more information we've linked to some more useful articles below:
ABTA Package Holidays – Information on the different regulations that protect you when booking a package holiday.
The Package Travel, Package Holidays and Package Tour Regulations 1992 – the full legislation created by the British government to protect British tourists.
Concussion Guidance – A useful guide from the NHS about the symptoms and treatment required for cases of concussion.
Allergic Reaction Compensation Claims – Information on when it might be possible to claim for an allergic reaction.  Includes some example compensation amounts.
Trip, Slip and Fall Accident Claims – More information about claiming compensation for a slip, trip or fall. Includes types of injuries and compensation amounts.
If there is any more information about personal injury claims that you require, please get in touch and let us know.
Edited By Melissa.