TUI Cruise Personal Injury Claims Guide – How To Claim Compensation For Accident On A TUI Cruise?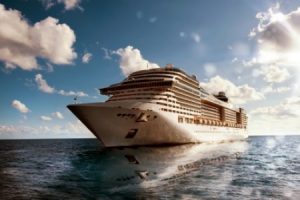 On this web page, you will read a full and detailed guide to help you if you have suffered an injury or illness that was not your fault on a TUI Cruises holiday accident. Within it, you may find different kinds of information that you may need in regards to pursuing your own claim. This includes examples of accidents people may make cruise claims for, as well as why you may be eligible to claim in your own case.
Every claim is unique, and you many need some specific information that this guide does not cover. If you do need additional information, or simply have some general questions about making a claim, please speak to one of our claims team on 0800 073 8804. They will be able to assist you, as well as explain how our no win no fee service works.
Select A Section:
A Guide To Accident Claims On TUI Cruise Package Holidays
TUI Cruise Line was originally founded in 2007. The company is registered in Germany, as a partnership between Royal Caribbean Cruises Ltd and TUI AG. However, it wasn't until two years later in 2009, that the newly formed company began selling cruises. At the time this page was produced, the cruise operates a fleet of seven cruise liners, and these are:
Mein Schiff Herz
Mein Schiff 1
Mein Schiff 2
Mein Schiff 3
Mein Schiff 4
Mein Schiff 5
Mein Schiff 6
Within this guide to making cruise ship compensation claims, you will learn information related to making accidents claims if on a cruise holiday to be able begin making educated and informed choices about your own claim. Below, you will find information such as:
A list of examples of injuries and illnesses that could affect a cruise passenger.
A list of examples of accidents that either a passenger, or a member of the crew of the cruise liner could become the victim of.
An examination of the duty of care that a cruise line owes to its passengers, and also to its employees. We also look at how the rights of passengers are protected while the liner is in international waters.
A table that details the different time limits that are in place, within which you will need to begin making your cruise compensation claim, in order to be eligible for compensation.
Information about accidents that could potentially happen while in your cruise cabin.
Information about making a claim if you are injured in a road traffic accident while transferring to your cruise ship from the airport, train station, etc.
Information on making a claim if you are injured while transferring on to, or off of your cruise liner, using a smaller boat such as a tender.
Information related to making a compensation claim for food-related illnesses such as food poisoning, and also allergic reactions, whilst dining on a cruise liner.
A table that contains figures related to the typical range of compensation that is paid to victims of various injuries.
A list of many of the most commonly awarded types of damages, that a person making a successful cruise claim, might expect to see included in the overall settlement that they are offered.
A number of steps that you could take, if you have suffered an injury or become ill whilst travelling on a cruise liner, to prepare for making a claim once your holiday is over.
An introduction to our national claims service. This is a financially risk-free and effective way for you to gain access to a legal firm, to process your cruise holiday claim for you.
If you have any questions about the contents of this guide once you have finished reading it all, then please do take a moment to call our claims team on the contact details down at the end of the page. They will be ready and waiting to give you any help that you might need.

Accidents could happen anywhere but if they happen while on holiday they could ruin your time. If a person is injured or becomes ill while on their cruise holiday and the accident that lead to the injury was due to the cruise provider they may be eligible to make a claim for damages. There are different kinds of injuries and illnesses that could happen to passengers of a cruise ship, for example:
Food-related illnesses and allergic reactions.
Soft tissue injuries.
Fractured and broken bones.
Traumatic head injuries including concussion.
Drowning, either fatal, or causing cerebral hypoxia.
If you are unsure whether the injury or illness you suffered on your cruise holiday was due to the negligence of the cruise provider or the staff please call Legal Expert today and they will establish if you are eligible to claim.

Examples Of Cruise Ship Passenger And Crew Accidents That Could Occur
In the previous section, we covered injuries and illnesses a person could face on a cruise liner. In this section, we cover some examples of accidents that could cause these injuries, for example:
Slips, trips and falls.
Accidents caused by faulty gym equipment.
Cabin accidents due to faulty or damaged facilities and furniture
Accidents caused by damaged flooring around the pool, or illnesses caught by swimming in a contaminated pool.
Being struck by a moving or falling object.
Lift or escalator accidents.
Work-related accidents.
If you are unsure if your TUI cruise ship accident causing you an injury may lead to a compensation claim call Legal Expert who can offer you a free legal consultation with no obligation.

What Duty Of Care Does TUI Cruises Owe Passengers And Crew?
When you are travelling on TUI cruise ships, you have certain rights. The cruise line is expected to provide you with a healthy, hazard-free environment at all times. However, the extent of your rights, and hence the duty of care that the cruise line owes you, could change depending on the location of the ship. For example:
When close to port, within the three-mile zone around the national borders of a country, then the laws of the local jurisdiction will apply.
When sailing in international waters, three miles outside of any national boundary, then Maritime Law applies.
You may also have specific rights in the country you booked your cruise in, if you booked your cruise as part of a package deal in the UK using a UK tour operator UK laws may apply.
How Long Do I Have To Make A TUI Cruise Ship Accident Claim
There are a number of different time limits that could apply, when making cruise ship accident claims. These are covered in the table below but may vary.
| Claim Circumstances | Applicable Time Limit |
| --- | --- |
| If you are making a claim under International Law, as the cruise liner was in international waters when the incident occurred. | 2 from the date of embarkation |
| Illness or injury suffered and you booked your cruise as a package holiday in the UK, through a UK based travel company. | 3 years from the date the event took place. |
Potential Cruise Ship Cabin Accident Claims
The cabin of a cruise ship, including cabins that are inhabited by members of the crew, could present significant health hazards, if maintenance and inspections are not kept up to date, these could include;
Damaged floor coverings such as torn carpets causing slips, trips, or falls.
Electrical shocks if any electrical appliances are damaged.
Damaged fittings such as light switches or plug sockets causing electrocution.
Water heaters, showers and heating systems causing burns or scalds if the thermostat is faulty.
Damaged furniture causing lacerations and cuts.
Road Traffic Transfer Accidents
Very often when booking a package holiday transfers are included. If you have an accident while on a coach, bus, train or taxi transfer, and you are injured you may have the grounds to pursue a claim for any injuries suffered amongst other things. If you are unsure who would be liable in these cases we recommend you speak to one of our claims team, who will be able to tell you who is liable in your own case.

Small Boat Transfer Accidents
Not every cruise liner can dock at every port. Some are too large for smaller, shallow ports. In these situations, smaller boats such as motor tenders are used to ferry passengers to or from the shore. If you are injured during one of these transfers due to a negligent accident call Legal Expert to see if you have grounds for a claim.

Food Poisoning, Norovirus Or Other Illnesses
Food poisoning could occur anywhere food is provided if health and safety precautions are not always adhered to, there are a number of regulations that restaurants, cafes, supermarkets any food supplier in the UK must adhere to in order to prevent people becoming ill due to infected foods. Food poisoning could occur if food that is being served has not been stored, prepared or cooked correctly.
All packaged food sold on board must show the allergen content of the food on the packaging. Additionally, serving staff are expected to answer questions related to the allergen content of the food served in the eateries onboard. If the wrong information is given, or a food label omits this information, and it leads to a passenger suffering an allergic reaction, then it could be possible for them to make a claim.

TUI Cruises Accident And Illness Personal Injury Claims
The table below shows compensation amounts that may be awarded relating to specific injuries, the amounts are taken from the Judicial Court Guidelines used by solicitors, insurers and Judges.
| Type Of Injury/Illness | Severity | Compensation Range | Further Notes |
| --- | --- | --- | --- |
| Hand injury | Moderate Injury | £5,110 to £11,640 | The range in this category starts with soft tissue, lacerations, deep wounds, crushing injuries, the top brackets is reserved for permanent damage. |
| Arm injury | Less Severe Injury | £16,830 to £34,340 | The range in this category includes significant disability but a substantial degree of recovery is expected. |
| Finger injury | Fracture of index finger | £7,990 to £10,730 | Fracture has recovered but grip remains impaired. |
| Back injury | Moderate Injury | £10,970 to £34,000 | The range in this category starts with as disturbance of ligaments and muscles giving rise to backache, soft tissue injuries, prolapsed discs to incidents of a compression/crush fracture of the lumbar vertebrae where there is a substantial risk of osteoarthritis. The impact on daily life will play a significant part. |
| Neck injury | Minor Injury | Up to £2,150 | Recovery within 3 months. |
| Ankle injury | Modest Injuries | Up to £12,050 | The range in this category includes sprains and soft tissue damage and displaced fractures. |
| Foot injury | Severe Injury | £36,800 to £61,410 | The range in this category includes fractures to both heels, significant pain and restriction. |
For a more accurate estimate of how much you could receive in cruise compensation, please speak to one of our claim advisors.

Costs And Damages We Can Help You Claim Compensation For
When a solicitor processes a personal injury claim for a client, if they are successful, the cruise ship injury settlements will be made up of a number of different kinds of damages. For example:
Special damages:

Loss of prospects in the future.
Loss of your current earnings.
Medical fees.
Care costs.
Travel costs.

General damages:

Loss of quality of life.
Permanent or long-term disabilities.
Long recovery period.
Pain and suffering.
Psychological damage.
Shock and trauma.
To learn exactly what kinds of damages might be applicable in your own case, speak to one of our claims team to find out.

How You Can Start A TUI Cruise Ship Accident Claim
If you need to make a claim for a TUI cruise accident, or cruise illness, you could make the task simpler for your personal injury solicitor, by taking steps such as these below:
Gather evidence by taking photographs of the scene and the cause of the accident.
Gather contact details for any witnesses to the incident.
Make sure to get your injuries treated, even if they appear quite trivial.
Make sure to notify the cruise line of the accident and follow the accident reporting procedure.
Start to make a list of any losses you suffer due to the incident.
No Win No Fee Ship Injury Or Illness Claims Against TUI Cruises
We offer our No Win No Fee claims service to every resident of the UK, as a financially risk-free way to have their cruise claim processed. When you use this service, you don't pay anything until you have actually been paid compensation. It works like this:
To take your claim on – we don't charge anything.
As we process your claim for you – there is still no charge.
If you don't receive any compensation – then we don't charge you any fee at all.
When we receive a compensation payment for you – we take our fee out of it, then give you the remainder.
How We Can Help You Make A Cruise Accident Claim
When you select us to act as your holiday injury solicitor, to make a claim against TUI Cruises, then you can rest assured we will do all we can to make sure your claim is successful. Furthermore, we aim to get you the most compensation that is possible for your particular case. We will keep you informed of everything we do for you in a transparent manner, using simple to understand English, no jargon.

Contact Us today
Have you suffered harm while on a cruise holiday? Do you need the help of a firm of holiday injury lawyers to make a claim against a cruise line? If so, then we could help you. Speak to one of our claim experts on 0800 073 8804 today, to find out how.

Additional Cruise Ship Accident Resources
We have published some additional guides on this site, that you might find useful, such as:
How to claim against Royal Caribbean
These external sites also have some useful info:
Information about Maritime Law
Edited By Melissa.