Eurowings Flight Personal Injury Claims Guide – How To Claim Compensation For A Accident on a Eurowings Flight?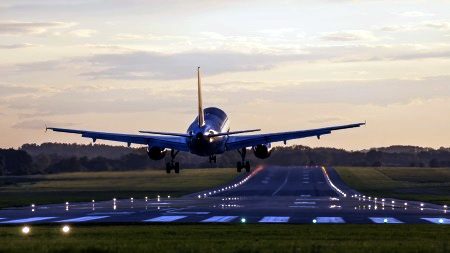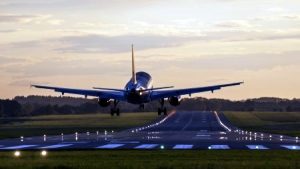 Eurowings, a low-cost airline, based in Germany, is owned by Lufthansa and operates as a subsidiary of the well-known company. They offer many flights out of the UK, especially from Heathrow, with direct flights throughout Europe, and connections from some Germany airports to far-flung destinations that could tempt many a holidaymaker into flying with them. If you've been injured in a Eurowings flight accident, that was caused by negligence of Eurowings staff, poor upkeep of the aeroplane, or anything that they could be held liable for, you may be able to purse a claim for compensation.
Below, we explore this type of air accident claim in more detail, giving you information on how to hire a personal injury lawyer, as well as explaining how to claim flight compensation for trolley accidents, a tea burn, or even an airplane crash. You can of course, skip the reading and get a claim underway by calling 0800 073 8804, but we do advocate reading the information below to get an idea of what's involved. For ease of navigation, you can click on the section you want to read and you'll be directed right there.
Select A Section
Our Guide To Eurowings In-flight Accident Or Injury Claims
Wherever it is you're looking to fly to, be it for a business trip or a family holiday, you're almost certain to have one eye on the budget. Eurowings might be one of the options you're considering, especially if you're flying around Europe. A low cost friendly airline that prides themselves on offering flights to major European destinations at competitive prices, Eurowings is a wholly owned subsidiary of the well-known and larger airline, Lufthansa. If you have experienced an injury due to an accident while on board that you feel was due to negligence of the airline then you may be able to claim compensation. Here at Legal Expert, we are able to help with no win no fee Eurowings flight accident claims, and in the guide below, we discuss many different aspects of types of claims. Whether you've had a hot coffee burn, something has fallen from an overhead locker, or you're injured from a slip when getting on board the aircraft, if Eurowings have been negligent, then you could claim.
What Is An Aircraft Passenger Accident?
An Aircraft passenger accident is basically an accident that happens to a passenger on an aircraft, or when boarding or disembarking. The airline itself has a duty to make things as safe as possible for its passengers and when they fail to do so, or do not do so properly, and you are injured, you could make a claim against them. A good example is the overhead storage locker injury. If another passenger pulled a bag on top of you, then a claim against the airline would not be valid, but if the Eurowings staff had not secured the locker and it opened during takeoff and something struck you, you may well be able to claim. The difference between these two examples is the liability. The airline is responsible for the securing of the lockers, they are not responsible for another passenger pulling things out of the locker. If you have any questions then do call our team and we will clarify.
Eligibility Of Injuries To Claim Compensation
There are some instances where it would not be possible for you to make a claim against Eurowings for a Eurowings flight accident. One of these is cases of deep vein thrombosis (commonly known as DVT) . The reason for this is that the House of Lords ruled in 2005 that DVT cases did not fall into the legal category of being an accident.
In other cases, other passengers might be at fault, or you might be at fault yourself. If the airline can be held accountable for what caused your injury, then you could possible claim against them. Every case is different though so if you are in any way unsure, then call our team and we'll take a look at the specific circumstances for you.
Air Passenger Rights In Cases Of Accidents Or Injuries
Air passengers have a certain set of rights, and the airlines have certain responsibilities towards them. This is often what defines airline flight accidents claims. You are covered as a passenger through the Montreal Convention, as well as other legislation such as the Package holiday regulations of 1992. If your Eurowings flight was booked as apart of a package holiday, then it may be that your claim is against the operator rather than the airline.
International Air Passenger Rights Under The Montreal Convention
If you are flying internationally, then it may be of interest to know more about the Montreal convention. This legislation covers 120 countries, and in essence allows a person to claim within their preferred jurisdiction for incidents that happen on international flights. If you'd like more information, the convention documentation can be found here, or you can call us to see if this applies to your claim.
Injuries And Accidents You Could Claim Compensation For
We all know that air travel, statistically, is safer than being on the road but there could be some risk whenever you step aboard an aircraft. There are different things that could go wrong, but we have listed some of the more common ones below, with further information on each specific type. It is, however, essential you don't assume you can't claim if your accident isn't listed below. Any incident that happens aboard a Eurowings flight could, if the airline was negligent, and you was injured could lead to a Eurowings flight accident claim. Just call us to tell us what's happened to you and we'll give you advice.
Hot Food Or Drink Scalds And Burns On A Flight
It may seem obvious, but hot drinks and food can cause burns, and these can be very painful injuries that take time to heal. Some even result in permanent scarring.
Under the Montreal convention, you are covered for burns that result from hot foods and drinks (such as hot tea burns or hot coffee burns) spilled on you that cause burns but two conditions need to be satisfied.
Firstly, your burn incident aboard the flight needs to have been reported to the crew manning the flight, and recorded as such. Secondly, you will need to prove that you sought medical attention for the injury. It is not just spillages that can cause burns, foods served way too hot may also be the reason you have suffered a burn injury.
Passenger Rights And Injuries If You Have A Disability
If you inform the airline (usually 48hrs before your flight) of your requirements in terms of medical aids while on board and if you need help with seatbelts etc, the airline should help make arrangements for you. Should they fail to do so, whether by not giving you your medication within the flight if required, or by not securing you in your seat correctly, and you become injured, Eurowings flight accident claims could occur. The right mobility equipment should also be there for you to safely alight and disembark the aircraft.
Injuries That Could Be Caused By A Service Trolley Accident
Service trolleys are often seen a few times during flights, whether serving duty free, drinks, snacks or meals. They are often heavy, and if you've been struck by one, you'll know only too well how much it can hurt. Airline staff should be trained to safely operate these trolleys, but if they don't fix the brake where they should, or take care with manoeuvring the trolley and hit you, then you could suffer injuries to your feet, shoulders, elbows and arms, which could range from bruising to fractures. This could lead to Eurowings flight accident claims.
Injuries That Could Be Caused By Falling Or Tripping Over On An Aircraft
Trip injuries can happen anywhere, and could be particularly common in flight accidents. Whether it is a problem on the airbridge, some rough carpet on the aircraft, or a trip hazard left in the way, a trip or fall can cause injuries ranging from slight strains to severe breakages of bones. If you've tripped or slipped on something on an aircraft that should not have been there, or should have been signposted as a possible risks, then we could help see if you could make a claim for compensation.
Injuries That Could Be Caused By Luggage Falling From Overhead Storage Lockers
We have touched upon this subject earlier on in the guide, but it's important to cover again as these claims could be common. To re-iterate, if it were the fault of the cabin crew for not securing the locker before takeoff or landing, and you became injured due to luggage falling from there then Eurowings flight accident claims could happen.
Injuries That Could Be Sustained During Unexpected Turbulence
Turbulence happens a lot on flights and often you'll hear an announcement from the flight deck or the cabin crew that seatbelts need to be put on and there is turbulence expected. However, if this announcement does not happen, and you're injured as a result of turbulence you're not expecting, then it is possible for claims to be made. Turbulence injuries can range from bruises, cuts and sprains to broken bones.
In-Flight Food Poisoning Illness Claims
A lot of people complain about the quality of in-flight food but you can't make personal injury claims for something that just doesn't taste very nice. However, if you are served food while on a Eurowings flight that has caused you to have food poisoning and this has been medically proven you may be able to pursue a claim. If food was not stored correctly or prepared safely, then it could be contaminated, which could cause food poisoning, and if it does, then compensation may be sought. But this is not the only issue that can happen with food on a plane.
Food Allergy Claims
If you have allergies, the likelihood is you'll read any food labels with caution. If food served on a plane doesn't list an allergen but contains it, and you suffer a reaction, or if the flight crew serve you something containing allergens that you have made them aware you suffer reactions from, then you could be able to claim. If you'd like more information on this, then we will happily talk you through it.
Injuries Caused by A Broken Or Defective Seat
We all know that leg room is a point of contention on most flights, and you can't really claim for a lack of comfort in your seating, but you could claim for injuries that have been caused directly by a defective or broken seat.
Should a sharp edge of a seat not be made safe and you cut yourself, or a seat collapses causing you – and possibly other passengers – to suffer injuries, then you could claim compensation for these injuries. The airline, after all, should be making the aircraft as safe for passengers as possible, and this responsibility extends to the seating.
What Can My Eurowings Flight Accident or Injury Claim Include Damages For?
As per all personal injury claims, it isn't just the injury you're able to claim for. Two types of damages, special and general, are awarded in most cases and here, we explain what each type is in more detail.
Special – Costs you've incurred, but these have to be directly because of the incident. This includes things like wages you've already lost or are going to lose because of your recovery, child care you might have had to arrange while you could not look after the children, prescription charges and even travel costs for hospital appointments etc.
General – An award is made based on the medical evidence provided, compensation for the pain and the suffering of the actual injury.
If you have costs you're unsure about claiming for, do call our experts, and we'll be able to advise you on what you can claim for and what you can't.
Accident Personal Injury Calculator
Personal injury calculators don't take into account the specific circumstances for your claim, such as how much you've lost in earnings precisely, as well as the level of your type of injury and how your prognosis will affect your recovery. Every single injury has the potential for a different recovery time and this will heavily affect your payout. To provide you with some information on average awards for certain injuries, we've pulled together some information that might help in the table below:

| Injury Type | Severity of Injury | Compensation Amounts | Information |
| --- | --- | --- | --- |
| Head Injury | Moderate Brain Damage | £37,760 to £192,090 | These injuries range from concentration and memory issues, ability to work is reduced, risk of epilepsy to severe intellectual deficit and effects of speech, sight and senses. |
| Head Injury | Minor Brain or Head Injury | £1,940 to £11,200 | In these cases brain damage if any will have been minimal and the lower bracket reflects recovery within weeks. |
| Neck Injury | Moderate Neck Injury | £6,920 to £33,750 | These injuries will range from soft tissue damage with further trauma possible, serious limitation of movement, permanent or recurring pain to injuries associated with dislocations and severe fractures. |
| Neck Injury | Mild Neck Injury | Up to £2,150 to £6,920 | Lower bracket reflects recovery within three months, to short-term acceleration and/or exacerbation injuries, duration of the soft tissue injury will play a major factor. |
| Shoulder Injury | Serious Shoulder Injury | £11,200 to £16,830 | Dislocation to the shoulder causing back issues, pain to the neck and elbow and gripping issues to the hand. |
| Arm Injury | Permanent and Substantial Disablement | £34,340 to £52,490 | Serious fractures to one or both forearms leading to disability. |
| Arm Injury | Simple Fractures of the Forearm | £5,810 to £16,380 | Fractures to forearm. |
| Hand Injury | Serious Hand Injuries | £25,430 to £54,280 | Brackets include 50 percent reduced capacity, possible amputation and rejoining of fingers, or amputation of some fingers together with part of the palm resulting in gross diminution of grip. |
| Hand Injury | Minor to Moderate Hand Injuries | £800 to £11,640 | Brackets include crush injuries, penetrating wounds, soft tissue type and deep lacerations, impaired function to permanent disability. |
| Hip/Pelvis Injury | Moderate Injuries | £11,040 to £34,340 | These brackets involve hip replacement or other surgery to significant pelvis injury. |
| Back Injury | Moderate Injury to the Back | £10,970 to 34,000 | Disturbance of ligaments, soft tissue injuries, prolapsed discs necessitating laminectomy or resulting in repeated relapses to residual disability, traumatic spondylolisthesis with continuous pain requiring spinal fusion. |
| Back Injury | Minor Back Injury | Up to £2,150 to £10,970 | Brackets include soft tissue injuries, strains and sprains, recovery time plays an important factor. |
| Leg Injury | Moderate Injury to the Leg | £24,340 to £34,370 | Multiple fractures, severe crushing, future surgery; imperfect union of fractures, muscle wasting with a possible impact on employment. |
| Leg Injury | Less Serious Injuries to the Leg | Up to £10,380 to £24,340 | Simple fractures to the tibia and fibula to serious leg fractures with incomplete recovery. |
| Ankle Injury | Modest Injuries | Up to £12,050 | Minor displaced fractures, ligament damage, sprains, recovery will determine the amount. |
| Foot Injury | Modest to Moderate Injury | Up to £12,050 to £21,910 | Fractures to the foot that could lead to permanent deformity. |
| Scarring | Trivial Scarring | £1,500 to £3,090 | One scar which may be covered to some small scars. |
| Food Poison | Significant Illness | £3,460 to £8,360 | Stomach pains, cramps alteration of bowel function, recovery within a couple of years. |
| Food Poison | Minor | £800 to £3,460 | Disabling pain, cramps and diarrhoea. |
Obviously we cannot cover every single type of injury so if you're looking and cannot find yours, just call us – we'll give you an idea of the average.
No Win No Fee Flight Accident Claims Against Eurowings
Claiming compensation for Eurowings flight accidents might seem like a huge issue, particularly if funds are short. However, you needn't fund your claim upfront. There is a way in which you can claim risk-free and that way is via a no win no fee format. You will agree to pay a percentage of your compensation, but if you don't win compensation, then there is nothing to pay. These funds are only required once the payout has been completed so there are no hefty outgoings at a time when you are likely to be financially strapped anyway.
How Can I Claim Compensation?
We've been helping people claim compensation for injury that could have been prevented if someone had not been negligent for some years, and we know what we're doing. Our customer testimonials only attest to this. We know what you are going through because we have listened to people in the same situation, so we make it as easy as possible for you to make your claim, from the initial phone call to us to the point at which your solicitor fights for your compensation, and beyond. We offer free advice and you can talk to us whenever you need to.
Contact Us Today
It's easy to get in touch, whether you prefer to Live Chat via the website or dial 0800 073 8804. You'll soon be speaking to a Legal Expert advisor who will listen, advise and help connect you to the right solicitor for your flight accidents claim, so why not get in touch today?
Additional Resources
We've collected together some useful links for you that might be of interest. Please see them below.
AAIB – Report for the Air Accident Investigations Bureau can be found here.
HSE in Air travel – See the HSE's page on air travel here.
No Win No Fee Claims Information Guide – FAQ about no win no fee
Edited By Melissa.