Loganair Flight Personal Injury Claims Guide – How To Claim Compensation For A Accident on a Loganair Flight?
Nothing can ruin a holiday more than suffering an injury. This is even more so the case if you are injured on the flight to your vacation destination. Sadly, though, this could happen. However, if you have been injured during a flight, and it was not your fault, there is a chance you could claim compensation. In this guide, we are going to reveal everything you need to know if you have been in a Loganair flight accident. You can also apply this advice to other claims for other airlines. If you would like some more information and advice, you can reach us on 0800 073 8804. However, don't pick up the phone just yet! Continue reading to know your rights if you are injured on flight.
Select A Section
Our Guide To Loganair Flight Accident Claims
You have probably heard countless people tell you that you are safer in the sky than in a car. While this may be true, accidents could still happen. Plus, there could be many ways to get injured on a flight. It is not just about plane crashes and malfunctions. You could be injured in a trolley accident, for example, or you could be injured due to a food allergy. The scenarios vary considerably.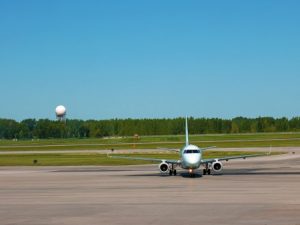 In this guide, we are going to provide details on what to do and how to claim if you have been in a Loganair flight accident. Loganair Limited is one of the lesser-known airlines in the UK. Founded in 1962, it is a Scottish regional airline. The airline has hubs in Aberdeen Airport, Dundee Airport, Inverness Airport, and Edinburgh Airport. It also provides services for the Royal Mail in terms of night mail flights. The airline serves 28 destinations in the UK at present. If you are injured through no fault of your own, as a passenger or member of staff while on one of these flights, you could be entitled to a payout.
In this guide, we will tell you everything you need to know about making a claim. This includes details on specific types of claims, for example, food poisoning and overhead luggage accidents. We will also talk you through the amount of compensation you may get and the service we provide. If you still have queries by the time you get to the end of the guide, please do not hesitate to give us a call.
What Are Flight Accident Claims?
What actually constitutes a flight accident, injury, or illness? It is important to recognise that we are not just talking about a plane crash, but there are lots of other ways (which we look at below) in which people could be injured on a flight. From boarding, through their time on the aircraft, to disembarking at their destination: there are a number of different accidents that could occur at all stages. The key here is establishing responsibility. Are Loganair to blame for what has happened? This is the main determining factor dictating whether you will get compensation or not.
Qualifying To Make A Loganair Flight Accident Claim
As mentioned in the above section, proving that an airline is to blame for what happened to you is the important factor when securing compensation. The best way to illustrate this is with an example. Let's talk about an overhead luggage bin injury. If the flight attendant did not lock the overhead luggage bin correctly, and luggage fell onto you, causing an injury, you could claim. However, you cannot claim if you were trying to get luggage out mid-flight and something fell on top of you.
Know Your Rights If You Are Injured On A Flight
There is legislation in place to protect those that travel via airplane. There are numerous rules and regulations that can ensure you are compensated if you suffer because of an airline mistake or negligence. When it comes to package holidays, regulations came into place in 1992 that mean you can claim against an airline if you suffer in any way due to their negligence. You can also claim for luggage losses and such like.
Learn Your Air Passenger Rights Under The Montreal Convention
Now let's look at the Montreal Convention, which you may have heard about before. This convention assists to help individuals that are looking to make a claim for accidents that happen on international flights. Therefore, it is rarely applicable to Loganair claims, as they tend to be domestic. Nevertheless, it is good to know about this convention in case you are ever injured on an international flight. The convention essentially means that you could claim in the jurisdiction of your residency when making an airline claim. In this convention, 120 different countries are covered.
What Circumstances Can I Make A Compensation Claim For?
Some of the most common accidents on aeroplanes could be as follows:
Burn and scald injuries
Injuries caused because of unexpected turbulence
Slips, trips, and falls
Food poisoning and allergies
Overhead locker incidents
Trolley accidents
Accidents involving disabled passengers
In the upcoming sections, we will provide information on each of these accidents. Do note, though, that you could still claim even if your accident is not in the list. We're merely taking you through some examples.
I Was Burnt By A Hot Drink Or Hot Food On My Flight, Can I Claim Compensation
Firstly, we are going to take a look at burn injuries, for example, a hot tea burn or hot coffee burn. Remember earlier we spoke about establishing responsibility? Well, that is very important here because burn injuries can happen in many different ways. After all, an airplane,hot food and drinks aren't the best mixture in the world! However, there are some circumstances whereby you would not be to blame for this type of accident and, therefore, you could get compensation. For example, if a flight attendant was to spill a hot drink on you, and subsequently you suffered a burn injury you could claim. The same applies if you were served something way too hot.
Claiming As A Disabled Passenger Who Was Injured On A Flight
A disabled person should be able to travel as much as their heart desires, and it is up to Loganair (and any other airline) to ensure these passengers are safe on board. The UK Government advises giving airlines 48 hours notice whenever possible if you are flying as a disabled passenger. This is simply to give the airline time to make sure you get all of the assistance required. If, however, an airline acts negligently, for example, does not secure you in your seat properly because you are unable to do so and this causes you to have an injury, you could be able make a claim.
Service Cart Impact Accidents And Injuries
How many times have you watched films about airplanes and you see the service cart go flying down the aisle? These carts are very heavy, and they could cause serious injuries. If one was to crash into you, it could easily result in broken bones. Whenever the flight attendants aren't moving and in control of the cart, it needs to have the breaks on to ensure it does not move by itself. If the breaks were not applied or the flight attendant was simply careless, and you became injured due to the impact of an inflight trolley you could claim.
Flight Accident Claims For Slips, Trips, And Falls
Slips, trips, and falls can happen anywhere in the world, and flights are no exception! No matter where this has happened, it is all about proving that it was not your fault, but the fault of a third party, for example, you may have slipped because of a liquid that was not wiped up, or no warning signs had been displaced to warn you of the hazard and you became injured due to this incident, then it may be possible to pursue a compensation claim.
Overhead Luggage Bin Injury Claims
If the overhead lockers have not been correctly secured by cabin crew during or before take-off and landing, they may come open and items could fall out, causing injuries. In such a scenario, you could make a claim.
I Was Injured During Unexpected Turbulence On A Loganair Flight, Can I Claim?
If you are a regular flyer, you will know all about turbulence. There is no denying that turbulence can easily happen on any flight, and so you can't claim simply for its existence. However, you could claim if you were not warned about the turbulence and, therefore, you were injured due to not applying your seat belt due to the warning sign not being displayed at the right time. When turbulence is likely, the pilot must inform everyone on board. Passengers must take their seats, and drinks and food cannot be given out during this time. If these instructions are not followed, accidents could happen.
Food Poisoning On A Flight Claim
You could experience food poisoning from foods or beverages served on the aircraft. There are many different ways food poisoning is contracted, from food being left out for too long to food that has not been stored or prepared correctly. Most people tend to make a quick and full recovery from food poisoning, yet there have been life-threatening cases too.
Flight Food Allergy Compensation Claims
You may also suffer an allergic reaction if you are served foods that contain a food you are allergic to. If you have informed an airline, of such allergies but been served the food anyway and suffered an allergic reaction, you may have grounds to claim. Moreover, if you have consumed food from a package and you have had an allergic reaction because it was not labelled correctly, you could also claim. By law, if any of the 14 common allergens are contained within a food, the consumer must be made aware of this. If you were not, and you had an allergic reaction as a consequence, you could claim.
I Suffered An Injury Due To A Faulty Seat On A Loganair Flight Can I Claim?
Finally, another type of accident that could happen on a plane is incidents involving faulty, broken, or damaged seats. All airlines are responsible for ensuring their aircraft's are well-maintained and safe. This not only relates to the engine and all running parts, but it relates to the general upkeep of inside the aircraft as well. If a seat has collapsed or you have been injured because of sharp edges on the seating, you will may be able claim against an airline for negligence.
Damages Your Airline Accident Claim Can Include
When it comes to all personal injury cases, if you are eligible for compensation the amount you receive is broken down into two main sections. First of all, you will be compensated for the actual injury itself. The amount you will receive is based on the seriousness of your injury. They will also take into account the impact the injury will have on your life. Nonetheless, there is another type of damages you will be compensated for when making a flight accident claim, and this is out of pocket expenses. After all, an injury can be a great inconvenience to your everyday life for a while and, therefore, can result in unnecessary expenses. You shouldn't have to pay for these.
What can you claim for in special damages? Let's look at some examples…
Medical Expenses – You may have incurred medical costs because of suffering an injury. This could be anything from prescription costs to additional care whilst you are recovering.
Loss of Earnings – Has your injury left you unable to work? It is unlikely that you will be able to go straight back to working in most cases. Therefore, if you suffer loss of earnings, as a result, you will be entitled to claim for this.
Hospital Visits and Parking – Keep track of your hospital visits and your parking receipts. You will be able to claim for these as well. After all, you wouldn't have had to make the journey if you hadn't suffered the injury in question.
Travel Expenses – Travel expense does not only relate to the journeys you have had to make because of suffering from the accident you were involved in on a flight. You may have to sort out alternative transport because you have been left unable to drive for a few days. You can claim for this as well.
Additional Household Costs – A prime example of this would be if you had to hire someone to help you with childcare because you were unable to do so whilst suffering from the impact of your injury.
Flight Accident Personal Injury Claims Calculator
One thing most personal injury victims want to know is how much compensation they are going to get! Firstly, it is imperative to stress the fact that every single personal injury claim is different. It is literally impossible to tell you how much compensation you will get without knowing the ins and the outs of your case. Therefore, to get a more specific answer, you should give Legal Expert a call. We have a legal helpline available seven days a week, and the details will be provided at the end of this guide. Even then, though, we cannot give you a 100 per cent accurate figure – no solicitor can. And, a personal injury claims calculator certainly cannot either! This is because your case is assessed individually and awarded an amount accordingly.
With such a diversification in compensation amounts, you may be wondering how your sum is calculated. Well, firstly they will take into account the injury you have suffered. They will consider how serious it is, as well as how it has impacted your life. Therefore, if you have suffered a severe head injury with long-term effects you will obviously receive a lot more than if you have sustained a mild back injury. In the table below, we take a look at some payout figures for injuries sustained.

| Injury Type | Severity of Injury | Compensation Amounts | Information |
| --- | --- | --- | --- |
| Head Injury | Moderate Brain Damage | £37,760 to £192,090 | These injuries range from concentration and memory issues, ability to work is reduced, risk of epilepsy to severe intellectual deficit and effects of speech, sight and senses. |
| Head Injury | Minor Brain or Head Injury | £1,940 to £11,200 | In these cases brain damage if any will have been minimal and the lower bracket reflects recovery within weeks. |
| Neck Injury | Moderate Neck Injury | £6,920 to £33,750 | These injuries will range from soft tissue damage with further trauma possible, serious limitation of movement, permanent or recurring pain to injuries associated with dislocations and severe fractures. |
| Neck Injury | Mild Neck Injury | Up to £2,150 to £6,920 | Lower bracket reflects recovery within three months, to short-term acceleration and/or exacerbation injuries, duration of the soft tissue injury will play a major factor. |
| Shoulder Injury | Serious Shoulder Injury | £11,200 to £16,830 | Dislocation to the shoulder causing back issues, pain to the neck and elbow and gripping issues to the hand. |
| Arm Injury | Permanent and Substantial Disablement | £34,340 to £52,490 | Serious fractures to one or both forearms leading to disability. |
| Arm Injury | Simple Fractures of the Forearm | £5,810 to £16,380 | Fractures to forearm. |
| Hand Injury | Serious Hand Injuries | £25,430 to £54,280 | Brackets include 50 percent reduced capacity, possible amputation and rejoining of fingers, or amputation of some fingers together with part of the palm resulting in gross diminution of grip. |
| Hand Injury | Minor to Moderate Hand Injuries | £800 to £11,640 | Brackets include crush injuries, penetrating wounds, soft tissue type and deep lacerations, impaired function to permanent disability. |
| Hip/Pelvis Injury | Moderate Injuries | £11,040 to £34,340 | These brackets involve hip replacement or other surgery to significant pelvis injury. |
| Back Injury | Moderate Injury to the Back | £10,970 to 34,000 | Disturbance of ligaments, soft tissue injuries, prolapsed discs necessitating laminectomy or resulting in repeated relapses to residual disability, traumatic spondylolisthesis with continuous pain requiring spinal fusion. |
| Back Injury | Minor Back Injury | Up to £2,150 to £10,970 | Brackets include soft tissue injuries, strains and sprains, recovery time plays an important factor. |
| Leg Injury | Moderate Injury to the Leg | £24,340 to £34,370 | Multiple fractures, severe crushing, future surgery; imperfect union of fractures, muscle wasting with a possible impact on employment. |
| Leg Injury | Less Serious Injuries to the Leg | Up to £10,380 to £24,340 | Simple fractures to the tibia and fibula to serious leg fractures with incomplete recovery. |
| Ankle Injury | Modest Injuries | Up to £12,050 | Minor displaced fractures, ligament damage, sprains, recovery will determine the amount. |
| Foot Injury | Modest to Moderate Injury | Up to £12,050 to £21,910 | Fractures to the foot that could lead to permanent deformity. |
| Scarring | Trivial Scarring | £1,500 to £3,090 | One scar which may be covered to some small scars. |
| Food Poison | Significant Illness | £3,460 to £8,360 | Stomach pains, cramps alteration of bowel function, recovery within a couple of years. |
| Food Poison | Minor | £800 to £3,460 | Disabling pain, cramps and diarrhoea. |
No Win No Fee Flight Accident Claims Against Loganair
There are lots of different benefits associated with using a No Win, No Fee solicitor. But first, it is important to establish what this actually means. A No Win, No Fee personal injury solicitor is one who will only send you a legal bill if they secure compensation for you. This means you only pay for a winning service. We are very proud to say that our entire team works to this payment structure here at Legal Expert. Let's take a look at three distinct benefits associated with this…
Financial risk disappears – There is only one place to begin, and this is with the fact that there is no risk of you losing your cash and getting nothing in return. If you were to choose a solicitor who charges on an hourly basis instead, there is always going to be a huge risk that you can end up in a financially worse position than you were when you started the claim. This will never happen with a No Win, No Fee
Better service levels – Another benefit to consider is the fact that you are much more likely to benefit from a higher level of service. This is because this form of payment scheme makes the personal injury lawyer accountable for the service he or she provides.
Peace of mind – Finally, both the benefits mentioned above come together to give you greater peace of mind, which is something you definitely want during this stressful period.
Why Make An Aviation Accident Claim With Legal Expert?
Legal Expert is a company that deals with claims in the United Kingdom. We deal with all types of personal injury cases and have many years of experience in the industry.
All you need to do is give us a call on our legal helpline and we will give you all the advice and assistance you need. One thing you can be certain about is the fact that we will give you an honest assessment regarding the strength of your aviation claim. If we do not believe you have a good chance of getting compensation for your injury, we will tell you. Nonetheless, generally you need to prove the following…
The injury occurred through someone else's error or negligence
The incident happened within the personal injury claims time limit
You received medical attention for your injuries (may vary)
It is imperative to see a doctor after the incident so that your injuries can be medically recorded. Moreover, a lot of people are unaware of the time limit in regards to accidents on aeroplanes claims. So, don't wait around!
When you call us, not only will we answer all of your questions but if we believe your case is a strong one we will put you in touch with one of our specialist No Win, No Fee solicitors. They will handle your case for you. There are many benefits associated with our No Win, No Fee service. You will not require any money in order to begin your claim and you do not need to worry about the potential financial implications that are associated with a traditional service. This all ensures that you benefit from a much higher level of service and you can be sure your case is getting the attention it deserves. So, why not get in touch today?
Contact Us Today
If you are ready to proceed with your airline accident claim against Loganair, or any other airline for that matter, please do not hesitate to get in touch. All you need to do is give us a call on 0800 073 8804. You will speak to an experienced professional who will answer your queries and talk you through the process of claiming. There are plenty of other ways to get in touch as well if you would prefer, for example, you can use the live chat feature, send us a email, or you can leave us your contact details and we will call you as soon as possible.
Additional Resources
Was your flight late? – Delayed flight compensation FAQs are here.
Information that is not specific to an airline – Flight claims, in general, are covered here.
Accidents when you are on holiday – FAQ answered.
Edited By Melissa.