Shearings River Cruises Accident Claims Guide – How Much Compensation Can I Claim For A Personal Injury On A Shearings River Cruise?
Cruise ship holidays are very popular in the United Kingdom. There are many different types of cruises that you can go on today. This includes river cruises around specific countries, as well as explorations around the world. Cruises are luxury resorts on the water and very often include an all inclusive package.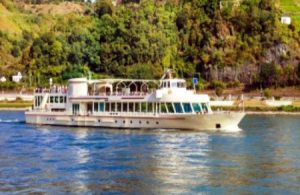 If you have been injured in an accident and it was not your fault, but possibly due to the negligence of the tour operator or cruise provider then you may have grounds to pursue a claim for any damages. Here at Legal Expert, we have years of experience in the industry and we have helped many people to get the compensation they deserve when they have been injured in accidents that have happened due to someone else's error.
In this guide, we are going to look at accidents that could possibly happen on Shearings River Cruises. If you would like to discuss the ins and outs of your case, all you need to do is give us a call at 0800 073 8804 and we will be more than willing to help you. But first, make sure you continue reading to find out everything you need to know if you want to make a claim for an accident that may have happened on a Shearings River cruise.
Select A Section
A Guide To Holiday Accident Claims On A Shearings River Cruise
Shearings have a number of different ships. This includes their contemporary A-ROSA cruise ships, which travel across Europe, offering luxury cruises. They also have two exclusively chartered ships, the MV Esmeralda and MS Serenade 2, which are known for their unique charm. If you have experienced an injury while on any Shearing River Cruises due to an avoidable accident then call us to see if you are eligible to make a person injury claim. In This guide you will find examples of possible accidents that may lead to claims as well as getting a better understanding regarding how to make a clam and the typical accident injury settlements.
Injuries Or Illnesses Which You Could Suffer On River Cruises
There are different types of illnesses and injuries that could happen while on a cruise ship. Slips, trips, and falls are common all over the world because there are so many ways that this sort of accident could happen. For example, you may suffer a back injury after slipping on a wet floor, or you may suffer a hip injury after falling due to uneven flooring. Passengers on cruise holidays could experience illnesses if swimming pools are not cleaned regularly, or may suffer food poisoning if food is not stored, cooked and prepared correctly. If you have contracted food poisoning due to something that you have eaten while on the cruise ship, we always advise that you seek medical attention as soon as you can.
Ways River Cruises Accidents Could Happen
Now that you are aware of some of the different injuries and illnesses that could happen on a cruise vessel, it is a good idea to take a look at how these accidents could happen. We will provide some examples below. However, please bear in mind that this list is not exhaustive and that there are other ways that injuries may occur;
– Escalator and elevator accident/s
– Slips, trips, and falls, which have been caused by the likes of broken steps or stairs, slippery walkways, and defective rails
– Food allergy reactions or food poisoning
– Injuries that have happened because of objects that have fallen due to not being fixed down correctly
– Medical malpractice
These are just some examples. If you cannot find the type of luxury river cruise accident that you have been involved in listed above, please do not panic. Call us and we will discuss your case with you during our free consultation with no obligation to take it any further.
Shearings River Cruise Duty Of Care And Your Legal Rights
There are a number of different rules and regulations that are in place when it comes to cruise ships. This includes the Shipping Act of 1984 and the Athens Convention. When it comes to making a personal injury claim for an accident that has happened on a ship in international waters, the Athens Convention takes precedence over UK law. Therefore, it is likely that your personal injury lawyer will use the Athens Convention to make your cruise accident on holiday claim. This is especially the case when you consider that this piece of legislation does not only cover accidents but also covers bacterial illnesses and food illnesses as well. It is important to note that under the Athens Convention there is a 2 year time limit in under to bring your claim.
River Cruise Accident Compensation Claim Time Limits
A lot of people are shocked to discover that there are time limits when it comes to cruise ship compensation claims. Unfortunately, a lot of people who attempt to secure compensation are disappointed as they are outside of the time limits. We do not want this to happen to you.
If your lawyer decides to make your cruise accident claim using the Athens Convention you will only have 2 years form the date you disembark to be able to pursue a claim for damages.
The claiming process is going to be a lot simpler the sooner you get the ball rolling. After all, the longer you leave it, the more likely you are going to be to forget something important. It will also be easier to gather vital evidence, such as witness statements. If you leave it too long, your witnesses may have moved or changed their telephone number, or they may not be able to recall the accident clearly.
Claims For Accommodation Accidents
Now, we are going to take a look at some examples of accidents and injuries that could occur in further detail. Accidents could happen while in your cabin accommodation if the furniture is damaged, or there is a leak in the bathroom causing a wet floor, if pictures and shelves are not fixed to the wall correctly and maintained they could fall down during a rough crossing and possibly cause an injury. Accidents that may occur outside of your cabin could be due to damaged gym equipment, wet communal floors that have no warning signs, defected floors or stairs and broken handrails causing slips trips and falls. A lot of cruise ships today also come with swimming pools. These pools need to be maintained and cleaned properly, ensuring the pH level is correct, and if this does not happen you could become sick which could ruin your holiday. If you have experienced an injury during your cruise holiday that you feel could have been prevented and was possibly due to an error on the part of the cruise provider then it may be possible that you can make a personal injury claim.
Claims For Road Traffic Or Boat Accidents
You may also need to take a provided coach journey or a journey via a provided small boat for certain transfers that are related to your holiday. Needless to say, you will want get off the ship and explore some of the countries that you are visiting and this can also involve a journey on a coach. If you have an accident on a coach or a small boat that has caused an injury, call us to see who may be liable for your injury and what action if any you could take.
Food Allergies And Illness Claims
Food poisoning could happen anywhere that food is being provided. Whilst food poisoning only tends to last for a couple of days, this is enough to ruin your holiday. It could happen in different ways. This could have been because food has been left on the buffet for too long, the food has been handled with raw meat, or because the food was out of date. Food poisoning could also occur if the food has been stored or prepared incorrectly.
You could potentially also make a claim if you have had an allergic reaction to some of the food you have consumed while on the ship. In order to be able to claim for this, you need to show that the cruise ship company was negligent. They could possibly have been negligent if you informed them of your allergies and they have overlooked this serving food to you that contained the allergens you were allergic to causing a reaction. They could potentially have also been negligent if their food contained one of the main 14 allergens yet they failed to publish or inform passengers of this information and a passenger suffers an allergic reaction. For packaged food, this information must be printed on the packaging. When the food is not packaged, there is more flexibility, for example, a waitress could inform you or it can be printed on the menu.
I Was Injured On A Cruise, What Can I Claim Compensation For?
There are two main areas that are considered when a person makes a compensation claim. Firstly general damages these compensate for the pain and suffering caused. Secondly special damages which cover areas such as financial losses; lost income, travel costs, medical costs, care costs etc.
Accident Compensation Calculator, Shearings River Cruise Ship
One thing that everybody wants to know when they make a personal injury claim is how much compensation they will receive. It is our goal to secure you as much compensation as possible for your case. You can refer to the table below for injury payouts. If you cannot see the injury that you have suffered, do not worry, all you need to do is give us a call and we can give you a personalised estimation.

| Type Of Injury/Illness | Severity | Compensation Range | Further Notes |
| --- | --- | --- | --- |
| Hand injury | Moderate Injury | £5,110 to £11,640 | The range in this category starts with soft tissue, lacerations, deep wounds, crushing injuries, the top brackets is reserved for permanent damage. |
| Arm injury | Less Severe Injury | £16,830 to £34,340 | The range in this category includes significant disability but a substantial degree of recovery is expected. |
| Finger injury | Fracture of index finger | £7,990 to £10,730 | Fracture has recovered but grip remains impaired. |
| Back injury | Moderate Injury | £10,970 to £34,000 | The range in this category starts with as disturbance of ligaments and muscles giving rise to backache, soft tissue injuries, prolapsed discs to incidents of a compression/crush fracture of the lumbar vertebrae where there is a substantial risk of osteoarthritis. The impact on daily life will play a significant part. |
| Neck injury | Minor Injury | Up to £2,150 | Recovery within 3 months. |
| Ankle injury | Modest Injuries | Up to £12,050 | The range in this category includes sprains and soft tissue damage and displaced fractures. |
| Foot injury | Severe Injury | £36,800 to £61,410 | The range in this category includes fractures to both heels, significant pain and restriction. |
How Start You River Cruise Accident Claim
If you have been injured while on a cruise ship, there are a number of different steps that you could take so that your case is simpler. Seeing a doctor comes highly advised. This is important because your doctor will put a medical report together and this is a critical piece of evidence. If you have not seen a doctor yet, this is something your injury lawyer can often arrange for you to do in your local area. If you have been injured while on a cruise ship, it is a good idea to make sure that you inform the the ships staff of this as soon as possible. By law, all companies are required to have a book that records accidents and injuries and this will be an official record of what has happened to you, so it is a good piece of evidence. Also we advise to take witness details as they may be asked to give a statement. Taking photographs of the scene and also your injuries can act as evidence.
No Win No Fee Accident Claims On A Shearings River Cruise
When you choose Legal Expert, you are guaranteed a No Win, No Fee holiday injury solicitor if you have a valid case. This means you do not need any money to begin your claim and you will only pay our legal fees if your case is a success.
Ways Our Holiday Accident Claim Experts Can Help You
Every day, accidents could happen in the UK and around the world. If you have been involved in one, and someone else is responsible, you may be eligible for compensation. However, the whole process could seem a bit daunting and complex if you have never had any experience with personal injury cases before. But, don't panic, as Legal Expert have you covered. Read on to discover what you could expect from our service.
Legal Expert has grown to become one of the leading firms in the UK. With our years of experience, you may struggle to find another company with the level of expertise that we have. From road traffic accidents and cruise accidents to product liability claims, we have handled an abundance of claims over the years, and so you can be confident that we will have dealt with cases similar to yours before.
One thing could make us stand out from a lot of other personal law firms is the fact that all of our holiday injury lawyers work on a No Win, No Fee basis. What does this mean for you? It means that you will not need to pay any of our legal fees if for some reason one of our solicitors does not manage to secure compensation for you. This offers you a significant degree of financial protection.
If you are still feeling a bit unsure about the service we provide, we advise you to take a look at our website in further detail. Not only will you get a better understanding of the service we provide, but you will see that we have an excellent reputation as well. Other than that, if you want to know more, just ask – we are always glad to receive calls from prospective claimants.
Ways To Contact Our Team
If you have any queries about making a claim, or you would simply like to start the claims process, call us on 0800 073 8804. You can also leave your contact details or even use the live chat feature.
Cruise Ship And Package Holiday Claims Guides
Non-specific Cruise Claims Information – A guide for cruise ship claimants.
Claims on Royal Caribbean – Another well-known cruise operation. If you've been injured on one of their cruises, then specific information can be found here.
Were you on a package deal? – Package holiday claimants can see more information here.
Edited By Melissa.