Claiming Compensation For A Skiing Fall Or Accident
By Megan Black. Last Updated 16th January 2023. Welcome to our skiing accident claims guide where we'll look at how to secure skiing accident compensation.
Skiing is a popular pastime, however, it can come with the risk of injury if not done safely. For instance, different skiing accidents could cause someone to sustain bruises, cuts or a more serious head injury. Downhill skiing falls and accidents, in particular, can lead to very serious injuries that can greatly affect your quality of life. If the accident in which you sustained a ski injury was caused by someone else's negligence, you could be entitled to seek compensation.
In this guide, we'll look at how someone else's negligence could cause a skiing accident resulting in someone sustaining harm.
We'll also look at how the claim process works for accident claims abroad and who would be responsible for paying your compensation for the pain and suffering you've endured.
Depending on the circumstances of your accident, the claims process can vary. However, we'll discuss this in more detail throughout our guide.
If you can prove that your injuries were caused by a third party, then it's worth discussing your case with a personal injury solicitor. In this skiing accident claims guide, we'll give you all the information you need on what steps to take to help secure the skiing accident compensation that you deserve.
Please continue reading for more information. Alternatively, to find out how we can work with you on a No Win No Fee basis to put forward your skiing accident claim, please get in touch on the details below:
Telephone: 0800 073 8804
Claim online: Fill out our contact form and an advisor will get in touch with you.
Live chat: Speak with an advisor using the function below.
Select A Section
What Could Cause Somone To Make A Skiing Accident Claim?
There are various causes of skiing accidents and subsequently, skiing accident claims. In some cases, it may have been a skier error or another accident that was not caused by negligence. If this is the case, you wouldn't be able to claim compensation as successful personal injury claims revolve around proving that third-party negligence caused your injury.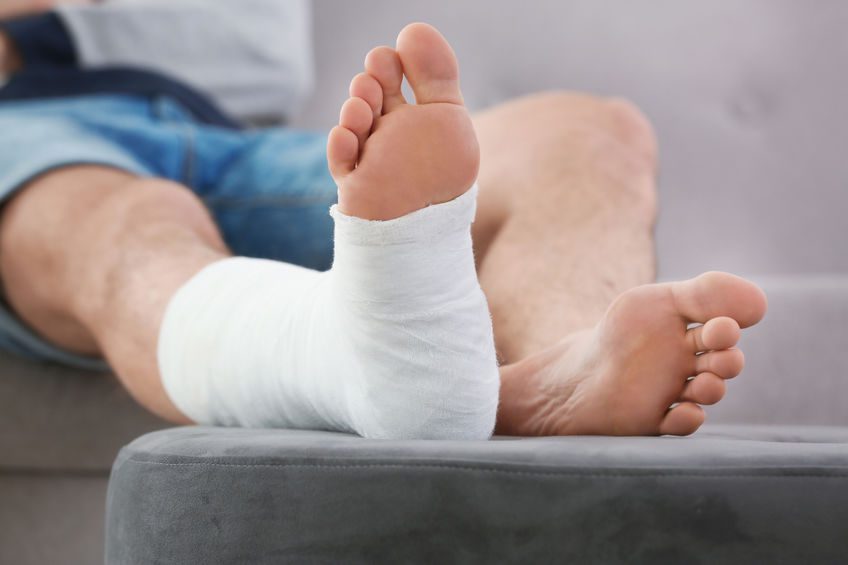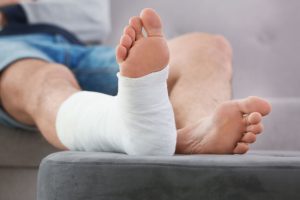 There are common injuries associated with skiing and snowboarding claims and providing you can establish a skiing accident happened due to the negligence of a third party, you may be entitled to file for compensation.
Additionally, pursuing skiing accident claims abroad could prove more complex because of the different laws in any of the countries you choose for your skiing holiday whether it's France, Switzerland or elsewhere in the world.
For more information on holiday accident claims following a ski injury you sustained in an accident caused by someone else's negligence, call our team. An advisor can provide guidance on the steps you may need to take.
Skiing Injury – What Is A Ski Accident?
You might wonder, 'what is a ski accident?'. Any event that takes place on a ski slope or whilst skiing and leaves you injured can be considered a ski accident. There are numerous ways that ski accidents could happen, including:
A collision between skiers
Crashing into objects on the slope, including trees or fences
A ski lift accident, such as if it malfunctions or crashes into another lift
Inadequate equipment that either fails or is defective
Inadequate training being given
Whatever type of winter sports injuries you may have suffered, if you can prove a third party was liable for your accident, you may have grounds for a valid claim. Get in touch for free legal advice about your skiing injury using the details in this guide.
Skiing Accident Statistics
The Association of British Travel Agents (ABTA) are the largest travel association and provide statistics regarding aspects of travel, such as travel insurance. 
According to their latest article, published in 2019, they state that, in that year, up to 8.6 million British holidaymakers may have travelled abroad without travel insurance. Furthermore, just over a fifth (21%), of holidaymakers admitted to travelling without insurance within the last year. 
Additionally, according to a 2019 report, more than 1,000 Britons a day get injured while skiing after consuming alcohol. From 2014 to 2019, 3.8 million people admitted to being injured while skiing as a direct result of this.  
These numbers show the threat of ski injuries when the potential risks involved aren't properly considered. You may be injured by negligence and looking for compensation. If you've been involved in a skiing accident that wasn't your fault, please read on to learn more about how you could make skiing accident claims for the skiing accident compensation that you deserve.
Source: https://www.abta.com/news/8point6-million-holidaymakers-dont-have-travel-insurance-for-their-summer-holiday
Source: https://www.independent.co.uk/travel/news-and-advice/ski-holiday-injuries-drinking-alcohol-slopes-british-insurance-a9232156.html
Good Conduct When Skiing To Prevent Accidents And Injuries
The legislation in place to ensure the safety of skiers will vary from country to country. If a third party failed to adhere to this, resulting in your suffering, you could be entitled to make a skiing accident claim.
However, there are several factors you can take into consideration when it comes to good skiing conduct on the slopes:
Respect – you should never put other skiers in any sort of danger
Control – always know your skiing capabilities and respect the conditions of the mountain
Choice of the route – leave enough room between you and the skier or snowboarder in front of you
Overtaking another skier – leave enough room between yourself and another skier/snowboarder who is travelling slower than you are
Entering and starting – look up and down before starting out or entering a marked ski run
Stopping – only stop at the edge of a piste where you can clearly be seen by other skiers
Climbing – keep to the edge of a piste when climbing up or down it
Signs – take notice of all markings and signs on a piste which are there for your safety
Assistance – help other skiers when they need it and alert rescue services when a skiing accident occurs
Identification – anyone who is involved in a skiing accident whether a skier or a witness should exchange details including names and addresses
These pieces of guidance apply to both skiers, snowboarders and other ski slope users too. To learn more about how to claim the skiing accident compensation you deserve, please read on. Alternatively, if you have queries after suffering downhill skiing accidents, you can also contact our team for free legal advice.
Skiing Accident Abroad Claims
When it comes to making skiing accident compensation claims following an incident abroad, the process may differ from a personal injury claim made for an accident sustained in the UK. However, it depends on the type of accident.
There are several types of holiday accident claims, including package holiday claims and foreign accident claims.
For package holiday claims, the UK travel company offering a package holiday has a responsibility to ensure your safety abroad. For instance, your package might include a hotel and transfers to and from the airport. While on holiday, you may have experienced food poisoning in the hotel. In these cases, you could make a personal injury claim against the travel company under UK law.
However, if you independently booked to stay in a ski resort in another country and you sustained an injury due to the resort's negligence, you would make your claim directly against the resort. This is because the resort would be considered liable for the skiing accident.
In foreign countries though, the legal procedures tend to be different to those covering the UK. Also, the legal procedures that are carried out will depend on which foreign country the skiing accident happened in.
Personal Injury Claims Process
When making a claim for a fall, you need to be aware of the personal injury claim process. Before you make your claim, you must ensure that you meet the following criteria:
Someone owed you a duty of care.
This person broke their duty of care.
As a result, you were harmed in what could've been an avoidable accident.
It is important to note that not every skiing injury will result in a personal injury claim. For example, if your ski instructor provided you with the proper training and made you aware of the risks and you were still injured in an accident, you might not be eligible for compensation. This is why evidence is crucial for personal injury claims. Some of the evidence you could collect to help support your claim includes:
Any photographs or videos of the accident.
Eyewitnesses' contact details.
A copy of your medical records showing any diagnoses and treatments.
Furthermore, you may want to seek out some legal advice on what steps you could take next in your claim.
Contact our advisors today for more information on the personal injury claim settlement process. They could also provide you with free legal advice regarding your claim.
How Long Can I Make A Claim After An Accident?
Generally, personal injury claims have a 3-year time limit. The three years might start from the date of the accident or the date you became aware that someone else's negligence caused or contributed to the accident in which you sustained harm.
However, exceptions might apply in certain circumstances, such as for those who are under the age of 18 and aren't legally able to claim themselves.
Additionally, if you're making a foreign accident claim, the time limits may vary depending on the country in which the accident happened.
For more information, call our team.
What Skiing Accidents And Injuries Can You Make A Skiing Accident Claim For?
When it comes to skiing accident claims, there are two types which are as follows:
Fault – this type of claim refers to when a person who has suffered a skiing accident accepts responsibility for the injuries they sustained. In short, "fault" claims are typically resolved by the injured person filing a claim through their "holiday insurance" provider.
Non-fault – this type of personal injury claim refers to an injured person filing a skiing accident claim against a third party because it can be proved they were liable.
Non-fault claims can be filed against third parties if liability can be proven in a ski accident that caused a ski injury. Some common skiing injuries might include:
Cuts, lacerations and bruises
Sprains
Fractures
Back injuries
Neck injuries
Head injuries
Wrist injuries
Downhill skiing has become extremely popular, however, downhill skiing accidents could cause several types of severe injuries, such as:
It is worth noting that other snow sports/activities for which you can make skiing accident claims (or the like) include:
Cross-country skiing
Sledging
Snowshoeing
If we haven't mentioned the accident you were involved in, you can call our team on the number above. They can discuss whether you're eligible to claim compensation for your ski injury.
Can You Claim Skiing Accident Compensation For Injuries Sustained Off-Piste?
Off-piste skiing is where someone skis away from the prepared ski runs. Many people enjoy skiing off-piste because there are usually fewer people around and there's more of a thrill involved.
However, going off-piste whether on skis or on a snowboard is much riskier than staying on designated runs which are well marked. Skiing off-piste does not offer the following:
You are not protected from known dangers associated with snow-covered areas
There will not be any warning signs indicating the dangers of an avalanche occurring
Snow slides are more likely to happen when you ski off-piste
In some cases, a guide or ski instructor may have taken you skiing off-piste when it wasn't safe to do so causing you to suffer a ski injury. For cases such as these, you may be able to pursue a skiing accident claim. However, the process will vary depending on the country in which you suffered the accident.
If you experienced a similar incident, call our team. An advisor could assess who might have been responsible for the accident. They could also advise on the next steps you could take to seek skiing accident compensation in a personal injury claim.
Skiing Accident – Possible Injuries
A skiing accident could result in various injuries. Below we've listed some ski injury examples:
You could suffer a significant head injury if a marked path fails to warn you of any upcoming hazards and you hit an object, such as a tree.
Falling off a poorly maintained ski slope may lead to suffer a fractured or broken bone
If you fall from a defective ski lift, you could suffer a spinal injury upon impact.
Following a skiing accident, our expert personal injury solicitors could help you claim if eligible. Get in touch for a free consultation at any time.
What Could My Skiing Accident Solicitor Help Me Claim In Compensation?
Anyone who suffers as a result of a ski crash or other accident as a result of someone else's negligence could claim skiing accident compensation.
If you choose to make a claim, a personal injury solicitor could help. They will ask you some relevant questions surrounding the circumstances of your accident before providing you with essential advice on what you could claim for.
Generally, there may be two heads to claims, including general and special damages. General damages compensate for any physical and psychological injuries sustained.
However, the compensation you receive might vary depending on factors unique to your case, such as the severity of your injury, including how badly it's impacted your quality of life. The long-term impact your injury has had on you will also be taken into consideration. If you've suffered injuries from downhill skiing accidents, you may receive more compensation depending on their extent and severity.
In order to accurately value your claim, the solicitor you hire may use medical evidence and reports as well as the Judicial College Guidelines (JCG). The JCG is a document that provides compensation brackets for different injuries of varying severities and is often used to help value claims.
What Are Special Damages In Skiing Accident Claims?
Special damages cover any losses of a financial nature from the past and future caused as a result of the skiing accident. These might include:
Travel expenses
Loss of anticipated income
Care costs
Damage to property
However, in order to claim for any financial losses, you must provide evidence in support of your claim. For instance, you could provide payslips to prove any lost income or receipts to prove any other costs incurred as a result of your accident.
It's also important to note that the skiing accident compensation you receive may vary depending on the type of claim you put forward. For example, if you are making a foreign accident claim, the compensation figures may differ from those that may be awarded in the UK.
To find out more how a personal injury lawyer can handle skiing accident claims on a No Win No Fee basis, please continue reading our skiing accident compensation claims guide.
Skiing Accident And Injury Claims Compensation Calculator
We have created a table below that provides guide compensation figures for different ski injuries. The figures are based on the compensation brackets set out in the JCG.
It is worth bearing in mind that all personal injury claims are unique and therefore the amounts can vary quite a lot. Additionally, the figures in the table relate only to general damages. For that reason, you should only use these figures as a guide.
Skiing Fall – How Much Compensation Could You Get For Injuries?
If you've suffered an injury in a skiing fall, you would only be able to claim compensation if you can prove that your injury was caused by negligence. The amount you could receive from general damages in a skiing accident claim will depend on factors such as:
Whether any permanent health issues were caused
The extent of the injury
If you've suffered multiple injuries. You can claim for both physical and psychological injuries caused by the same accident
The overall negative impact the injury has had on your life
Figures from the JCG can be seen below. These figures have been taken from the latest guidelines, published in 2022. As previously stated, these figures are not guaranteed because every claim is assessed independently. These figures have been taken from previous successful personal injury claims from Wales and England.
Injury Type
Severity
Description
Amount
Paralysis
(a)Tetraplegia (also known as Quadriplegia)
The top end of this bracket will involve intense physical pain, with a significant effect on their ability to communicate and a large impact on their senses.
£324,600 to £403,990

Paralysis
(b) Paraplegia
Compensation awarded will depend on aspects such as age and life expectancy, impact on sexual function and the extent of pain present.
£219,070 to
£284,260

Brain Damage
Moderately Severe
Serious disability will be caused leading to constant professional care being required. The person may suffer with limb paralysis and a cognitive impairment.
£219,070 to £282,010
Brain Damage
Moderate (i)
Personality change has been caused, with a moderate to severe intellectual deficit and a significant risk of epilepsy.
£150,110 to £219,070
Brain Damage
Moderate (ii)
The injured person's ability to work has been greatly reduced with some risk of epilepsy.
£90,720 to £150,110
Arm Injury
Severe
Serious arm injuries that leave the injured person barely better off than if the arm had been amputated.
£96,160 to £130,930
Arm Injury
Less Severe
A substantial amount of recovery will be expected despite the potentially serious disabilities caused.
£19,200 to £39,170
Elbow Injury
Less Severe
Functional impairment is created. However, surgery is not required for a recovery to be made.
£15,650 to £32,010
Elbow Injury
Moderate or Minor
A lot of elbow injuries fall into this category, such as tennis elbow syndrome, lacerations and simple fractures.
Up to £12,590
Leg Injury
(c) Less Serious (i)
Fractures that lead to an incomplete recovery or soft tissue injuries that are serious in nature.
£17,960 to £27,760
Whether you would like more information about claiming for downhill skiing accidents or want a compensation estimate that relates to your specific injury, please contact us for free using the details above.
No Win No Fee Snowboarding And Skiing Accident Claims
As mentioned throughout our guide, our solicitors can offer No Win No Fee services, such as a Conditional Fee Agreement (CFA) to help you claim personal injury compensation.
A CFA allows a personal injury lawyer to work on your behalf without having to request any upfront fees to do so. Furthermore, having a team of expert ski accident solicitors take up your claim on a No Win No Fee basis allows you to claim for your suffering without the financial worry of paying for legal advice.
The CFA sets out the amount you would have to pay if your case is successful. For successful claims, a success fee is taken from your overall skiing accident compensation settlement to pay your solicitor for the work they've done on your claim.
If your case isn't successful, you won't have to pay solicitor fees. Furthermore, you could avoid paying ongoing costs that may incur while your claim proceeds, such as medical fees or court fees if your claim reaches that stage. It can help take the financial strain away from claiming for a skiing accident.
To find out more about making a skiing accident claim under a No Win No Fee agreement, please contact us today.
Start Your Skiing Accident Compensation Claim Today
You can speak to one of our advisors about skiing accident claims if you still have questions after reading our guide. Simply:
Call us on 0800 073 8804
Fill out our online contact form
Speak with an advisor using the live chat function below
Useful Links
Find out how much you can claim for your holiday accident.
Packaged Holiday Compensation Claims Guide
View Legal Experts compensation guide for package holidays find out if you're eligible to claim.
Foreign Vehicle Car Accident Claims
If you were involved in an accident with a foreign vehicle, this guide could help.
This link takes you to the ROSPA website that offers great advice on staying safe when skiing.
This link takes you to the Government website that provides essential advice on preparing for a skiing holiday abroad.
Thanks for reading our skiing accident claims guide. We hope we've illustrated how you could secure the skiing accident compensation that you deserve.