TripAdvisor Personal Injury Claims Guide – How To Claim Compensation For A Holiday Accident Booked Through TripAdvisor
TripAdvisor has many useful attributes ones being a comparison site, it allows you to search for travel arrangements such as hotels and flights to find the best deal for you. TripAdvisor is not a booking agent or tour operator but allows travellers to compare prices in many different elements of travel on their website. This guide that has been put together to help those who may have suffered an accident while travelling which they may have booked through TripAdvisor.
If you have suffered an accident while on holiday or travelling that you feel could have been avoided or prevented and was caused by a company or person that owed you a duty of care why not get in touch with Legal Expert. To contact us today to start your claim, give us a call on 0800 073 8804 and speak with a specially trained member of staff.
If you'd prefer to find out more about making a holiday accident claim abroad, then please carry on reading this helpful guide.
Select A Section
A Guide To Accident Claims On Holiday Booked Through TripAdvisor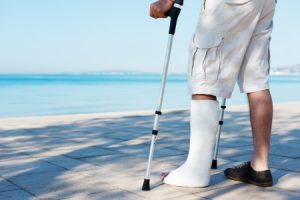 TripAdvisor are well renowned for the reviews left by members of the public regarding hotels, excursions, restaurants, day trips and other activities but they also provide information and price comparison of services including flights, hotels and package holidays.  Because TripAdvisor don't actually sell you the holiday, any claim would usually be made against either the package holiday provider or against the individual company for example if you book a hotel as a separate entity and you suffer a personal injury there if it can be proven that they caused your injury through negligence you could make a claim against the hotel.
Throughout this guide, we'll provide information about what you can and can't claim for and try to answer questions like:
"How do I complain about holiday accommodation?"
"Can I claim compensation for loss of enjoyment of my holiday?"
"How do I make a complaint about a travel agent?"
"How much can I claim for holiday illness?"
"What are my travel consumer rights?"
"How do I claim holiday compensation?"
We'll provide different examples of accidents and illnesses which could lead to a claim and provide example compensation amounts that you might be able to claim for your injuries if the claim is pursued under UK law.
Legal Expert offer a no win no fee service for all claims that we take on, so we'll also provide information about how no win no fee works when making personal injury claims.
To be able to make a claim, holiday compensation solicitors will want to prove the following:
That the defendant owed you some form of duty of care.
They breached that duty of care.
You suffered an injury following an accident caused by the breach.
Once you've finished reading this guide, if you have any further queries, please call.  Our team are happy to offer free legal advice regarding your case.

What Are Holiday Accident Claims?
It is important to note that TripAdvisor is not a travel agent or tour operator therefore is not responsible for any injuries or illnesses that may occur while you are on holiday or travelling to your destination they simply provide a useful service not only as a review site but also as a comparison travel site. They act as a middleman and consider those that advertise on their website as partners, you maybe able to pay for your travel element through their site without being redirected.
For this guide when we talk about holiday accidents we are referring to accidents that happen while abroad or getting abroad i.e. on a flight, coach that were caused by a person or company that owed you a duty of care, breached their duty of care towards you which resulted in a preventable accident and an avoidable injury.
If you buy a package holiday, from a UK tour operator, then you could claim for your injuries under package holiday regulations as long as they happened in an element booked as part of the package deal and they were caused through negligence. The claim would be against the package holiday provider and not TripAdvisor.

What Protection Do ATOL And ABTA Offer Holidaymakers?
What is ATOL protection? ATOL – Air Travel Organsier's Licence is a United Kingdom Civil  Aviation Authority scheme that protects travellers who have bought travel arrangements from members of the scheme. ATOL protects package holidays that have been booked in the UK by a UK tour organiser and also some flights. It is there to provide travellers with peace of mind that if a travel company goes bust they will not lose their money nor will they be stranded abroad.
What is ABTA? ABTA is a UK trade association for tour operators and travel agents. Association of British Travel Agents abbreviated to ABTA is there to maintain standards in the travel industry, providing financial protection to holidaymakers and travellers. ATOL protects flight based travel where ABTA offers financial protection for land or sea based holidays. If holidays cannot go ahead due to company failures if the company is ABTA protected the travellers will be refunded or provided with alternatives if the holiday has already begun.

Why Having The Protections Could Be Beneficial In The Event Of An Accident
The protection of ATOL or ABTA is potentially vital as if a holiday company goes bust travellers and holidaymakers can have peace of mind that their funds are protected and they will not be stranded abroad with no way to return back to the UK. Having this protection is important because it provides you, and the tour operator, with strict rules and guidelines to follow in the event of complaint.  For instance, ABTA regulations state that a complaint needs to be acknowledged within 14 days and a full response must be provided within 28 days.
These procedural limits offer real clarity and ensure you know where you stand when making a complaint.  ABTA also provide an arbitration service if you're not happy with the outcome of a complaint.

Should I Make A Complaint To My Holiday Provider?
If you purchased your holiday as a package holiday, from a UK based tour operator, and your accident happened while using part of the holiday they sold to you, i.e. on the flight, in the hotel, using the transfer service or on an excursion, then your complaint could be against the holiday provider.
Remember, this won't be TripAdvisor but the holiday company you booked your package deal through. If you buy individual parts of your holiday independently, then you wouldn't usually claim against the tour operator. You'd might need to make a claim through the court system of the country where the accident occurred.

What Are The Limitations Of My Rights As A Holidaymaker?
As well as claiming compensation for any personal injury or illness sustained on holiday due to a negligent act, you could also make a claim if your holiday was not as advertised.   This could be because the hotel was not to the standard advertised or aspects of the holiday like the swimming pools or the all-inclusive restaurants not including what was advertised.
Personal injury claims will have time restriction on them, meaning you will only have a set amount of time to be able to pursue a claim for damages. Each country have their own time limitations if you are unsure what this means for your claim please call Legal Expert and they will be able to tell you what the time limitation is for you.

What Law Protects Package Holiday Makers?
As mentioned throughout this guide, TripAdvisor would not be your package holiday provider, they simply directed you to your eventual provider.
Those who provide package holidays have a duty of care towards their customers under THE PACKAGE TRAVEL AND LINKED TRAVEL ARRANGEMENTS REGULATIONS 2018. This means that tour operators need to ensure that holidaymakers are as safe as possible. They should make reasonable checks that the hotel, flights, transfers or excursions they sell you are as safe as can be reasonably expected.
Therefore, any avoidable injury or preventable illness sustained while using one of the services you bought from the tour operator as a package deal which was caused due to negligence, could lead to a claim being made against them.

Time Limitation Period For Holiday Accident Claims
If you look to make a holiday compensation claim, you'll need to be aware of the relevant personal injury claims time limit.  This can be different depending on how you booked your holiday and where the accident happened.  Therefore, we've provided the table below with some example time limits.
| Type of claim | Time limit |
| --- | --- |
| Illness or injury that has happened during a flight which you booked independently using the Montreal Convention. | 2 years may vary |
| Illness or injury while on private trip. | Please call Legal Expert. |
| Injury or illness in a flight, excursion or hotel booked in the UK by a UK tour operator as a package holiday. | 3 years may very |
Even though the limits might seem to offer you a long time to begin your claim, you should contact us as early as possible.  It can take a while to gather all of the supporting evidence to back up a claim, so the longer we have to prepare, the better the case we can put together could be.
If you're unsure whether you're still eligible to claim, please call our team to discuss which time limit is relevant to your claim.

Examples Of Types Of Holiday Accident
There are many types of accident which can happen while on holiday abroad.  Some are more common than others.  Remember that, to be eligible to claim, it's not enough just to have an accident.  You need to have suffered an injury and the accident be caused by a negligent act.
Here are some examples of accidents which could happen while on holiday abroad:
Slips, trips or falls. These could happen just about anywhere on your holiday from the plane to the hotel.
Food poisoning in restaurants or hotels.
Swimming pool accidents.
Road traffic accidents as either a driver, passenger, pedestrian or other road user.
Allergic reactions caused by food labelling issues.
Accidents while using a transfer service.
Activity based accidents such as water sport accidents, walking accidents, speed boat accidents or snorkelling accidents.
Don't worry if you can't see your type of accident listed. To be able to pursue a claim for compensation the accident which caused your injury must be the responsibility of someone who owed you a duty of care, who breached this through negligence and caused you an injury or illness which could have been prevented. 
Examples Of Types Of Holiday Injury
Injuries which could be sustained on holiday as a result of an accident or negligence;
Head injuries.
Food poisoning symptoms.
Back injuries.
Broken bones.
Bruising and soft-tissue damage.
Cut's and lacerations.
Anaphylaxis caused by an allergic reaction.
Water borne illnesses such as Legionnaire's disease.
If you are unsure if you are eligible to be able to pursue a holiday accident claim for an avoidable injury or illness why not call Legal Expert and through a free consultation they could answer any questions you may have.
I Was Injured At A Hotel Booked Through TripAdvisor, Could I Claim Compensation?
If you have suffered an injury or illness while staying at a hotel and it was caused through negligence you maybe eligible to claim compensation. Holiday accident claims against TripAdvisor aren't possible as they will not have provided the hotel. Who is liable will depend on how the hotel was booked whether it was part of a package deal booked through a UK tour operator or booked privately.
If you bought your holiday as part of a package holiday, then you could claim, under UK law, against the holiday provider.  If you booked the hotel directly and independently, you would probably claim against the hotel directly under the local laws of the country the hotel is based in.
Some examples of hotel accidents you might be able to claim for include:
Food poisoning sustained in the hotel restaurant or when using room service.
Slips, trips and falls caused by wet floors where no warning signs were present.
Injuries caused by damaged furniture.
Allergic reactions caused because an allergen was not listed on the menu.
Accidents caused by faulty or damaged gym equipment.
Swimming pool illness due to it being contaminated.
Injuries or illnesses caused by spa treatments which have gone wrong.
To discuss starting a claim against a hotel, get in touch today.  We'll help you decide if you could claim against the hotel or your holiday provider.

I Was Injured On A Flight Booked Through TripAdvisor, Could I Claim Compensation?
If you have been injured or made ill while on a flight through the negligence of the airline you maybe able to claim for damages.
Whether you claim against the flight operator directly will depend on how you booked.  If you paid for the flight as part of a package holiday, you're claim could be against the holiday provider.  If you paid independently, your claim would be against the flight operator.
Once again, your claim wouldn't be against TripAdvisor as they simply refer you to holiday or flight providers.  You have no contract with TripAdvisor so they would not be liable for any damages.
Potential accidents or illnesses while on a flight may include;
Allergic reactions where you've highlighted an allergen to the flight staff but been served the food anyway.
Slips, trips and falls caused by spillages that have not been cleaned up or warning signage applied.
Injuries caused by falling objects, possibly falling luggage due to staff not securing overhead lockers before landing or taking off.
Hot drinks or food being spilled on you you by flight staff.
Injuries sustained on the walkway or while disembarking due to damage to airplane steps and walkways.
If you've been injured while on a flight but are unsure what type of claim is needed, please speak with one of our specialist advisors.  We're happy to provide free advice to help you decide if you could claim or not.

What Could I Be Compensated For If Injured On A Holiday?
When a personal injury solicitor assesses a compensation claim, there are a number of different 'Heads of Loss' that can be used to help build a claim if it is being pursued in the UK. Not every loss will be used in each claim, as it depends on the impact on the claimant but some losses that can be used include:
General Damages
This compensation is awarded to victims for any pain and suffering caused by the accident. It is awarded based on the severity and impact of the injuries.
Travel Expenses
In some cases, it the victim has to arrange alternative travel arrangements, either to return home or when they are in recovery back in the UK, then the cost of the travel could be claimed back.
Personal Property Damage Costs
At the point an accident happens, if any personal property is damaged, then the cost of replacing or repairing the item could be claimed back. This might include damage to luggage, clothing, mobile phones or jewellery.
Medical Expenses
If any medical costs are incurred these could also be claimed back. This might be the cost of prescription medicines, over the counter treatments or any other treatment costs incurred because of your accident.
Care Costs
In some cases, accident victims require professional care to help them while they're recovering. It is possible that any costs associated with care could be added to the claim.
Lost Income
When you need time off from work to recover or visit a doctor, if you end up losing part of your salary, then you could claim the loss back. In some cases, where injuries are more serious and result in you having to change jobs or stop working altogether for any period of time, you might be able to claim future lost income too.
Special Damages
The losses listed above which have a financial impact on you are known as Special Damages.  Compensation is awarded to put you back in the same financial position as you were prior to your accident.  It's important that you keep hold of any receipts and you can demonstrate why the cost was linked to your injuries.
Before you discuss your claim with a personal injury solicitor, it's worth sitting down and working out all of your expenses.  This exercise will make it easier to explain how the injuries have affected you and ensure the solicitor includes everything within the claim.  It's important because, once a claim has been settled, you can't go back and ask for more compensation because you forgot to include something. Always speak to your solicitor before you spend out money to ensure it can be claimed back.

Holiday Accident Claims – Personal Injury Claim Calculator
In the previous section, we explained about general damages which is the part of claim covering pain and suffering.
If you're looking for a personal injury claims calculator then the table below outlines some compensation amounts awarded, when claiming under British law, for different injuries.
| Type Of Injury | Compensation Amount | Injury Information |
| --- | --- | --- |
| Moderate Neck Injury | £6,920 to £33,750 | Brackets will start with moderate soft tissue injuries, possibly accelerate a pre-existing condition, wrenching-type injury and disc lesion of the more severe, serious limitation of movement and persistent reoccurring pain to fractures and dislocation of the neck, vulnerability to further trauma and limitation of activities. |
| Moderate Back Injury | £10,970 to £34,000 | Brackets start from disturbance of ligaments and muscles giving rise to backache, soft tissue injuries to compression/crush fracture of the lumbar vertebrae where there is a substantial risk of osteoarthritis. The amount will depend largely on the severity of the original injury, the degree of pain experienced, the extent of any treatment required in the past or in the future. |
| Less Severe Arm Injury | £16,830 to £34,340 | Significant disability but a substantial degree of recovery will occur. |
| Very Minor Wrist Injury | £3,090 to £4,160 | Displaced fractures or soft tissue injuries. Recovery estimated 1 year. |
| Minor Pelvis Injury | Up to £3,460 | Soft tissue injuries. Full recovery will be made. |
| Moderate to Very Serious Leg Injury | £34,370 to £74,150 | Brackets will begin with multiple fractures and severe crushing injuries, imperfect union of fractures muscle wasting, serious compound or comminuted fractures, ligament damage resulting instability to permanent disability, severe multiple fractures which may take years to heal. |
| Moderate Knee Injuries | Up to £12.050 to £22,960 | Twisting, bruising of the knee, dislocation, torn cartilage or meniscus which results in minor instability. The position in the brackets will take note of the seriousness and prolonged pain caused to the knee joint. |
| Modest Injury | Up to £12,050 | Sprains, ligament damage and undisplaced fractures. |
| Minor Injuries | £1,200 to £2,150 | Complete recovery within 3 months. |
| Food Poisoning | £800 to £8,360 | Cramping, stomach pain, diarrhoea, alteration of bowel function and fatigue. Possible hospitalisation. |
| Trivial Scarring | Up to £3,090 | Minor scarring. |
If you can't see an example that matches your injury, don't worry too much as we could still help.   Please call and speak with one of our dedicated team who can advise on your travel claim.

No Win No Fee Holiday Accident Claims
A major worry for some clients is the cost of making holiday accident claims which is why we offer a no win no fee claim service for every case that we take on.
No win no fee agreements, also known as Conditional Fee Agreements (CFA's) will usually start with a free initial consultation.  This is where the solicitor will assess your claim and work out whether it's viable or not.  You can demonstrate the evidence you have to back up the claim and ask any questions that you may have.  If the solicitor is happy that you have a strong case, then a CFA will be prepared.
A solicitor offering a no win no fee claim will carry out the same work for you as they would if you used any other form of legal agreement but:
You won't have to pay any fees up front for the claim to begin.
If we fail to win you compensation, you don't have to pay us anything at all.
And, if we do win, you won't need to pay us from your own funds as the success fee is taken directly from your compensation before it is sent to you.
We believe no win no fee is the safest way to make holiday accident claims. This is because you don't have to risk your own money.   Our success fee will be outlined within the no win no fee agreement.  This means you'll know what it'll be right from the start of the case.

Contact Our Team Today
Hopefully, now you've read the whole of this guide about holiday accident claims when booking through TripAdvisor, you'd like Legal Expert to represent you and take your claim forward.  If so, you can get in touch in a number of ways:
When you get in touch, one of our team will assess your claim with you.  If we think you've got a good chance of winning compensation, then we'll prepare a no win no fee agreement for you.  If not, we could offer free legal advice about what else you need to do prior to beginning your claim.

Further References
Finally, to help you further, we've linked to some other useful resources which you might find useful.
New Package Holiday Regulations – Tips and advice from ABTA about your travel rights (including the holiday complaints procedure and ABTA compensation guidelines) under the latest package holiday regulations.
Foreign Travel Advice – Information and advice from the UK government about hundreds of different destinations across the world.
EHIC Card Application – The European Health Insurance Card is used to ensure British citizens in Europe can receive free or discounted medical treatment.
Nut Allergy Claims – A detailed look at when you could claim compensation following an allergic reaction caused by nuts.
Slips, Trips and Falls – Further information about when you could claim for a slip, trip or fall injury.
 If you require any further information, please don't hesitate to get in touch.
Edited By Melissa.