£12,000 Compensation For A Repetitive Strain Injury Claim (RSI)
Case Study, Compensation For A Repetitive Strain Injury
At Legal Expert, we have a panel of legal specialist solicitors who have successfully claimed compensation for people across the country who have suffered a repetitive strain injury whilst at work. We have recovered these people the damages they deserve from their employers.
In this case study, we will be looking at a case where two beauty therapists (acting together) brought a claim for compensation against their employer for repetitive strain injuries. Between them, the two therapists received a substantial amount of compensation. The two women had provided customers with pressure point massage as part of their job role. This involved pressing extremely hard with their fingers and thumbs. Over time, both claimants started to feel pain extending through their hands, wrists, forearms, elbows and up on through their shoulders. Solicitors acting on their behalf recovered damages of £12,000 for one claimant and £9,000 for the other.
How Common Are Repetitive Strain Injuries?
RSI or repetitive strain injury is a general term, it is also known as non-specific upper limb pain or also as work-related upper limb disorder. RSI describes pain which is felt in the muscles, tendons and nerves. It is primarily caused by overuse of a muscle group and practising a repetitive movement as well as high-intensity activities done for prolonged periods or even bad posture. RSI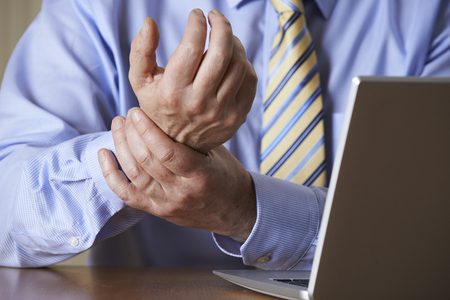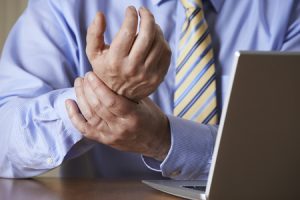 mainly affects the hands, wrists, forearms, elbows and shoulders as well as the neck. RSI ranges in severity and symptoms will include everything from stiffness and cramp through to throbbing and pain. Over time these symptoms can become lasting and permanent. Repetitive strain injury prevention will include modifying or changing the way you carry out the tasks to alleviate this motion. Sufferers may also need to use painkillers and anti-inflammatory medication as part of their repetitive strain injury treatment.
RSI is hugely prevalent in the UK. In 2006/ 07 3.5 million working days were lost to RSI, each person with RSI took an average of 13 days off. In that year, 426,000 people in the UK suffered from repetitive strain injuries. The Health and Safety Executive has further information on RSI injuries.
Establishing Liability In A Repetitive Strain Injury Case
Around a fifth of workers in the UK have reported some kind of repetitive strain injury at some time. Some of these are caused by work and working practices, whilst others can be caused by other factors. All employers have a legal duty of care to keep employees safe. They are obliged to ensure all working practices and environments follow health and safety requirements.
Employers must carry out risk assessments, and ensure workstations and practices pose minimal risk of repetitive strain injuries. If any risks are identified, these must be negated and equipment such as an ergonomic keyboard or chair should be provided. Proper training should also be provided (such as repetitive strain injury stretching and RSI wrist exercises) to prevent RSI injuries from occurring. Whilst the employer does not have to eliminate every hazard in the workplace, they must take steps to keep the place safe and prevent injuries where possible. If they have not done so, the claimant (or claimants in this case) can claim against the employer for being negligent in their legal duty or that they were negligent in working practices. In this case, the claimants claimed that their job role and working practices caused and accelerated their symptoms.
A Guide To Workplace Repetitive Strain Injuries
In this case, the claimants worked as beauty therapists for the airline, Virgin Atlantic Airways. As part of their work, they had to carry out pressure point massages. The technique they used involved applying pressure with the heel of their hand, then manipulating the person with their thumbs and fingers. This was part of the cause of their repetitive strain injury thumb injury and repetitive strain injury elbow injury. These sessions lasted for around 15 minutes. After a few months of this work, both claimants started to suffer repetitive strain injury forearm, elbow and shoulder symptoms. Both had very serious symptoms but ones were slightly more serious than the other. The claimants would no longer be able to carry out these tasks and would experience the symptoms permanently.
What Did The Repetitive Strain Injury Claim Include?
In this case, the two claimants were awarded £9,000 and £12,000 respectively. These damages were awarded for their pain and suffering. Additionally, they also both received further damages which accounted for the fact that they could no longer carry out their job roles and loss of earnings for the first one. For the second claimant, she received further damages in recognition of the difficulty she would face in finding a new job role.
Common Causes Of Repetitive Strain Injuries
Different kinds of RSI will be caused by injuries to different parts of the body. Factors commonly include which could cause a repetitive strain injury forearm includes bursitis, writer's cramp, Raynaud's disease and thoracic outlet syndrome.
No Win No Fee Repetitive Strain Injuries
No win no fee compensation claim services allow people who would not otherwise have the funds to access legal services to do so. Acting on a no win no fee basis, our solicitors will not charge any upfront fees or ask for any payments during your case. At the end, if successful, our fee is included in the claim. If unsuccessful, there is no charge.
Contact Us For Free Advice
In order to find out more about claiming compensation for a repetitive strain injury, talk to the panel of specialist solicitors at Legal Expert today. You can phone us on 0800 073 8804, email us using the contact form on this page, or use our online chat feature.
Useful Links
Repetitive Strain Injuries
More information on repetitive strain injuries
Workplace Accident Claims
If you have suffered a workplace accident, find out more about how to make a claim for compensation.
How To Make A workplace Accident Claim
Find out how to make a no win no fee workplace accident claim with the specialist legal solicitors at Legal Expert.