£100,000 Compensation For A Broken Neck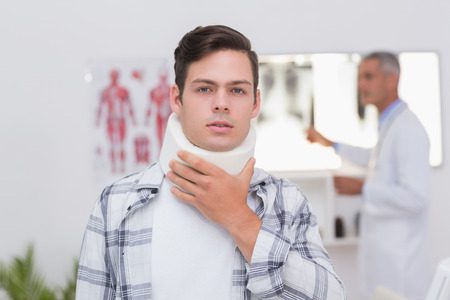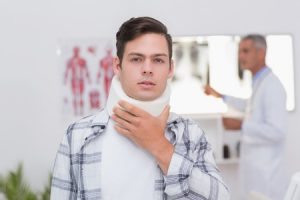 Have you suffered a broken neck in an accident that wasn't your fault? You may be entitled to claim several thousands of pounds in broken neck compensation.
Whether the broken neck was due to an accident that was caused by the negligence of another party, medical negligence or NHS medical misdiagnosis we can help you claim the compensation that you are legally entitled to. We are Legal Expert, a trusted legal advisor whose solicitors have up to thirty years of experience helping claimants win the broken neck compensation that they are entitled to. For your free legal consultation, call Legal Expert today on 0800 073 8804. We will advise you on whether or not you can claim compensation, get an estimate on how your broken neck compensation or misdiagnosis compensation could be worth and be matched to the right solicitor to handle your case at no additional cost to you.
A broken neck injury is very serious. Depending on its severity it can kill the victim, or leave them paralysed and unable to feel from the neck down. In this case study we are going to look at the case of Mrs L, a 77 woman who suffered NHS medical misdiagnosis of a broken neck, which left her permanently paralysed from the chest downwards.
The first incident Mrs L suffered from was being hit by a car as she was crossing the street. She was taken to her local hospital's A&E department, where she was clearly suffering from shock and complaining of neck and shoulder pain. Mrs L had a number of X-rays taken, including one of her cervical spine (neck). Unfortunately the X ray only showed the part of Mrs L's neck that was in tact and did not show the area that was damaged (C6/7). Her neck was considered to be fully intact but she was diagnosis with and treated for a dislocated shoulder.
NHS Misdiagnosis Compensation
Misdiagnosis is a form of medical negligence, sometimes referred to as clinical negligence. Medical negligence is defined as insufficient medical care or a preventable accident which happens on the part of a medical care professional. If the medical negligence causes the patient to become injured or worsens an existing medical condition, then the injured party is able to claim for medical negligence compensation. A medical misdiagnosis is a form of medical negligence. In the incident of a broken spine, or fractured spine it can be devastating as moving a spine that has been damaged this way, can cause further damage including paralysis.
Broken Neck NHS Medical Misdiagnosis
Unfortunately Mrs L suffered a medical misdiagnosis of her broken neck. Unfortunately 2 days after she had been initially discharged from hospital, she suddenly lost all feeling in her legs. She was rushed back into hospital and an emergency CT scan revealed a fractured and dislocated spine (broken neck) with severe spinal cord damage. As a result of these injuries, Mrs L was tragically left paralysed from the chest down permanently.
Mrs L's neck was immediately stabilised with surgery. After this, she spent a year in hospital undergoing a long and painful rehabilitation period, until finally being allowed home a year later. Now following on from the accident, Mrs L has a poor quality of life. Unable to care for herself, she is dependant on round the clock care, much of which is provided by her family impacting their quality of life in turn. What's more she now suffers from dementia, which has increased her pain and suffering.
Misdiagnosis Compensation Amounts
The Defendant in this case, i.e. the hospital trust where Mrs L suffered her medical malpractice, did not attempt to defend themselves against the claim brought against them. They admitted full liability for the medical negligence that and her legal team were able to negotiate the large misdiagnosis compensation amount of £100,000. The majority of the NHS misdiagnosis compensation paid to Mrs L, was to cover the cost of the care she would need for the rest of her life.
View the medical misdiagnosis calculator on our guide to claiming compensation for neck injuries, (see our useful links section at the bottom of this article) to see an estimate of how much in broken neck compensation payouts you could be awarded. For a more accurate estimate, contact Legal Expert and speak to one of our friendly advisors today.
No Win No Fee Solicitors
We understand that a broken neck injury can be a life-changing and tragic accident for all those involved. The victim can be left totally paralysed and therefore unable to work. If a full broken neck recovery or partial broken neck recovery is possible, then the victim may be incapacitated for long periods of time while they undergo broken neck treatment, meaning they are likely to experience a loss in income. Choosing a no win no fee solicitor means that you don't have to pay an upfront fee to make your claim. With no win no fee you will only have to pay if you win your case, taking some of the stress and financial risk out of making your legal claim.
Speak to Legal Expert today to begin your no win no fee claim for broken neck compensation.
Contact Legal Expert Today
Have you suffered a medical misdiagnosis? Perhaps you wish to pursue NHS misdiagnosis compensation for failure to recognise a broken neck, or other troublesome medical conditions and injuries, which were worsened by misdiagnosis. Contact Legal Expert today, for help claiming the compensation you are entitled to. Call Legal Expert today on 0800 073 8804 or email on info@legalexpert.co.uk and one of our friendly advisors will be able to assess whether or not you have a legitimate claim, estimate how much compensation you could be entitled to and will match you to the best personal injury solicitor to win your case.
Useful links
How Much Compensation Could You Claim For A Fractured Or Broken Bone?
Help and advice for claimants involved in an accident which left them with a fractured or broken bone. Advice for claiming compensation for fractured bone injuries, or broken bone injuries.
How Much Compensation For A Neck Injury?
Help and advice for claimants involved in an accident which left them with an injured neck, including a fractured or broken neck. Advice for claiming compensation for neck injuries.
Clinical and Medical Negligence
Help and advice for claimants who were victims of medical negligence including NHS medical misdiagnosis. Compensation claiming advice is also included.
Further Helpful Guides