£10,000 Compensation For A Tennis Elbow Injury At Work
The specialist no win no fee solicitors who we work with at Legal Expert are specialists in helping people make successful personal injury claims in cases such as manual handling injury claims for tennis elbow. Our winning team can provide claimants with all the advice they need to make a successful compensation claim as well as connecting them with experienced solicitors. Our expert panel of solicitors can help no matter the nature or extent of the injuries or illness suffered due to an accident which was not your fault.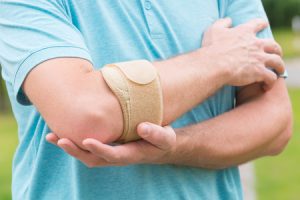 In this personal injury case study, we are looking at a response engineer who suffered tennis elbow and RSI as a result of his job involving repeatedly carrying and handling heavy machinery and items as well as repeated heavy, manual work. Whilst the majority of personal injury claims do not need to go to court, due to the defendant denying liability and the complex circumstances surrounding this claim, the case did progress to court. As the claim did take some time and there were several complex issues around the case, the defendant chose to take a settlement offer of £10,000. The defendant was happy with the resolution to the case.
Legal Expert works with specialist personal injury solicitors based around the country, helping people who have been injured to recover the compensation they deserve. You can find out more about this case study by reading below.
What Is Tennis Elbow?
Tennis elbow is a common RSI condition affecting the elbow joint and is not always caused by sport In fact, anyone can get tennis elbow. It affects as many as 3 in every 100 people. Tennis elbow symptoms include pain around the outside of the elbow joint. Usually, tennis elbow will clear up without treatment and can be helped with tennis elbow treatment at home. The most common tennis elbow symptoms include tenderness and pain in the outside of the elbow joint as well as spreading through the forearm muscles. The condition affects the tendons in the elbow and occurs when the tendon joining your forearm muscle to the outside of the elbow has small tears, swells or becomes thicker. Depending on how severe it is, tennis elbow treatment at home is usually the best course of action. If you have had it before, it can become a recurrent condition. You can find out more about the condition and how it is treated in this tennis elbow NHS guide.
How Did The Tennis Elbow Injury Happen?
At the time of the injury, the claimant worked for a major water provider as a response engineer. As part of his job, the claimant had to carry out heavy manual work, such as digging and excavating piping as well as repairing water mains and working on turning valves, as part of his day-to-day duties. This involved the use of heavy machinery such as jackhammers as well as digging tools. Tasks such as manually turning very stiff valves can involve a lot of manual labor and may be taxing for the operator/ worker. When the water company increased the engineers' workload the claimant believes that this increased work caused the tennis elbow injury.
What Were The Consequences Of Developing Tennis Elbow For The Claimant?
The claimant first noticed tennis elbow symptoms around two to three years after the increase in his workload. Initially, the tennis elbow symptoms in the right arm included a 'niggling pain' which became progressively worse. Eventually, the claimant was unable to wash or dress properly and could not lift any objects with the affected arm. After visiting his GP, the claimant was diagnosed with a repetitive strain injury presenting as tennis elbow. The cure for tennis elbow is generally rest. After two weeks off work, the claimant returned to light duties. The pain persisted and he had to take a period of six months off work. During this time the claimant rested his arm as well as attending tennis elbow physiotherapy sessions and tried tennis elbow treatment exercises. Eventually, the tennis elbow patient UK was told he may need surgery to correct the joint. The surgery was performed and though the claimant was still in pain, he returned to work on light duties.
The Allegation And Settlement For the Tennis Elbow Injury
Solicitors for the claimant alleged that the repetitive strain injury elbow pain was directly caused by his manual work, as he did not participate in any other strenuous activities. The solicitors alleged that the employer (defendant) had breached the Manual Handling Operations Regulations, 1992.
Solicitors for the claimant collected several witness statements as well as an expert medical report. The report concluded that the injuries were likely to have been caused by the claimants' work. This information was sent to the defendant's representatives. However, they did not respond to this initial information. The case subsequently progressed to court and the defendant denied liability or responsibility for the injuries suffered over time. The defendant countered that they had a separate medical evaluation which stated that the tennis elbow was only exacerbated by the work, not caused by it. They also claimed to have a witness statement who had stated that the claimant had exaggerated their symptoms.
The medical expert for the claimant stood by their assessment of the cause of the tennis elbow. It was also believed that the witness statement was not enough to damage the case and undermine the compensation claim. The case progressed and eventually, the defendant (the claimants' employer) made a settlement offer of £5,000 which the claimant accepted.
It should be noted that the solicitors for the claimant felt that this was a very low offer considering the injuries suffered. However, they were instructed to accept this by the claimant. The claimant was happy with this settlement amount.
Tennis Elbow Claim With No Win No Fee Solicitors
At Legal Expert, our specialist legal solicitors can work with you through a no win no fee agreement. This means that if you have had a workplace injury and need to make a compensation claim, you will be able to rest safe in the knowledge that when making a personal injury claim using our no win no fee services, you won't have to make any upfront payments. At Legal Expert, we believe that it is much more important for our clients to spend time resting and recovering than spending more time on your claim. This is where we come in. We handle as much of the legal work as possible, leaving you more time to focus on getting better.
Our Conditional Fee Agreements (more commonly known as a no win no fee agreement) means that no matter what your financial circumstances are, you will always be able to claim the compensation that you could be entitled to. A no win no fee agreement means that if your compensation claim is not successful, you will not have to pay any solicitors fees. If your case is successful your solicitors' fees will be deducted from your total award. By law, these fees cannot be greater than 25% of your total award.
Contact Legal Expert Today
At Legal Expert, we always treat every client and compensation claim individually. We always appreciate that no matter what your injury is and how you got it, people will always be affected in different ways. This means we always try to treat you in an individual way. Our panel of dedicated personal injury legal solicitors always works hard to secure our clients the maximum amount of damages possible for the injuries they have suffered. You can find out more about making an elbow injury claim in our guide here.
For more information on how our team can help you, please contact us today by email (info@legalexpert.co.uk) the contact form on this page, our chat feature or by talking to us 0800 073 8804.
Useful Links
Tennis Elbow
Information on the symptoms, causes and treatment options for people suffering from tennis elbow in this guide from the NHS.
Manual Handling Operations 1992
Manual Handling Operations 1992 regulations and information for employers provided by the Health and Safety Executive.
Arm Injury Claim
Find out more about claiming compensation for an elbow or other arm injury claim by reading our guide.