£1,200,000 Compensation For A Family Car Accident Claim
An Oxford family was involved in serious road traffic accident. The driver of a 4×4 turned right, across the path of the family's car. The resulting high-speed crash seriously injured three family members and required the road to be closed completely by the police, as the fire brigade and ambulance service were called to the scene. The fire brigade had to cut the family from their car before they could be airlifted to hospital by the air ambulance service.
The three family members suffered a number of life-changing injuries in the crash. The ability to make a no win no fee car accident claim against the driver in error has enabled them to seek road traffic accident compensation to at least partly, to make up for the long-term consequences of this serious car accident. The payment of £1,200,000 was a significant one.
Road Traffic Accident Injury Statistics
Each year, around 60% of the people injured in road traffic accidents which could result in some form of car accident compensation could be paid out, are either the driver or passenger in a car. This is because cars are 78% of the traffic on U.K. roads. Therefore, it is no surprise that car accident claim payouts are the most common type of compensation for a road traffic accident that personal injury solicitors deal with.
The graph below shows the number of fatalities per type of road user: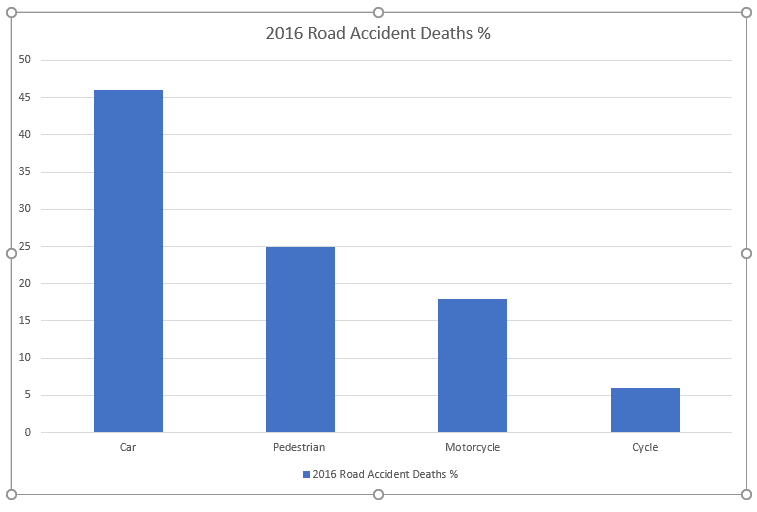 Car Accident Injuries
Although there are many types of personal injury that are caused by road traffic accidents, several types are much more common. Any of the injuries below, when sustained in a car crash, could be eligible for claiming personal injury compensation:
Brain injuries – if we were to look at the average compensation for car accident injuries of different types, brain injuries would be the highest. This is because a serious brain injury can have long-term life-changing It is likely that the £1,200,000 claim we see in this case study was at least partially claimed against a brain injury.
Head injuries – including the eyes, ears, nose and the facial bones of the cheek and jaws.
Back injuries – the average compensation for back injury car accident claims can be high, as a badly damaged back can lead to partial or full paralysis.
Neck injuries – neck injuries, specifically those caused by whiplash are commonly caused by car crashes. How much compensation for car accident whiplash depends on how serious the injury is.
Leg injuries – in high-speed motor accidents the trauma force is enough to break even the heavy bones of the upper leg.
Foot Injuries – as the feet are often trapped or wrenched during a car crash, foot injuries are common.
Establishing Liability in Road Traffic Accident Compensation Cases
In order to be able to prove liability for a road traffic accident, especially if you hope to claim car accident compensation, there needs to be plenty of proof of just who was in the wrong.
As it is very unlikely that there will be a police presence at the time of the crash, you can help yourself by gathering as much documented evidence as possible. This could include:
Contact details – of all of the drivers and passengers involved in the accident.
Witness details – if anyone was actually around when the accident happened and saw how it was caused, then you should gather contact details for all of the witnesses as well.
Vehicle details – registration numbers, driver's license numbers etc.
Photographic evidence – use the camera on your phone to capture photo images of all of the number plates of the cars involved in the accident. Any damage to the vehicles. Photographs of all of the people involved and the witnesses and anything else you think might be relevant.
Unless you can clearly prove that somebody else was the cause of the crash, it is unlikely that car crash compensation payouts will be made.
Car Crash Compensation Payouts
You could use a car accident compensation calculator to gain a quick idea of how much compensation you might be able to claim following a car crash. However, a much better idea is to contact an expert legal firm that is experienced in car accident claim payouts.
If you would like to do a little research of your own, before contacting a legal firm, then you could check out a public car accident compensation amounts forum to get some impartial advice first.
Car Crash No Win No Fee Solicitors
The answer to the question, Car accident compensation how long does it take to claim? Will depend on your choice of legal firm. A legal firm that specialises in motor vehicle accident compensation, will be able to process your claim faster.
Additionally, if you choose the right solicitor, they will take on your claim under a Conditional Fee Agreement (CFA). This means you have nothing to pay unless the solicitor wins some compensation for you. If they do, then they will take their fee out of your compensation payment.
Contact Legal Expert Today
If you have recently been the victim of a motor vehicle accident, and feel you may have some reason to claim compensation, then contact us today on 0800 073 8804. Once we know the details of your claim, in most cases we will offer to take on your claim under a No Win No Fee agreement.
Useful Links
Legal Expert in-depth guide to car accident compensation claims.
Legal Expert guide to claiming compensation for whiplash injury.