£25,000 Compensation For A Frozen Shoulder
This case study is an illustrative example of how a specialist personal injury solicitor can help claimants who have suffered a variety of different injury types. In this case study, we are looking at a claimant who suffered a frozen shoulder as a result of a lorry accident whilst driving in Germany. The claimant was a lorry driver and was driving on a motorway in Bavaria, approaching the city of Regensburg. Upon seeing an incident ahead of him on the motorway hard shoulder, the claimant immediately slowed to a speed of 10 mph in case he needed to stop. The lorry behind the claimant (travelling in the same direction) drove into the rear of the claimants lorry and caused the claimant to suffer a frozen shoulder injury. The defendant in this case was the driver of the lorry which struck the claimants vehicle. The insurance company acting on behalf of the defendant did not dispute the drivers liability for the injuries caused. As such, this case did not need to proceed to court for a judge to decide either liability or the compensation settlement which should be paid. The two parties were able to resolve the case amicably and negotiate a settlement. In the majority of similar cases solicitors will be able to negotiate and resolve the case without the need for it to go to court. However, retaining a specialist solicitor is advisable as your case may need to do so.
Legal Expert works with a experienced nationwide panel of personal injury solicitors. Our specialist legal solicitors have the skills and knowledge to successfully pursue and resolve compensation claims against defendants, whether they are for claims in the UK or elsewhere. We have helped claimants with similar frozen shoulder injuries sustained in a variety of ways, including vehicle accidents. Read the case study below to find out how specialist solicitors may be able to help you.
What Injuries Were Sustained In This Case?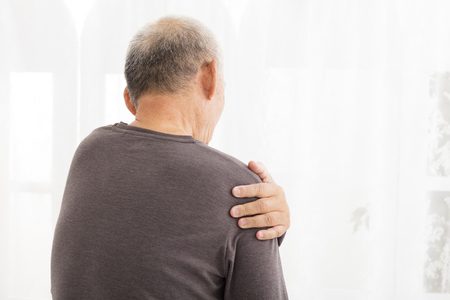 The claimant was carrying out his duties as a lorry driver and was driving his HGV along the inside lane of a motorway. The claimant saw what was described as 'an incident' ahead of him on the motorway hard shoulder. As a precaution, the claimant slowed to a speed of 10 kilometers per hour. When he did so his vehicle was struck by the lorry behind it, as the driver had not left a sufficient gap between the two vehicles. The driver of the second lorry was designated as the defendant in this case. The impact pushed the claimants lorry forward by approximately fifty meters. The force of the impact and vehicle moving forward left the claimant with a frozen shoulder injury. The injury left the claimant unable to work or drive for six months.
The roads in Western Europe are often seen as some of the safest in the world, and the UK's roads are jointly the safest with those in the Netherlands and Sweden. According to Eurostat (the European Union's statistical agency) we can also see that Heavy Goods Vehicles account for just 1.8% of fatal accidents across the 28 member countries.
What Is A Frozen Shoulder?
What is a frozen shoulder? A frozen shoulder is a condition affecting the shoulder joint as a whole. It can affect the joint, muscles and connective tissues across the shoulder. Usually, a frozen shoulder will involve stiffness and pain which gradually develops and spreads across the shoulder. The condition can last for weeks, months or even years and can take anywhere from one to three years to recover from.
What are the first signs of a frozen shoulder? Initial frozen shoulder symptoms include stiffness and pain which restricts your ability to move your shoulder and arm. It can also present as frozen shoulder pain down the arm. You can find out what frozen shoulder pain is like, as well as what exercises to do for a frozen shoulder in this guide from the NHS.
The Allegation And Compensation Settlement
The majority of personal injury or compensation claim cases, such as the claimant who suffered a frozen shoulder in this case study, do not need to go to court. Specialist personal injury solicitors will be able to work with the claimant to recover the damages owed.
In this case the allegation focused on the way the defendant was driving their lorry. Solicitors for the claimant alleged that the defendant had not left a sufficient gap between the two lorries to account for any changes in speed, distance or other conditions. The frozen shoulder claim asserted that the defendant should have been able to reduce their speed as the claimant had done so. Solicitors for the claimant organised a medical consultation as well as physiotherapy treatment. The claimant did not dispute their liability for the accident and admitted liability for the frozen shoulder injuries. The claim was able to be settled between solicitors for the two parties in an out of court settlement. Solicitors for the two parties negotiated a settlement of £25,000 in damages. This was agreed upon to cover the claimants loss of amenity, income as well as their pain and suffering.
No Win No Fee Personal Injury Solicitors
At Legal Expert we are able to offer clients a no win no fee agreement, also commonly known as a Conditional Fee Agreement this is a type of contract made between a solicitor and a claimant which helps people to make a claim, without worrying about having to pay legal fees or other costs upfront. They stipulate that if you claim is not successful, you won't have pay the solicitor anything. No win no fee agreements take the financial risk out of making a claim and claimants don't have to pay anything upfront, and as there are no charges if the solicitor is not able to recover the compensation, claimants won't be left out of pocket. Whilst most cases will be taken on by a no win no fee solicitor, there are rare exceptions when a solicitor won't be able to take on a case. As such, no win no fee agreements are subject to a solicitor agreeing taking on your case. At Legal Expert almost all the cases we work on are through a no win no fee agreement.
Your no win no fee arrangement will explain all the conditions and circumstances around taking on your case, and will ensure that the information in written in clear and simple language. The contract will also set out what work the solicitor will do, including when and how they will be paid. Before you sign your agreement, your prospective solicitor will ensure that you will fully understand the conditions of the contract. The agreement will set out what is considered a win, as well as when and how fees are charged.
Contact Legal Expert Today
Legal Expert are one of the UK's best and most comprehensive online resources for information and advice on how to claim compensation for an accident which was not your fault. Our resources include guides to a variety of different types of claims, real-life case studies and information on injury types. We have a wide range of resources designed to provide all the information claimants needs to make a successful claim. Our case studies are designed to show how the right solicitor can help you to get the compensation that you are entitled to.
You can begin your personal injury compensation claim today by contacting the specialist team and Legal Expert. Our professional no win no fee team can provide you more information on how to make a claim with our team of solicitors. Whether you have suffered a frozen shoulder injury, been involved in a road traffic accident, or been injured in some other way, contact us today. You can call our team seven days a week between 9am and 9pm on 0800 073 8804, or email us at info@legalexpert.co.uk. Alternatively, fill in our online claims form.
Useful Links
Frozen Shoulder NHS Guide
Find information on the causes of, treatment options for, and how long a frozen shoulder could last in this frozen shoulder NHS guide.
HGV & Lorry Accident Claims
Our guide to HGV and lorry accident claims involving a lorry or other heavy good vehicle, including information on making claims against non-UK resident drivers or haulage companies.
Shoulder Injury Claims
If you have suffered a shoulder injury as a result of an accident which was not your fault, view our guide to how to claim the compensation you could be entitled to.