£55,000 Compensation For A Severe Knee Injury
In this case study, we look at an example of one of the many different personal injury and compensation claims that we have handled at Legal Expert. The no win no fee solicitors we work with across the country have helped clients claim compensation after a severe knee injury, infection or other complications from surgery. In this case study, we are looking at a medical negligence infection case study. The claimant suffered a severe knee injury as a result of an infection and other complications which developed as a result of knee surgery. Severe knee problems as a result of surgery or infection are rare, but they do sometimes occur in both the NHS and with private healthcare providers. The claimant developed her knee injury symptoms as a result of a surgical wound which kept bleeding after the operation. Despite the claimant visiting the accident and emergency department at her local hospital, the claimant was told she had not developed an infection. The circumstances surrounding how the claimant developed her knee injury was complex as it involved issues with the surgery, recovery, misdiagnosis of the wound and the eventual development of permanent knee problems. Solicitors acting on behalf of the claimant were able to negotiate with the hospital, establish and prove the medical negligence and liability, and secure a settlement of £55,000 in compensation.
At Legal Expert, we have helped claimants across the country who have suffered similar knee pain and who need to make severe knee injury compensation claims. In the case study below, you can read more about the circumstances around how the claimant suffered the injury, and the knee injury treatment options they had to go through.
How Common Are Infections After Knee Injury Surgery?
Any surgical procedure, operation or surgical wound could lead to the patient developing infections symptoms, such as the knee injury symptoms the claimant experienced in this case. According to the NHS, any surgical wound has the potential to develop an infection. However, it should be noted that infections in surgical wounds are still quite uncommon.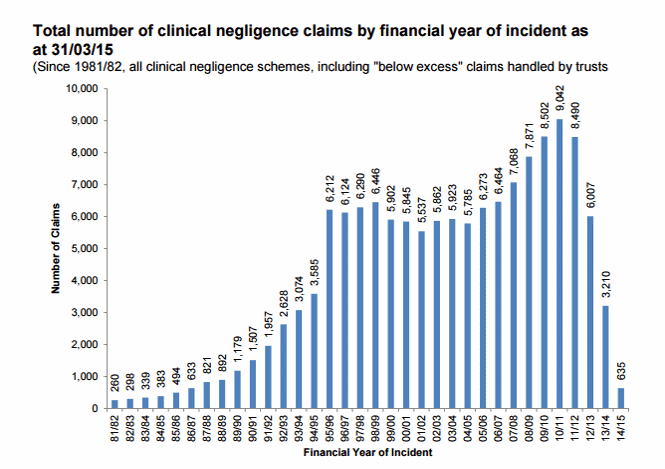 Surgical infections can develop as soon as two-three days after the operation or surgery. There is still a risk of an infection developing till the wound has visibly healed. Depending on the operation and the type of wound, this could be up to three weeks after the operation. In rare instances, infections could develop several months later. Infections from surgery (such as those which led to the severe knee injury the claimant suffered) generally affect the skin around the wound itself. However, sometimes they can penetrate deeper tissues of the body. In the case of the claimant, the infection penetrated deeper into her knee joint and, subsequently, caused a permanent knee pain and knee injury.
Whilst the early part of the century saw a rise in the number of incidences of both surgical negligence claims and errors, we can see from the graph in this section that the number of negligence claims in recent years has fallen.
What Injuries Were Sustained In This Case?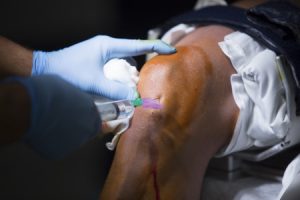 The claimant suffered a severe knee injury which led to her having lasting consequences. The claimant had undergone keyhole surgery on her knee for a separate condition. Following this keyhole surgery, she developed severe pain in her knee. The wound at the severe knee injury also kept bleeding. She immediately sought knee injury treatment at her local Accident and Emergency department. The staff there did not carry out the adequate or requisite investigative testing. As such, the hospital did not find any evidence of an infection in the claimant's knee. They did not prescribe any knee injury treatment. Around five days after this, the claimant was then admitted to hospital under an emergency. The knee injury diagnosis found an infection deep in the knee. Subsequently, the claimant then had to have a total of three further operations on the same location. Following the knee injury NHS infection, the claimant was left with permanent damage to her knee and suffered a lasting level of reduced mobility.
The Allegation And Settlement
The allegation centered on the medical negligence that she underwent. Following this, the claimant underwent daily pain and suffering. She also suffered from permanently reduced mobility in the affected knee. The claim centered on the fact that if the claimant's infection had been correctly diagnosed when she first brought it to the attention of the A&E department, it could have caught in time. If so, the claimant's knee would have been able to make a full recovery.
Following a successful claim for compensation, solicitors working on her behalf were able to recover a total of £55,000 in damages for her pain and suffering, as well as her loss of amenity in her leg.
No Win No Fee Personal Injury Solicitors
At Legal Expert, we can offer the claimants who choose to work with us, a comprehensive service through what is called a 'no win no fee contract'. These are also known CFA's or 'Conditional Fee Agreements'. They are a special type of agreement that helps people hire a solicitor where they may not otherwise be able to do so. CFA's were created to facilitate claimants ability to access legal services and to make a claim, without having to think about the cost of legal fees. The no win no fee agreement will stipulate that if the solicitor is not successful in making the claim, the claimant will not have to make any payments to the solicitor for fees or costs. The no win no fee agreement will remove the financial risk that a claimant might otherwise have faced if they had to pay the solicitor upfront.
There can be some, rare, conditions and exceptions in which a solicitor might not be able to take on a compensation case for a claimant. As such, a solicitor will need to check your claim to ensure that you have a viable case before they agree to take it on. Legal Expert is able to work with our claimants, almost exclusively, through a no win no fee agreement.
Contact Legal Expert Today
If you notice the symptoms of an infection at the site of a wound, such as a claimant in this severe knee injury case, you should seek immediate medical advice and treatment. Visit your local GP, or A&E department to get the treatment you need. If you suffer an infection in the site of a surgical wound as a result of negligence or poor practice by the NHS or a private practitioner, you should call a specialist personal injury solicitor. No matter the type of injury you have suffered, or claim you need to make, the personal injury specialists at Legal Expert will be able to help you. Legal Expert is the UK's number one site for advice and information on the best way to make a successful personal injury compensation claim. Our site has a wealth of guides, successful case studies and other resources which are designed to help people who need to make a claim for an injury after an accident which was not their fault.
To start your compensation claim, or to find out how much your personal injury claim could be worth, speak to the team and Legal Expert today. No matter whether your injury was caused by surgical negligence, an accident at work or other circumstances, our specialist panel of solicitors can help you. Our team is on hand to speak with you 9am – 9pm seven days a week to talk through your case. Call us on 0800 073 8804, email via info@legalexpert.co.uk or use our online claims form.
Useful Links
Clinical And Medical Negligence
Find out how to make a successful claim for compensation after suffering clinical or medical negligence in either the NHS or the private sector with our guide.
Knee Injury Claims
If you have suffered a knee injury, such as knee injuries from falling, or other common knee injuries, view our guide here.
NHS Guidelines For Monitoring Surgical Wounds
If you have had a surgical wound, follow these guidelines for how to monitor it for infection with this guide from the NHS.