£140,000 Compensation For A Hernia Medical Negligence
Medical negligence is neglect on the behalf of a healthcare professional towards a patient in their care, which causes the patient an injury, or worsens their existing medical condition. If you have suffered from medical negligence surrounding hernia treatment or a hernia operation, or any other type of medical negligence then you could be entitled to make a medical negligence accident claim.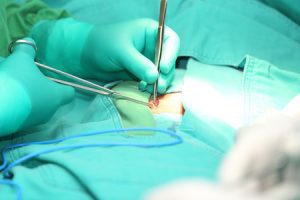 If you have recently been treated for a hernia and suffered medical negligence during your hernia operation, or hernia treatment then you could be entitled to a hernia compensation payout. Trust Legal Expert to help you claim compensation. Hernia settlement amounts vary depending on the nature of the claim, but you could easily be owed thousands of pounds in compensation. Please review our hernia compensation calculator to see an estimate of how much compensation for a hernia you could claim. Alternatively, call Legal Expert today for your free consultation and to be matched with an expert personal injury solicitor who can help you claim compensation.
In this case study, we are going to look at the case of Mr F, who showed symptoms of a hernia, was later diagnosed with a hernia. Mr F underwent a routine inguinal hernia operation without complications. Later that year Mr F married and attempted to start a family with his wife.
How Common is Compensation for a Hernia Operation?
A recent report found that cases of medical negligence in the NHS have nearly doubled from the years 2013/14 – 2015/6. In recent years a number nearly 800 patients have sought compensation for a hernia operation against the NHS after a mesh used in hernia operations was found to be causing patients intense chronic pain. Cases, where hernia operations can cause infertility in males, is rare but can happen.
What Injuries were Sustained during this Case?
As we said after Mr F married, he and his wife attempted to start a family. After failing to conceive for some time, tests showed an absence of sperm in his semen. Upon learning this, Mr F saw a urologist, who after some investigation concluded that Mr F's loss of sperm was caused by an obstruction at the level of the inguinal canal, meaning that his body was no longer able to carry sperm from the testicles to the urethra. How can this happen? Many hernia sufferers who are due to undergo a hernia operation, worry that a hernia causes infertility. An inguinal hernia and reproduction shouldn't be a worry to patients if the operation goes as planned, however an inguinal hernia and reproduction is a worry to male patients if a mistake or another form of medical negligence occurs during their operation, which accidentally injures the vas deferens – tubes which carry sperms from the testicles to the urethra, leaving the patient infertile. This was the type of injury that Mr F had suffered.
As a result of this medical negligence, Mr F suffered infertility, which meant that he could no longer naturally father a child. This caused him psychological damage. He and his wife experienced depression and anxiety at not being able to start a family. What's more, to conceive had to undergo invasive and costly fertility treatment.
Establishing Liability And The Hernia Settlement
Mr F, the Claimant sought compensation for his hernia operation medical negligence from the hospital trust where his operation had taken place. Unfortunately rather than admit liability the Defendant changed their case for defence three times during the case proceedings, arguing first that the damage had resulted from an operation the Claimant had undergone when he was four years old, secondly that it was a congenital abnormality and thirdly, a severe fibrotic reaction to the mesh used during Mr F's operation.
Fortunately, rather than have the case proceed to court, a settlement meeting took place between Mr F's legal team and the Defendant, where they agreed to pay Mr F £140,000 in compensation for this hernia operation complications. Clients often ask us how much compensation they can get for a hernia operation mistake. Depending on the severity of the injury caused, you could be entitled to a hernia compensation payout in the tens or hundreds of thousands of pounds. You can use our hernia compensation calculator to calculate an estimate for your hernia operation.
No Win No Fee Solicitors
If you believe you are liable to sue for medical negligence compensation regarding a hernia operation or any other medical complication which was caused by substandard care, then you could claim for compensation. If you would rather avoid the expense and financial risk of paying an upfront solicitor's fee, hiring a no win no fee solicitor to handle your case could be the best option for you. A no win no fee service means that you will only have to pay your legal fee if you win your case, making it a less stressful option for many Claimants. Call Legal Expert to claim compensation today to inquire about making a no win no fee compensation claim.
Contact Legal Expert To Claim For Hernia Medical Negligence Today
Have you suffered medical negligence around a hernia operation or hernia treatment? If you have an injury caused by a hernia operation, like infertility then call us today to inquire about receiving a hernia compensation payout. Our qualified and experienced personal injury solicitors could help you to claim potentially thousands of pounds in hernia compensation amounts. Some of the personal injury solicitors that we work with have over thirty years experience, so trust Legal Expert to help you claim you make your hernia medical claim today.
Call Legal Expert today on 0800 073 8804 for your free consultation. We will determine whether or not you have a valid hernia claim, what hernia settlement amount you could receive and will refer you to the right solicitor to win you your case, all at no extra cost to you. Call today, we're looking forward to hearing from you.
Useful Links
How Much Compensation For An Accident Causing A Hernia Injury?
Help and advice for Claimants who have suffered hernia injuries. This includes advice on how to claim hernia injury compensation.
Medical Negligence Claims, How Much Compensation Can I Claim?
Hepp and advice for medical negligence claims, including estimated amounts of money you could claim.